Condiments are meant to mingle with and coax out delicious flavors in dishes. However, oftentimes condiments can be sneaky sources of hidden sugar, fat, and sodium, and even provide a source of chemicals in our favorite dishes.
The following seven condiments are not only tasty—they offer several positive health benefits and they're low in calories too…
Kimchi
If you're not familiar with this traditional Korean garnish—kimchi is a spicy, pungent mix of chili peppers, Napa cabbage, salt, garlic, and ginger (and sometimes radish) that's sealed in a glass jar and fermented for months. Even though kimchi is associated with boosting immunity and lowering cholesterol, putting this fermented condiment on your favorite rice dish, soup, or bowl of noodles will ease digestion. How?
Research from the Food and Nutrition Department at the University of Ulsan, in Mugeo-dong, Ulsan, South Korea, claims that kimchi is fermented much like yogurt. And that means it's jam-packed with a type of healthy gut bacteria known as lactobacilli, a probiotic super power that not only makes digestion more efficient, but also wards off infection.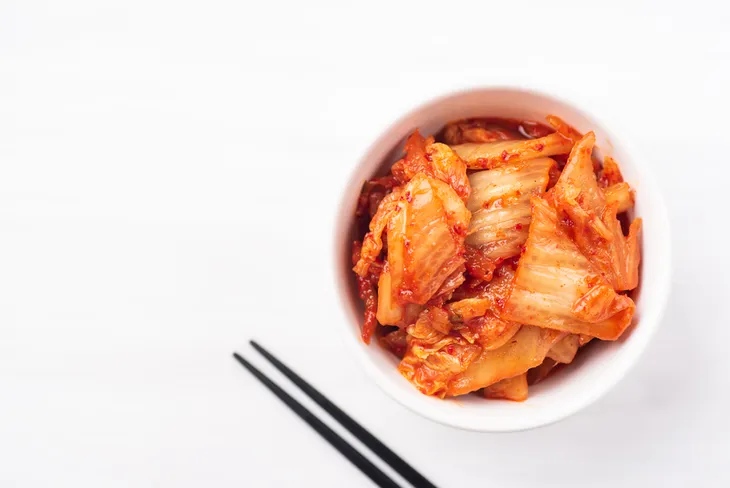 Sriracha
In my opinion, this hot sauce from Thailand pairs perfectly with seafood. It's a fiery combination of paste of chili peppers, garlic, sugar, salt, and distilled vinegar. I literally put this sh*t on everything—from eggs to burritos and from noodle dishes to shrimp dishes.
Apart from its spicy kick, sriracha gets it's addictive heat from capsaicin peppers, which have been linked to lowering the risk of prostate cancer in men. In fact, research from the American Association for Cancer Research claims that capsaicin has the ability to eradicate prostate cancer cells and control the growth of malignant cells. The University of Maryland Medical Center also claims that capsaicin peppers have the ability to reduce arthritis, chronic back, and nerve pain.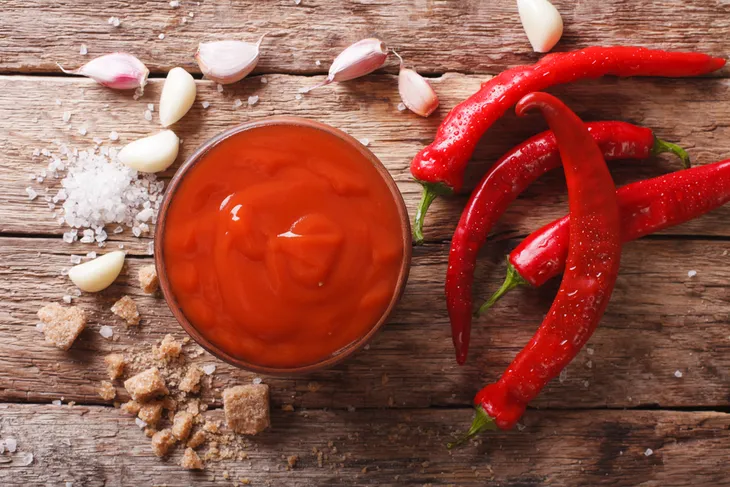 Harissa
Harissa sauce (pronounced like ha-riss-ah) is a flavorful, spicy paste ground with garlic, red chili peppers, coriander seed, and olive oil. A popular staple in Middle Eastern and North African cuisine, harissa is an often-added condiment in couscous dishes, poultry dishes, stews, and soups, and it's also a yummy bread dipper.
Chili-based sauces, like harissa, are a great way to add flavor without adding fat or calories. However, the real health benefits of this pungent paste stem from its immune boosting abilities. A study in the journal Cancer Research, notes that Chili peppers contain beta-carotene, which converts to vitamin A in the bloodstream and helps ward off infection and inflammation.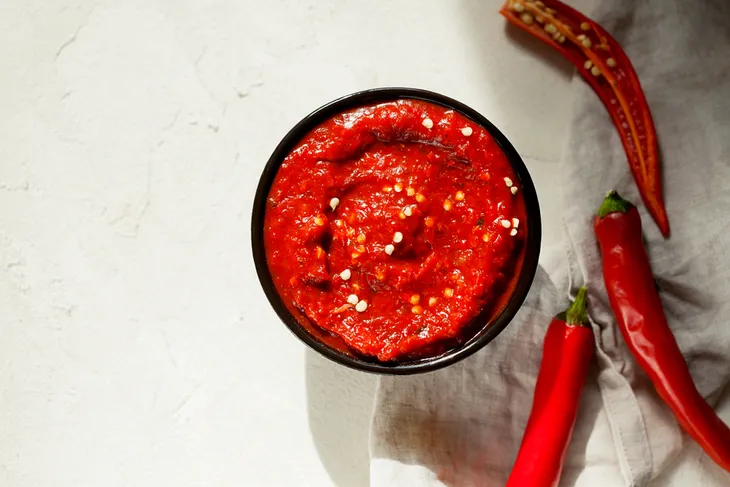 Duqqa
This condiment pronounced like doo-kah is an Egyptian-inspired blend of herbs (like mint), ground nuts and seeds (usually sesame seeds and hazelnuts), spices (such as cumin, coriander, cinnamon, cloves, nutmeg, salt, and pepper), and olive oil. The blend forms a fragrant paste, which adds mouth-watering flavor to meat, bread, or vegetable dishes.
Nutritional information care of the Culinary Institute of America and Harvard School of Public Health notes that duqqa is low in calories (only 28 per tablespoon serving) and low in sodium—while providing a delectable source of heart-healthy fats and proteins (from nuts, oils, and seeds).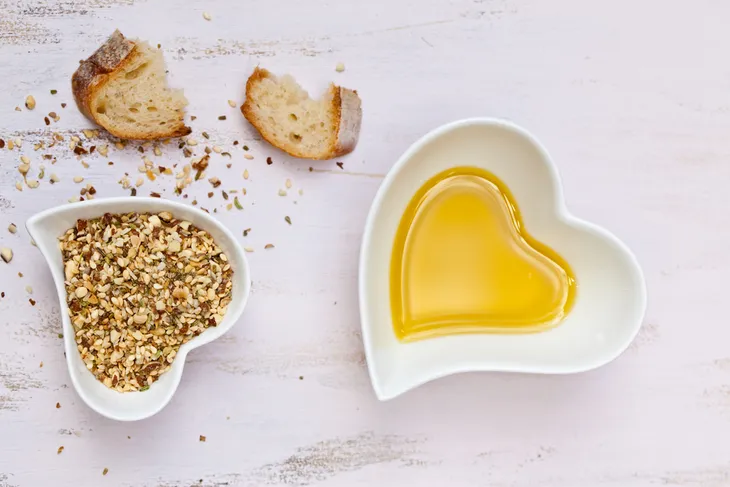 Chimichurri
This vibrant green sauce hails from Argentina and surrounding Latin American countries like Uruguay and Paraguay, where chimichurri is spooned graciously over grilled meats, chicken, vegetables, and fish.
This sauce is made with an exotic blend of minced herbs and spices—primarily parsley, garlic, oregano (or sometimes cilantro) paprika, and cumin—met with the silky texture of unfiltered olive oil and tangy lemon juice and white vinegar. Sometimes scarlet bell peppers and minced tomatoes are also added. The largest health benefit of chimichurri comes from its parsley base. Parsley is rich in vitamin C and a kidney-protecting compound known as apiol.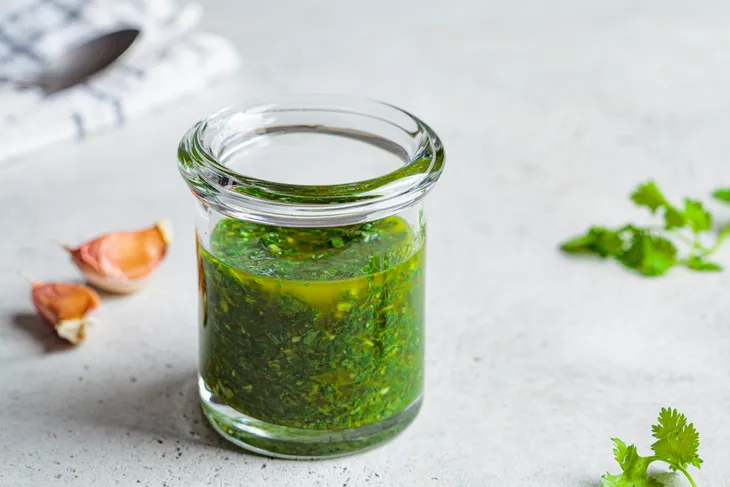 Balsamic Vinegar
With as little as 10-calories per tablespoon, tangy balsamic vinegar adds a potent punch to salad dressings, bread dippers, and meat marinades. A lot of effort goes into true balsamic vinegar. The tangy concoction is made by pressing and reducing Trebbiano and Lambrusco grapes into a thick syrup, called mosto cotto, which is then barrel-aged for at least 12 years in ash, chestnut, juniper, cherry, or oak casks.
However, the true health magic behind this deep black and naturally-sweet and sour vinegar comes from its knack for stabilizing blood sugar and managing cholesterol. According to a 2010 study published in the Journal of Nutritional Science and Vitaminology, the powerful polyphenols in balsamic vinegar help prevent arteries from clogging and becoming blocked. Balsamic is also low on the glycemic index, which keeps blood glucose levels in check.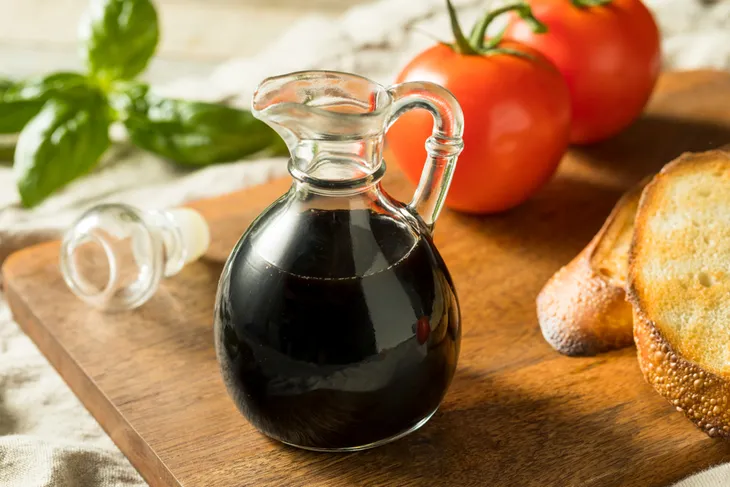 Tzatziki
Most creamy condiments are jam-packed with unhealthy fats and calories, but not tzatziki. This smooth Greek topping is made with yogurt as the primary ingredient—with added garlic, lemon juice, parsley, cucumbers (and sometimes dill and mint). Most often served cold, tzatziki adds cool, velvety flavor to grilled meats, sandwiches, and toasted pita.
The prime health perks of tzatziki rest on the fact that this dip is low fat and calorie. Not to mention the probiotic prowess of tzatziki, which we all know promotes healthy gut, efficient digestion, and increases good bacteria in your digestive system.