Being diagnosed with type 1 or type 2 diabetes can be scary and intimidating. The good news is that it's really not all that difficult to build a healthy and delicious diet plan that will keep you safe. The trick, of course, is to find foods that won't upset your blood sugar levels.
Thankfully, there are many healthy foods that qualify. Let's take a quick look at a few snack options for people recently diagnosed with type 1 or type 2 diabetes…
Whole-Grain Crackers and Cheese
While some foods can actually raise our blood sugar levels and pose a serious threat to diabetics, whole-grain foods—like cracked wheat or whole wheat crackers—can actually lower blood sugar and cholesterol levels.
Adding cheese to the mix provides protein that can stabilize blood sugar and keep hunger pangs at bay for hours. If you're looking for a healthy alternative, consider using low-fat cheese or cottage cheese. In any case, don't overdo it on the cheese.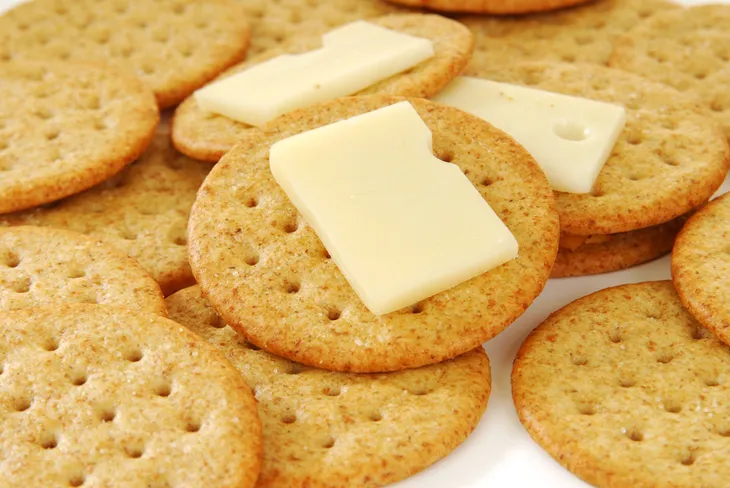 Homemade Popcorn
Popcorn gets a bad reputation, but that's not entirely fair. Yes, popcorn bought in bags at the grocery store or acquired at the local movie theater can be absolutely loaded with salt, fat, even sugar. But popcorn itself—save the various coatings—is actually very high in fiber and rather healthy.
The key is to make your own popcorn from scratch. Most grocery stores carry popcorn kernels, which can be prepared by adding them to a covered pot placed on the stove top. Use a little oil to gently coat some of the kernels, but don't overdo it. To keep things healthy, use canola or olive oil.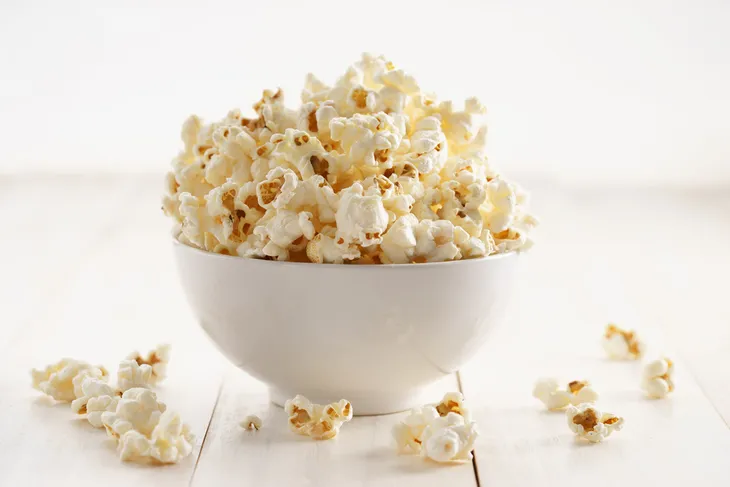 Apples and Cheese
No one is exactly sure why they make such a good combination, but it's hard to disagree that apples and cheese make for a great-tasting one-two punch. And it's a healthy combo, too! While the apples provide loads of nutrients (like vitamins A and C) and fiber, the cheese is a great source of protein, which can keep us feeling full for hours.
Of course, when it comes to cheese, portion control is important. Try to use low-fat cheddar instead of high-fat creamy cheeses like Camembert or brie.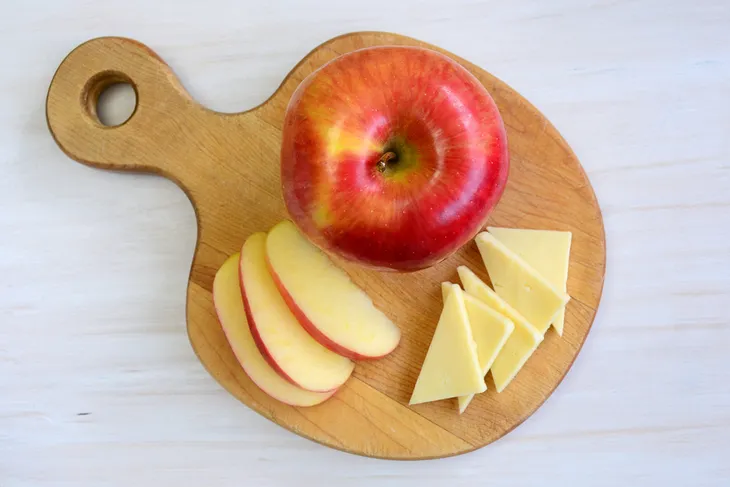 Chips and Salsa
It isn't often that we recommend chips, but the whole-grain baked variety can actually be an excellent source of fiber. The trick, of course, is to load your chip with homemade salsa packed with fruits and vegetables.
For an awesome salsa, slice, dice and add red and green peppers, tomatoes, black beans, avocado, cilantro, and garlic. To up the flavor even further, add some salt, lemon juice, black pepper and fresh chillies.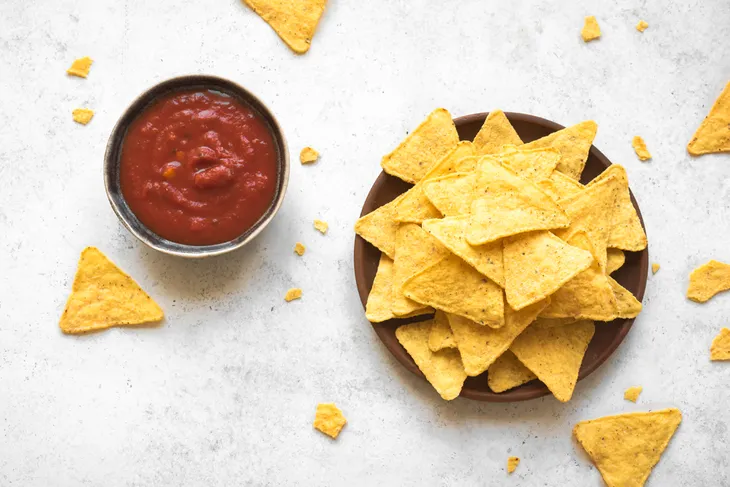 Black Bean Salad
Vegetarians are often told to replace meat with black beans, which are high in both carbohydrates and protein. They're also abounding with fiber, which can fend off hunger pangs and keep us going for hours.
For an excellent black bean salad, rinse and add the beans to chopped tomatoes, chopped celery, chopped green pepper, and peeled and cubed avocado. To increase the flavor, add lemon or lime juice, celery salt, garlic powder, and ginger. Overall, it makes for a delicious, low-calories snack that will keep diabetics feeling full for hours.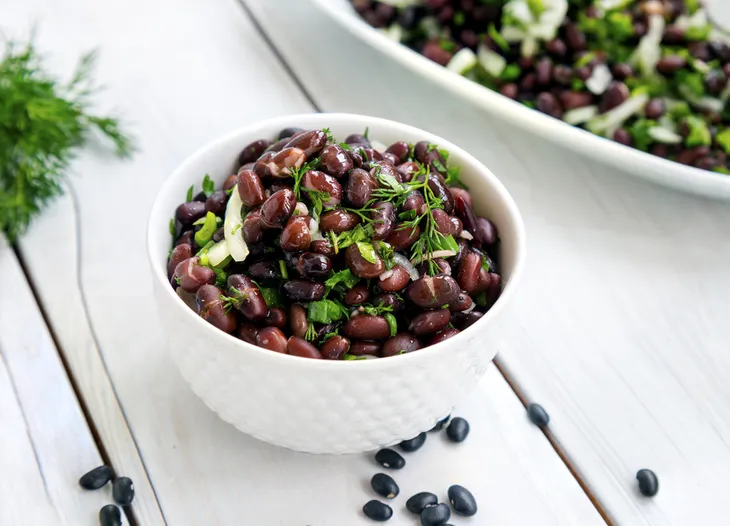 Veggies and Hummus
It's no surprise that vegetables, which contain virtually no sugar, fat or calories, pose little threat to people with type 1 or type 2 diabetes. But it may be less surprising that hummus – which contains considerable fat and calories – is also a good choice.
But studies featured on Livestrong.com have shown that hummus, which is high in fiber and protein (it's made of chickpeas, primarily), can help keep blood sugar levels steady. In fact, one 2012 study showed that people who ate at least one cup of legumes each day (chickpeas are a legume) saw their glucose tolerance improve significantly.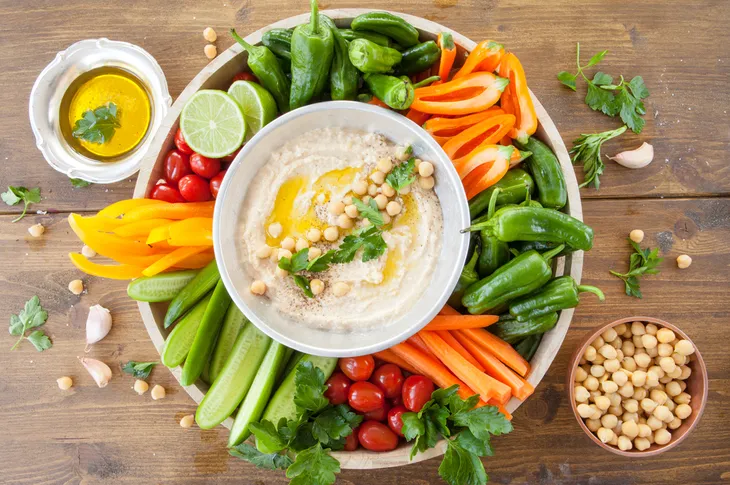 Greek Yogurt with Berries
Yogurt with berries is a great mid-day snack because it's super healthy, but the berries sweeten it up so much that it tastes like a treat! Berries are known to be super high in antioxidants. In addition to that, Healthline states that they may be able to reduce inflammation and prevent damage to the pancreas. This is important because the pancreas is responsible for "releasing hormones that lower blood sugar levels." Berries also contain lots of fiber. Healthline notes that 1-cup of berries amounts to 4-grams of fiber. This "helps slow digestion and stabilize blood sugar levels after eating."
Now that we've covered all the benefits of berries, let's move onto the yogurt! Yogurt is "also known for its ability to lower blood sugar levels," writes Healthline. "This is partly due to the probiotics it contains, which may improve your body's ability to metabolize foods that contain sugar." Yogurt in general is high in protein, but if you opt for Greek yogurt, you'll get even more! This is even more beneficial because protein also helps maintain blood sugar levels. Avoid greek yogurts with flavor and stick to plain low fat greek yogurt, says registered dietitian Julie Ching.
Hard Boiled Eggs
Who doesn't love some hard boiled eggs? They are the perfect snack for everyone. They're super easy to make and pack in a lunch, they're full of protein, and for diabetics, they help keep blood sugar from rising high, says Healthline. Just one single hard boiled egg contains 6-grams of protein which helps keep us feeling full for longer. This is super important for type 2 diabetics because "this disease is associated with a greater likelihood of becoming overweight and developing heart disease," writes the source.
Healthline also refers to a study performed on 65 people with type 2 diabetes. They each ate two eggs a day for 12 weeks. In the end, the study reported a reduction in their fasting blood sugar levels, as well as a lower hemoglobin A1c, "which is a measure of long-term blood sugar control."
Almonds and Dried Cranberries
Yet another great combo of two power-packed foods that come together and create a super healthy snack. The soft and sweet dried cranberries are a great counter component to the crunchy almonds. Everyday Health cites a study published in the November 2013 issue of the European Journal of Clinical Nutrition which found that almonds can help limit the blood sugar spike that tends to follow eating. Plus, they contain fiber which keeps people feeling full for longer.
Just like many of the other snacks on this list, almonds and dried cranberries should only be enjoyed in moderation. They are both a calorie-dense snack, particularly the dried cranberries. You should only eat about two tablespoons of each at a time. This should amount to about 20-grams of carbs.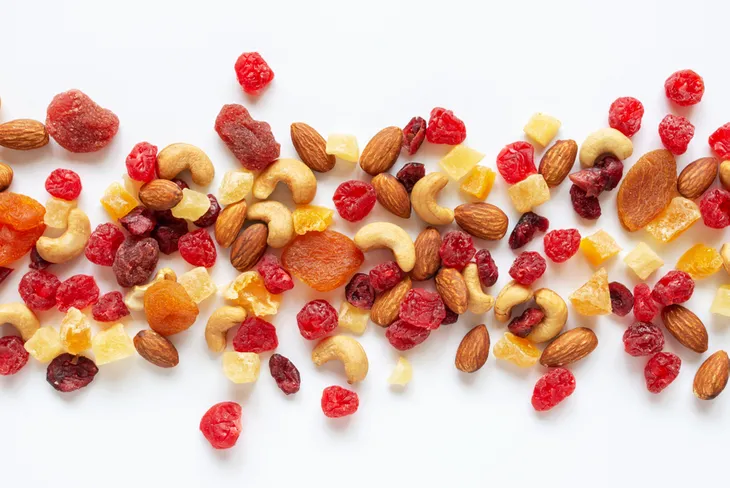 Handful of Nuts
Feeling hungry but it's not time for a meal? The best thing to do is grab a small handful of nuts to help hold you over. There are many great ones to choose from. Healthline recommends a handful of almonds because they have lots of vitamins and minerals, including manganese, magnesium, and riboflavin, plus they have proven to be useful in stabilizing blood sugar. According to the source, their ability to help manage diabetes is likely due to their protein, healthy fats, and fiber content.
Prevention talked to Julie Stefanski, RDN, a certified diabetes educator and the spokesperson for the Academy of Nutrition and Dietetics who says, "while macadamia nuts are the lowest in carbs and cashews are the highest, this is the kind of nutritional difference you don't want to lose sleep over." She notes that pretty much all nuts, when eaten in the portion of 1/4 cup (roughly a handful), "are a great source of magnesium, a nutrient that many of us don't get enough of that can have beneficial effects on blood pressure." If you find nuts too plain to snack on, sprinkle a little bit of cinnamon on top to add some sweetness.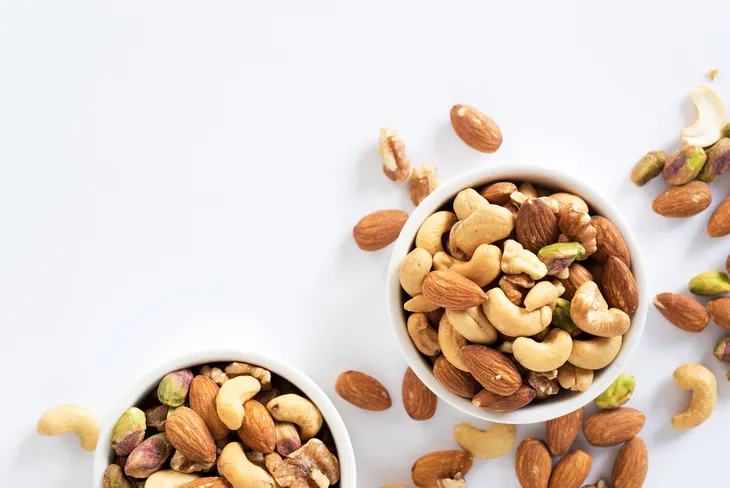 Avocado
There's no doubt that avocados are having a moment and have become increasingly popular in today's food culture. It's not hard to find someone who eats this fruit on a regular basis either with their breakfast, in a smoothie, on a sandwich, as a dip, or even just on their own! Avocados are gaining more recognition because not only are they tasty, but they're super healthy too. This goes for diabetics!
"The high fiber content and monounsaturated fatty acids in avocado make them a diabetes-friendly food," writes Healthline. "These factors may prevent your blood sugar from spiking after a meal." The source also refers to one study that diabetics who include monounsaturated fatty acids in their diet on a regular basis were able to improve their blood sugar levels.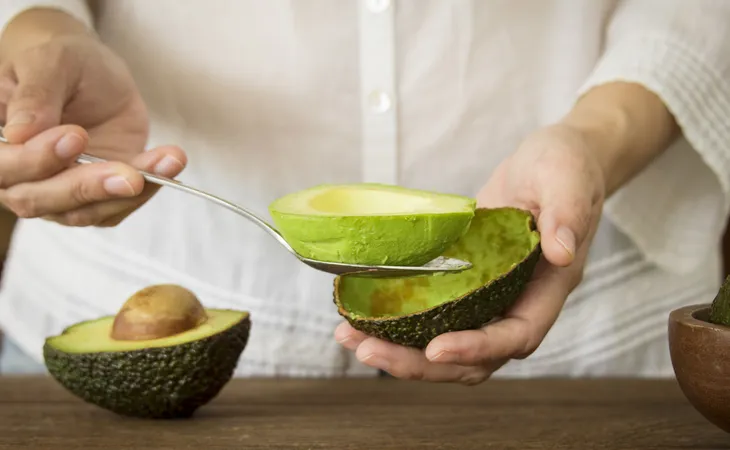 Sliced Apples and Peanut Butter
Apple slices with peanut butter are one of my favorite snacks! It's a great snack for diabetics too because, apples, of course, are rich in nutrients like B vitamins, vitamin C, and potassium, says Healthline. Peanut butter on the other hand, when enjoyed in moderation has the potential to be healthy due to it's vitamin E content, as well as the magnesium and manganese. All of these nutrients and vitamins are great for managing diabetes.
In addition to all the vitamins and nutrients listed above, both peanut butter and apples are high in fiber. Healthline notes that 1-medium sized apple and 1-ounce of peanut butter can provide 7-grams of fiber. As we've already mentioned in this article, fiber is good for maintaining good blood sugar levels.
According to Healthline, apples have been studied at great length for their ability to help manage diabetes. "The polyphenol antioxidants they contain are thought to protect pancreatic cells from damage that often worsens diabetes," writes the source.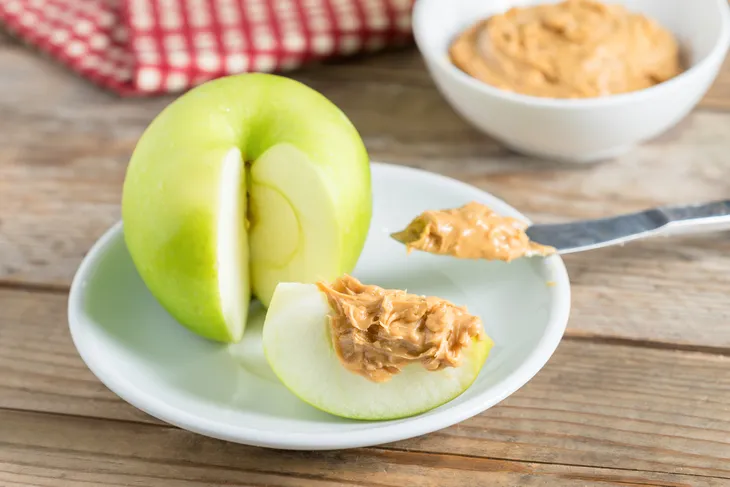 Roasted Chickpeas
Roasted chickpeas are the best solution for those who are constantly fighting the urge to indulge in a crunchy or salty snack like chips. Roasted chickpeas will satisfy all those needs but without all the unhealthy fats and sodium. Chickpeas are actually a garbanzo bean which is a healthy legume. Already off to a good start! Healthline notes that just 1-cup of chickpeas contains 15-grams of protein and 13-grams of fiber.
"Research has shown that consuming chickpeas on a regular basis may play a role in preventing the progression of diabetes, thanks to their potential to help manage blood sugar levels," writes the source. Healthline refers to one particular study which looked at 19 people and found that those who consumed a chickpea-based meal every day for six weeks had lower blood sugar levels than those who ate more of a wheat-based meal.
After roasting your chickpeas, toss them in a nice olive oil and then season them with your choice of spices.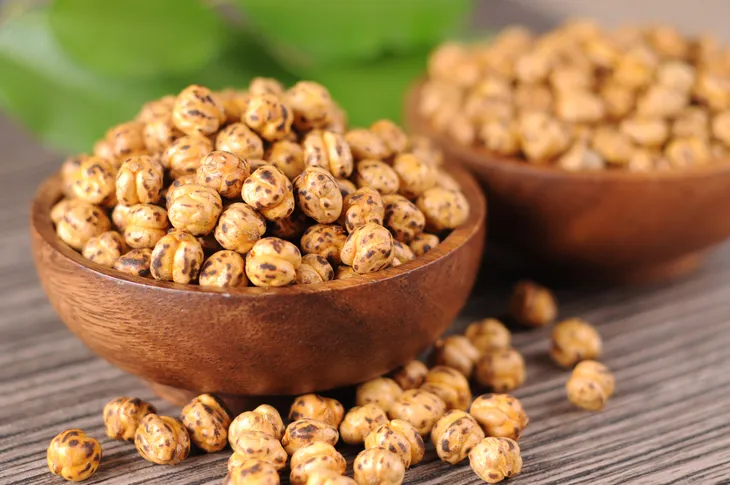 Chia Pudding
Ever heard of chia seeds? And we know you've heard of pudding! Well, put these two things together and you've got a nice and healthy snack for any diabetic. Chia seeds are "rich in many nutrients that help stabilize blood sugar, including protein, fiber and omega-3 fatty acids," writes Healthline. The seeds are able to absorb large amounts of water "which may help control diabetes by slowing down the digestion process and release of sugar into the blood."
Chia seeds can also be good for heart health as Healthline points out that research shows they are able to lower triglyceride levels. This is good news for any diabetic because they are at a higher risk for developing heart disease.
The chia seeds are combined with the gelatinous texture of the pudding which is delicious on its own, but made even more tasty and sweet by adding some fresh fruit on top! To create this snack, Prevention advises mixing a few tablespoons of chia seeds into a 1/2 cup of canned coconut milk. Let it thicken for 20-minutes, and voila!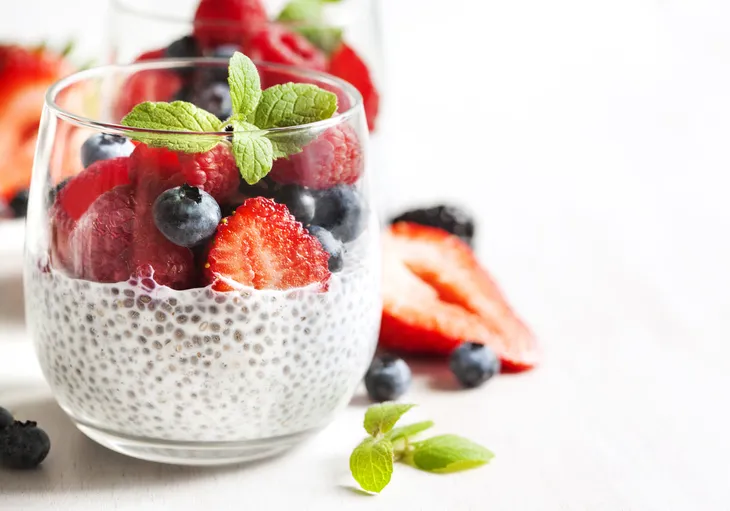 String Cheese
There's a reason cheese has already been featured on this list (we saw it back in slide 3 with apples and cheese), it's because it's a great yummy snack! What makes string cheese so great is that it's perfectly portioned which is important for this food because similar to nuts, it's only good for us in moderation. And let's face it, it's super easy to eat more than our fair share of cheese!
So how many string cheeses are diabetics allowed to eat? "I tell my clients 1 to 2 is fine, depending on how hungry you are. Eat alone if it has been less than 2 to 3 hours since your last meal, or with a serving of carbs if it has been longer than that," says Lori Zanini, RD, certified diabetes educator, and author of the Diabetes Cookbook and Meal Plan for the Newly Diagnosed to Prevention.