Snacking isn't all bad. In fact, it can be a healthy way to get extra fruits, vegetables, and lean proteins in your diet as well as an effective way to ward off the tendency to binge later on a fatty dinner.
When you really think about it, healthy snacks can support your weight loss efforts, keep your blood sugar stable, and reduce those emergency trips to the convenience store or fast-food drive-through on the way home from work.
Here are 15 guilt-free snack ideas that will keep you satiated and losing weight…
Gazpacho
This cold soup focuses on fresh ingredients—such as lentils, carrots, ginger, cucumbers, mint, tomatoes, and spinach. It really is the ideal, cool summer snack.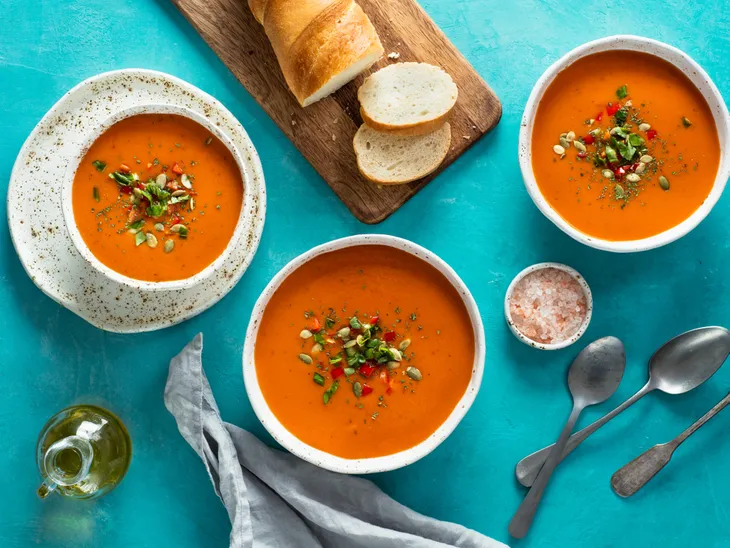 Raw Veggies & Dip
Arrange a cup of healthy color—with sticks of carrots, peppers, cucumber spears, snow peas, celery, mushroom halves, and cherry tomatoes. And match it with a tablespoon of homemade chickpea spread or hummus for dipping!
Almond Butter on Toast
Smear the protein-rich goodness of almond butter on a slice of light or dark rye or whole grain toast. You can even go a little bananas and top your toast with one-inch slices of the fruit to add some natural sweetness to your midday or mid-morning snack. (Here are some more High-Fat Foods Nutritionists Swear By).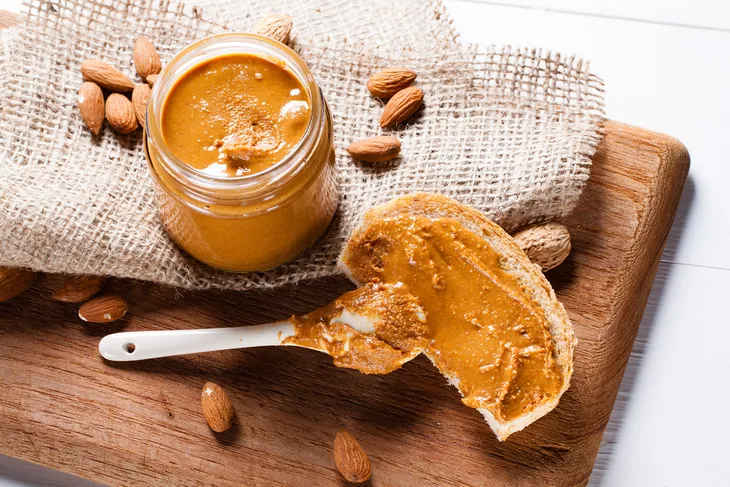 Red or Green Seedless Grapes
I love grapes as a cool summer snack. They are light on your stomach and 20 grapes equal less than 100 calories. Plus, you can pop them in the freezer for a really cool, sweet treat.
Air-Popped Popcorn
Popcorn is not necessarily an unhealthy snack on its own. It really depends on how you prepare it. For instance, if you use an air popper to pop a few cups and forgo adding the butter, oils, and salt, you'll have a snack that weighs in at less than 60 calories.
Apple Slices & Peanut Butter
There's nothing healthier or more satisfying than the crunchy protein that a nice, shiny apple delivers. Core and cut yours into bites sized slices and smear on a little nut butter of your choice. You'll get fiber, protein, and vitamins all in one transportable snack.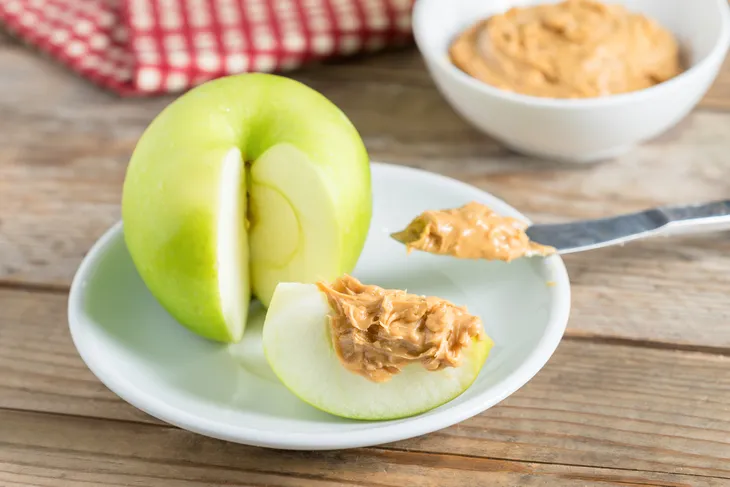 Baked Pumpkin Seeds
Fall is just around the corner, which means you can stock up on pumpkin seeds, which are high in loads of good things—such as B vitamins, iron, magnesium, zinc, and protein. I roast mine on a baking sheet with a teaspoon of olive oil and some cumin.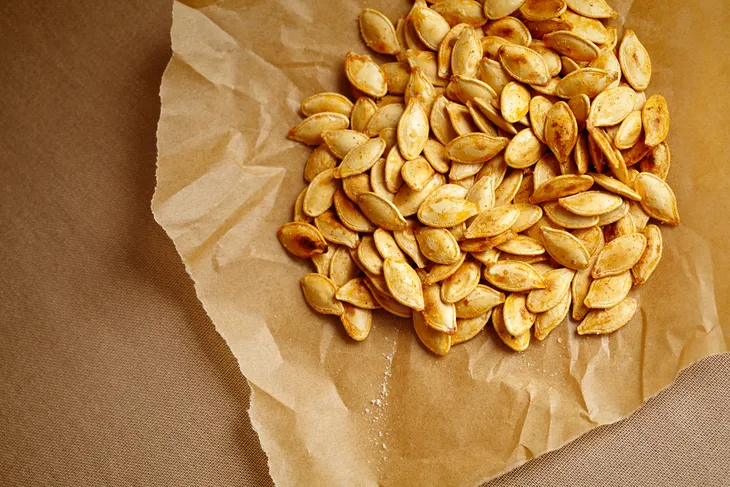 Almonds & Dried Cranberries
Did you know that almonds are the most nutrient-dense tree nut that you can snack on? Not only are they rich sources of vitamin E, essential fatty acids, and magnesium, they pack a seriously powerful protein punch if you keep your snacking to a few handfuls.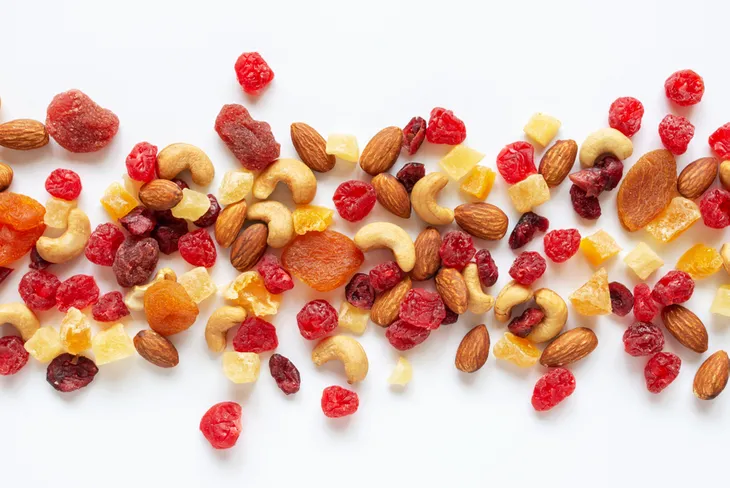 Applesauce Cup
Applesauce is really easy to make yourself—and it makes good of those bruised and battered apples that your kids won't take to school to eat. Just core and process them until smooth using a food processor. You can add a little touch of cinnamon for sweetness.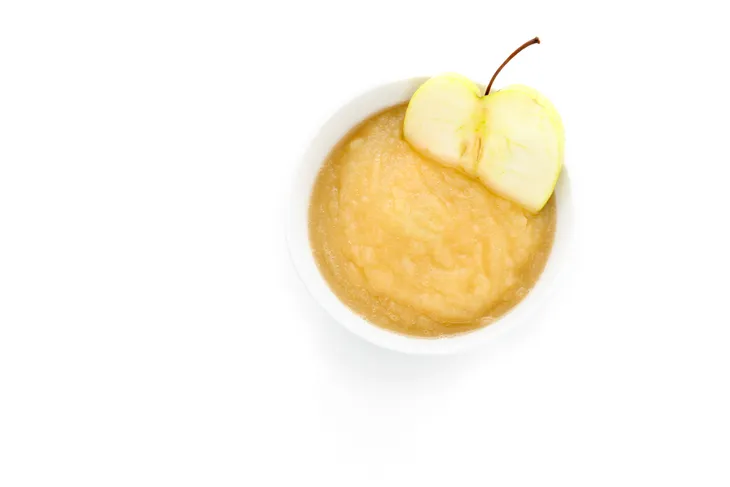 Frozen Fruit Bars
Don't look to the sugar-infused store-bought brands. Instead, make your own no-sugar-added fruit bars—by using water, 100 percent natural fruit juice and your choice of berries or fruit chunks (i.e., mango tastes great). You'll get a snack that weighs in at less than 50 calories…on a convenient serving stick!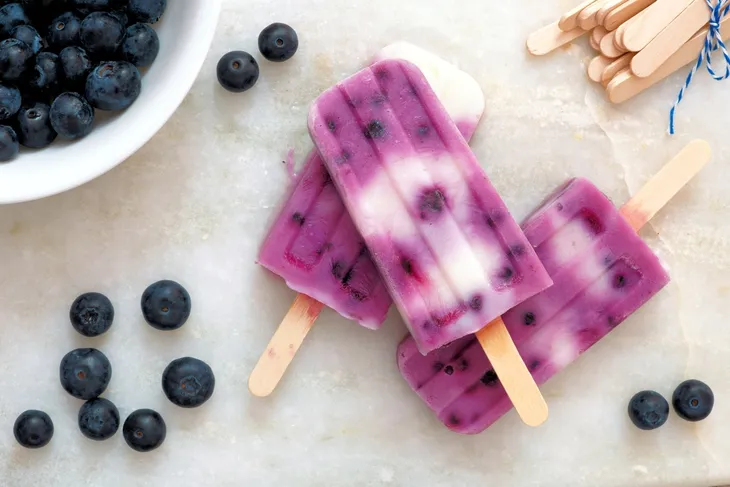 Greek Yogurt & Berries
Take advantage of those final pints of blueberries, raspberries, strawberries, and blackberries when you mix ½ cup with some creamy, thick Greek yogurt. I stick to the plain variety when I'm adding my own fruit and add a ½ teaspoon of honey if I need a bit of extra sweetness.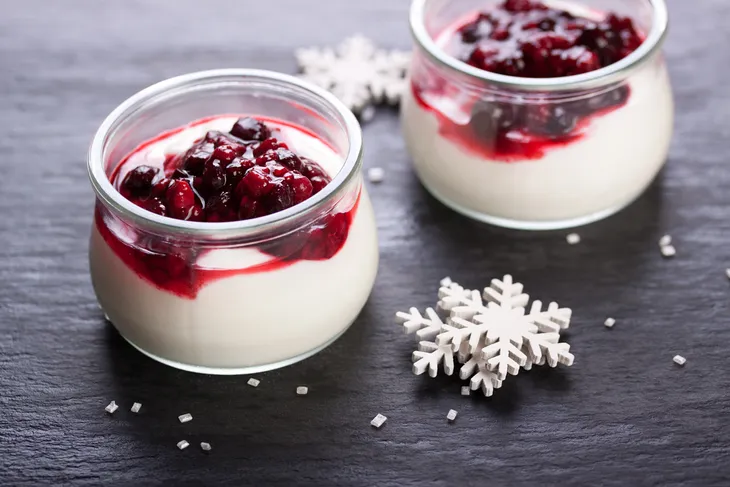 Granola
Sure, you can buy a low fat, no sugar added granola at the grocery store. However, you can make your own for half the price by mixing 2-cups of rolled oats, a touch of honey, and some dried fruit and nuts—like sliced almonds, crushed walnuts, dried cranberries and raisins. Bake it until golden in the oven and pour a bowl with some low fat cow milk or almond milk.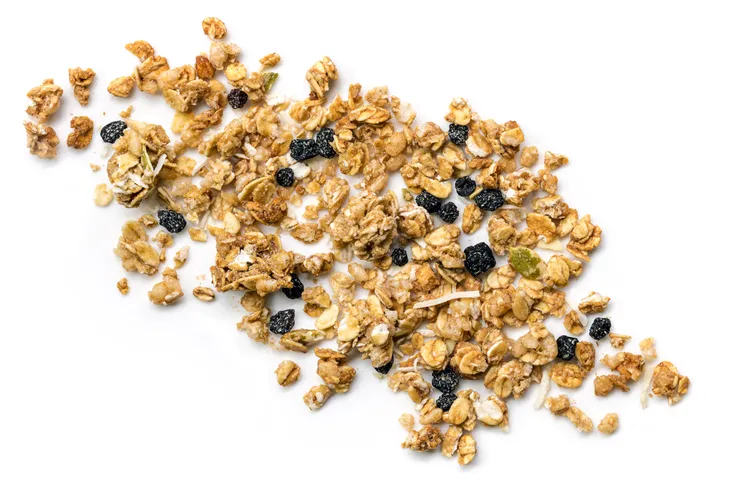 String Cheese & Crackers
A little bit of low fat cheese—not more than 30-grams—makes a satisfying snack when served with some whole grain crackers. I prefer whole wheat Melba rounds. If you don't like string cheese (or don't have it on hand) here's what 100 calories of 10 different types of cheeses looks like.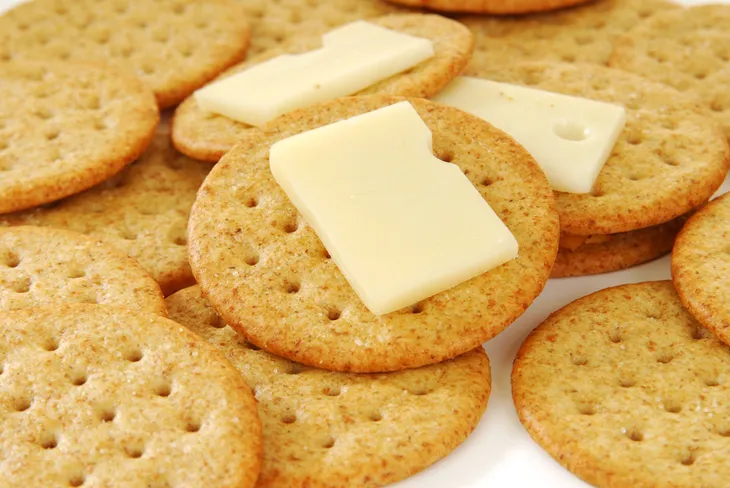 Healthy Deviled Egg
Jam packed with protein and heart-healthy fats—one hard-boiled egg can be made into a great, portable afternoon snack if you whip the yolk with a bit of humus or a teaspoon of avocado. I typically boil up a dozen on Sunday and pop them in the fridge for grabbing on the way out the door.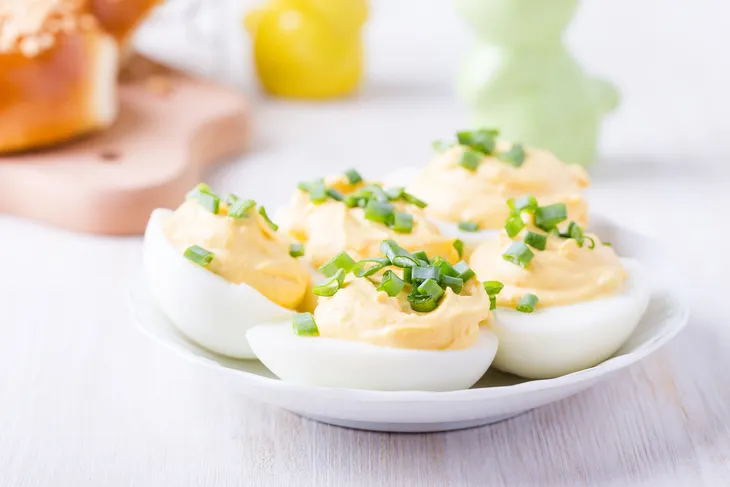 Shrimp Cocktail
You don't have to limit shrimp cocktails to special occasions. The good news is that this classy snack is really low in fat and calories, but high in protein and zip! Just arrange 8 shrimp with a few teaspoons of spicy shrimp cocktail sauce to snack on mid-afternoon.