They're cheap, widely available, and packed with all kinds of helpful nutrients. But pumpkin seeds aren't exactly the world's most popular snack. Maybe it's time that changed. Not only are pumpkin seeds delicious — especially when roasted at home with a little salt and extra virgin olive oil — eating them on a regular basis has been shown to promote heart and prostate health while keeping a range of cancers at bay.
With that in mind, let's take a closer look at some of the advantages of eating pumpkin seeds. (We've also got some great tips on how to repurpose leftover pumpkin, check it out here).
Want diet & nutrition content delivered straight to your inbox? Sign up for our exclusive diet & nutrition newsletter!
Packed with Protein
Getting a sufficient amount of protein in your diet is really important, for two major reasons: first, protein can help you build muscle, a primary goal for any fitness-minded individual. Second, protein can help us feel full, limiting the chances that we'll go out and binge on less healthy foods that are high in fat, sugar, salt, and calories.
Here's the good news: pumpkin seeds are an excellent source of protein, with each 28-gram serving containing roughly 7 grams of protein. That's particularly helpful for vegans and vegetarians who may struggle to get enough protein by avoiding meat.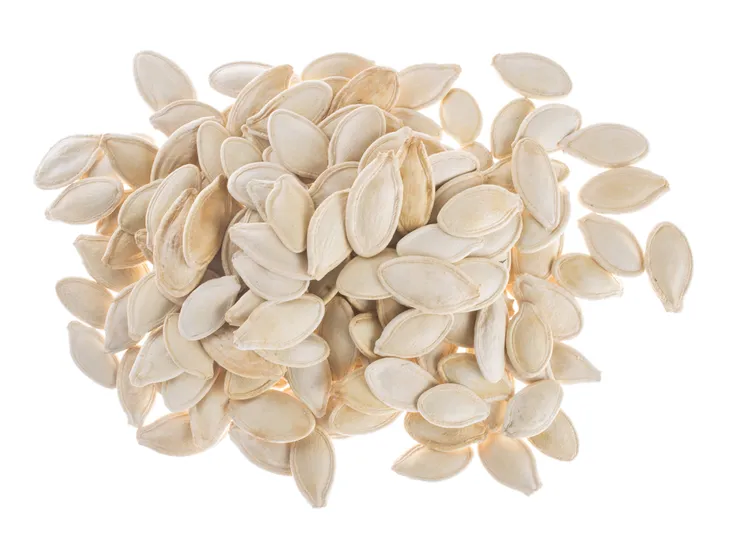 Source of Fiber
Fiber plays an important part in helping us feel full for longer and keep the digestive system functioning as it should. If you have consistent digestive issues, such as constipation, you should talk to your doctor about your diet and the idea of increasing your fiber intake.
Pumpkin seeds are a solid source of fiber, with a standard serving containing just under 2 grams of fiber. While that's not a ton of fiber, it's hardly insignificant and another great reason to add pumpkin seeds to your diet. (Not only are the seeds healthy, but the entire pumpkin has great benefits as well! Find out more in this article on 8 Healthy Benefits of Pumpkins).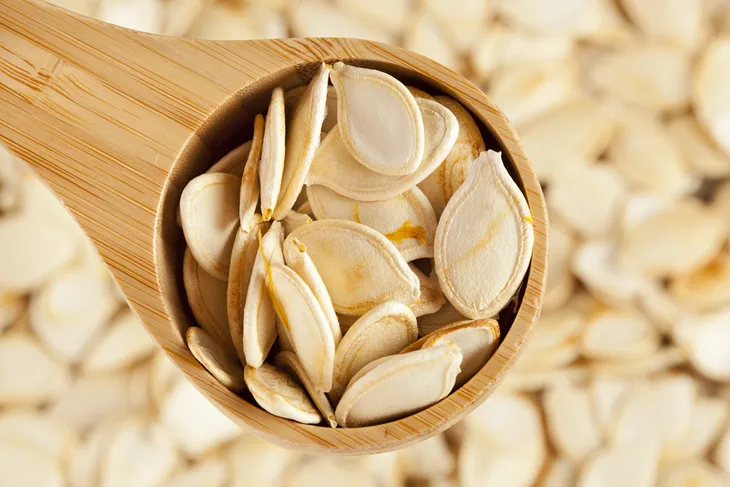 A Kick of Vitamin K
We hear a lot about vitamin B and C, which can help give our energy levels and immune systems a boost. But we don't hear as much about vitamin K, and that's a shame, as it plays an important role in helping prevent blood clots and excessive bleeding. For anyone with circulatory issues or cardiovascular problems, that makes foods with vitamin K very important. Vitamin K can also help individuals with Crohn's Disease or Celiac Disease better absorb nutrients — typically a problem for people with these conditions.
Pumpkin seeds contain more vitamin K than many other foods, with a standard 28-gram serving providing nearly one-fifth your daily requirement.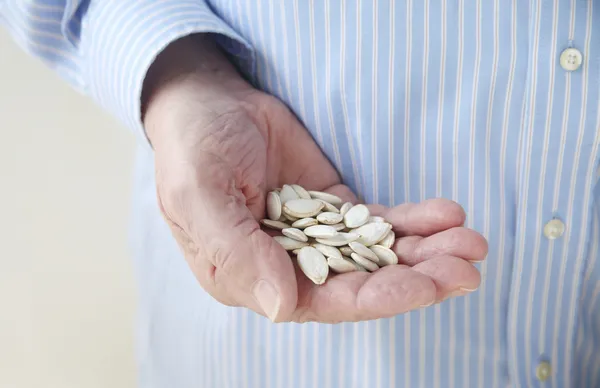 Packed with Phosphorus
Foods high in phosphorus have a wide variety of benefits, from helping build stronger, more resilient bones to improving our ability to properly digest our food. And that's not all: research has shown that foods high in phosphorus can help fight exhaustion, limit the impact of arthritis, and even boost brain functionality. These foods can even help us properly metabolize our protein, which means they're a great choice for those looking to build strength and reach challenging fitness goals.
Pumpkin seeds contain more than their fair share of phosphorus, with a standard serving containing roughly one-third of our daily requirement.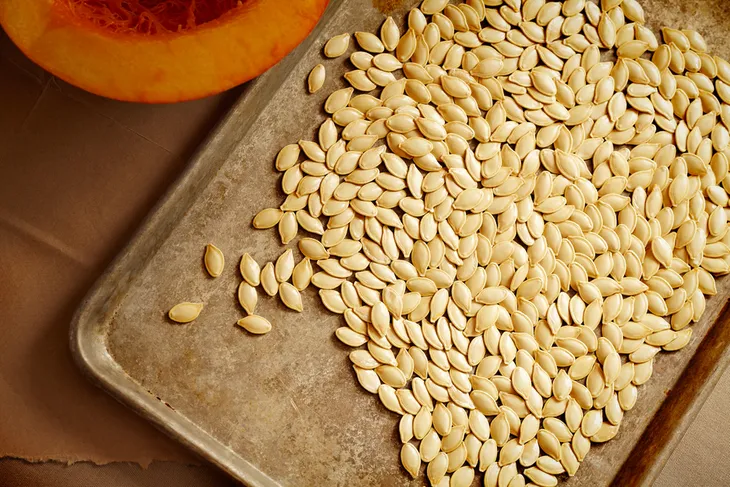 Major Manganese
You've probably heard about the nutrient manganese, but do you know what it can do for your physical health? Quite a lot, it turns out. In fact, foods that contain manganese can help us build healthier bones, promote blood sugar level regulation, jump-start our metabolisms, boost our immune systems, and assist in the fight against inflammation. Manganese is also associated with better vitamin absorption, can help improve digestion, and may help those with epilepsy limit their seizures.
Pumpkin seeds are simply packed with manganese, with a standard serving containing nearly half of our regular daily requirement.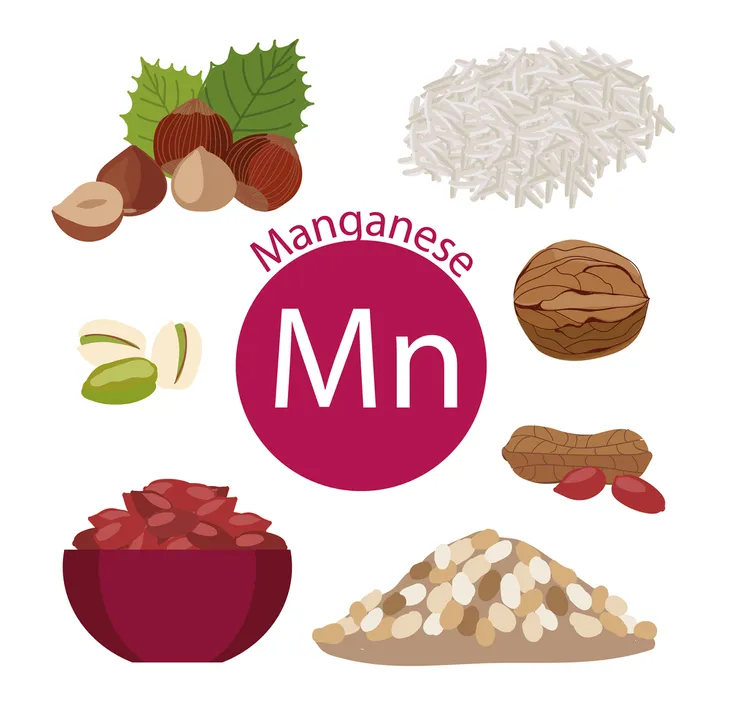 Iron-Heavy
Iron isn't just for medieval weaponry — it's also an important part of the daily diet. Foods that are high in iron can help boost cognitive functionality, making them excellent for older individuals with a family history of dementia. Iron is also great for muscle growth, can help in the treatment of anemia, boosts oxygen circulation, and plays a role in fighting a range of chronic diseases. It's even helpful in fighting off insomnia and fatigue and keeping us focused on our most important responsibilities.
Pumpkin seeds contain lots of iron, with a single 28-gram serving providing almost one-quarter our regular daily requirement.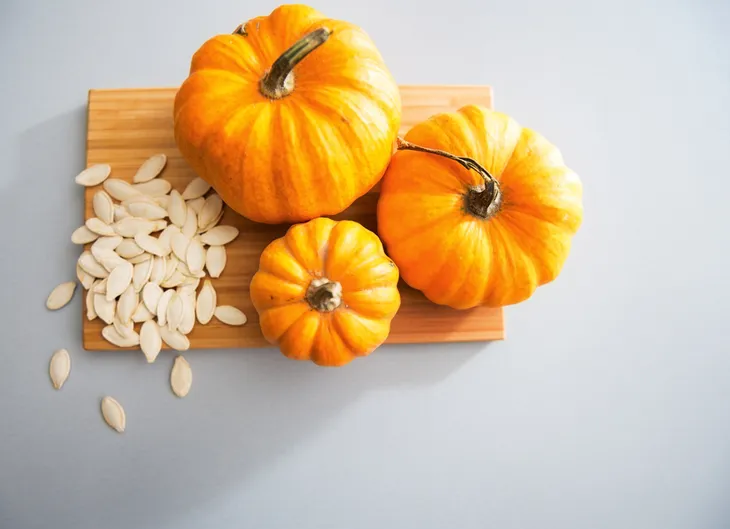 Copper Whopper
Copper has been a hugely beneficial mineral for literally thousands of years. Today, many homes contain copper piping, while many of the world's top chefs insist on using only copper cookware. But copper is also helpful for our bodies and foods high in copper can help with the absorption of iron (making it particularly helpful for individuals with anemia) and can assist in fighting fatigue. Although it's rare for people to be deficient in copper, individuals who fail to get enough in their diet increase their chances of developing heart disease and a range of other health issues.
Pumpkin seeds contain their fair share of copper, with a single 28-gram serving providing nearly one-fifth our daily requirement.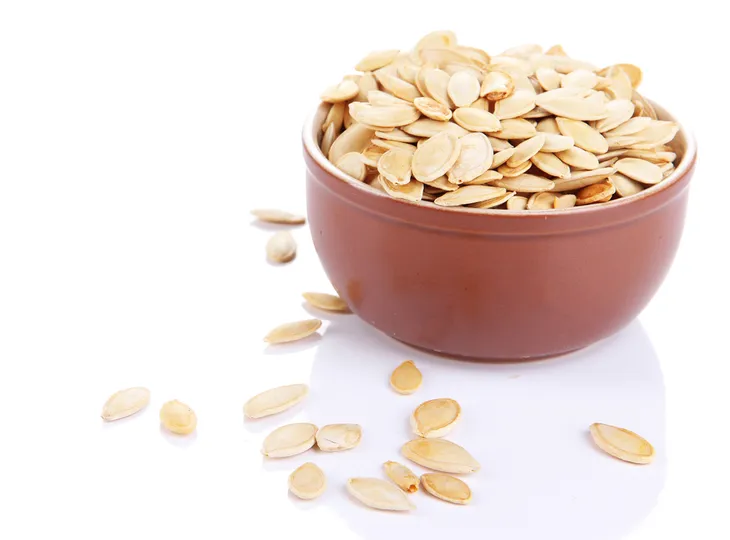 Low in Calories
Snacking has often been associated with binging on unhealthy foods like potato chips, candy bars, and other items high in fat, sugar, and calories. But regularly snacking on healthy foods that are low in calories but high in protein and fiber can actually help us curb unhealthy binging and can assist one in reaching their fitness and weight loss goals.
Pumpkin seeds fit the bill. With a standard serving providing only about 150 calories, they're a great alternative to processed snacks like candy and chocolate bars. On top of that, they're also packed with protein and fiber, which can help you stay feeling full for longer.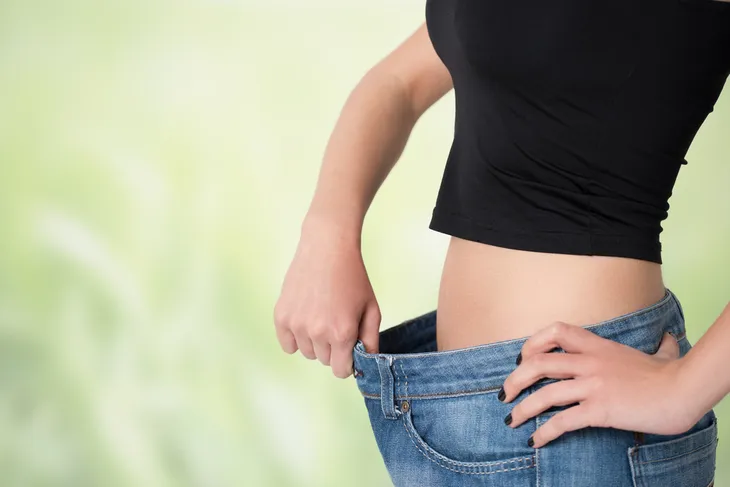 Rich in Antioxidants
Foods high in antioxidants can give our immune systems a boost by fighting off the free radicals so often associated with infection and inflammation. But that's not all: these foods are also strongly tied to the prevention of certain types of cancer.
Many fruits and vegetables are high in antioxidants — berries, like blackberries, blueberries, and raspberries, are packed with them. But they're hardly alone, as pumpkin seeds contain plenty of antioxidants, including carotenoids and vitamin E. Overall, that means pumpkin seeds can play a role in helping us maintain our physical health and fight off both minor and major health issues.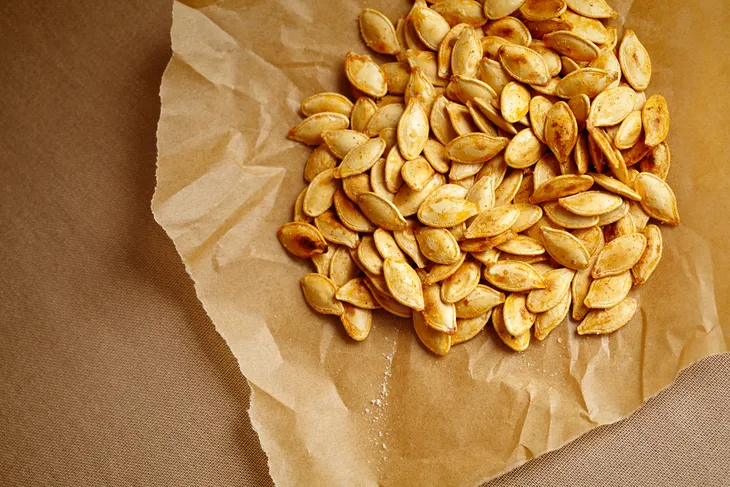 Cancer Killer
There are few diseases more feared than cancer and no wonder — every year, millions of Americans succumb to the illness. That's why so many food companies boast about any and all products that can assist in any way in the fight against cancer.
Pumpkin seeds can help play a role in this fight. Studies have shown that individuals who regularly consumed pumpkin seeds were less likely to develop cancer affecting the stomach, breasts, lungs, prostate, and colon. In fact, research shows that eating pumpkin seeds can be particularly effective in helping postmenopausal women limit their risk of breast cancer.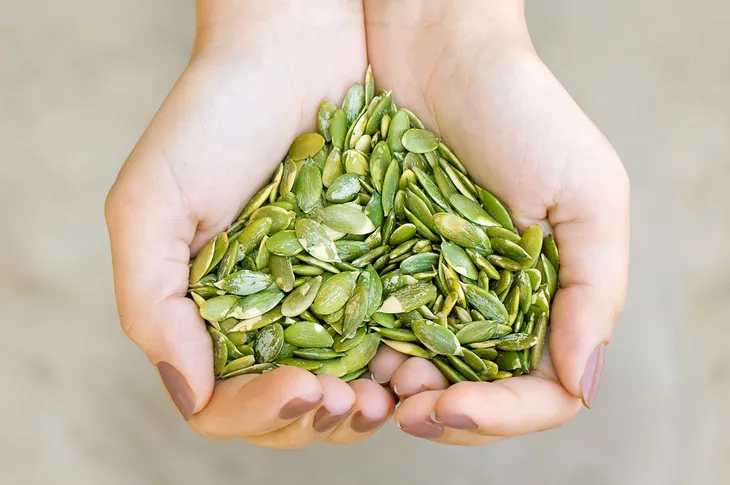 Promote Prostate Health
Promoting prostate health isn't just about trying to prevent the onset of prostate cancer, one of the more prevalent and deadly forms of cancer affecting men. It's also about helping us relieve other conditions associated with the prostate, like prostatic hyperplasia, otherwise known as BPH, which involves the expansion of the prostate to levels where it causes significant issues with urination.
Pumpkin seeds can help men fend off these issues. Research has shown that regularly eating pumpkin seeds helped limit the symptoms associated with BPH, which tends to result in overactive bladder. (Here are some more Everyday Foods That Can Help Fight Prostate Cancer).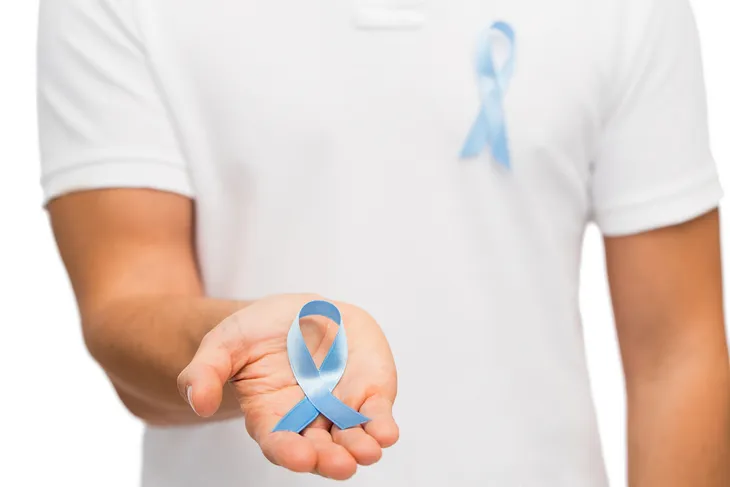 Magnesium Magnet
You may not know it, but your body really needs a regular supply of magnesium. Why? Because it plays an important role in helping control blood pressure, reduce the chances of developing heart disease, improve bone health, and regulate blood sugar levels. Unfortunately, magnesium deficiency is very prevalent, even in wealthier countries. In fact, it's estimated that only about one in five Americans gets enough magnesium every day.
You can get your magnesium fill by regularly consuming pumpkin seeds, a rich source of the nutrient.