Most people love chocolate in one form or another. Whether as a chocolate bar, dipped strawberry, in syrup form, drizzled over cheesecake, or as a hot drink with marshmallows on a cold winter's night. Chocolate is a feel good food, associated with positive emotions such as love and romance.
Anybody who's ever gone shopping for their sweetheart on Valentine's Day naturally reaches for the king and queen of romance foods whether it be white, dark, fruit/nuts, or milk chocolate. Here are twelve "feel good" (and even healthy) facts on chocolate…
Chocolate's Sweet History…
Chocolate was first discovered by the ancient Mayans then later by the Aztecs when they learned how to grow the trees. The word "chocolate" was derived from the word "xocoati", used to describe the bitter, dark drink made from cocoa beans. Chocolate beans are grown on the Theobroma cacao tree, the name which translates into "food of the gods".
Chocolate was primarily consumed in liquid form for over 90-percent of the time since its existence. Historians estimate that the Aztec Emperor Montezuma II drank upwards of 50 cups of chocolate each and every day. Currently South Africa supplies more than 2/3 of the world's cocoa, with Cote d'Ivoire the runner up supplying 33-percent of cocoa.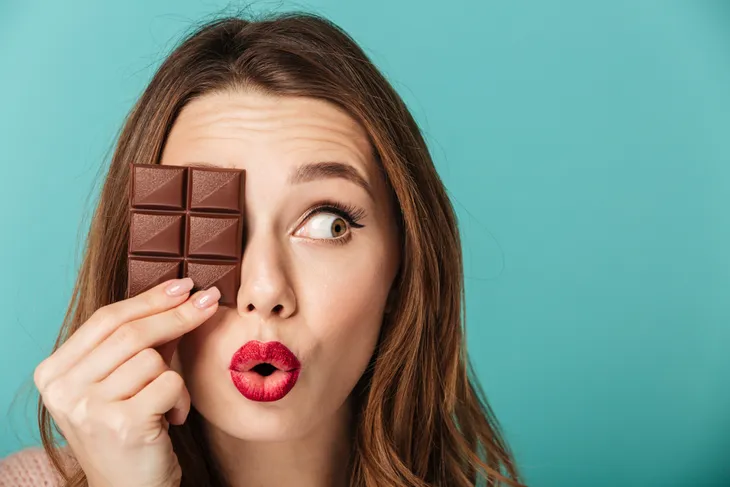 Chocolate Takes the Edge Off
Chocolate lovers everywhere can rejoice in the fact that their favorite sweet can actually be considered healthy. Did you know that the smell of chocolate can help calm your nerves? That's right!
Research published in the journal Nature Neuroscience shows that inhaling the fragrance of chocolate increases the amount of theta brain waves in the brain, which in turn promotes relaxation. Who'd have thought, the smell of chocolate is actually good for you!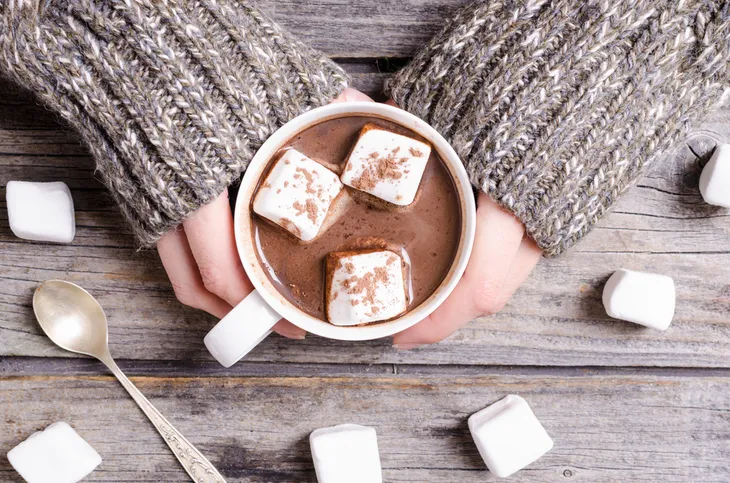 White Chocolate Isn't Chocolate
For all of you white chocolate lovers out there I've got some bad news: white chocolate isn't actually chocolate. Yes you read that correctly.
From a technical standpoint you can't call white chocolate…chocolate at all. Why you ask? Well because it doesn't contain any cocoa, cocoa liquor, or for that matter, cocoa anything. Interesting isn't it?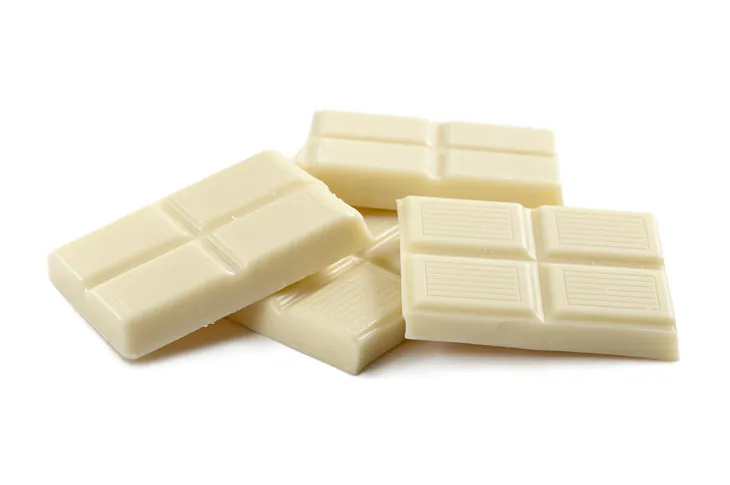 M&M's
Most of us are very familiar with the yummy, crunchy, multicolored, candy-coated chocolates that "melt in your mouth, not in your hands". That advertising slogan helped make M&Ms a household name in chocolate. But, did you know that M&Ms were not initially intended for the civilian market?
That's right; in the year 1941 M&M's were invented so that soldiers could enjoy chocolate without the sticky mess of them melting all over their hands. Hence, the slogan they "melt in your mouth, not in your hands".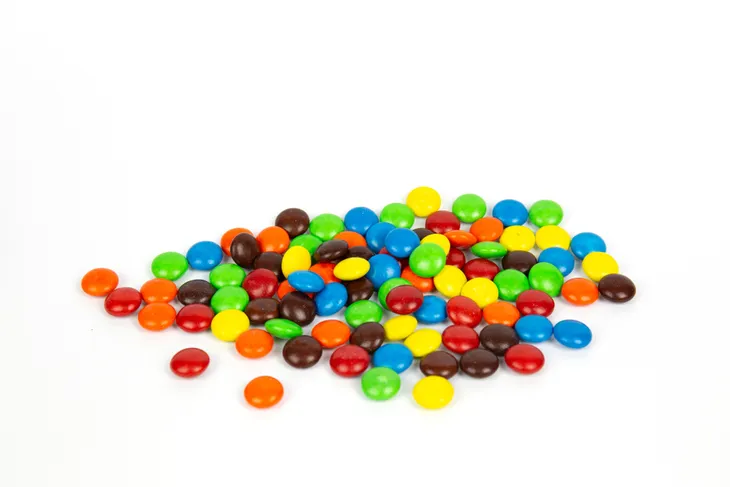 How Much Chocolate Do We Eat?
People love their chocolate. In every form be it dark, milk, or white, and as bars, toppings, drinks, syrups, chunks, or shavings. We also can't get enough of the sweet stuff on cakes or donuts, over nuts and fruit, rice crispy, or plain.
It's no understatement that Americans love their chocolate! In fact American's love chocolate so much that at any given second they are consuming 100 pounds of it, according to USA Today. That's 6000 pounds a minute, 36,000 pounds an hour, 864,000 pounds a day and just over 6 million pounds a week!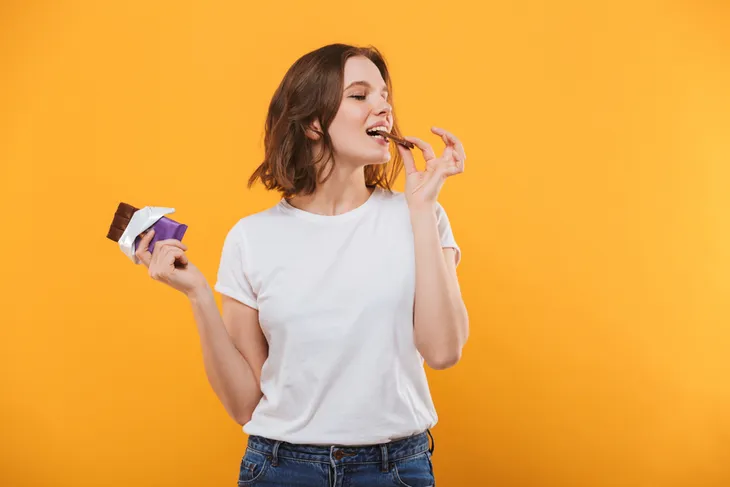 Full of Beans!
How many beans do you think it takes to make a single pound of chocolate? Ten? Twenty? One hundred? No. It takes 400 cocoa beans to make 1 pound (450 grams) of delicious, mouth-watering chocolate for your enjoyment.
If we look at the previous example of how much Americans eat, that means roughly 40,000 beans are consumed per second, 2,400,000 per minute, and 14.4 million cocoa beans per hour are consumed! That's a lot of cocoa beans from bean to bar!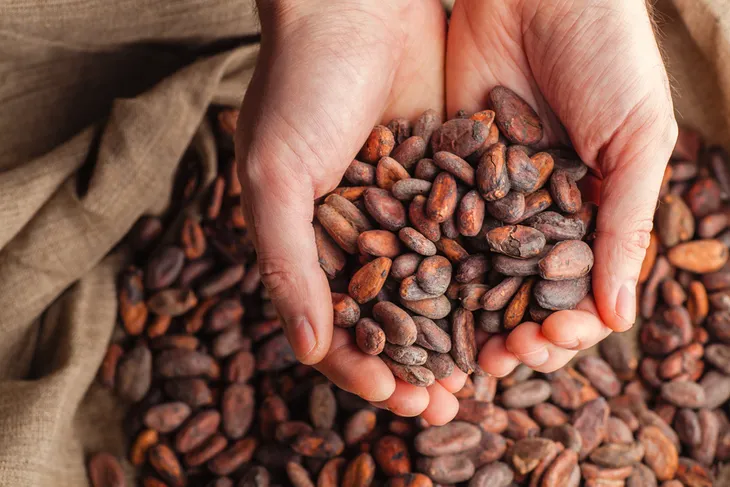 Chocolate Can be Good for the Heart
Chocolate can be good for your heart, and in more ways than one. There are actually chemicals in chocolate that improve your mood and mimic those wonderful feelings we experience when we fall in love. That kind of explains why Valentine's Day and chocolate go hand in hand.
Both chocolate and the heart are associated with love. Not only that, but chocolate is also good for your physical heart as well. This study from the Luxembourg Institute of Health (LIH), the University of Warwick Medical School, the University of South Australia, and the University of Maine found that eating chocolate on a regular basis can reduce the risk of heart disease by as much as one third. Imagine that!
Chocolate is Only Good for Humans
Unfortunately, chocolate is not good for all living creatures. In fact, a small bit of the sweet stuff can sicken and be fatal to pets. Humans, yes. Dogs, No. Cats, no as these animals break down foods and chemicals differently than we do.. So please, don't feed your dog, cat, or other pet's chocolate.
Veterinarian's consider chocolate poison to dogs because it contains a chemical called theobromine, which can cause diarrhea, stomach pain, liver and kidney failure, and even death. If your dog ingests chocolate, call your vet immediately. However, too much chocolate can also be harmful to humans. The Telegraph.co.uk notes that a deadly dose of chocolate for man can be found in 40 Hershey bars or 1900 miniature bars consumed at once (the equivalent of 22 pounds).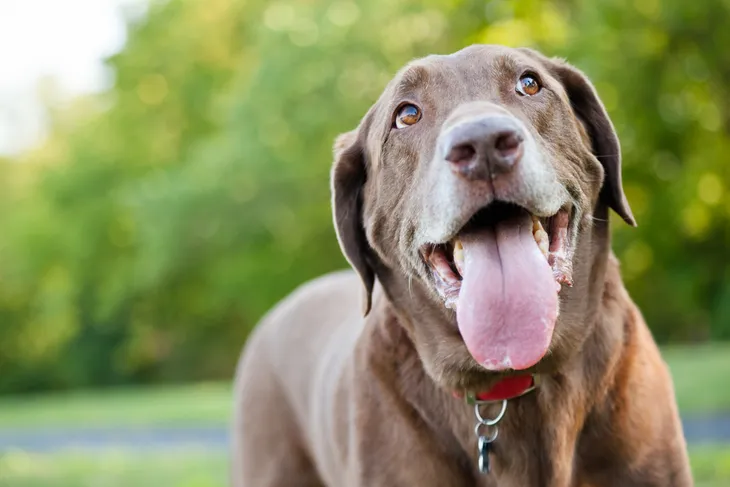 Chocolate is Good for Your Teeth
Yes, you read that correctly. Chocolate is good for your teeth. Strangely enough, chocolate has an antibacterial effect on your mouth. This in turn protects against tooth decay and gum disease. According to AsktheDentist.com, compounds in the husk of the cocoa bean husk contain antibacterial agents and also fight against plaque.
Before you go out and replace all your tooth brushes with chocolate, remember that most chocolate contains sugar. As we all know, sugar is a leading cause of tooth decay. So you'll still need to brush and floss after eating that candy bar.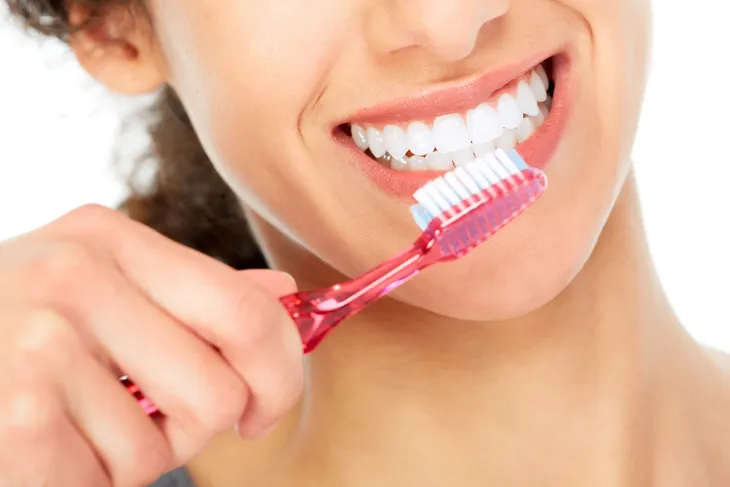 Now for Some Chocolate Fun…
Chocolate comes on stamps, chips and can be super-sized and there's also a pill that makes farts smell like chocolate! Many countries love their chocolate. Belgium is no exception. This country is world renown for their rich, luscious milk chocolate. Not only that, but in 2013 Belgium issued a limited edition of…you guessed it, chocolate flavored stamps!
Not to be outdone, the chip giant, Lays, introduced a potato chip dipped in milk chocolate. Did you know that the world's largest chocolate bar weighed in at 12, 770 pounds (5,792 kg)?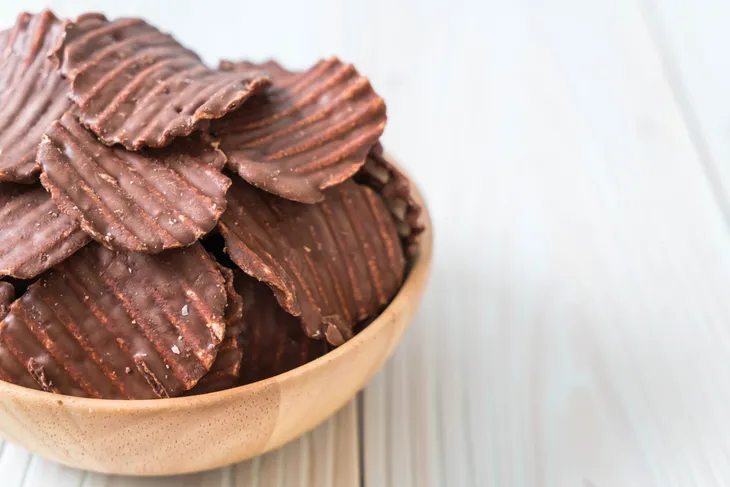 Chocolate Flavor Plus…Ewwwww
The wonderful cocoa bean is grown in tropical parts of the world where farm technology is often primitive or non-existent. Beans are often picked by hand. Therefore, it should come as no surprise that a regular chocolate bar, on average contains between 7-9 insect parts.
Insects and cocoa aren't the only ingredients in this treat. Three quarters of all the world's artificial vanilla is used to add flavor to ice cream and chocolate. Plus Chocolate contains more than 600 different flavor compounds, whereas red wine only has 200. In the pre-Columbian era, nuts fruits and even dinosaur fossils were ground up and mixed in with chocolate.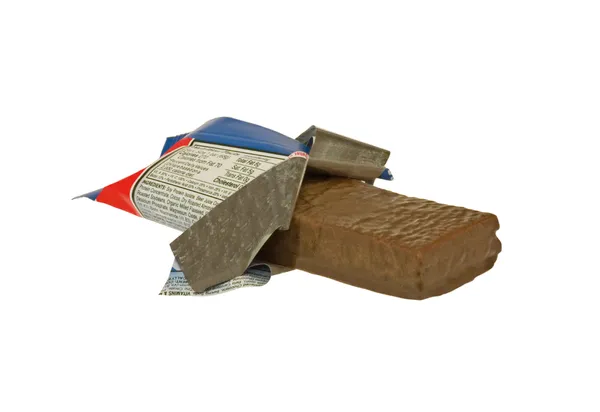 Chocolate and Money
Did you know that during the revolutionary war soldiers were occasionally paid with chocolate instead of currency? Soldiers weren't the only ones who preferred this delectable sweet to cold, hard cash.
Ruth Wakefield, the inventor of the chocolate chip cookie, sold her recipe to Nestles for an unlimited lifetime supply of…you guessed it…chocolate. Talk about feel good food…mmmm chocolate chip cookies.