Do you end up feeling like a stuffed turkey after gorging on so many holiday delights? Don't worry, you're not alone! It's common during the holidays for people to overeat and overindulge. It's hard not to! We tend to celebrate holidays like Thanksgiving and Christmas with food and drink. This is why many people throw all rules regarding diet and health out the window during this time of year.
We're here to tell you that it doesn't have to be that way! You can still enjoy the holidays while eating traditional, festive foods. There are many traditional holiday foods that are actually quite healthy. The key lies in the preparation and moderation. Take these 15 festive favorites as healthful examples, and be sure to include them in your holiday feast…
Pomegranates
There's almost nothing healthier over the holidays than a big, gorgeous, juicy pomegranate. The plump, red fruit is not only rich in disease fighting antioxidants, it's also super versatile, especially when it comes to holiday treats. You can easily splash some pomegranate into the holiday punch bowl, incorporate it into festive desserts or by tossing some seeds over steamed veggies or a nutritious salad.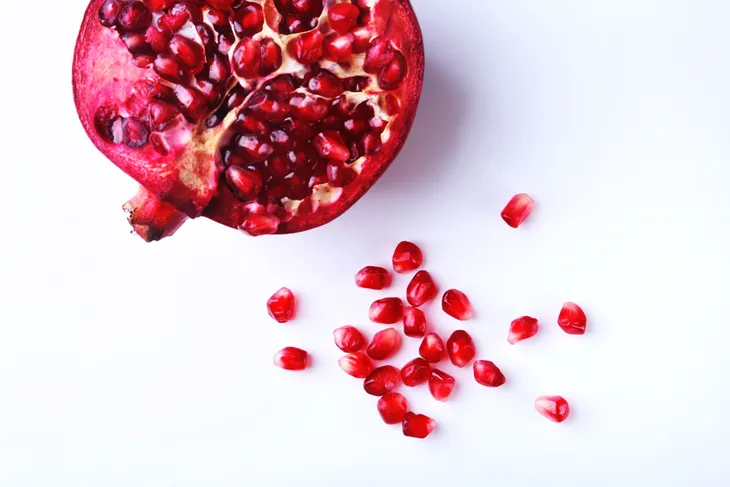 Cocoa
Talk about an early holiday treat for chocolate lovers! The dark variety of this sweet spice can be blended into a warming mug or added to bake goods in small doses to ward off the dangers of stroke or coronary heart disease.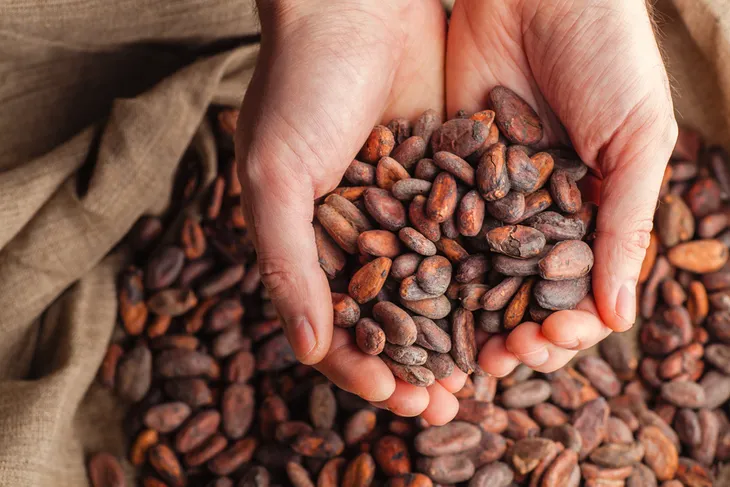 Fresh Green Beans
Beans, beans, the magical fruit the more you eat the more you….are super healthy? Beans are a classic holiday staple at the dinner table. However, we often ruin their health benefits by loading them up with calories and fats in a creamy casserole. On their own, fresh beans are a rich source of vitamins A, C, and K, manganese, dietary fiber, potassium, folate, and iron (if steamed).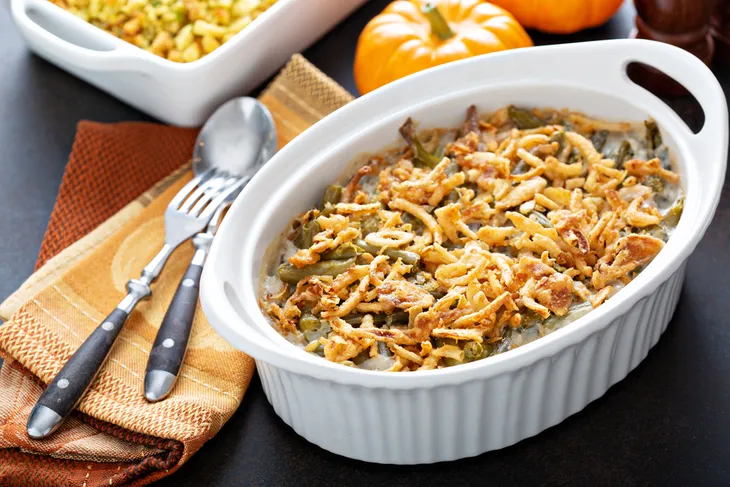 Sweet Potatoes
Sweet potatoes are a great alternative to those starchy white potatoes. Not only are they healthier, they taste delicious too! It's a no brainer. If you haven't made the switch from potato to sweet potato, you're missing out. You can prepare this food the same way as regular potatoes, but enjoy so many more health benefits. The sweet variety is rich sources of fiber, vitamin A, and potassium, which the white variety simply lacks. Just don't make the mistake of loading them with butter, cream, and marshmallows. It'll sabotage all that good stuff.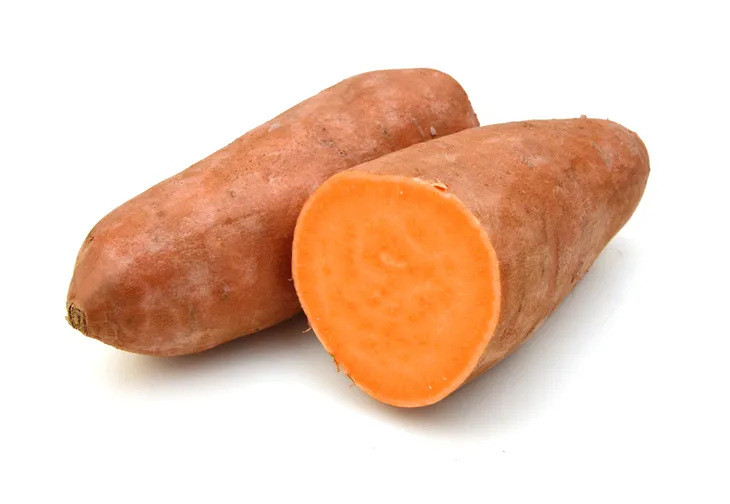 Red Wine
Cheers to this one! While we've included red wine on this list, it's important to note that it doesn't mean you should be drinking a bottle every night. A glass or two of red wine can have some great benefits due to its heart-healthy, antioxidant prowess. Not only does the red vintage boast disease-blasting benefits; it's also low in calories compared to other forms of holiday cheer at approximately 75-calories per 4-ounce glass. Again, these benefits can only be reaped if this drink is enjoyed in moderation. Women should aim for one glass per day while men can have two.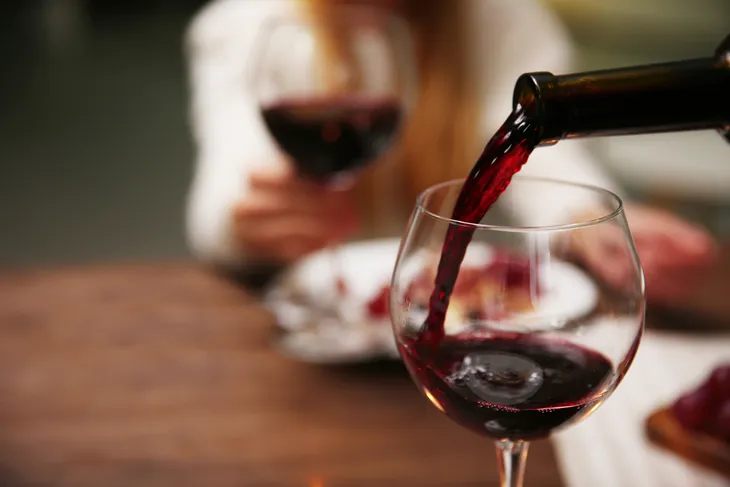 Pumpkin
Christmas tidings wouldn't quite be the same without a thick slice of pumpkin pie at the end of a holiday meal. While a piece of pie isn't exactly healthy, pumpkin is considered a superfood because it has a heart-healthy form of low fat, is low calorie, and loaded with fiber and vitamin A. To enjoy this healthy gourd during the holidays, start using it in baked goods as a healthier substitute for butter or margarine.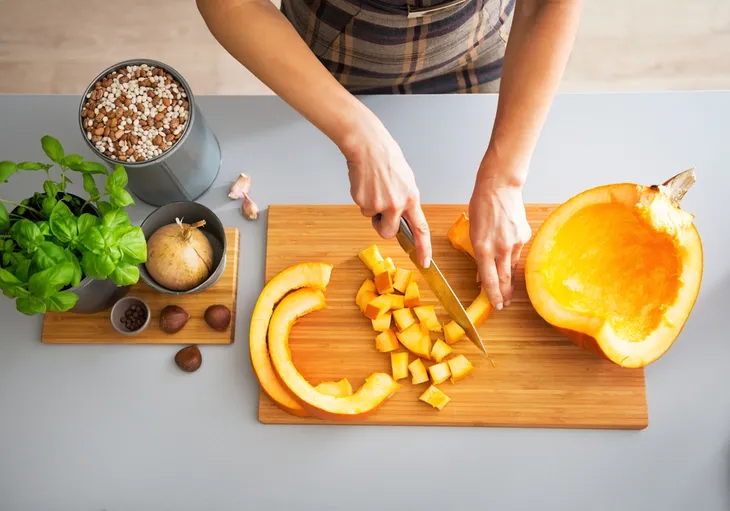 Turkey
Not only does the white portion of your favorite holiday bird pack plenty of low fat protein — it also packs a healthy dose of folic acid, vitamin B, zinc, and potassium. All of these work to lower blood cholesterol and ward off illnesses, such as cancer and heart disease. Just remember, loading this superfood up with other holiday staples like gravy and stuffing will counteract some of the health benefits that come from eating turkey on its own. So be sure to leave the gravy in the gravy boat!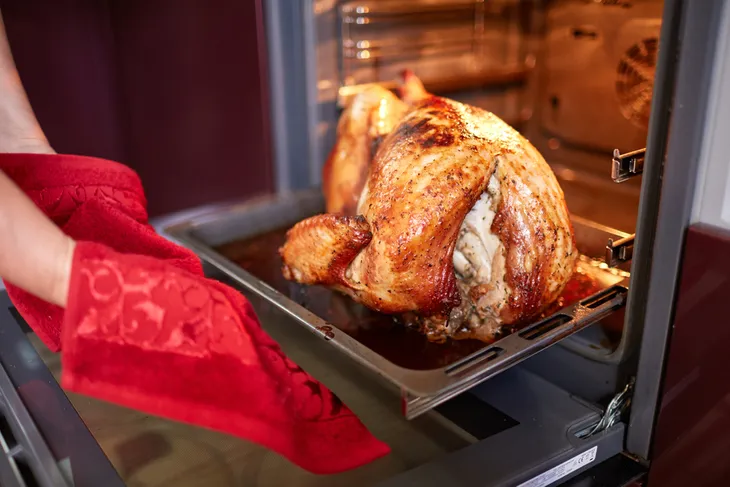 Nutmeg
Many of us love a whiff of nutty, earthy, sweet nutmeg in our Christmas baking. This fragrant spice can fill your home instantly with the aroma of the holidays and your eggnog bowl and casseroles with a little digestion-relief. It's true; nutmeg relieves diarrhea, constipation, bloating, and gas pain.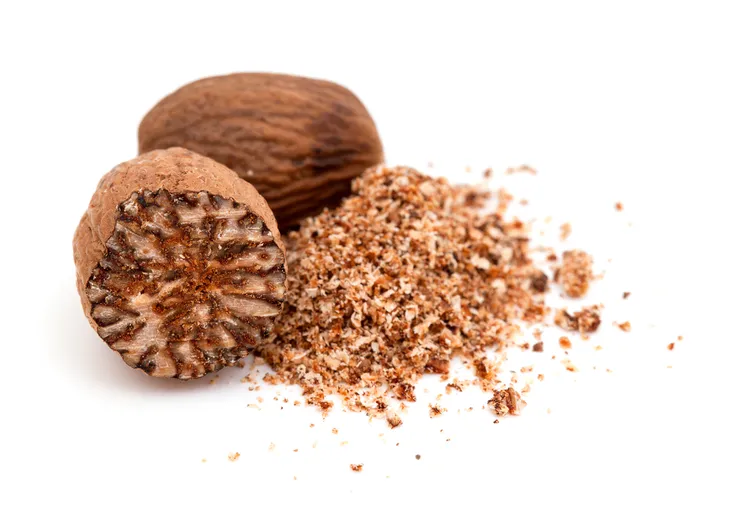 Cinnamon
There are so many healthy reasons to use cinnamon in your morning oats, hot beverages, baking, and vegetable side dishes. Among them, cinnamon lowers bad cholesterol and balances insulin levels so you can resist the urge to binge on Christmas cookies.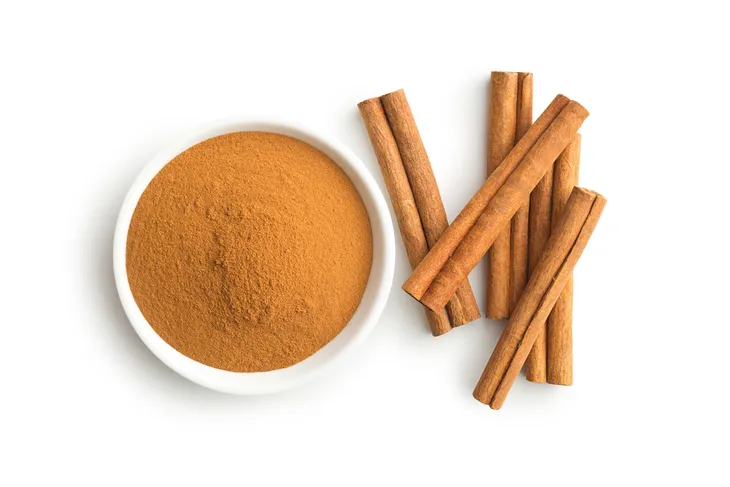 Cranberries
Cranberries are one of the most underrated berries. They don't get nearly enough recognition as other berries. The medicinal benefits of cranberries were celebrated by our Native American ancestors, who used this tangy berry to treat all sorts of bacterial infections (i.e., UTIs).
This superfood is great for the holidays because it can be incorporated into so many dishes, from salads, baked goods, cocktails, and of course, that cranberry sauce we load up on when eating turkey. No matter what it's used for, cranberries will bring the miracle of antioxidants in compact fiber-rich, low-calorie form.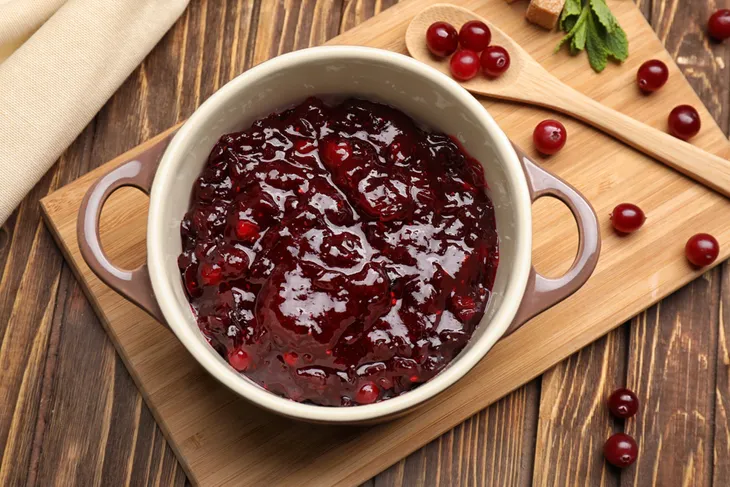 Dark Chocolate
Just like with the red wine, you probably don't need anymore convincing to eat more chocolate. The key with this superfood is to eat dark chocolate, not that light, milky kind we often find in chocolate bars along the cashier aisle. Dark chocolate is much more rich, and all it takes is one little piece a day. This food is rich in fiber, iron, magnesium, copper, and manganese. According to My Fitness Pal, "small amounts of high-quality dark chocolate on a regular basis can help improve skin, lower blood pressure and reduce the risk of cardiovascular disease."
The source talked to Casey Larsen, MS, LDN, who says, "dark chocolate is a great source of antioxidants which are important for controlling free-radical damage." However, pay attention to the labels when purchasing dark chocolate. You want to be mindful of any added sugars which are definitely not good! Aim to purchase a dark chocolate that has at least 70-percent cacao.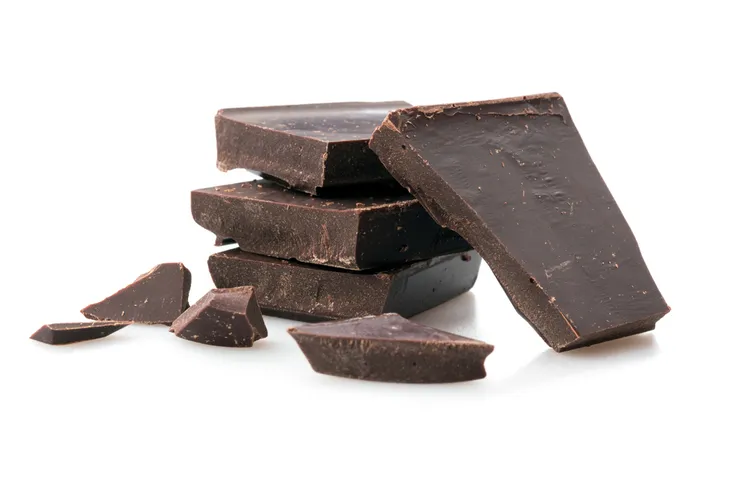 Whole Wheat Rolls
You don't usually see any kind of bread on a list of superfoods, but anything whole grain is actually good for us. The key is to avoid white bread at all costs. White bread has been stripped of any and all of its nutritional value whereas whole grain and whole wheat bread are loaded with fiber. This is important because fiber helps reduce our risk of heart disease, fights some types of cancer, and helps keep our digestive system healthy by regulating bowel movements, says Better Homes & Gardens.
Just be forewarned when picking dinner rolls out for your holiday feast that most of the ready-to-bake kinds aren't as healthy. Look for rolls that say whole wheat or are a mixture of whole wheat and enriched white flour. If you want to make them even healthier, sprinkle some oats or seeds on top while baking.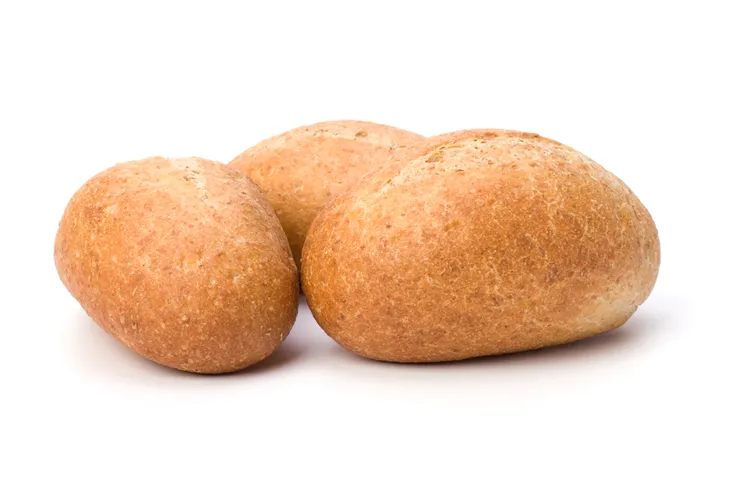 Walnuts
Walnuts are a great snack to have out for people to munch on while waiting for dinner. This nut is considered a superfood because it's a great source of omega-3 fatty acids. This is the type of fat that lowers the "bad" cholesterol, also known as LDL. Meanwhile, walnuts will raise the "good" cholesterol (HDL).
To enjoy this superfood as a snack on the go, make your own trail mix by grabbing a handful of walnuts along with some dried figs and anise seeds. According to Real Simple, as these three ingredients sit together the anise seeds will release a delicious flavor.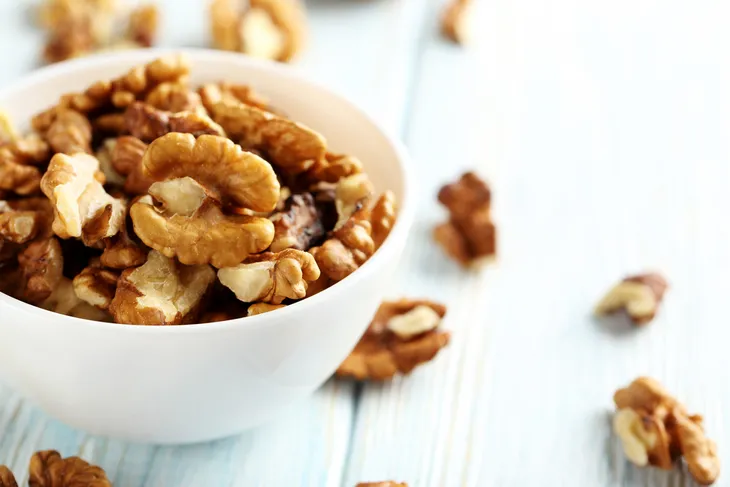 Brussel Sprouts
Even though Brussel sprouts aren't everyone's favorite dish, they always make their way onto the table during the holidays. People either love them or they hate them! It's a good thing they're included on the table because this veggie is actually a really good superfood that packs major health benefits. According to Amazing Grass, Brussel sprouts are packed with vitamin C, fiber, folate, and antioxidants which is why they're a great healthy dish to bring to the table.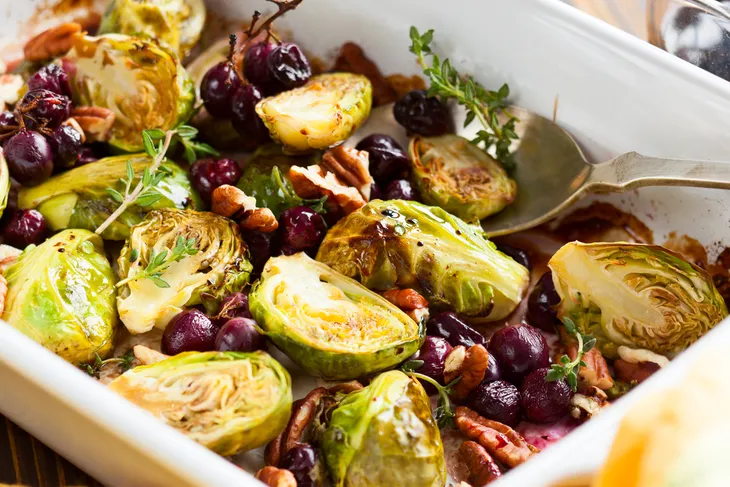 Mushrooms
Similar to Brussel sprouts, we know mushrooms aren't everyone's favorite. But they should be! Trust us, eating this earthy vegetable is totally worth it just for the health benefits. Plus, there are many creative ways to incorporate them into dishes that can make the dish more healthy and mushrooms all the more delicious. For example, using mushrooms as a replacement for meat can slash up to 400-calories!
Try sauteeing some sliced mushrooms and shallots until they are tender. Add a splash of white wine and cook until it has evaporated. Serve these mushrooms over some roasted fish or turkey. Yum!