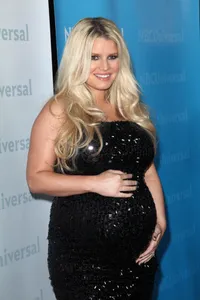 Shedding the baby weight is difficult for any new mom but it's even more difficult when the whole world is watching and you have a multi-million dollar deal with Weight Watchers riding on your success.
That's where Jessica Simpson gets her motivation from. She literally has millions of dollars riding on the possibility that she can shed the 70+ pounds she gained while pregnant with her daughter Maxwell.
So what's her plan to help slim down and stay healthy?
Jess tells US Weekly that she wakes up at 7am to feed Maxwell and treats herself to half a Flatout flatbread sandwich with egg whites, peppers and fat-free cheddar – a meal that totals just 6 PointsPlus on Weight Watchers.
As for her fitness routine, Simpson is sticking to walking at the moment (she says her boobs are "way too big to run at this point") but is trying to do at least 14,000 steps a day. On top of that, she also exercises at least four times a week with her pro trainer where she kicks off her routine with a cardio warm-up, followed by circuit training.
Is all of the hard work and exercise paying off for the new mom?
"I'm 10 pounds away from my pre-baby size," she tells the magazine.
Do you think Jessica Simpson looks good after all of her hard work?
Source: Foodista