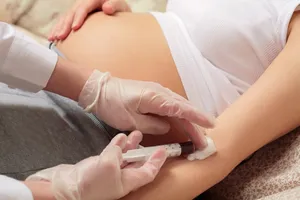 The Center of Disease Control has issued a statement saying that all pregnant women should get vaccinated in order to protect their babies. The Advisory Committee on Immunization Practices, ACIP, is run from the CDC and has issued this recommendation.
Previously they had the recommended guidelines that pregnant women without previous vaccines should receive them. This has been changed to say that all women, regardless of their vaccination history, should be re-vaccinated.
The vaccine that they are recommending is the Tdap shot, which is a combined tetanus-diphtheria-pertussis vaccine. This new guideline follows the ongoing pertussis outbreak, which has caused 16 deaths and 32,645 illnesses this year alone. Pertussis is also known as "whooping cough" can is particularly deadly to new infants.
The ACIP voted with 14-0 for the vaccine recommendation. One member abstained from voting. The CDC's press release says that "By getting Tdap during pregnancy, maternal pertussis antibodies transfer to the newborn, likely providing protection against pertussis in early life, before the baby starts getting DTaP vaccines."
The CDC hopes that if all pregnant women get vaccinated with Tdap, it could reduce whooping cough instances in babies by 33%, hospital admissions by 38%, and save children from dying with 49%.
The ACIP recommendations will not be finalized until accepted by the CDC director and published in their Morbidity and Mortality Weekly Report.