The National Cancer Institute estimates that almost 132,000 American women and 2,400 U.S. men will develop breast cancer in 2015. With such staggering statistics, it's unfortunate that the disease doesn't get more attention. However, these seven celebrities are doing their part as breast cancer survivors to bring awareness and rally support for the disease…
1. Giuliana Rancic
The famous E! star discovered her early stage breast cancer diagnosis in 2011 at the young age of 36-years-old. At the time, Rancic was undergoing IVF treatments. Following her diagnosis, she underwent a double mastectomy and reconstructive surgery.
Rancic and son Bill still went on to have their son via a surrogate in 2012, refusing to let breast cancer obstruct their dream of parenthood. Rancic now runs Fab-U-Wish with the non-profit organization, The Pink Agenda, granting star-studded wishes to women in breast cancer and ovarian cancer treatment.
2. Christina Applegate
The actress and former, Married With Children, star was diagnosed with breast cancer at the early age of just 36 in the year 2008! After finding out she had the BRCA genetic mutation (breast cancer gene) during a lumpectomy, Applegate opted for a double mastectomy.
Appearing on the Oprah Winfrey Show following her mastectomy, the actress said that her diagnosis and experience spurred her "to go out and fight as hard as I can for early detection."
3. Wanda Sykes
The then 47-year-old comedian admitted to a family history of breast cancer on her maternal side (mother's side of the family) on the Ellen Degeneres Show. It was there she revealed having both of her breasts removed following a diagnosis of "stage zero" breast cancer.
Sykes' stage zero breast cancer was detected during a breast reduction surgery follow up in 2011. She says her preventive double mastectomy ensures "I [now] have zero chance of having breast cancer."
4. Edie Falco
Known for her tough-as-mails role as Nurse Jackie and a never could "fuhgeddaboudit" part as Tony Soprano's better half, Edie Falco was diagnosed with stage 1 breast cancer in 2003. At the time, she revealed to Health magazine, her diagnosis left her "gasping for breath".
Since her diagnosis, Falco has adopted two children. She told Health that her diagnosis proved to her that she was a strong woman even though she kept her diagnosis under the radar, "because well-meaning people would have driven me crazy asking, "How are you feeling?" I would have wanted to say, "I'm scared, I don't feel so good, and my hair is falling out."
5. Shannen Doherty
The now 44-year-old actress, likely most remembered for her role as Brenda on Beverly Hills 90210, also starred in the television show Charmed and Little House on the Prairie. But in 2015 she faced a battle with metastatic breast cancer, reportedly, and according to TMZ, in her lymph nodes.
Doherty confirmed her diagnosis with a reporter from People magazine in August 2015, admitted she was undergoing treatment for breast cancer detected at a later stage.
6. Peter Criss
Drummer and sometimes vocalist (I love "Beth") for the rock n' roll band, Kiss, Peter Criss (real name: George Peter John Criscuola) was diagnosed with breast cancer in 2009 after discovering a lump in his chest 2-years prior. In a heartfelt interview with CNN, Criss revealed that he considered himself "the luckiest man on the planet" due to surviving breast cancer.
Criss is proof that men can also get breast cancer. The musician has since published an autobiography entitled, Makeup to Breakup: My Life In and Out of Kiss, and speaks to spread breast cancer awareness among males.
7. Rita Wilson
Known for many Hollywood movie roles, including in Sleepless in Seattle, It's Complicated, and of course, a feature role as the wife of actor, Tom Hanks, Rita Wilson underwent a double mastectomy in spring of 2015, followed by reconstructive surgery.
Wilson's diagnosis for invasive lobular carcinoma (or LCIS) was diagnosed following an early test that reported negative for breast cancer. However, after seeking a second opinion, the 58-year-old actress' cancer was discovered.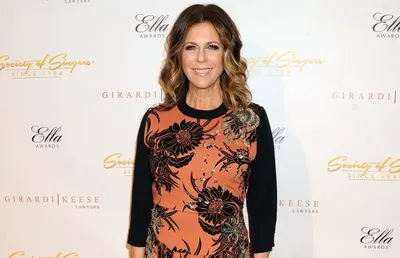 Mandatory Credit: Photo by Broadimage