Are you afraid of falling? If you are, let us assure you that you're not alone. In fact, the Centers for Disease Control and Prevention (CDC) states, "One out of four older adults will fall each year in the United States, making falls a public health concern, particularly among the aging population." With a statistic like that, it's easy to see why one would be afraid of falling.
The good news is falling is not a normal part of aging and there are ways you can prevent it from happening. Taking the proper steps will help keep you safe and maintain your independence. Follow along as we explore 10 ways seniors can prevent falling at home.
Want senior content delivered straight to your inbox? Sign up for our exclusive email list and receive articles and news on diet & nutrition, fitness, and mental health dedicated specifically to our senior audience!
Get Rid of Throw Rugs
Decorative rugs may look pretty but they're also a tripping hazard. In fact, throw rugs are one of the biggest culprits when it comes to falls. This is because they can easily bunch up causing you to trip over them.
If you're worried about falling, it may be best to not use throw rugs at all. However, if you have one that is important to you, you may want to consider placing it in a low-traffic area.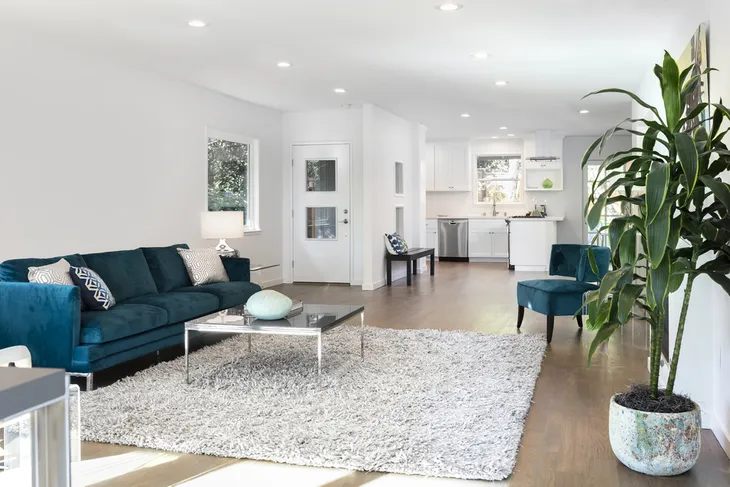 Keep Your Home Tidy
Just like throw rugs, clutter is another tripping hazard and is something you should deal with regularly. Things like laundry baskets, clothing, magazines, boxes, and other types of clutter can all put you at risk of falling if left on the floor.
Another thing to be mindful of is electrical cords. Make sure they always stay as close to the wall as possible to prevent you from tripping over them. Keep your house tidy, and always ensure hazardous items are out of the way especially in high traffic areas.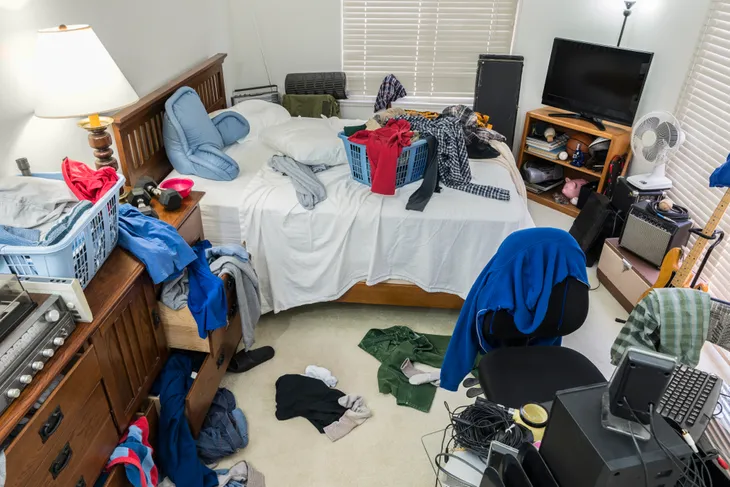 Make Sure Your Home is Well Lit
Along with keeping items up off the floor, it's important to ensure your home is well lit. Dim lighting can make it hard to see which may put you at a greater risk for falling.
Another tip is to make sure you keep a light close to your bed and keep a nightlight in your bathroom. This will ensure you have easy access to light if you need to get up during the night.
Avoid Climbing Too Many Stairs
Staircases can be a big problem for some older adults. If you're not used to climbing stairs, your muscles may become fatigued and may cause you to fall. Try to take an elevator when available and necessary. Some people even have stairlifts installed in their homes.
Another great way to avoid stairs is to live on one level. If that isn't possible you can try your best to limit the number of trips you need to take up and down the stairs.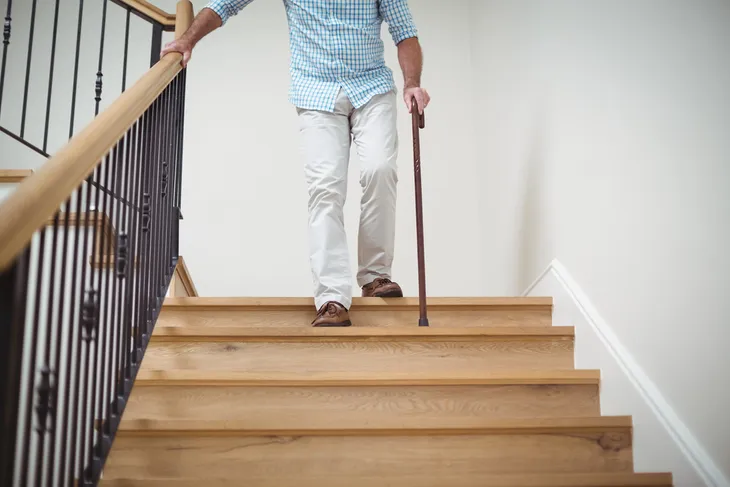 Install Grab Bars and Handrails
Grab bars are great safety devices that can help you maintain balance while maneuvering. It's also a great safety feature to have because you can grab onto it if you suffer a slip or fall.
Some great places to install grab bars are next to the toilet as well as inside and outside the bathtub or shower. Furthermore, it may also be wise to install railings on either side of the stairs in your home. Don't be afraid to hire a handyman or ask a family member to install these for you.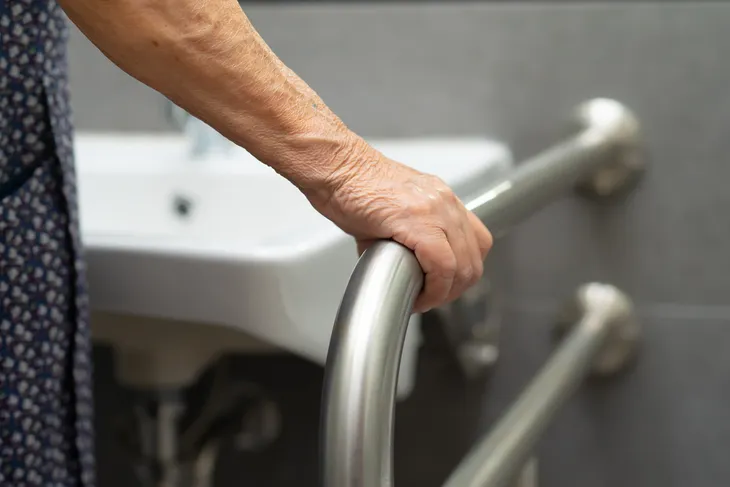 Wear Proper Footwear
Wearing the proper footwear when you're exercising and out and about is vital if you want to help prevent falls. Make sure you wear footwear that has low contact with the ground, and the soles should have a good drip.
But that's not all, you need to be mindful of your footwear indoors too. The American Academy of Orthopaedic Surgeons state that most fractures that are caused by falls happen in the home. This is why it might be best to forgo the socks or go barefoot and wear shoes in the house instead.
When looking for indoor shoes, make sure they are light and easy to put on. You'll also want to look for soft comfortable shoes that feel good on your feet and more importantly, the shoe needs to have a non-slip sole to help prevent falls!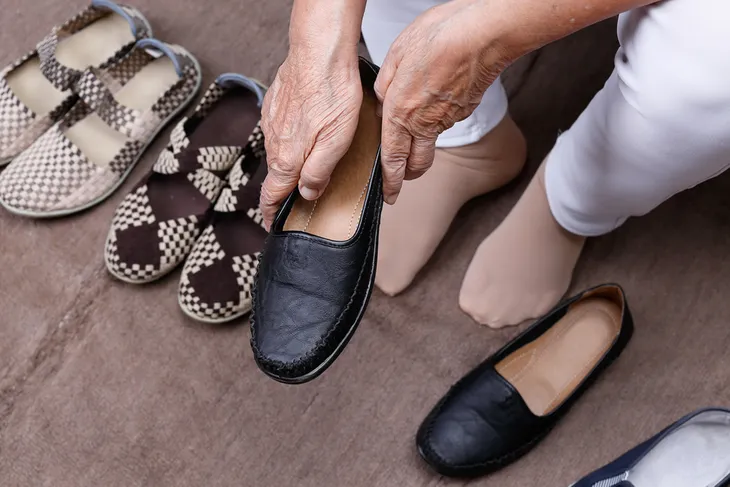 Avoid Loose Clothing
We all want to feel comfortable in our own home and that includes how we dress. That said, it would be best to avoid baggy clothes that drag on the floor. This will prevent tripping and falling.
To avoid this make sure you wear clothing that fits you properly and hem items when necessary. If you wear shoes with laces always make sure they are tied tight as you don't want to trip on laces either!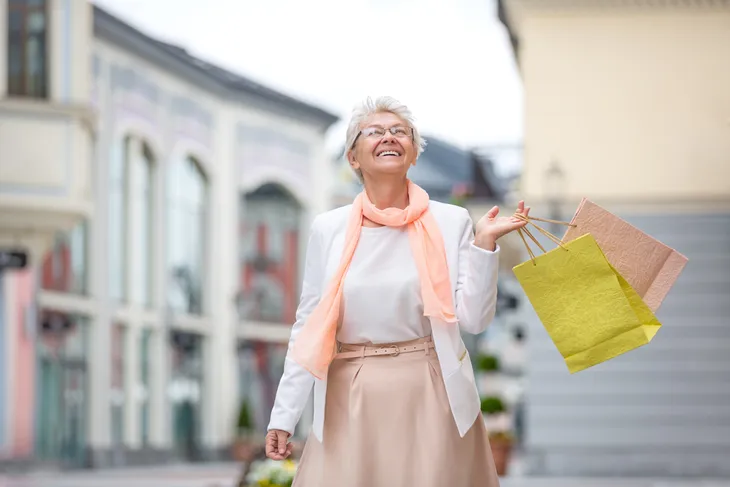 Don't Move Around Too Quickly
Moving around too quickly such as going from a sitting to standing position can cause you to lose your balance and in turn, may result in a fall. The best thing you can do is take your time and try to move in slow, controlled movements.
Dr. Bunning explains, "All you have to do is pause after going from lying down to sitting and from sitting to standing," It's also advisable that you pause before using the railing on the stairs. This may seem like a small tip but it may make a world of difference!
Use Non-Slip Mats Where Necessary
Certain rooms in your home pose a greater risk than others due to slippery floors. This includes the kitchen and bathroom and even your front porch.
Non slip mats are great tools that help prevent falls in rooms that are prone to slippery floors. You might want to consider placing a non slip mat in your bathtub/shower, outside of the bathtub/shower, by your kitchen sink, and on your porch.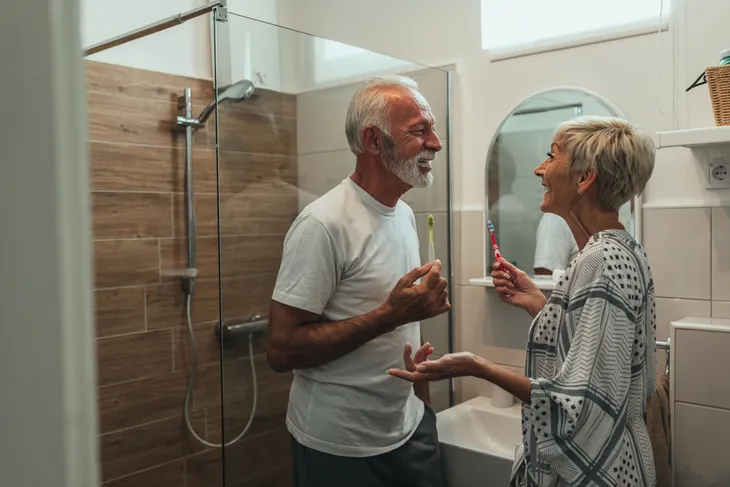 Get Your Eyes Checked Regularly
Just like the body, our eyes and vision change as we age too. Not everyone will experience the same changes but some common age-related vision changes include difficulty focusing on near objects, the need for more light, problems with glare, and changes in color perception.
This is why keeping up with regular eye exams is so important. Eye exams will determine if you have any changes in your vision which will help you see better and prevent falls.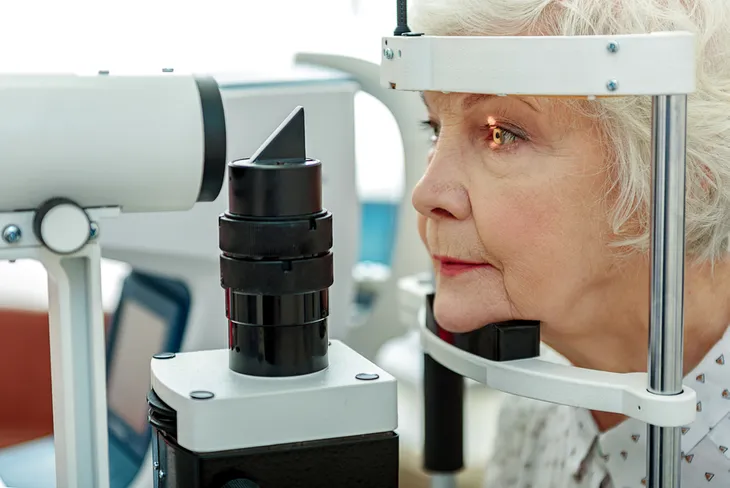 Exercise
Another great way to prevent falls is to exercise regularly. Strengthening your muscles and keeping your joints strong will not only help you stay healthy but will also help prevent falls or decreases in mobility.
As we age we tend to lose muscle size and strength and joint flexibility. The best way to avoid this is to stay physically active. Check out these great exercises that help prevent falls. And as always, make sure you speak to your doctor or physiotherapist before starting a new workout routine.