There's no denying that dancing is a fun activity and hobby that many people enjoy. There are people who do it professionally, those who do it for fun and take lessons, and those of us who just like to dance when no one's watching and the song is right! It's good for us to let loose once in a while and shake it all out (or shake it off as Taylor Swift would say).
Most of us look forward to the occasional chance to "get up and dance," but did you know that dancing, at any age, has many benefits for the mind and body? In this article, we're going to break down the ways dancing is good for our health, and then get into a step-by-step video on low impact salsa dancing for beginners!
Want senior content delivered straight to your inbox? Sign up for our exclusive email list and receive articles and news on diet & nutrition, fitness, and mental health dedicated specifically to our senior audience!
Benefits of Dance
Slows Down the Brain's Aging Process
Neuroscientists have found that dancing can slow down the brain's aging process. The hippocampus area of the brain, which is responsible for memory, balance, and learning, is susceptible to decline as we age. Dancing increases volume in this area of the brain. The change in choreography and memorization of steps make the brain "work" extra, as opposed to other repetitive cardiovascular physical activities such as walking or biking.
A 21-year study led by the Albert Einstein College of Medicine showed that aging adults who danced regularly had a 76-percent reduced risk for developing dementia.
Dancing combines cardiovascular exercise with split-second decision making that forces the neural network to create new pathways. That is why dancing is so beneficial for our brain's, and that of aging adults.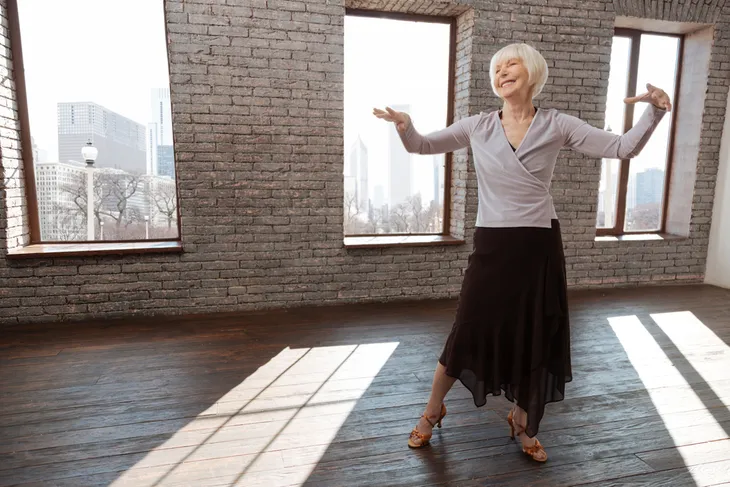 Improve Balance and Strength in Seniors
The journal of Gerontology did a study with older adult's doing a few weeks of salsa dance classes. It's findings showed that "salsa proved to be a safe and feasible exercise program for older adults," say study authors. It also showed increases in strength and balance, as well as commitment to the eight-week salsa dancing program.
Over 92-percent ended up completing the study! Dancing while seated or standing will work to strengthen the core, lower and upper body, as well as improve posture which in turn improves overall balance.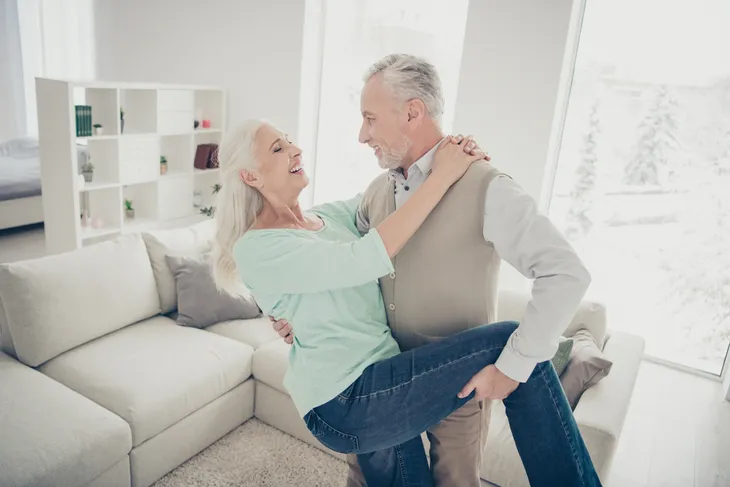 Decreased Depression in Seniors
The mental effects of dancing can come from both doing the act of dance or watching it. The reality is, music uplifts us and for most of us, if the song is right, we can't help but move along and smile.
As noted on Aging Care, Australian researchers completed a two-week study on senior men and women with mood disorders where participants did a tango instruction program. The results showed that they felt less depressed and experienced significant reductions in their levels of stress, anxiety, and insomnia.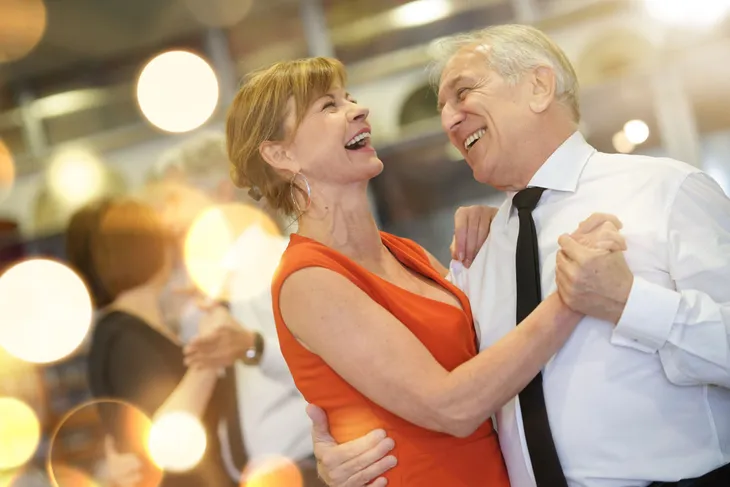 Reduce Pain and Stiffness
Knee and hip pain and discomfort seem to be inevitable as we age. Even if it's dealt with, dancing may be able to improve the condition. Saint Louis University did a 12-week program of low-impact dancing with participants averaging the age of 80-years-old. The results showed that the participants were able to decrease the amount of pain medications they took by 39-percent.
Along with that, the participants were able to move more freely and live more independently. "Walking just a little more rapidly can make enough of a difference for a person to get across the street more quickly or get to the bathroom faster, which keeps them functional and independent," says study author Jean Krampe, Ph.D., assistant professor of nursing at Saint Louis University.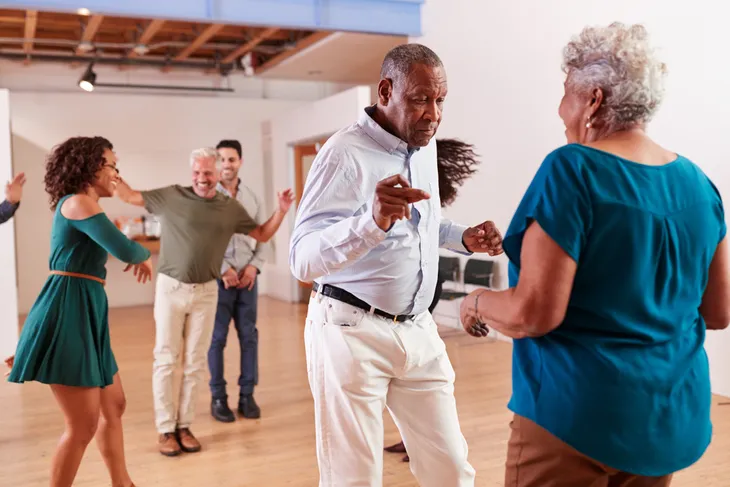 Protects Senior Heart Health
Circulation, a scientific journal for the American Heart Association, did a study on aging adults with stable chronic heart failure. The study showed that participants learning how to waltz derived the same aerobic health results as they would from biking or walking, as well as other traditional styles of cardiovascular exercise.
Dancing boosted heart health and improved breathing for people with mild to moderate heart failure. No special equipment is needed, just your chair to be seated in or to use as a form of balance if needed, and some space to move if you are able to stand. It can help to lower your blood pressure and cholesterol, and maintain a healthy body weight. And this will help your overall health tremendously!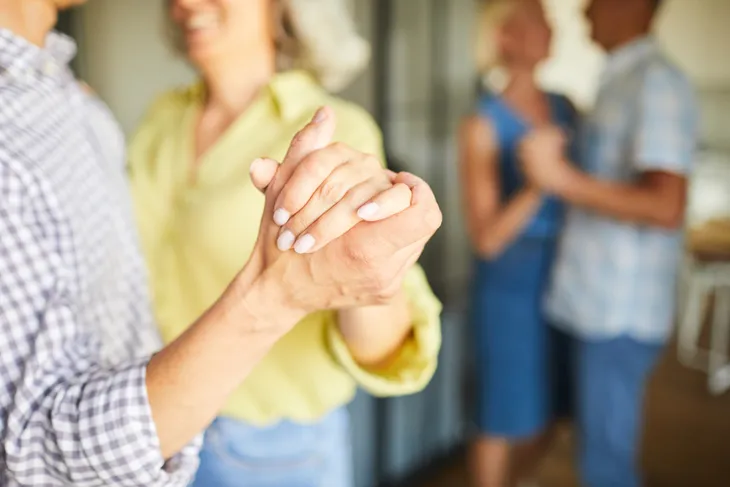 Have Fun!
Again, whether alone or in a group, it's important to have fun while dancing. Let the music uplift you and get you moving. It doesn't matter if you get the steps correct — just take deep breaths and have fun!
Even if you can only watch, watch and remember. Let your mind go back to previous times. Reminious, and know you are still able! You will be happy that you do!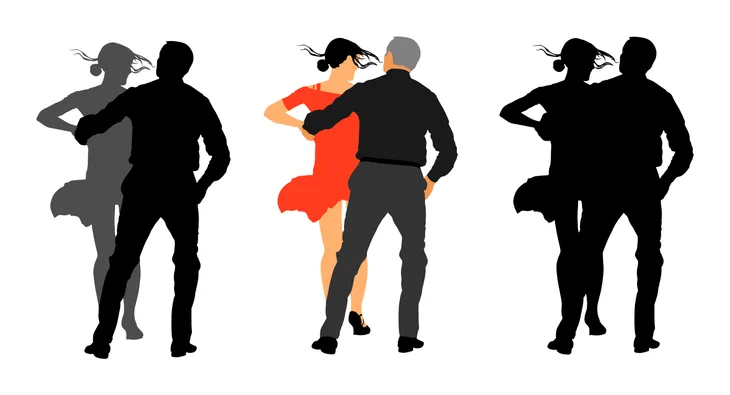 Low Impact Salsa Dance Workout for Seniors
In this workout we will use salsa/latin dance music for a great cardio workout! Cardio workouts can be a lot of fun, especially when there's music involved! While you don't need to have music playing to do cardio, it will help inspire you and keep you motivated.
For this session, we are going through some traditional latin influenced moves that are low impact and easy. Perfect for beginners. This routine is designed with beginners and seniors in mind, and set up to be done in the comfort of your own home. All you need is a clear area of floor space.
This low impact salsa dance workout provides a great lower and upper body workout, all the while engaging the entire core and raising your heart rate to strengthen cardio health. Remember to always keep some water close by and take breaks when needed. Only do movements that feel comfortable. Listen to your body first and foremost!
For more videos by Meredith, check out Senior Fitness with Meredith.