Decorating for any holiday is one way to get into the spirit of the season. Unfortunately, most store-bought decorations come with a hefty price tag. But decorating your home doesn't have to be expensive. An easy way to save some money is by making your own decorations! Plus, if you like crafting, it's fun to do.
Follow along as we round up some of the best quick and easy (and of course, affordable!) DIY Easter decorations. The best part is all of these ideas are kid-friendly too. Let's get crafting!
Easy Easter Tree
Easter trees are fun to put together and easy to do too! Plus, this is a very customizable project so you can make sure it suits the aesthetic of your home.
Start by choosing a vase and then head outdoors to gather a variety of branches. You could purchase faux branches from the craft store but using branches from outside will save you money. And if you choose naturally fallen branches then it's eco-friendly too! You can either leave the branches au-natural or spray paint them — black, white, or gold branches could be pretty!
Next, visit your local dollar store or craft store and buy a variety of plastic eggs. You can either get plain and paint them yourself, or choose already decorated eggs to make this project even easier. To assemble the tree, you simply place the branches in the jar and then hang the eggs in various places. This decor piece would make a great centerpiece for the dining table or an accent piece on the mantle or the entryway table.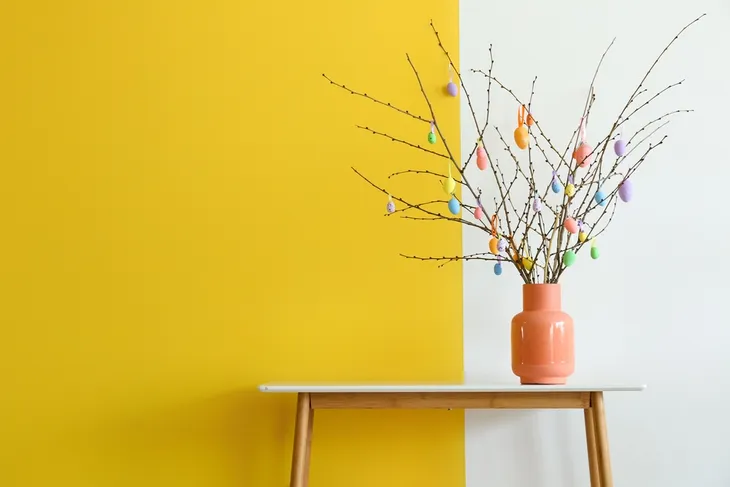 Spring Wreath
Every Easter a new batch of stunning spring wreaths hit the shelves but the one drawback is they typically come with a hefty price tag. So consider making your own! Not only can it be fun but it's far more affordable. Plus, you have the benefit of customizing it to exactly how you like it.
Visit your local craft store and start by choosing a base. Wreath frames are available in various sizes and materials from foam, and metal, to natural grapevine. Next, pick out your decorations for the wreath. You can follow a tutorial online, such as this beautiful DIY tulip wreath, or you can go freestyle and create your own design. Other fun Easter items you could include on your spring wreath are plastic eggs, carrots, bunnies, and other types of faux flowers.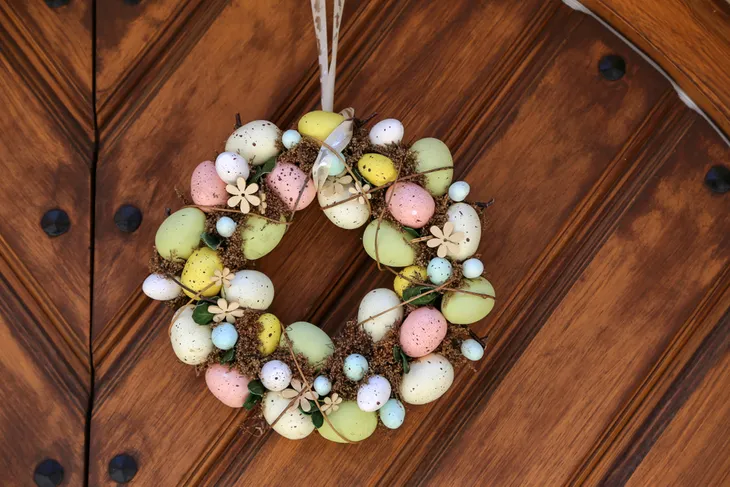 Colorful Egg Display
Add a pop of color to your table with a beautiful centerpiece this Easter. Decorating eggs during the holiday is a classic activity and fun for both children and adults. So, why not display those beautifully decorated eggs as a spring centerpiece?
Sure, you can go the classic route by boiling a few eggs and then painting them, but these eggs don't last. And let's be honest, they can get really smelly! If you want to make decorations that last, we recommend buying plain ceramic or plastic eggs from the craft store.
Next, choose paint colors. Pastels or bright pops of pinks, blues, oranges, and purples would be great choices but you can also opt for neutrals or other colors that compliment your home — your choice! Finally, paint and decorate the eggs to your liking, and once they're dry display them in a glass jar, bowl, or vase.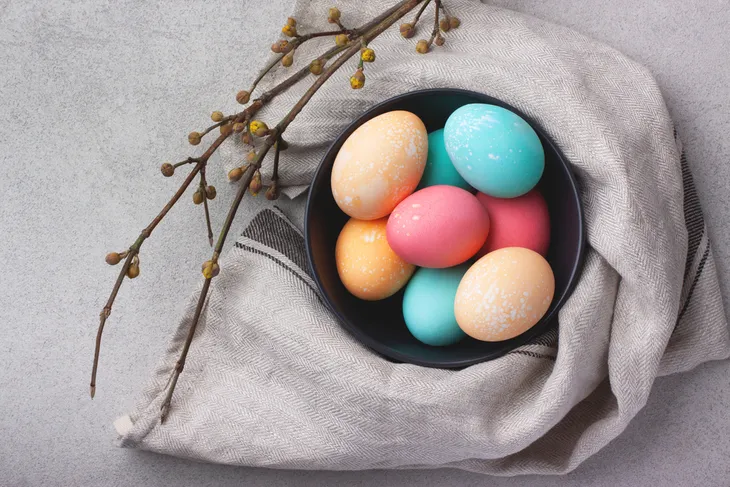 Egg Garland Made With Paint Chips
Easter garland is a fun way to add a pop of color to your space. Most stores sell spring garlands in varying themes from bunnies, eggs, and florals but these also often come with a big price tag. So let's save some money this Easter and make your own garland instead!
There are so many ways to make Easter garland but this tutorial by The Sweetest Digs shares a unique and budget-friendly idea. The secret is to use paint chips (which you can get for free!). The only materials you need are paint chips (in pastel colors), string, tape, and scissors. If you don't already have a stack of paint chips on hand, head to the hardware store and pick out colors you like. Then you'll need to cut out an egg shape. Use your first one to trace the other paint chips so they're all the same size and shape and then cut out all the eggs before taping them to the string. You'll have a colorful garland ready to hang in no time!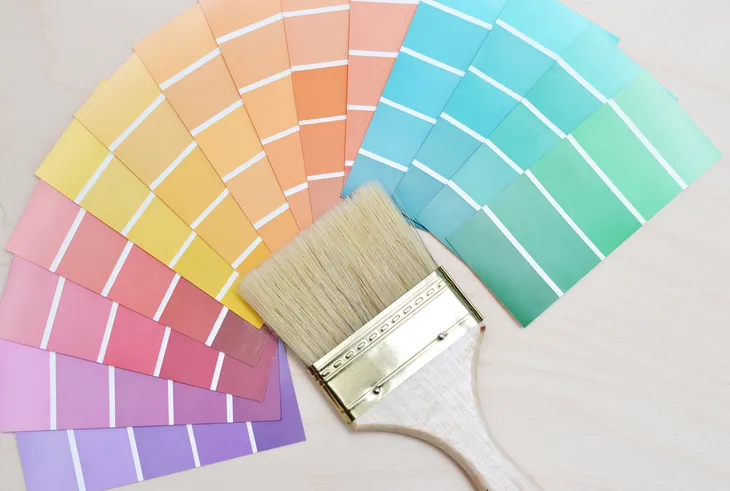 Easter Bunny Gnomes
This Easter decoration may require a few more supplies than the other projects on this list but don't worry, it's just as easy! It's Always Autumn shares a quick and easy tutorial to make Easter Bunny Gnomes. All you need for this project is:
One adult patterned sock (for the hat)
One adult solid sock (for the body)
A 4×4-inch piece of faux fur
One wood bead (about 1.25 inches)
One 9-inch tall foam cone
Felt for the bunny ears
Choose socks with Easter colors and then follow the tutorial to make these cute Easter gnomes. The best part is that this can be a no-sew project. If you have sewing skills, it may be faster to sew the hat but if you can't sew, the tutorial says you can use fabric glue instead.