People are becoming more and more concerned with how to stay safe and healthy during these uncertain times. While most people are social distancing and staying home as much as they can, we are still vulnerable to the outside world as we still need to go out and get essential items like groceries.
Even though online ordering is at an all-time high as people isolate inside their homes, grocery stores are still open for business. To help people carry out the task of shopping for groceries, whether it's online or in-store, we've compiled a list on how to safely shop, unpack, and decontaminate groceries before bringing them into the home. Let's take a look…
Ordering Online
Ask The Delivery Person to Leave Groceries Outside Your Door
Online grocery shopping and curbside pickup is no new invention, but in recent weeks it's become a popular option. So popular that most places that do offer online shopping and curbside pick up are booking two to three weeks in advance because their time slots are filling up so quickly. If you're able to order groceries online, do it. But even so, there are still important precautions to take.
If you're planning on tipping, do so electronically. Avoid using cash. Wash your hands for 20-seconds with soap and water (as per the CDC recommendations) before and after touching your groceries. While the risk of contracting any kind of virus or bacteria from surfaces like bags and packaging are low, it's always better to be safe than sorry.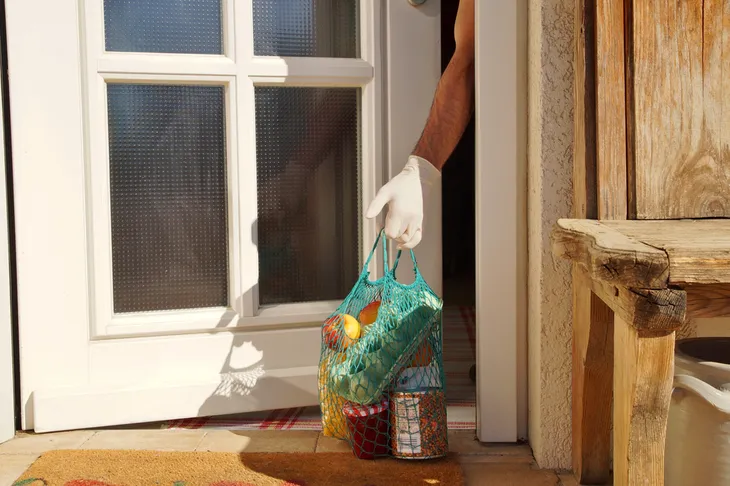 In Store Shopping
Avoid Peak Hours
Many grocery stores have allocated specific shopping times for seniors and immunocompromised people so they can shop safely with fewer customers around. If you don't fall into this category, don't go during this time.
You should also avoid peak hours. Don't go when the store is crowded. Now that many people are working from home, it's hard to determine when the store will be busy. We suggest going either early in the morning or late at night. Also, avoid shopping in groups. Don't bring your spouse, children, or anyone else to the store with you. Designate one person to do all the shopping for the household.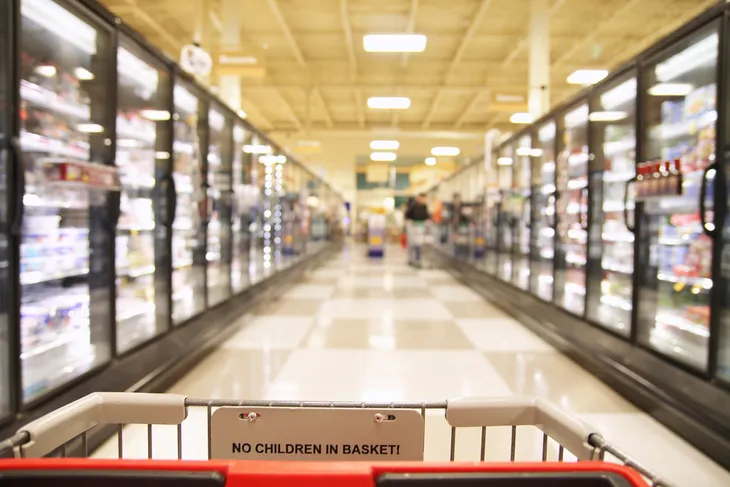 Don't Stop and Chat
Social distancing still applies inside the grocery store. While it's definitely a lot harder to steer clear of people in an enclosed space, most stores have put regulations in place to help shoppers distance themselves. There will likely be visual cues to help shoppers with their distancing, such as tape on the ground while standing in line and arrows directing the flow of traffic down aisles.
Most stores are also limiting the number of customers inside, but for those that don't, use your best judgement. Viruses are transmitted through close contact, so being able to distance from others is extremely important. If the store feels too crowded, get your shopping done quickly and leave.
Don't dally around and don't stop to talk to other people. If you see someone you know, smile, nod, or wave in their direction and keep moving. You can chat another time over FaceTime or outside a crowded setting where you're able to maintain 6-feet apart.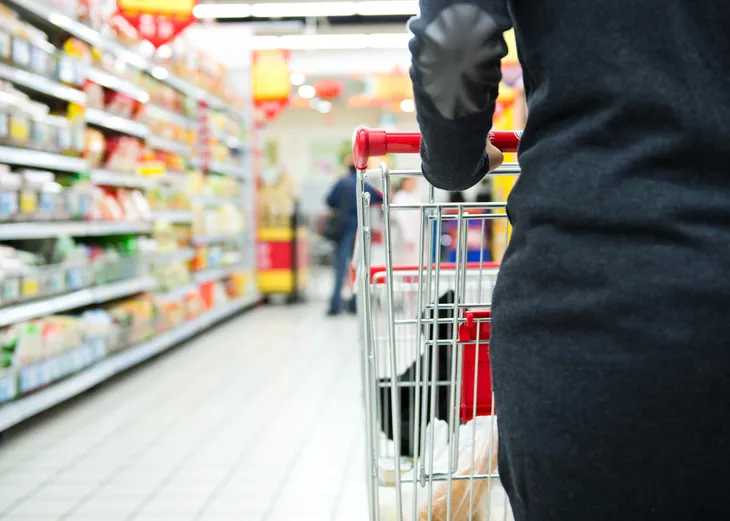 Wear a Mask
Due to the fact that people can be sick without showing any symptoms, the CDC is now recommending everyone (sick or not) to wear cloth face coverings in public. This is particularly important in public settings where social distancing is hard, such as the grocery store. These are places where the likelihood of community based transmission is high.
You do not need to wear surgical masks or a N95 respirator, in fact the CDC recommends against it. We need to reserve these critical supplies for healthcare workers. Instead, purchase or make your own cloth face covering with items around the house such as a scarf or t-shirt. There are plenty of tips on how to make your own mask, including this video created by the CDC.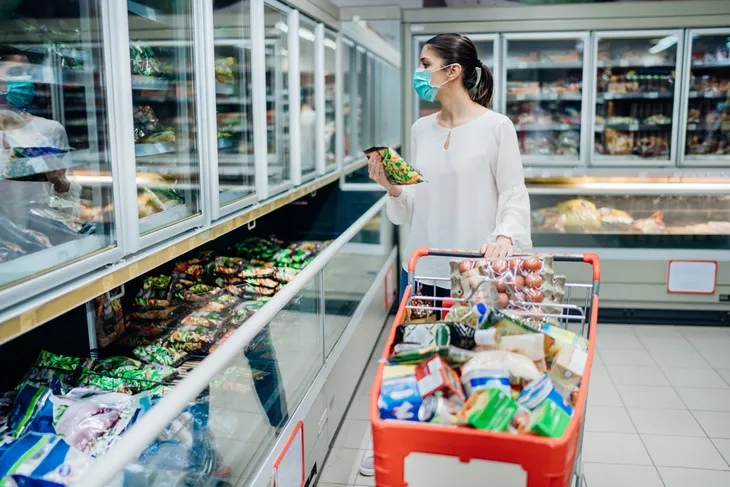 Bring Sanitary Wipes
One of the best ways to protect yourself is to have hand sanitizer or sanitizing wipes on hand. Bring them in so you can wipe down anything you need to use, like shopping carts and baskets. Gloves aren't necessary because they are essentially the same as having bare hands. If you touch a contaminated surface, you'll just transfer it to the next thing you touch.
It's also very important to follow the basic rules of not touching your face, particularly your eyes, mouth, or nose while walking around the store. Sanitize your hands immediately after leaving.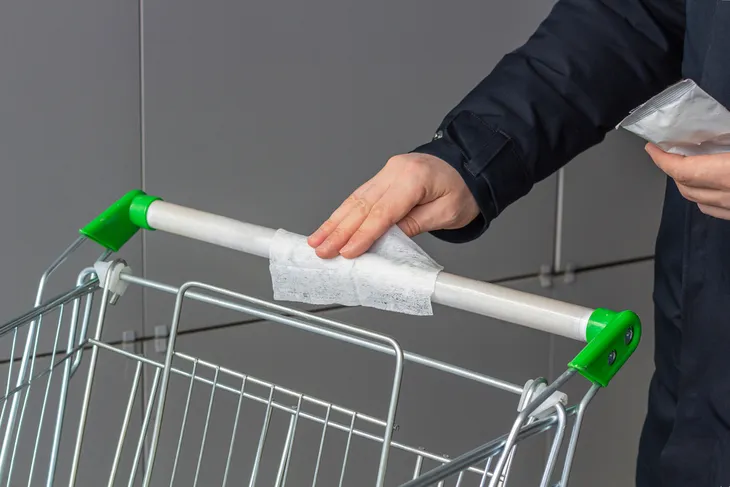 Limit the Number of Trips
The CDC is advising people to limit the number of trips to places like the grocery store. For those who can afford it, try to make bigger shopping trips (while being mindful not to hoard an unnecessarily amount of food) so that you don't need to go back to the grocery store for another week or even two. Don't wipe out the shelves, but also be mindful of purchasing enough foods to last two or three weeks, if necessary.
Anyone who is 65 and older or with a compromised immune system should avoid going to the grocery store. If that's not possible, make use of the "seniors only" shopping times that many stores now offer. If you have family or friends who can shop for you, that is the best option.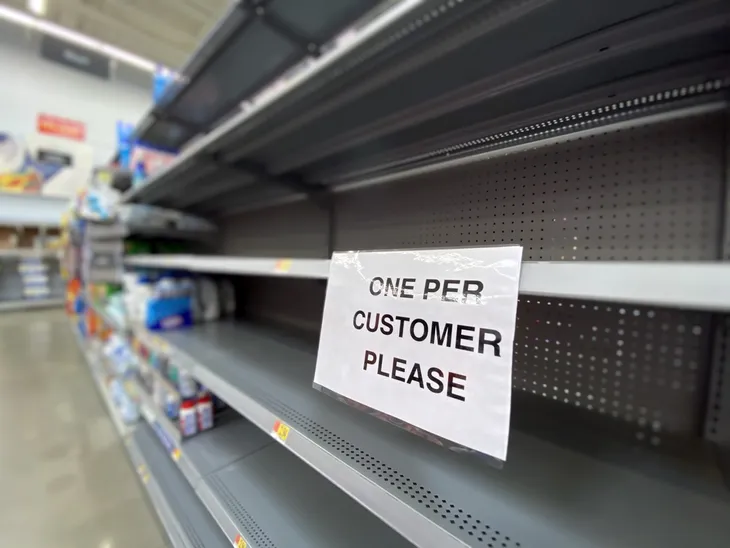 Touch as Little As Possible
If you touch it, buy it. In other less stressful times, we have the luxury of being able to pick up and handle fruits and vegetables to feel how soft or ripe they are before putting them in our cart. During this time, that is not proper etiquette. Avoid touching items unless you need to pick them up and put them in your cart. If you touch it, you buy it.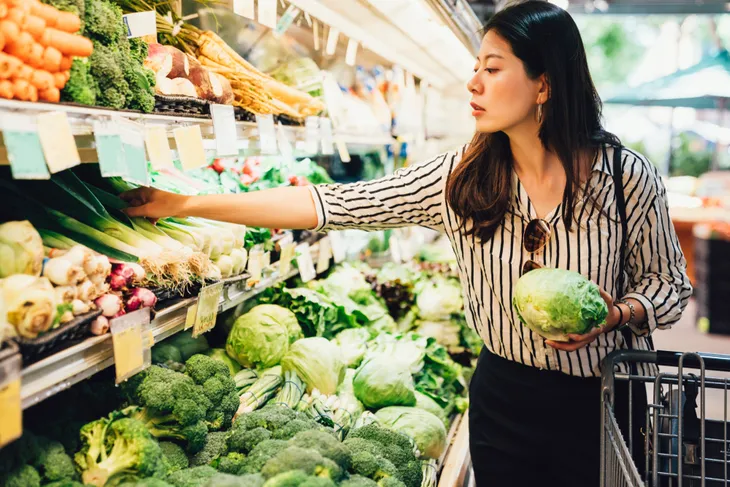 Make a Grocery List
A lot of people already did this before heading to the grocery store, but if you didn't — now is a good time to start. Take the time before leaving to sit down and make a grocery list. Planning ahead not only saves money, but it also saves time.
A grocery list will help with unnecessary purchases, hoarding items, and it will limit the amount of time spent wandering up and down the aisles. A grocery list allows you to get in and out more efficiently.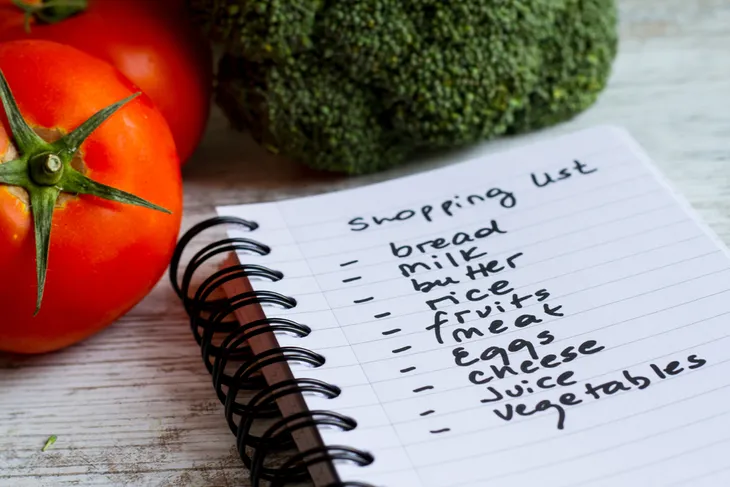 Unpacking Groceries
Disinfect All Containers
Any food that comes in a container or packaging whether it is glass, metal, or plastic should be disinfected. You can do so with prepackaged disinfectant wipes or by creating your own diluted chlorine bleach. You can also just use soap and water. According to the Washington Post, most experts say virus particles on a surface will likely degrade in a matter or minutes or hours, so it's not 100-percent necessary to disinfect cans and boxes, but it might allow some peace of mind. As long as you wash your hands after touching these objects, you should be fine.
If you'd like to create your own diluted chlorine bleach solution, the CDC suggests mixing 1/3-cup of bleach per gallon of water or 4-teaspoons of bleach per quart of water. You can use this solution to wipe containers and countertops. Let it sit on the potentially contaminated surface for one minute and then dry it off.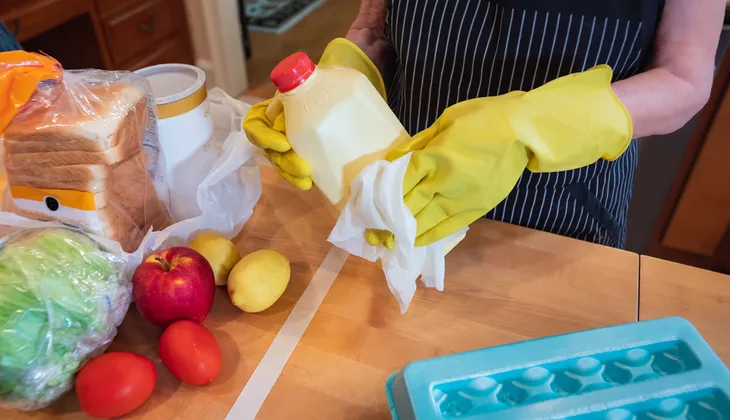 Food Safety
When it comes to foods that are not prepackaged like fruits and vegetables, you can follow the same steps you usually would. Rinse them with water and scrub off any dirt or soil with clean hands. You do not need to wash your food with soapy water. In fact, that could actually be harmful as most soaps are harmful to ingest.
It's also important to note that most evidence suggests that respiratory diseases are not transmitted through produce.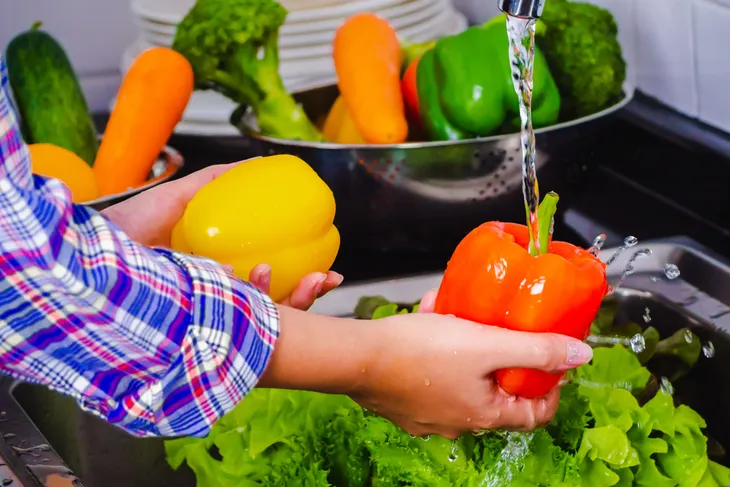 Disinfect Countertops
Similarly to disinfecting all containers, you should wipe down any surfaces that your grocery bags or groceries themselves touched. For the most part, it's always a good idea to manage clean surfaces in your home after bringing in outside materials, even if they are just from the grocery store.
After all the groceries have been safely put away, wash your hands again for 20-seconds with warm water and soap.