Choosing the right footwear when you have arthritis is just as important as eating a nutritious diet and getting regular exercise.
It's important to invest in shoes that are comfortable and provide good support.
Seeking help from a professional (such as a podiatrist) can also help you find the right shoes for you.
Despite knowing the importance of wearing proper-fitting footwear, many of us sacrifice comfort for fashion. But this can be a recipe for disaster, especially if you have arthritis. Arthritis is a disease that affects the joints, often causing inflammation or swelling. While it can develop in any joint, it often affects the feet.
Arthritis is a lot more common than you may think too, affecting 1 in 2 seniors over the age of 65. Luckily, one way you can combat foot pain and swelling from arthritis is by investing in the right footwear. Here's a look at why it's important to wear the right shoes when you have arthritis, plus a few tips to consider when shopping.
Why It's Important to Choose the Right Shoes for Arthritis
According to the Arthritis Foundation, choosing the right footwear is just as important as eating a nutritious diet and getting regular exercise. The source says if you have arthritis in your hips, knees, ankles, or feet, wearing the wrong shoes can "exacerbate existing problems and, down the road, cause damage and complications to many joints beyond the feet."
Investing in the right footwear can help reduce foot pain and help maintain mobility. But with so many shoes on the market, it's hard to know which ones are right for you. Here are 13 tips to consider when choosing shoes for arthritis.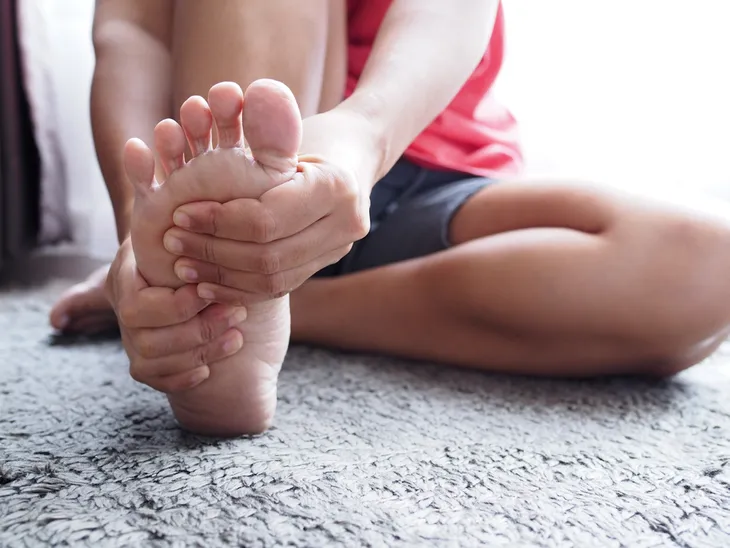 Be Mindful of Your Foot Shape
Before shopping for footwear it's important to analyze your foot shape. Hammertoes, bunions, and deformed joints are common with arthritis and it's vital that you find a shoe that accommodates the shape of your foot. With this in mind, when shopping for shoes, choose a pair that doesn't change the shape of your foot and make sure it has a wide toe box that provides plenty of room.
The Arthritis Society of Canada suggests sliding your finger around the back or side of the heel to make sure your heel doesn't slip out of the shoe when you step. The source explains, "If the back of a shoe is too wide, your foot will slip, causing instability and soreness."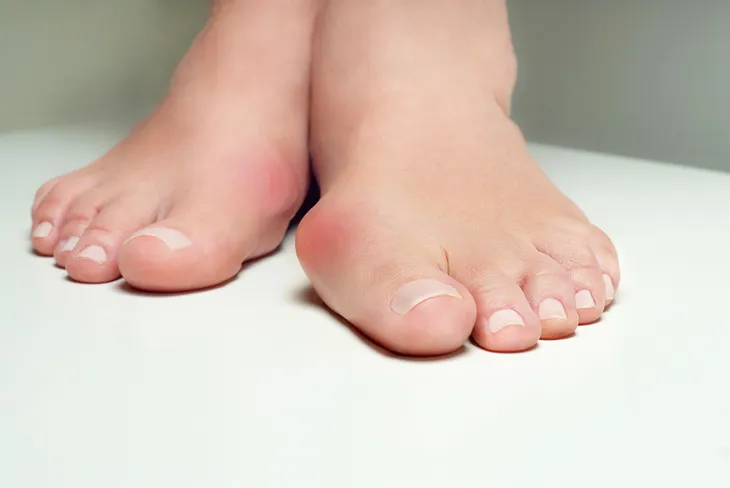 Trace Your Foot to Help Speed Up Shopping
Creaky Joints offers another helpful tip and says you can trace your foot on a piece of paper and bring the drawing when you go shopping. When you find a pair of shoes you like, first place it over the drawing, and if the shoe is narrower or shorter than the tracing, the source says don't bother trying it on.
Using this method can help save a lot of time when shopping because it can help eliminate candidates without trying shoes on. If the shoe fits within the tracing then you should try the shoe on to see how it feels.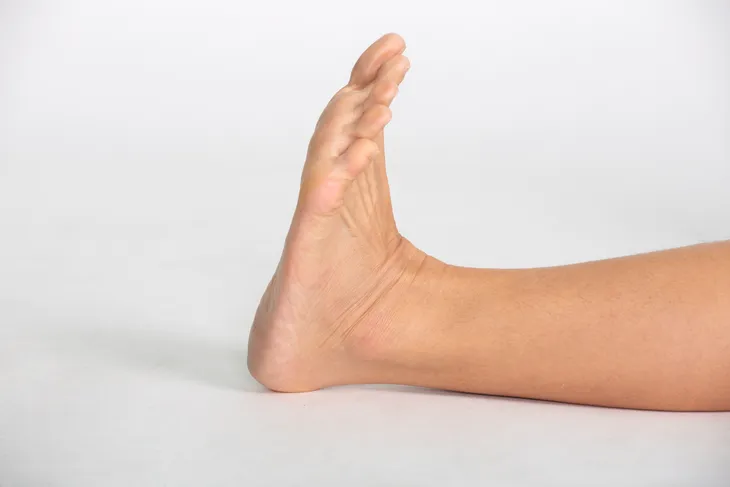 Choose Shoes With Plenty of Support
Proper support is important for everyone but it's especially important for people with arthritis. Non-supportive shoes can cause pain and make your symptoms worse. Jeffrey Hurless, DPM, a podiatric surgeon in Thousand Oaks, California, and founder and medical director of the Healthy Feet Store tells Creaky Joints that when shoes provide ample support, the less work your feet have to do with every step.
The source says that the support mostly comes from the sole of the shoe. When shopping for shoes, look for a sole that is "wide, rigid, and only bends where your foot bends (at the toes)." The heel should also feel stable.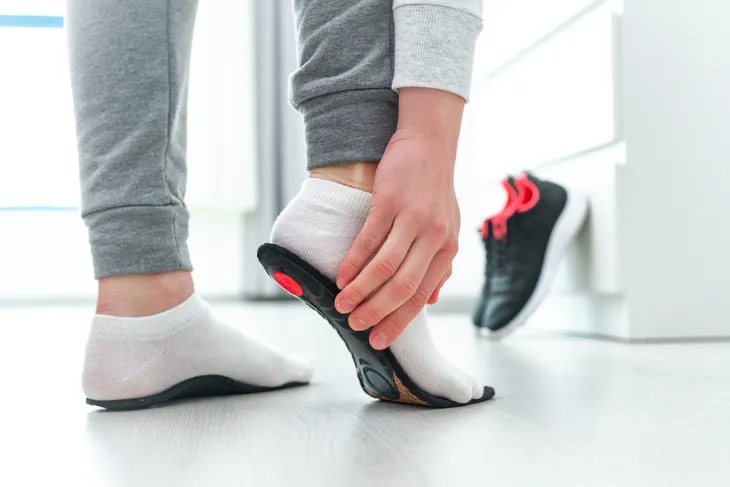 Consider the Material of the Shoe
The materials of the shoe are important too. If you have hammertoes or bunions, you'll want to make sure that the shoe is made of a soft and pliable material. Shoes that are rigid can apply pressure and cause pain, making your symptoms worse.
Mesh and leather are two great material options as they can mold nicely to your feet without applying too much pressure. Synthetic materials that are stretchy (like neoprene) may also be a good option.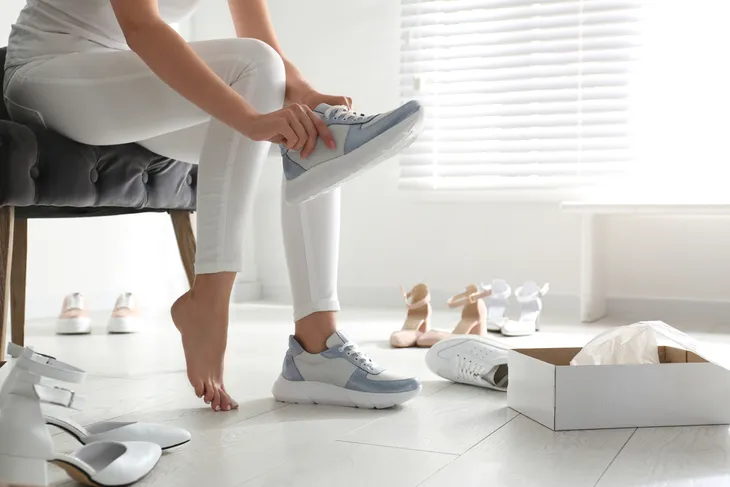 The Benefits of Shoes With Removable Insoles
When shopping for shoes, be sure to inspect the insoles. People with arthritis should look for shoes with removable insoles. This helps ensure you can put a customized or over-the-counter (OTC) orthotic in the shoe without making the fit too tight.
Creaky Joints also suggests looking for shoes that have added depth. This should allow your foot to sit 1/4- to 1/2-inch deeper than a standard shoe. This can be especially helpful for people with foot deformities as it provides ample room for your feet and an orthotic (if needed).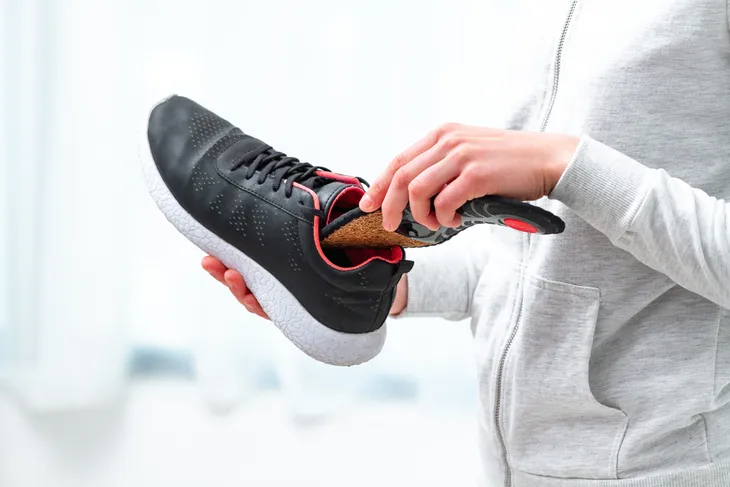 Shoes With Rocker Soles May Be a Good Option
Arthritis sufferers may also benefit from rocker soles, which are soles that have a slight curve. These types of soles "can help your foot move through the normal motions of walking with less strain through the joint itself," explains Sole Science.
Essentially, a rocker sole can help distribute your weight and alleviate some of the strain of walking. In turn, this may help reduce strain on the joints and help reduce pain caused by arthritis.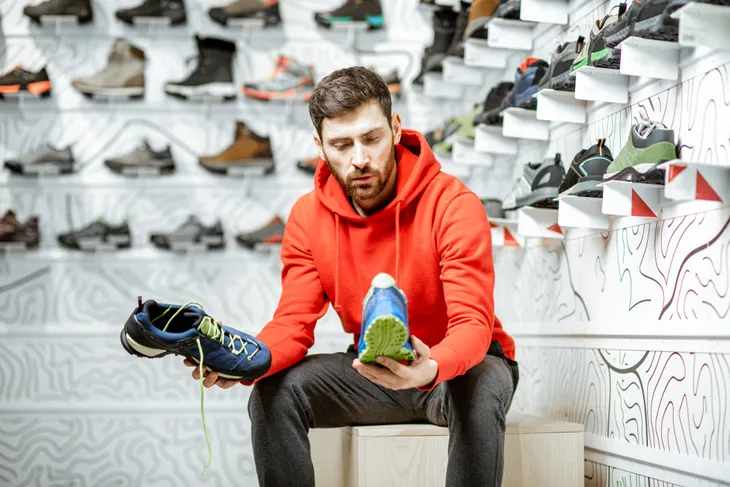 Consider Adjustable Shoes
People with arthritis may want to consider adjustable shoes (such as those with elastic laces, velcro straps, or zippers) for two reasons. First, arthritis flare-ups may cause changes to your foot size, so having shoes that are easily adjustable can ensure they will fit with your changing feet.
Additionally, if you have arthritis in your hands, tying laces can be a challenge. Luckily, alternative closures like elastic laces, zippers, or velcro straps can make it a lot easier to put your shoes on.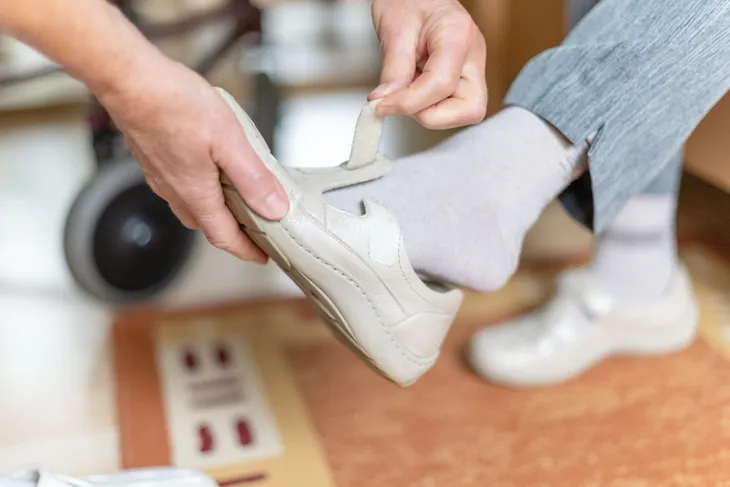 Be Mindful of Heels
Many of us sacrifice comfort for fashion, especially when it comes to high heels. But people with arthritis need to err on the side of caution. According to the Arthritis Foundation, studies show that wearing stilettos and other heels contributes to arthritis and foot pain. The source notes a study that examined women wearing flats vs wearing 1- to 3.5-inch heels and found that the women who wore high heels had an increased risk of knee joint degeneration and knee osteoarthritis (OA).
Additionally, the source explains that high heels are hard on the arch and ball of the foot and can wear down your joints. It's best to wear shoes that have heels less than 2-inches and if you really need or want to wear high heels, make sure they're comfortable, have a rubber sole, wedge heel, and roomy toe boxes. The source explains that these styles "are more slip-proof, and the greater surface area of the sole helps absorb shock, adds stability and reduces stress on pressure points."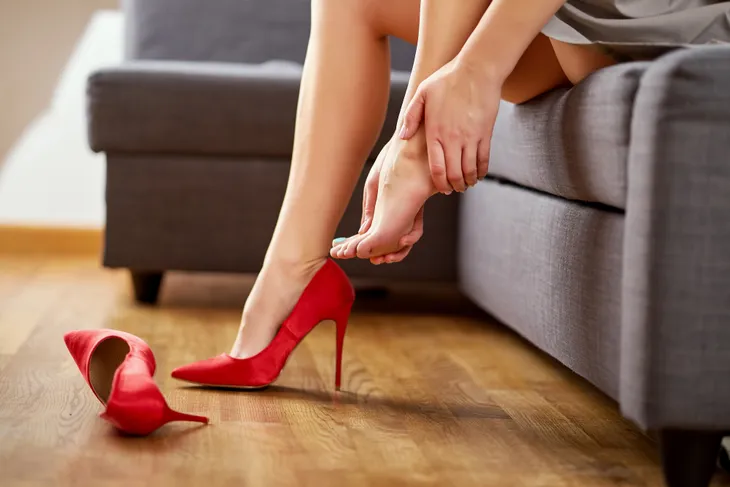 Be Mindful of Flats Too
If you think switching to flats instead of high heels is the right choice, you may want to think again. The Arthritis Foundation points out that not all flats are created equal. While they sound like a great option for arthritis sufferers, there are a few important things to look for.
For starters, the source says flats need to have three important things, including good arch support, shock absorption and cushioning. You should also test the flexibility of the shoe. While you do want a flexible shoe, one that contorts too easily, won't provide enough support.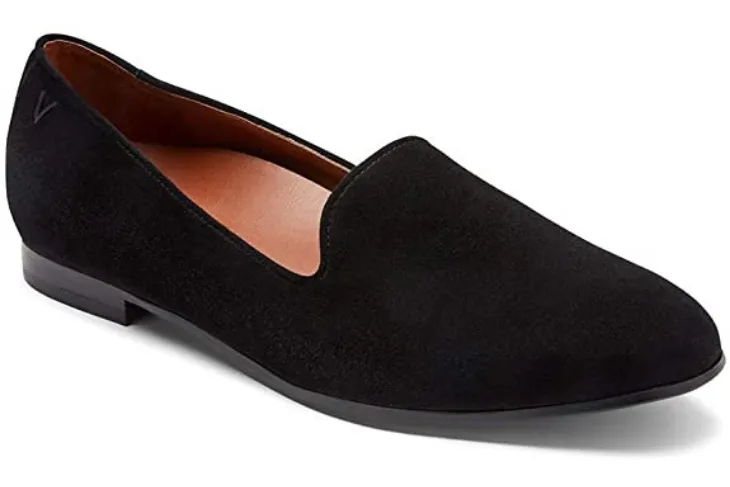 Tips for Buying Sandals
If you have arthritis, shopping for sandals can be a challenge because they often don't provide enough support. Some can even increase your risk of falling, especially if you have problems with your feet or balance. If this is the case, it may be best to avoid flip-flops. However, if you don't have problems with balance then flip-flops may be a suitable option if you have knee OA. The Arthritis Foundation explains that flip-flops create significantly less knee stress which may help reduce your symptoms.
When shopping for sandals the source says it's best to look for pairs with plenty of straps, including one that goes across the back of your ankle. Straps can help ensure a secure, custom fit. That said, you should also avoid sandals with straps that "cut across sensitive areas of your foot," explains the source.
Tips for Buying Boots
Boots can be both functional and fashionable but there are a few things to consider if you have arthritis. For starters, it's best to avoid high-heeled styles. Low-heeled options are more stable, or at the very least opt for a rubber-soled wedge heel. You'll also want to make sure the boot provides good arch support.
If you're shopping for hiking boots, the Arthritis Foundation says these can be a great option as they're usually sturdy and provide good ankle support but make sure they have some flexibility. If the boots are too stiff, they can make your symptoms worse.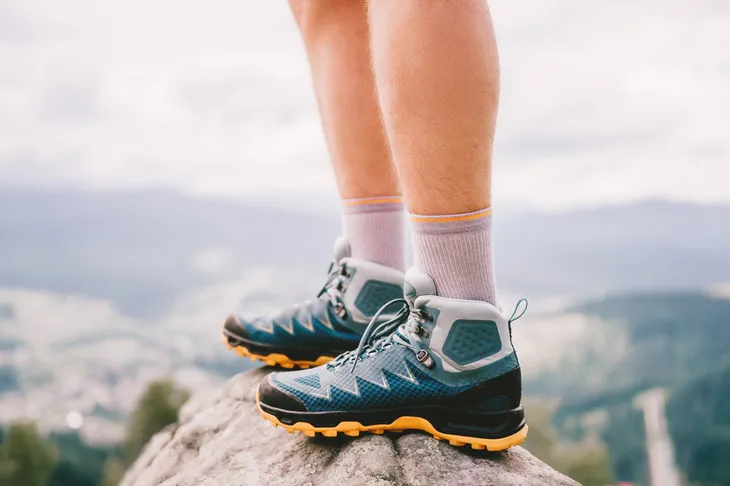 Common Footwear Mistakes to Avoid
The first common mistake you should avoid is shopping for shoes in the morning. Feet usually swell throughout the day, so it's better to shop for shoes in the afternoon or evening when your feet are at their largest. This will give you a more accurate representation of what size and fit you need.
Another common mistake is buying shoes that are too small. According to Creaky Joints, 88-percent of women and 70-percent of men, squeeze their feet into shoes that are too small. Just like clothing, shoe brands may have different standards for sizing, so don't assume you're the same size with every brand.
Finally, the source also says don't make the mistake of having a favorite pair of shoes that you solely wear. This can lead to overuse and it's better to provide your feet with variety. The source suggests having at least three pairs of shoes that you can alternate.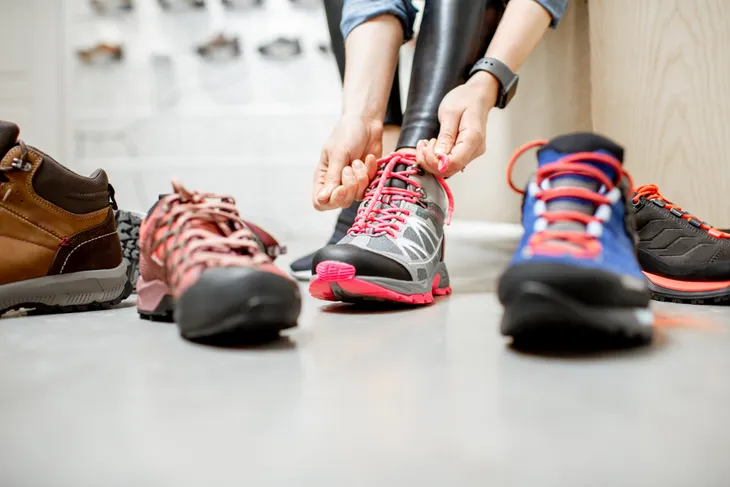 Seek Professional Help
Shopping for shoes if you have arthritis can be a challenge and at times, overwhelming. Another way to help ease the process is to talk with a footwear specialist, physiotherapist, pedorthist, chiropodist, or podiatrist before shopping. They can help you find out what type of support you need and provide additional tips to consider when shopping.
Investing in the right footwear can make all the difference in easing your symptoms. Talk to your doctor if you're not sure which specialist you should see. Your doctor can likely provide a referral or recommend a reputable professional for you.