Picture a mom and dad enjoying a glorious day at the beach with their two kids, aged five and seven. The younger one, Tyler, is running back from the shoreline when he trips in the sand and his knee grazes a small rock. Soon dad is in the car driving twenty minutes to the nearest drug store to search for antiseptic wipes, antibiotic cream, and bandages. Jeez, we can only hope he also remembers to buy some high-SPF sunscreen, because the lone tube they have will run out by day's end.
First aid predicaments like these can usually be avoided with good planning. A first aid kit is vital for any family on a day trip, especially in the summer when so many kids are having fun and not always paying attention to obstacles (i.e., insects, rocks). The question about what to put in your first aid kit doesn't have to be a tough one. In fact, some kits come pre-assembled. In cases where you are buying items separately, here's what to consider as far as first aid summer essentials…
1. Over-the-Counter Drugs
Pack them and hope you won't have to use them. Even if you do, the ones in your typical first aid kit are non-prescription, non-narcotic, and found in most drug stores. They should include analgesics (acetaminophen or ibuprofen) to help fend off the pain of headaches, and the ache from a cut or abrasion. Other drugs in your kit should include allergy medication, because you never know when an allergy attack may begin; anti-nausea medication, especially valuable if you are on a boat; hydrocortisone cream (0.5%), often used for inflammatory skin conditions; and antibiotic cream or ointment, to help prevent infection of minor wounds and burns.
2. Antiseptics, Disinfectants and Calamine Lotion
If you've fallen and you have a cut, you'll want to have an antiseptic or disinfectant handy to clean and sterilize the area, before any cream or ointment is applied or prior to a bandage sealing the wound. Generally speaking, antiseptics and disinfectants are one and the same, in that the job of antiseptics is to disinfect. They are chemical agents that slow or stop the growth of microorganisms (germs) on external surfaces of the body and help prevent infections. They include hydrogen peroxide, chlorexhidine and alcohol wipes. Calamine lotion is incredibly versatile and can be used to treat anything from nasty sunburn to poison ivy to itchy bug bites.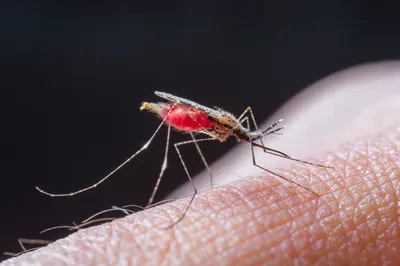 3. Gauze and Bandages
Some minor scratches, cuts, and bruises can be left exposed to the air and elements and they will heal just fine. More significant injuries, such as gashes, need to be preserved to prevent infection and further damage. After safely applying antiseptic cream or ointment, you will need to apply one or more of a variety of items that fall under the gauze and bandage heading. These items include bandages in assorted sizes, sterile pads, gauze bandage rolls and pressure bandages, triangular bandages, elastic bandages, and wound closures. You will affix these pads and bandages with surgical adhesive tape and clear adhesive film.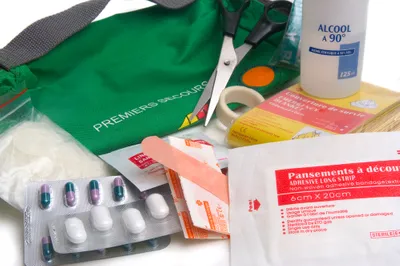 4. First Aid Accessories
Look in any preassembled first aid kit and you'll find a variety of items that you may not have thought of, because they are the "trimmings" of the first aid world, stuff that helps you do the job. When you have a minor emergency, you won't want to be without these items—vinyl protective gloves, a barrier that ensures the further spreading of germs; instant cold pack: crack it on any hard surface and you'll quickly have soothing cold; scissors, because it's easier than ripping tape and bandages; oral/rectal thermometer, to determine your body temperature; safety pins, to fasten bandages; fine-tipped tweezers, to remove splinters.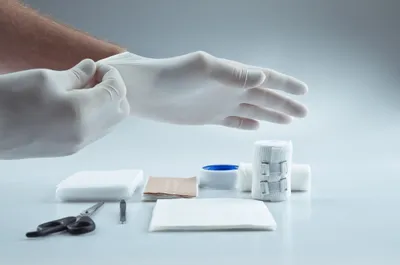 5. Sunscreen
You may not consider this a first aid item, but it is a preventative measure that you won't want to be without. Think of your kids coming home with severe sunburns after playing under the hot sun for hours in the midday heat. They'll experience short-term damage such as redness, soreness and skin peeling. It's the long-term harm you really should be mindful about. Sunscreen helps to block harmful UV rays that can, eventually, lead to skin cancers, premature skin aging, and eye damage including cataracts. UV rays can also suppress the immune system, reducing your ability to fight these and other maladies. Whether you're buying a lotion, spray or gel, be mindful of the UVB level protection indicated on the casing and choose one that's suitable for your needs.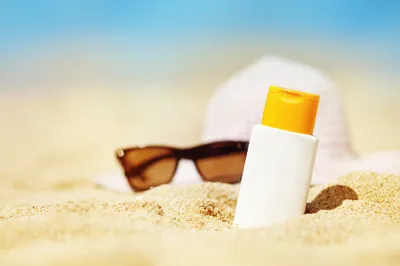 6. Insect Repellent
In the same vein as sunscreen, insect repellant is a preventative measure. It helps guard you against those pesky mosquitoes. If you're in the bush or near the water, mosquitoes are looking for you and are ready to bite. I they don't get you there are also ticks, black flies, deer flies, and other bugs that bite and sting. Once they've penetrated your skin the affects can be more severe than itchy and annoying. Mosquitoes can spread serious illnesses such as West Nile virus and ticks can carry Lyme disease. To keep the bugs from biting, you may want to consider buying a repellant with the chemical deet, the most common active ingredient in insect repellants.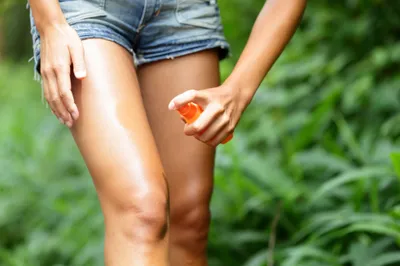 7. Waterproof Matches
Think about your camping trip or your family day at the beach. You've brought a propane stove, or located a fire pit, and you have plenty of food to eat. You just need to cook it. But you encountered water on the way and your matches got wet, and they weren't waterproof, and you don't have a lighter. Unless someone nearby has dry matches or a lighter, you may be swearing and vowing to never be without waterproof matches again. Tip: You can actually make your own waterproof matches with turpentine, a candle, nail polish or paraffin wax.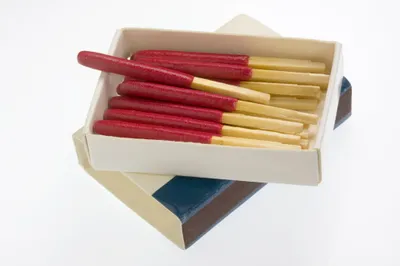 8. Flashlight
It lights your way and helps you see things before they're upon you. You need only use your imagination, and your experiences in nature, to conjure images of what you would rather see before it's ten feet away. The type of flashlight you will want depends on your needs, but in the case of having good illumination it may be better to go big than to be sorry you didn't. Consider buying an extra battery or set of batteries because they tend to run out when you need them most. You may also want to buy a wind-up flashlight as a back-up. It may not be as powerful as your go-to model, but it produces essential light when you otherwise have none.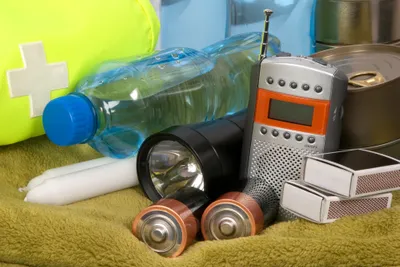 9. A Few Other Safety Essentials
Summer is not always warm and some people get cold even when it is warm, so having a blanket on hand is always a good idea. Water may not be the best quality where you're going so you may be glad to have a water-purifying agent, such as iodine, with you. Candles help with light and can also make your matches waterproof. And these days, who wants to be without waterless hand cleaner? When soap and water aren't available, you have a portable and reliable way to keep your hands free of contamination.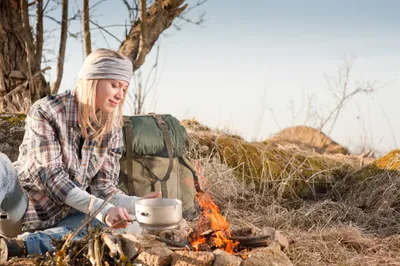 10. Prescriptions Drugs
If you or any member of your family is currently taking prescription medication, you may want to pack some extra drugs in your first aid kit. It's always better to be safe than sorry. You never know where the nearest hospital is, or if they have your specific medicine. Check your first aid kit on a regular basis to make sure the prescription drugs in it have not expired. If they have expired, be sure to return them to a pharmacy where they will be discarded safely, without contaminating the environment or water supply. If a member of your family has a severe allergy and requires an adrenaline injection, be sure to keep a spare EpiPen in your kit.