This past summer, I drove out to a lavender farm just outside my city to do some yoga. What was unique about this experience wasn't my doing yoga out of doors. I regularly did sun salutations at the beach on my summer vacation, and even with friends in my backyard. What truly set this yoga experience apart from the rest was the calming and constant buzz surrounding my vinyasa flow. That buzz was thanks to thousands of honeybees busy at work on the fragrant lavender plants, which encircled our yoga practice. It was hearing, seeing, feeling, and literally being a part of that symbolic connection between honeybees and lavender fields for as far as the eyes could see.
If you're into yoga and you're an animal lover, chances are your social media news feeds have been inundated with cute images of people doing downward dog surrounded by boisterous shelter pups, cat pose amongst purring felines, and boat pose with goats (really, it's the best I could do!). Not only does a cute picture of your pal doing plank with a bunny perched on her back win the Internet this week—doing yoga among real, live, adorable animals has some pretty positive benefits as well…
1. Creating Authentic Connection
In the age of (many would argue) synthetic connections thanks to our smartphones and social media accounts, many folks are looking to get back to basics with a real, honest-to-goodness, life grounding experience. Many find that in yoga.
By adding an animal (be it a goat, a horse, a dog, a cat, or a bunny rabbit), the experience takes us from vinyasa-ing in a sterile gym to stretching and grounding and breathing in the presence of nature the symbolizes and recaptures the innocence and simplicity of nature. According to Kundalini yoga master and founder of the RA MA INstitute for Applied Yogic Science and Technology, Guru Jagat, first-hand experience doing yoga with animals, establishes "a connection to something deeper than our smartphones…that's where animals come in".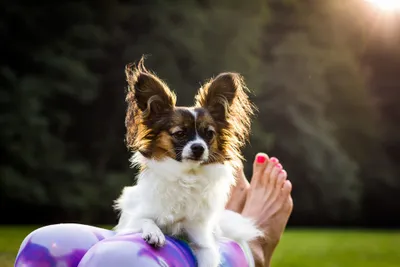 2. Warm Fuzzies for Body and Mind
I've always had pets—from dogs growing up as a child to a "grumpy" black cat as an adult. However, it wasn't until I went through a really painful divorce that I really started to understand the mental benefits of animal companionship. After all, it's hard to cry your eyes out all day long with a cat curled up around your head purring his heart out.
Just ask Lainey Morse, goat farmer and owner of No Regrets Farm, will tell you firsthand about the therapeutic gifts of her animals. After Morse was diagnosed with Sjögren's syndrome, an autoimmune disorder, she "realized how beneficial [the goats] were not only for my health but for my mind…it's pretty hard to be depressed with baby goats jumping around you." Today, Morse hosts sold out goat yoga classes, which currently boast a growing 1,800 person wait list.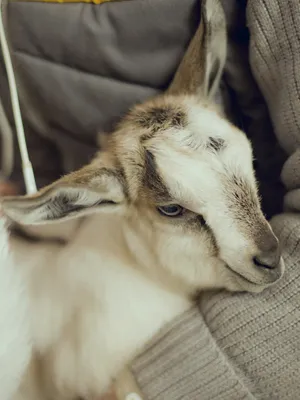 3. Benefits of Bonding with Animals
Obviously, if you're not an animal lover, the idea of savasana with goats might seem like a baaaaa-d idea. However, if you love furry creatures big and small as much as I do, you likely have stories of how regular interaction with your pet benefits you—body and mind.
And health experts agree! A 2013 report from the American Heart Association found that dog ownership reduced the risk of cardiovascular disease. Research from the Centers for Disease Control and Prevention note that surrounding yourself with animals can lower rates of depression, high blood pressure, and loneliness.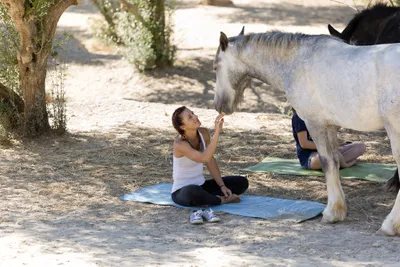 4. It Benefits the Animals Too!
Obviously, maintaining focus during your deep breathing may be a little challenging with a cute kitty pawing to get into your lap, but that just goes to show how beneficial these interactions are not only for humans, but for animals as well.
According to VeryWell.com, not only does meandering among a group of yogis provide a little bit of exercise for Fido or Fluffy, it helps prevent pet diabetes and obesity too. Plus, it offers a safe environment to socialize younger or abandoned pets (in a shelter environment). In addition to benefitting humans with no pets, these exercise opportunities also allow pets to interact and socialize with animals.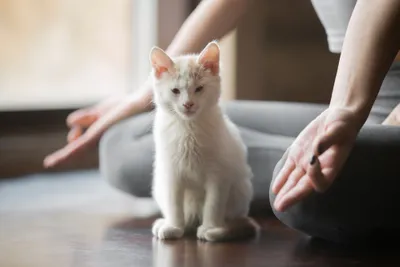 5. And it Encourages Animal Adoptions…
Understandably, there is a greater cause at work when you choose to do yoga with animals, particularly shelter animals. For instance, Illinois-based no-kill animal shelter, Homeward Bound, bolstered feline adoptions after sending 6 cute and furry charges to motivate (purrrrrr) yogis at a nearby yoga studio.
To date the event has raised over $500 for the Homeward Bound shelter. Not to mention the fact that it's really hard to roll up your yoga mat after class, and leave that kitten with the sad eyes who just wants a belly rub, behind.