Your shoulder is one of the most complicated joints in your body. This workhorse of a ball and socket joint offers the largest range of motion of any joints, with much of that grunt work being offloaded to what medical doctors call your rotator cuff.
Made up of four muscles, your rotator cuff is responsible for keeping your shoulder in its socket as well as help lift and rotate your arm. Your shoulder contains a lot of moving parts, which can create a lot of opportunities for things to go wrong. Thankfully, there are just as many exercises designed to ease an aching shoulder.
But first, let's take a closer look at the most common sources of rotator cuff pain.
What Is a Rotator Cuff Injury?
There are two ways to injure a rotator cuff: impingements and tears. Those that require extensive use of their arms for work know all about impingements. Often the result of overuse, rotator cuff impingements are the result of swelling in the shoulder joint that decreases the space between shoulder bones and leads to the pinching of one of the rotator cuff tendons.
Though less common, rotator cuff tendons or muscles can be torn too. Tears can be caused when a person falls while their arm is stretched out, or following a sudden jerking motion when attempting to lift something heavy. There are also chronic tears, which develop slowly over time, and are often a symptom of chronic tendonitis or impingement syndrome.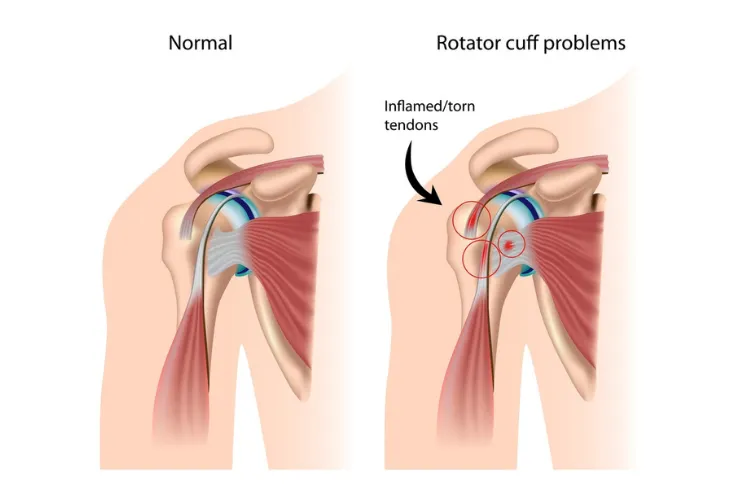 What to Do if You Have an Injury
If you've just sustained an injury to your shoulder, you should avoid exercises and instead, ice and rest it. Once the swelling subsides, and once it's no longer painful to move, it's recommended that you commit to several stretching and strengthening exercises to both help you recover and prevent future injuries.
Now that we understand rotator cuff injuries a bit better, let's take a look at some of the most effective exercises for rotator cuff pain.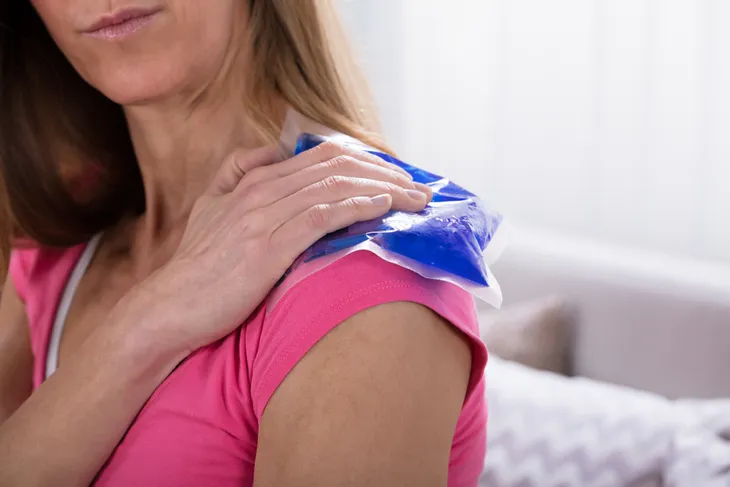 Doorway Stretch
For this exercise, you're only going to need access to a door frame.
To perform the doorway stretch, stand in the open doorway, spread out your arms, and grip the sides of the doorway with each hand at or below the height of your shoulders. Then, straighten your back and shift your weight onto your toes until you feel a gentle stretch in the front of your shoulder.
Sleeper Stretch
The sleeper stretch is used to help mobilize your outer upper back and the back of your shoulder. Start by lying down on a flat surface with the injured shoulder under you and bent at a 90-degree angle.
Once in position, use your good arm to gently push the injured arm towards the floor until you feel a stretch in the back of your shoulder. Hold the stretch for 30-seconds, relax for 30-seconds, and try to do 4-repetitions three times per day.
Cross-Body Stretch
You've probably done this one before, but that doesn't make the cross-body stretch any less effective in treating rotator cuff pain.
To begin, lift one of your arms so that it's parallel to the floor and extend it straight. With your other hand, grab a hold of the wrist and gently pull the extended arm across the front of your body and hold for roughly 5-seconds.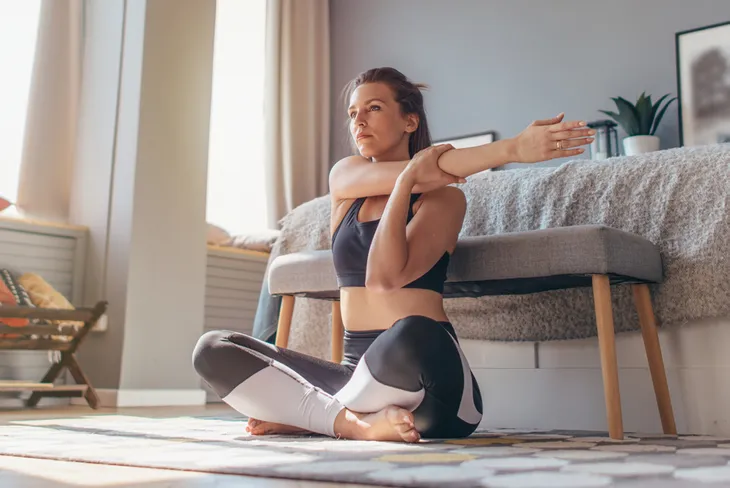 Towel Stretch
For this exercise, you'll want to start by holding each end of a dish towel behind your back at roughly a 90-degree angle with the uninjured arm positioned above the injured one.
Once in position, use your uninjured arm to gently pull the ailing arm up toward the shoulder blades. You'll want to do the towel stretch exercise between 10 to 20 times per day.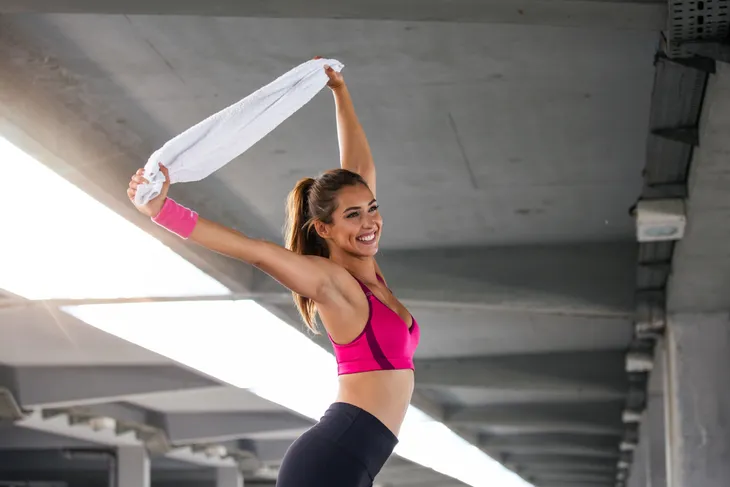 Pendulum
For this low-impact rotator cuff rehabilitation exercise, you'll need to enlist the help of a chair.
Once holding on to the chair with your unimpaired arm, you'll want to lean over with the injured arm hanging freely. Gently swing the hanging arm from side to side, in a circular motion, and forward and back.
Lawn Mower Pull
To be able to incorporate lawnmowers into your shoulder recovery routine, you'll need to invest in a resistance band. Once you have one, stand with your feet shoulder-width apart and place one end of the resistance band underneath the foot that's opposite your injured arm.
Then, keeping your other hand on your hip bend at the waist so that the hand that's holding the band is even with the opposite knee. Finally, recreate the motion of starting a lawn mower by gently returning to the upright position while pulling your elbow across your body to the outside of your ribs.
Be careful not to lock your knees and make sure that your shoulders remain relaxed.
External Rotation
External rotations also require some form of resistance equipment, whether that be a hand weight, a rubber tube, or a resistance band. In the name of consistency, let's do this one with a resistance band.
Hold the band in both hands with your elbows close to your sides and your arms positioned at a 90-degree angle.
Then, while holding the band tightly, gently move your forearms apart roughly 2 to 3-inches and hold for 5-seconds.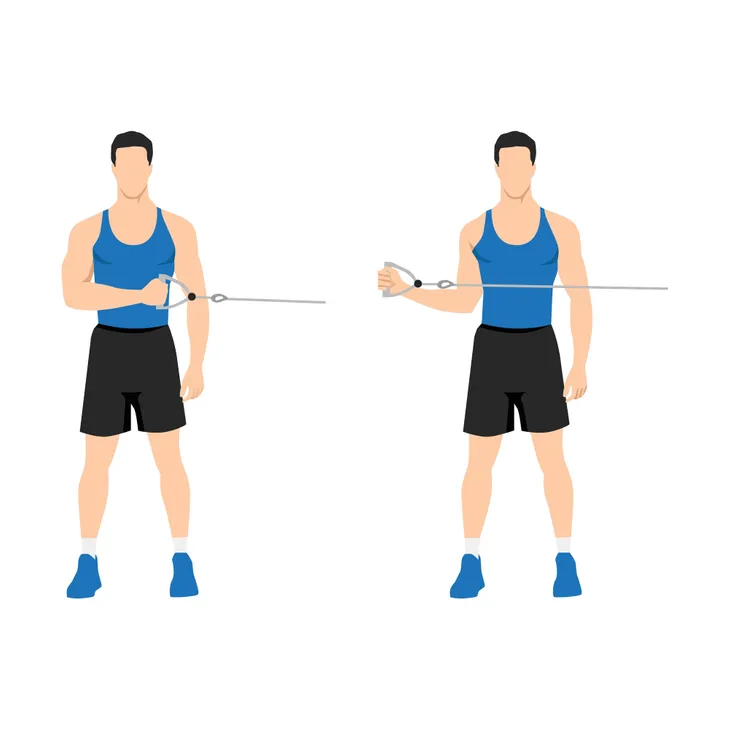 Internal Rotation
The internal rotation exercise operates under the same principle as its external counterpart, though these ones only allow you to exercise one arm at a time.
With the resistance band tied or hooked on to a doorknob, grip the band with your elbow held close to your side and your forearm positioned at a 90-degree angle. Once in position, pull your forearm toward your waist as if opening a door, and hold it there for 5-seconds.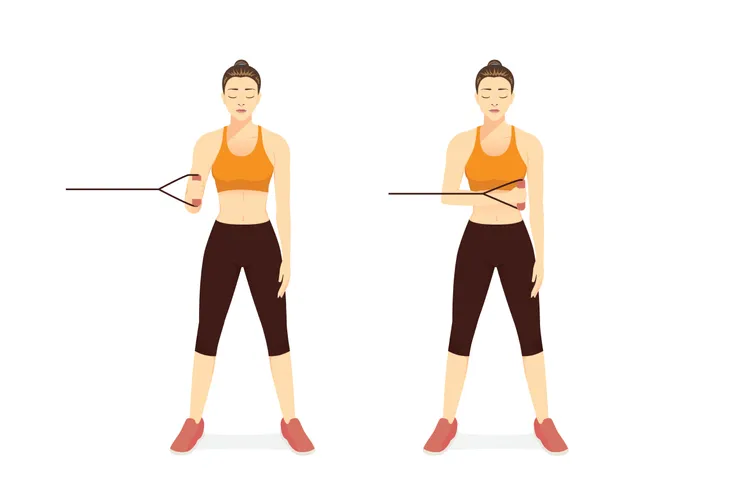 High-to-Low Rows
Another resistance band-centric exercise, high-to-low rows are commonly used to rebuild the strength of a recently injured rotator cuff.
Attach your resistance band to something sturdy that sits above the height of your shoulders. Once the band is securely attached, get down on one knee so that the knee opposite your injured arm remains raised.
Holding the band with your arm outstretched, gently pull your elbow towards your body ensuring that your back is straight.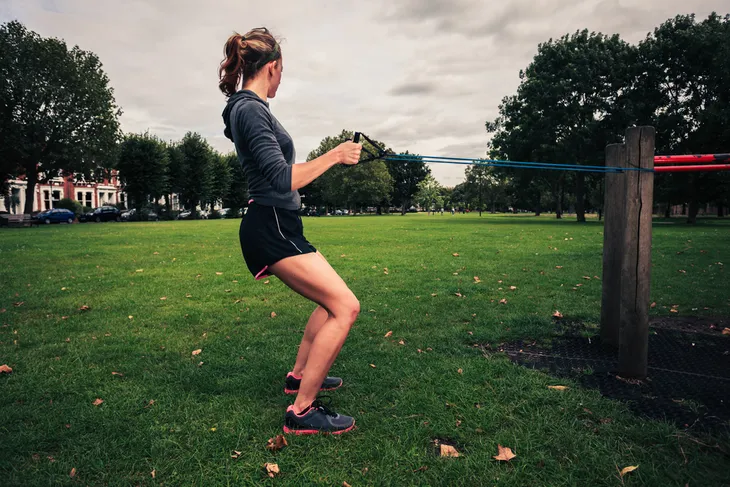 Reverse Fly
This exercise requires a pair of appropriately weighted dumbbells and should only be attempted if it can be accomplished without pain or discomfort.
With a dumbbell in each hand, stand with your feet shoulder-width apart and bend forward at the waist with your back straight and knees slightly bent. Then, extend and raise your arms away from your body until your shoulder blades squeeze together. Just be sure to avoid locking your elbows.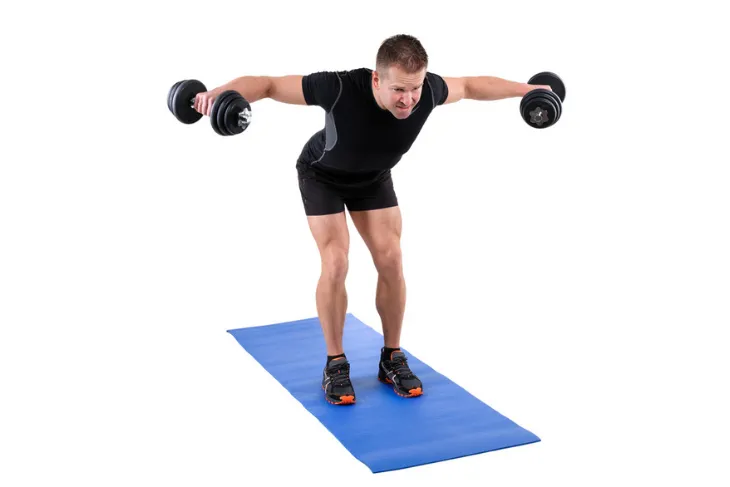 When to See a Doctor?
As effective as a daily stretching and strengthening exercise routine can be, it's no substitute for professional medical assistance. That's not to say that you need to rush yourself to the E.R. every time you experience pain in your rotator cuff.
You should book yourself an appointment with your doctor if you experience pain that doesn't improve with rest, as well as swelling, redness, or tenderness around the joint. It is especially critical to seek immediate medical attention if you experience sudden, severe pain, perceive a visible joint deformity, or if your shoulder joint is completely unusable.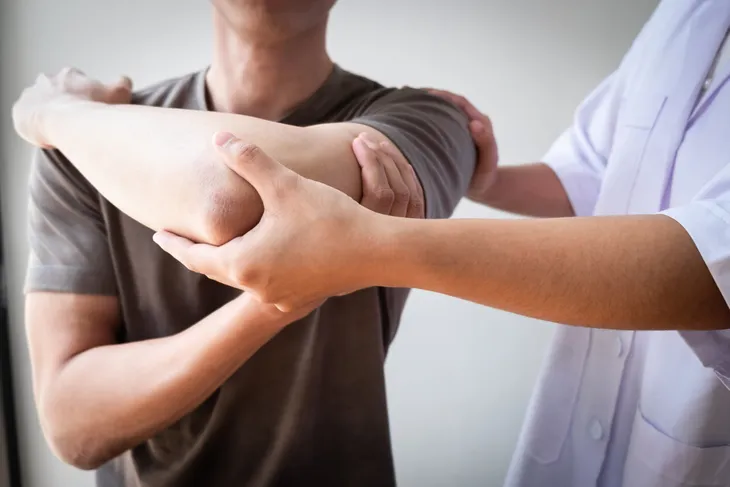 The Takeaway
Rotator cuff pain may not always call for a doctor's appointment, but it can certainly cause a lot of discomfort and may even stop you in your tracks. Thankfully, there is a non-invasive, drug-free path to recovery.
Resting and icing your just-injured shoulder is the first step, followed by a gentle daily routine that incorporates both stretching and strengthening. Recovering doesn't require a home gym either. You can build back the strength of your rotator cuff and reduce pain with nothing more than a chair, a towel, and a resistance band.