Just because you don't live in or close to New Orleans doesn't mean you can't celebrate Mardi Gras! Bring the celebration to you by hosting a party for your closest friends or family. This holiday is full of vibrant colors, traditions, and of course, delicious food that is fun for the whole family.
Not sure where to start? We're here to help! We'll look into the top things you should consider when hosting a Mardi Gras party, plus a list of must-have (but affordable) items you need to make the party epic. Let the good times roll!
Things to Consider When Hosting a Mardi Gras Party at Home
If you've decided to host a Mardi Gras party, the first thing you'll want to do is make a plan. Getting organized can help determine what you need and make sure you stay within your budget. This leads us to our next tip: set a budget. It's fun to host parties but it's easy to go way overboard if you're not careful. Determine a budget and stick to it!
Next, you'll want to narrow down your guest list, set a date, and create invitations. Sending invites via email or text is a great way to save costs and cut down on paper! Next, make a list of all the items you need to buy. Finally estimate how much time you need to set up to ensure you're not rushing before the party starts.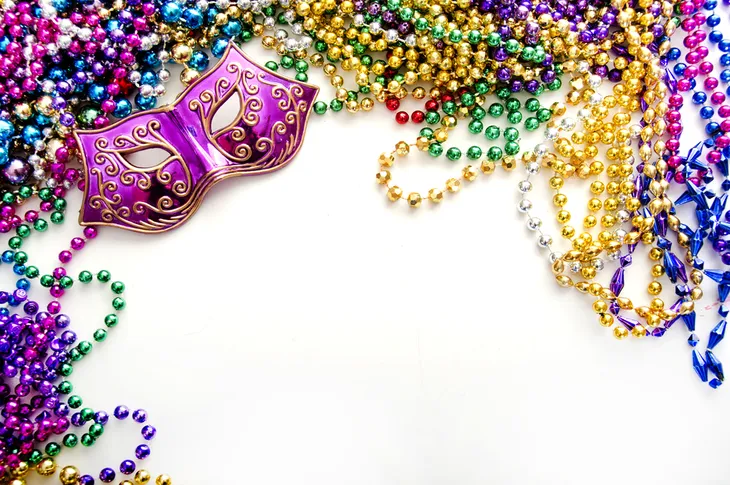 Must-Have Mardi Gras Decorations
Bring the Mardi Gras festivities home and decorate your space for the party. Not sure where to start? It's easy to get overwhelmed when decorating for parties but an easy place to start is with a color scheme. The traditional colors of the carnival are purple, green, and gold. Use this as a jumping-off point when purchasing things like tablecloths, paper plates and cups, straws, and utensils. The dollar store is a great place to find these items at an affordable price!
Other easy, and affordable ways to decorate your space include adding colorful balloons, candle votives, DIY Mardi Gras garlands, and loads of colorful beaded necklaces. You can also consider making a photo backdrop fitted with a festive balloon arch. The options are endless, you just need to get creative!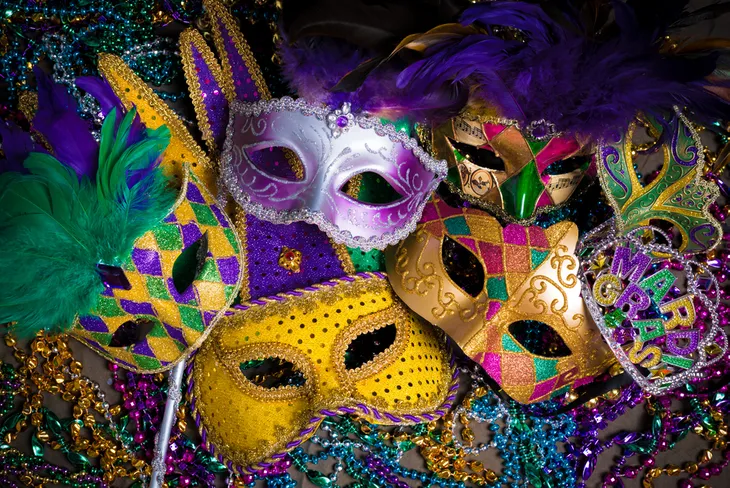 Invite Guests to Dress Up
A costume is a must for every Mardi Gras party so be sure to encourage your guests to dress up. But what should you and your guests wear? You can go all out and wear a jester costume or you can get creative and make your own festive outfit. The key thing to remember is that the traditional colors of Mardi Gras are purple, green, and gold. So, at the very least try to stick to these colors when creating your outfit.
Other fun ways to accessorize your outfit include a sequined mask, sparkly headdress, feathers, and lots of beaded necklaces. You can also dress up your look with colorful makeup. The goal is to simply have fun with it and you can never be too over the top!
Mardi Gras Recipes
Every party needs delicious food, right? While New Orleans might do it best, making traditional New Orleans dishes at home is easier than you may think! Get the party started with a big serving of gumbo, jambalaya, or a crawfish boil. Muffuletta pinwheels, creole potato salad, and crawfish cornbread would make great additions as well.
Another easy way to save on costs is to make your party a potluck. Not only does this help you save money, but it also alleviates some of the prep work too as your guests will be bringing their own dishes to share. Plus, a potluck ensures there is a good variety on your food table.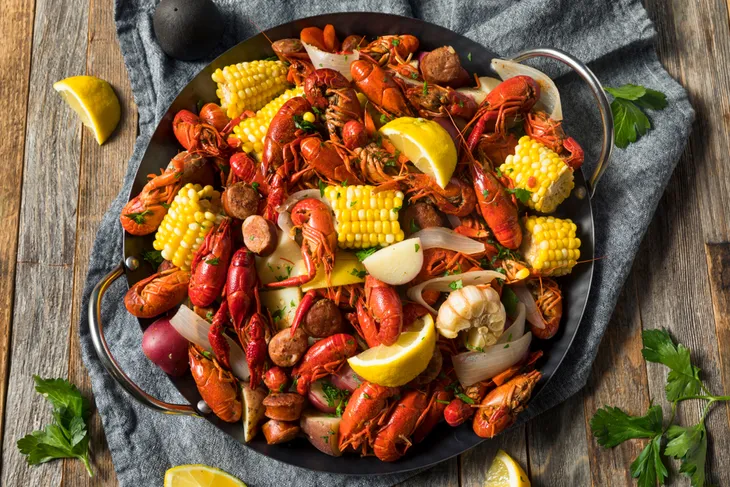 Bake a King Cake
Every Mardi Gras party needs a King Cake! This traditional cake features an oval shape which symbolizes the unity of faiths. The cake is also decorated with traditional Mardi Gras colors, including purple (which presents justice), green (which represents faith, and gold (which represents power). A small baby (which symbolizes baby Jesus) is also traditionally hidden in the cake. If you find the baby in your slice of cake, it symbolizes luck and prosperity.
While you could order a King Cake from a bakery, it's easier to make than you might think. Plus, you'll likely save money baking it yourself too. This recipe by Family Fresh Meals shares a quick and easy (and affordable) hack to make an impressive King Cake. The secret is to use two cans of cinnamon rolls. You'll also need butter, light brown sugar, and green, yellow, and purple sanding sugar. Keep in mind, this recipe serves 12 guests so you may need to make more than one cake if you're hosting a lot of people.