At this point, most of us have taken at least one COVID rapid test at some time or another. The reason for this could be because we were experiencing symptoms, were traveling, or exposed to the virus through a close contact. Either way, most people are somewhat familiar with the process.
While a COVID rapid test is certainly not a complex test to do and can easily be done from the comfort of our own home, there are specific steps that need to be followed in order for it to be effective. Here are some tips on how to get the most accurate result from a COVID rapid test…
What is a Rapid Antigen Test?
The terms 'rapid antigen test' and 'rapid test' are often used interchangeably. However, the Centers for Disease Control and Prevention (CDC) has stopped using the term "rapid" since the U.S. Food and Drug Administration (FDA) approved the use of laboratory-based antigen tests, notes Healthline.
They are also sometimes referred to as point-of-care tests because they can be done at home, a doctor's office, pharmacy, school clinic, long-term care facility, airport, and drive-through testing sites. These tests are widely used and known for providing results within minutes as they don't need to a specialist to analyze them in a laboratory.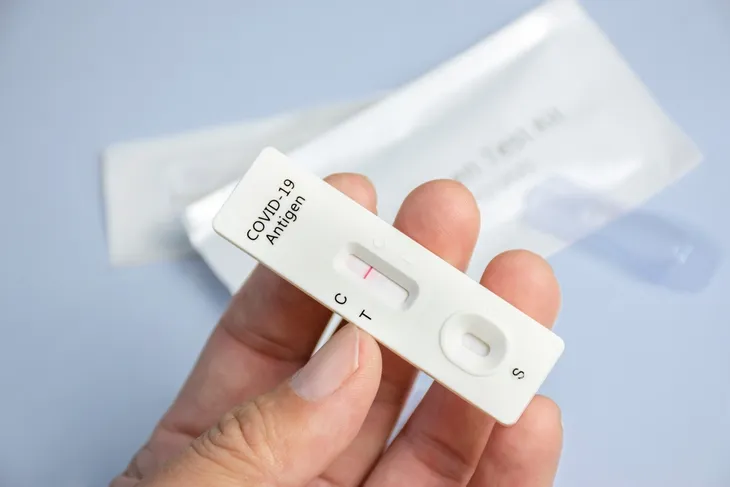 How Does it Work?
While they aren't as accurate as a polymerase chain reaction (PCR) test, a rapid antigen test is still a reliable option. They can detect the presence of a specific viral antigen, which would indicate a viral infection, explains the CDC. A rapid antigen test helps diagnose COVID-19 by looking for certain molecules that exist on the surface of the SARS-CoV-2 virus.
"Rapid antigen tests detect certain proteins in the virus to confirm the presence of COVID-19," writes the Government of Ontario website. The sample is collected by using a swab in the nose and/or throat. This sample is applied to a strip that will change color if it tests positive for COVID-19. The result of the test should appear in as little as 15-minutes.
When to Take a Rapid Antigen Test
Depending on where a person is located, rapid antigen tests are readily available to the general public. People are encouraged to use them when necessary in order to slow down the spread of COVID-19. So when is it important for a person to take one of these tests?
If experiencing any symptoms of COVID-19, take a test immediately. According to the CDC, the most common symptoms include fever, chills, cough, shortness of breath or difficulty breathing, fatigue, muscle or body aches, headache, sore throat, new loss of taste or smell, congestion or runny nose, nausea or vomiting, and diarrhea.
Another important time to take a test is after being exposed to someone with COVID-19. The CDC suggests taking the test at least 5 days after the exposure. If the test is negative, take one more 24- to 48-hours later to confirm. It's also a good idea to take a rapid antigen test prior to attending an indoor event or gathering. Do the test as close to the time of the event as possible.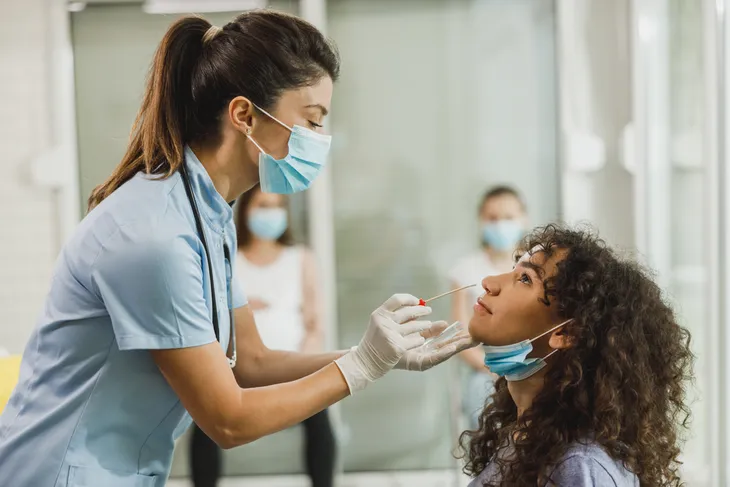 Self-Testing
What is so desirable about the rapid antigen tests is that they give rapid results and can be taken anywhere, regardless of vaccination status or whether a person has symptoms. They are much different than a PCR tests which have to be analyzed in a lab and can take a couple days to get the results.
It's important to follow the specific instructions provided in the kit insert. While they are all very similar, not every brand is the exact same. Be sure to follow the exact instructions. As of now, there are two popular methods that can be used to collect an accurate sample — the combined oral and nasal method and the nasal method.
For both methods, before collecting the sample, blow your nose and wash your hands.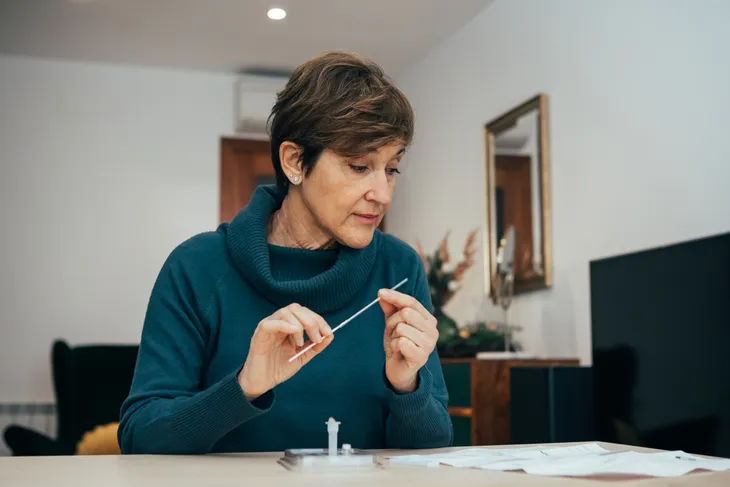 Combined Oral and Nasal Method
According to the Ontario Science Advisory Table, this is the most accurate testing method for rapid antigen tests. It involves swabbing the inside of the cheeks, tongue, back of the throat, and the nostrils. Ontario Health suggests not to eat, drink, chew gum, smoke, or vape for at least 30-minutes prior to collecting the sample.
Be careful to only touch the end of the swap that is opposite to the soft swab tip. Insert the soft swab tip into the mouth and gentle swab both inner cheeks and lower gums. Turn the swab a few times. Then rub the soft swab tip on the tongue as far back in the throat as is comfortable. There's also the option to swab the back of the throat and tonsils instead of the inner cheeks and tongue. You'll need a mirror for guidance.
The final stage of this method is to do the nostrils. Tilt the head back and fully insert the soft swab tip straight back (not up) into the nose until it hits resistance. The soft swab tip should be fully inside the nose. Rotate it several times against the wall of the nose and even let it sit and absorb nasal secretions for a few seconds. Remove the swab from the nose and repeat on the other nostril. Once this is complete, place the swab into the test tub and follow the rest of the kit instructions.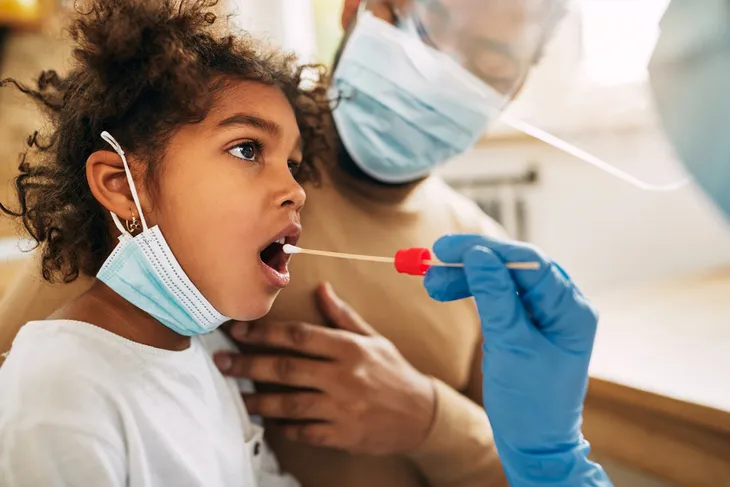 Nasal Method
Similar to the oral and nasal method, be sure to blow your nose before administering the test. You should also wash your hands thoroughly and only touch the swab opposite the soft swab tip. Tilt your head back and fully insert the soft swab straight back (not up) into your nose. Insert it until there's resistance, says Ontario Health.
When inside, rotate the swab several times against the wall of the nose and let it sit for a few seconds to absorb any nasal secretions. Remove the swab from your nose, and using the same swab, repeat this process in the other nostril. Immediately after finishing the test, place the swab into the test tube and follow the rest of the kit instructions.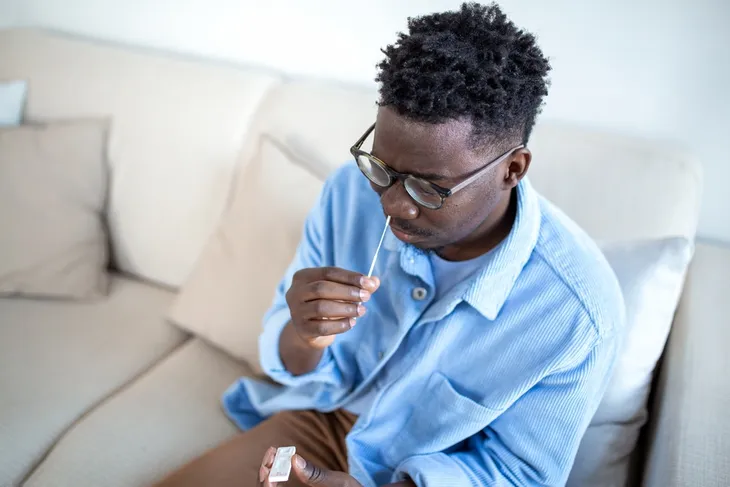 When Can I Expect the Results?
Rapid antigen tests are "rapid tests" because of their quick results. This is especially true in comparison to PCR tests which can take up to a couple days for results. According to the CDC, antigen tests will produce results quickly. Most show a result within 15 to 30-minutes. They don't require a lab analysis and can be used at anytime, anywhere.
The downside is they are less sensitive than real-time reverse transcription polymerase chain reaction (RT-PCR) and other nucleic acid amplification tests (NAATs). This means they require more of the virus in a sample in order to detect a positive result which means they can result in a false negative.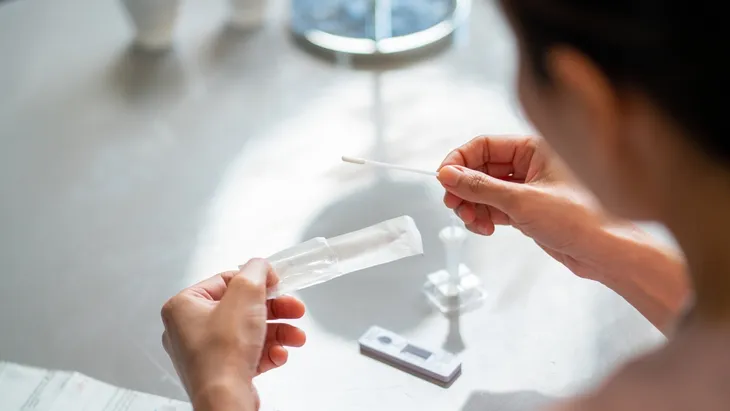 What Does a Positive Result Mean?
A positive result from a rapid antigen test means it is very likely that you have COVID-19. You do not need to confirm a positive rapid antigen test result with a PCR or rapid molecular test. As per the CDC guidelines, a person with a positive result needs to stay home for at least 5 days and isolate from others in the home.
You should also inform any close contacts of the positive result and wear a well-fitted mask around others. Monitor for symptoms. If you experience emergency warning signs, seek emergency care. People who are at a higher risk for severe illness should contact their primary care provider or visit a clinical assessment centre to find out if there are available therapies to prevent severe illness.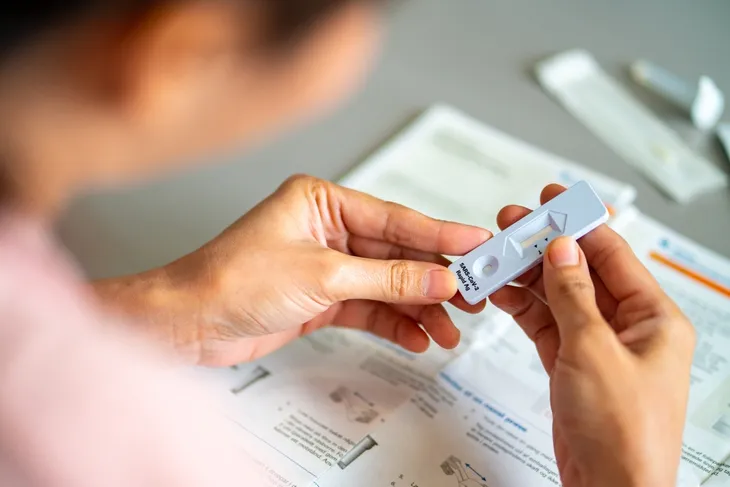 What Does a Negative Result Mean?
If after administering the test and waiting the allocated amount of time, the test is negative, test again in 24 to 48-hours after the first test. This is especially important for people experiencing symptoms of COVID-19 because it is possible to receive a false negative. If the second test is also negative, you likely do not have COVID-19.
If experiencing symptoms, it's a good idea to self-isolate until the symptoms begin to improve for at least 24-hours (or 48-hours if these symptoms are gastrointestinal like vomiting or diarrhea), according to the Government of Ontario website.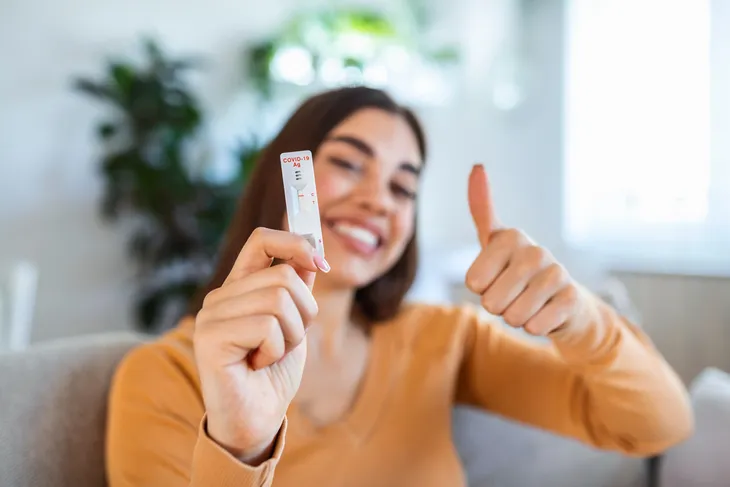 How Accurate are the Results?
Again, a rapid antigen test isn't as accurate as a PCR test, but they still play an important role. They are a useful tool to not only slow down the spread of COVID-19, but also alleviate stress off clinics and healthcare providers by offering the option for people to self-test at home.
When it comes to accuracy, the biggest concern is false negatives, not false positives. "Like other antigen COVID-19 tests, home COVID-19 tests have a higher chance of a false negative than a false positive — meaning it's more likely that the test will indicate you don't have COVID-19 when you do have it than report you do have it when you don't," explains Healthline.
To combat this, people who receive a negative result should test again in 24 to 48-hours to confirm their negative result. This is especially true if they are symptomatic.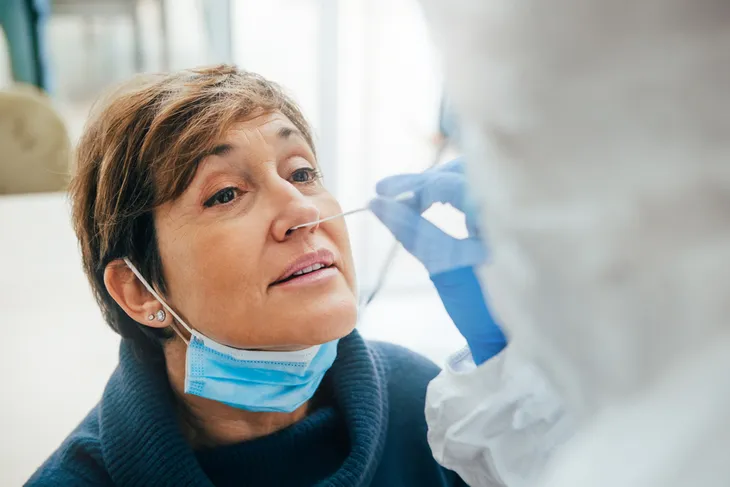 How to Get Free COVID Rapid Tests
At the heat of the public health emergency, getting your hands on free, at-home COVID rapid tests was as easy as asking the federal government. Americans were never more than a few clicks away from scheduling a free, at-home delivery. Sadly, it's not that easy anymore.
The federal government has finished supplying free at-home COVID rapid tests, leaving millions of Americans without a reliable source of free tests. You could buy them, but at roughly $15 per test, that can get expensive. Thankfully, there are still ways to get them for free.
Insurance
Most health insurance policies cover the cost of up to eight tests per person, per month. It isn't exactly free, but those with health insurance can avoid incurring additional costs.
Medicare
Recipients of Original Medicare are covered too. Beneficiaries are eligible for up to eight over-the-counter COVID-19 tests each month at no cost to you.
Federal Government
They may no longer be providing Americans with as many covid rapid tests as they need, but the Federal Government is still shipping free four-packs of COVID-19 tests for a limited time right now.
Community Organizations
If you don't have insurance and already claimed your four-pack from the federal government, consider checking in to community resource centers near you. Community groups frequently host rapid test distribution pop-up sites, and use other creative ways to hand out free tests to those that need them.