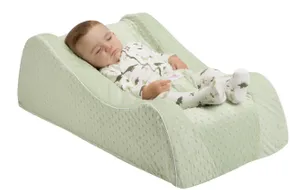 Baby Matters LLC has received a legal complaint over their Nap Nanny product. The Consumer Product Safety Commission wanted them to voluntarily recall and refund their Nap Nanny product, however Baby Matters refused. After five months of discussion with no resolution, the administrative complaint was filed.
Alex Flip, a spokesman for the Consumer Product Safety Commission, commented on the lawsuit. "We believe it is a hazardous product and we are concerned about the safety of the children that are in there. We had to take action because of the number of incidences, and that is why we have filed this complaint against the company. They would not agree to a voluntary recall."
Baby Matters is refusing to issue a recall because they believe it was inappropriate use of the product that caused the recent deaths. There have been 5 infant deaths associated with this product. The CPSC states that Baby Matters should have thought about "reasonably foreseeable use" where a baby might be injured or die from the product. The Nap Nanny currently has warning labels on unsafe usage, but the CPSC now says that they are inadequate.
All deaths occurred after improper use of the product. The Nap Nanny website states that, "The loss of an infant is an unthinkable tragedy, and I am truly heartbroken for the families who have lost a child. But the fact that infants have died "while using" the Nap Nanny improperly, such as when used in a crib where the child could suffocate on a crib bumper or a blanket, does not mean our product caused the child's death or is hazardous…. No infant using the Nap Nanny properly has ever suffered an injury requiring medical attention. The Nap Nanny was designed and constructed for use only on the floor with the harness secured."
Battling the CPSC has cost the company more than lost revenue. They were forced to close last month. Leslie Gudel, the creator of the product, commented on the closure of the company. "The ongoing battle with the CPSC cost us so much money that it forced us out of business a month ago. Another small business is gone. Twenty-two Americans are out of work between Nap Nanny and our supplier. This doesn't take into account the financial impact our closure has had on our other U.S. suppliers."