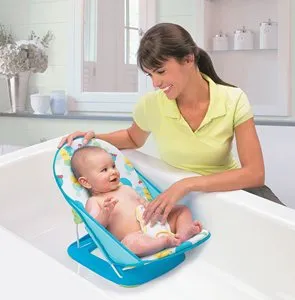 Mother's Touch Baby Bather and small Deluxe Baby Bather are both being recalled due possible harm to the child. The recall affects Summer Infant baby bathers with a small, almost square pink or blue plastic base. According to the official press release, the base measures 34.4 centimetres long by 31.8 centimetres wide.
The following model umbers are affected: 08020, 08050, 08054, 08070, 08401, 08404, 08405, 08650, 08655, 08659, 08754, 08940, 08944
According to the official recall, "When the product is misused as an infant carrier, the headrest may fold and the child can fall from the bather."
The recall was sparked after 7 reported incidences of falling, 5 of which the child sufferred from head injuries as a result of the fall.
There were approximately 65,00 units sold in Canada between September 2004 and November 2011.
Consumers with questions or concerns regarding the recall can call Summer Infant at 1-800-426-4627 between 8 AM and 5 PM ET Monday through Friday.
Source: Health Canada