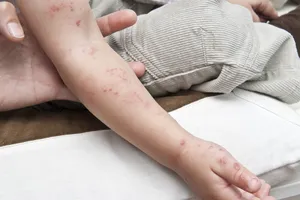 Doctors in Mumbai have been warning parents not to mistake the highly contagious and dangerous hand, foot and mouth disease (HMFD) with the relatively-benign common childhood illness of chicken pox, as the two diseases share similar symptoms.
Over the last two weeks, pediatricians in Mumbai have reported an increasing number of HMFD cases, most in children under the age of five. One pediatrician, Dr. Pankaj Parekh of Saifee Hospital, claims he has had to treat about 12 to 15 children daily for the last two weeks. As many parents are confusing outbreaks of HMFD with chicken pox, children end up coming to the hospital late, suffering from rashes and water-filled boils on their limbs.
Experts point to Mumbai's hot and humid weather at the end of monsoon season as being particularly helpful to the progression and spread of classified as enteroviruses, the virus group responsible for HFMD. Another pediatrician, Dr Rohit Agarwal, says that it is common to see a sudden increase in the number of cases during this part of the year.
Meanwhile, Dr V Yewale, who is head of a children's hospital in Vashi, admonishes parents to do their part to stop the spread of the disease. "HFMD is contagious, and parents should not send children with symptoms to school and tuition classes," he commented.
Parents need to be particularly vigilant, as their child may even be contagious before rashes appear. But Dr Nitin Shah, a pediatrician with PD Hinduja Hospital in Mahim, notes that while HFMD can cause infection in the brain, the current outbreak in Mumbai is not associated with any major complications.
Source: Hindustan Times