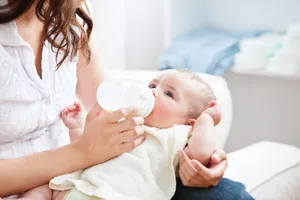 Bisphenol-A, commonly known as BPA, has been linked with childhood obesity in numerous studies. New York-based researchers theorize that BPA disrupts the body's metabolism, changing the way it breaks down food and spends energy.
A new study followed 2,800 subjects between the ages of 6 and 19, comparing the BPA levels in their urine to their body mass index (BMI) scores. Participants with the highest levels of BPA in their urine were more than twice as likely to be obese as participants with the lowest BPA levels.
Study author Leonardo Trasande concludes, "Clearly unhealthy diet and poor physical activity are the leading factors contributing to obesity in the United States, especially in children."
BPA is commonly found in plastics, but its use in sippy cups and baby bottles has been banned in the United States. However, the chemical is still found in many common items and household products, as no research has yet definitively linked it to health problems in adults. Tin food cans and aluminum cans are both known to contain significant amounts of BPA.
Not everyone believes in Trasande's theory, however. The American Chemistry Council issued a statement regarding the results of the new study. They believe that "Attempts to link our national obesity problem to minute exposures to chemicals found in common, everyday products are a distraction from the real efforts under way to address this important national health issue."
Source: Daily Mail