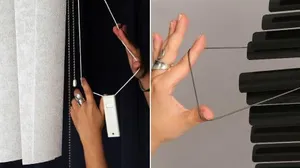 The US CPSC (Consumer Product Safety Commission) and Blind Xpress are issuing a recall of 139,000 custom-made vertical and 315,000 horizontal blinds after the death of a 2-year-old child was reported in association with the products.
According to the news release, an infant died in 2009 after being strangled in the look f a vertical blind cord that was not attached to the wall or floor.
This recall involves all Blind Xpress custom-made vertical blinds that do not have a cord-tensioning device that attaches to the wall or floor, as well as all horizontal blinds that do not have inner cord stop devices.
The products were sold at various blind specialty stores in Michigan, Ohio and Indiana between January of 1995 and December 2011. The blinds were manufactured in the United States.
Consumers who have purchased the product should stop using it immediately. To receive a free repair kit, contact the Window Covering Safety Council toll-free at (800) 506-4636 anytime or visit www.windowcoverings.org.
Source: CPSC.gov