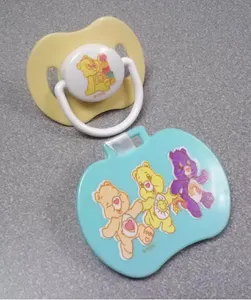 Parents of young infants should be aware of a recall issued by IDM Group and the US Consumer Product Safety Commission regarding the CareBears pacifiers described below.
The products are being recalled because they are considered a choking hazard.
Approximately 119,000 of the products were sold at various discount and dollar stores nationwide. They were also sold at Walmart Puerto Rico, children's apparel sotres and Consolidated Stores nationwide from October 2009 to June 2012. The price per unit was approximately $1.
The pacifiers (pictured above) were imported by IDM Group LLC of New York and were manufactured by Yi Wu Jiangyi Plastic Co., of China.
The products do not meet federal safety standards and the nipples can separate from the base, posing a risk of choking in small infants.
There have been no injuries associated with the product to date.
Consumers with questions or concerns can contact IDM at (212) 686-5221 between 9 a.m. and 5 p.m. ET Monday through Friday, or visit the company's recall web site at www.pacifierrecall.net.
Source: CPSC.gov