Does your little one have a birthday coming up? Planning a fun and memorable party every year isn't always easy but one way you can take some of the pressure off yourself is by hosting the birthday party offsite.
Hosting birthdays at home can be fun but sometimes it's nice not having the mess and chaos at your house. And some people simply don't have enough space to host a party. Plus you get the added benefit of leaving the party entertainment to the professionals. But how do you choose the perfect venue? Get inspired and check out our list of 5 fun places to host a children's birthday party.
Swimming Pool
If your child loves swimming, consider hosting their birthday at a swimming pool. Not only is swimming fun, but it can be a great way to let kids burn off energy.
When choosing a venue, make sure it's equipped with lifeguards to ensure all kids are kept safe. Adults may also be encouraged (or required at some places) to get in the water too. If you need extra hands, consider asking some parents to volunteer to supervise. Keep the party simple and let the kids have a free swim or you can lead activities like relay races with kickboards, or diving for items in the water. Finally, thanks to indoor pools, this is a feasible option all year round!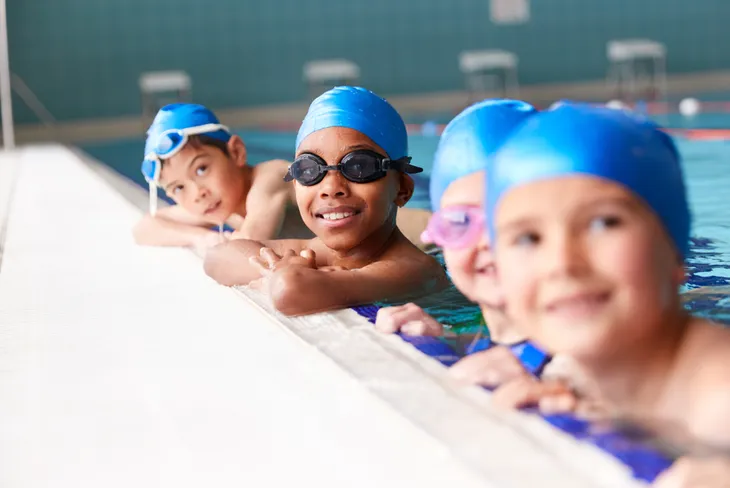 Bowling Alley
You can never go wrong with a classic like a bowling party! Some locations even have glow-in-the-dark themes, which can make the game extra fun. You could even encourage kids to wear bright colors so they glow during the games. Just remember to remind the attendees (on the invitation) to bring a pair of socks.
Book a few lanes at your local bowling alley and let the kids have fun. Depending on your child's age, you may want to request bumpers and ramps to make the game easier. Additionally, some locations even offer food like pizza and drinks. Bring some decorations and a cake and you'll be all set for a memorable party!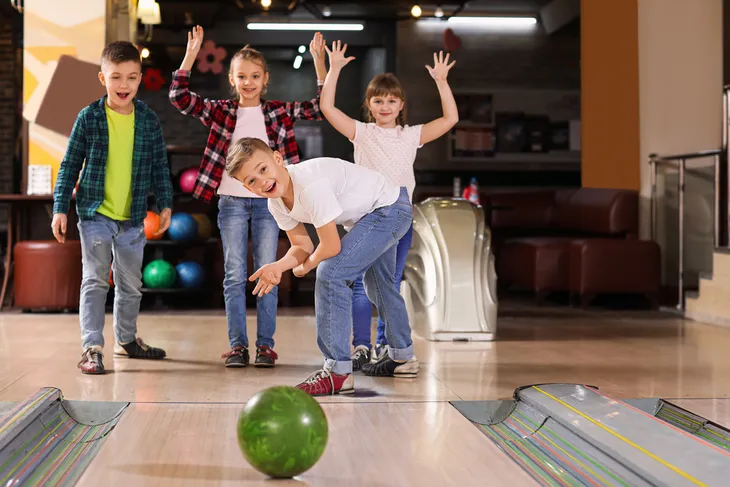 Trampoline Park
The great thing about this venue idea is that it's fun for all ages, whether your child is 5-years old or 15. Even the adults may want to join in on the fun. As long as your child can jump and walk on their own, a trampoline park is a great location to consider for your child's birthday.
Many trampoline parks offer party packages where their employees will set up and clean up the party. They may even offer food and provide entertainment. In addition to jumping, some locations have obstacle courses, foam pits, slides, and other fun games that will keep the children entertained.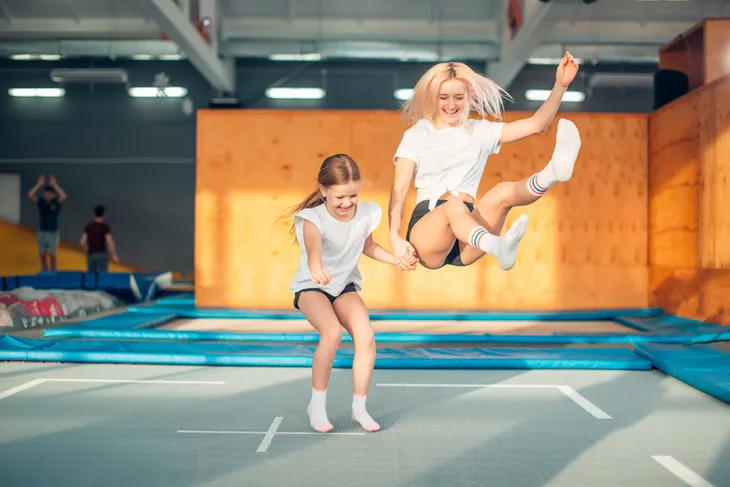 Rock Climbing
Looking for something unique and fun? Consider hosting your child's birthday party at a rock climbing gym! This is another fun, and active birthday party venue where kids will get to burn off energy and learn the basics of rock climbing. The best part is the children will be supervised and guided by trained instructors so you can sit back and relax while the kids have fun.
Many rock climbing gyms also offer party packages. Some venues allow you to bring your own food (which may help save on costs) while others may offer packages that supply food for your kids. Research climbing gyms near you and compare their packages to find one that fits within your budget.
Movie Theater
Is there a fun, new movie release that your child wants to see? Why not host their birthday at the movies? You have a few options for this birthday party. First, you can keep it simple and purchase a bunch of tickets for your child and their friends and then take them out for dinner, or take them back home for food and cake.
Another option is purchasing one of the movie theater's party packages. Most theaters offer packages that include movie tickets, popcorn, and drinks, plus a party room rental where you can bring your own decorations and food. For an additional fee, some theaters even offer packages that include food like pizza or hot dogs. Weigh all the options and find the best one that fits your budget.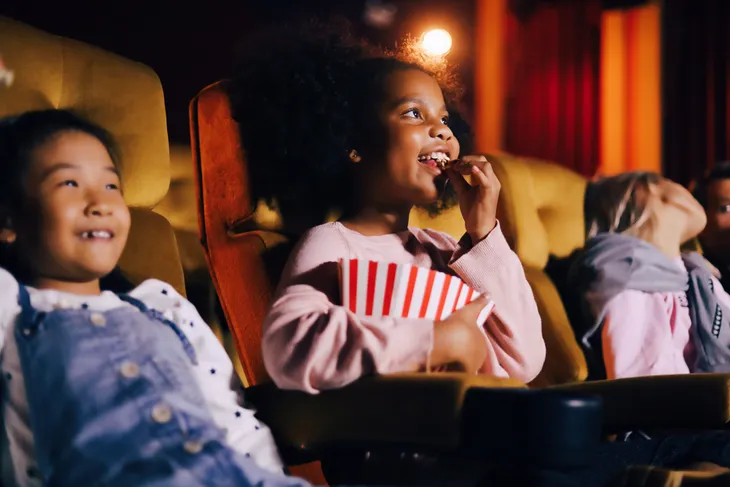 Other Fun Places to Host a Children's Birthday Party
These five places just brush the surfaces of fun places to host a children's birthday party. There are tons of other venues that would be great, depending on your child's interest. Keep these venues in mind too when deciding on where to host your child's birthday:
Arcade
Bounce house
Build-A-Bear workshop
A paint-your-own pottery studio
A arts and crafts store that hosts DIY projects
Skating rink
Amusement park
Zoo