Camping can be both a fun and rewarding experience but it can be tricky to navigate for beginners.
It's important to do your research and make a list of all the gear you'll need for your camping trip.
Never be afraid to reach out for help and advice. Campground staff and rangers are there to help!
There's something about spending time in nature that feels really good for the mind and soul. Maybe it's the fresh air and beautiful landscape or perhaps it's the opportunity to unplug from the hustle and bustle of everyday life. Whatever it is, camping can be a very fun getaway but it can also be tricky to navigate for beginners.
If you're interested in camping but don't know where to start, don't fret. We're here to help! Follow along as we share 12 important camping tips for beginners. You'll become a camping pro in no time!
Purchase a Tent
Picking out all of your camping gear can be just as fun as camping itself but with so many options on the market, it can get overwhelming. When purchasing a tent it's important to choose one that's right for you.
One of the biggest deciding factors you'll need to consider is the size. If you're going on a solo camping trip or with a partner you can get away with a smaller tent. But if you're taking the whole family you're going to need a much larger tent so the whole gang can sleep comfortably. The other thing you'll want to consider is the shape of the tent. Tents with intricate designs can be more complicated to set up.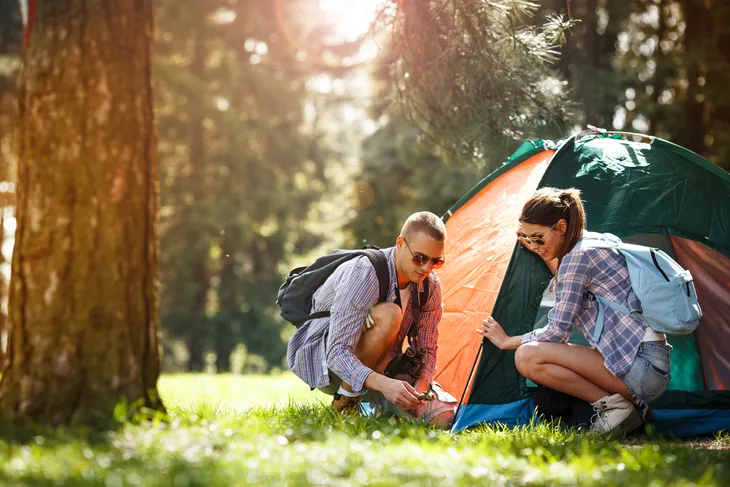 Don't Forget to Buy Sleeping Bags
Regardless of what time of year you go camping, you will need a sleeping bag to keep you warm and comfortable at night. Like tents, there are a variety of sleeping bags to choose from but the most important thing to pay attention to is the temperature rating.
Some sleeping bags are designed for the summer when outdoor temperatures are warmer and some are designed for winter camping to keep you toasty warm all night long. If you're going to do most of your camping from late spring to early fall, it may be best to get a sleeping bag that is somewhere in the middle. Don't forget to look at the size to make sure you don't accidentally purchase a sleeping bag for a child. You can also check out this sleeping bag guide to help you decide.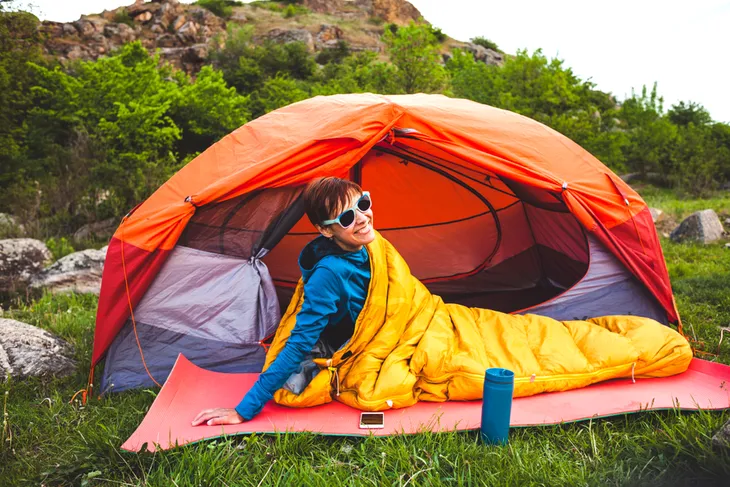 Make a List of Additional Gear You Need
Now that you have two major things checked off your list, you'll want to make a list of the remaining gear you'll need for your camping trip. Some of the must-have items include flashlights, lanterns, or headlamps as well as pillows, and camping chairs. Beginners may also want to invest in a sleeping pad or air mattress to make sleeping more comfortable.
You may also want to invest in gear to help you prepare food while camping such as a camping stove and fuel, pots and pans, plastic plates and cups, and cutlery. You can also check out this list of camping essentials created by Recreational Equipment, Inc (REI) which includes an extensive list of items you'll want to consider.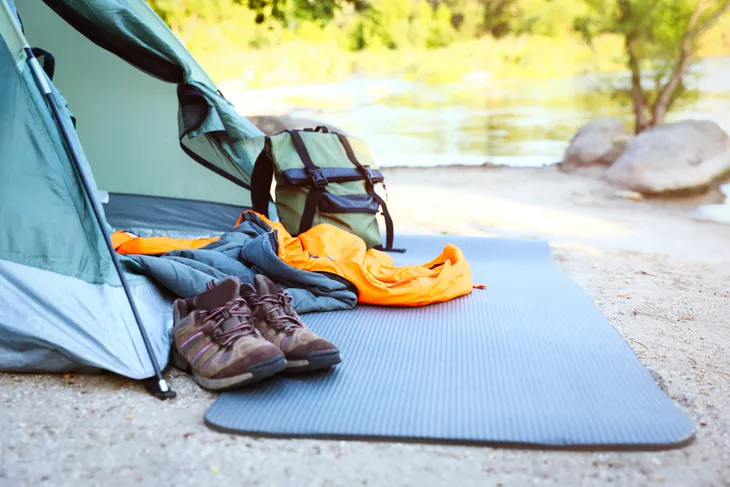 Book a Campsite
Now comes the fun part, deciding where you want to camp! There are tons of beautiful parks to choose from all over the country. You can camp at national parks, state parks, or even test the waters in your own backyard. Simply do an online search to find campsites available in the area you're interested in.
When searching there are a few factors you'll want to keep in mind. If you have a dog and want to bring them camping, you'll want to make sure the park is dog-friendly. You may also want to find out what amenities are available such as public toilets and showers. Beginners may want to look for a park that offers these amenities. Lastly, you'll want to determine whether you want a campsite with electricity and water hookups or not — this is completely personal preference.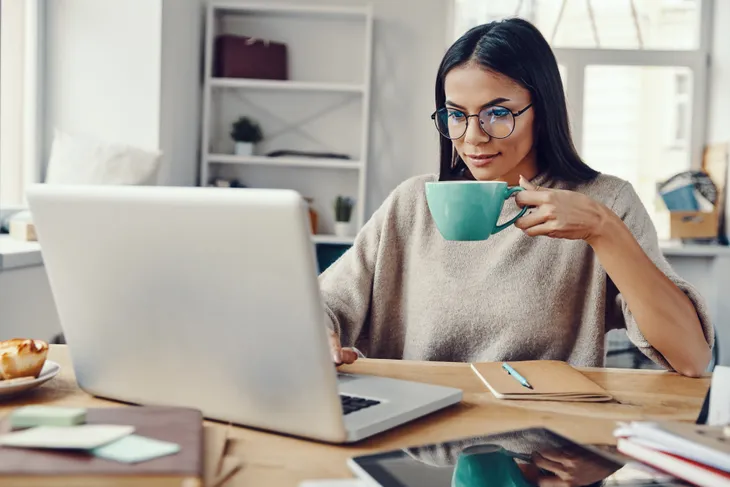 Camp Close to Home
If this is your first camping trip, it may be best to camp close to home for a few reasons. For starters, camping close to home requires less planning and travel arrangements which means you'll have more flexibility with your trip schedule.
Kampgrounds of America (KOA) says camping close to home is also a bonus in the event you forget something important you may be able to go back home to get it. At the very least, beginners should try and camp near a town where you have access to supplies if you forget anything. The source says another advantage is if an emergency situation arises, it's more likely that someone you know can help.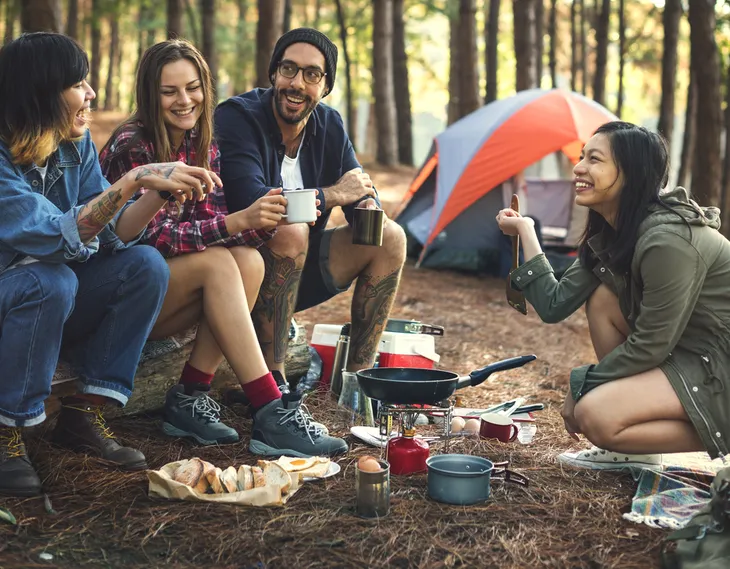 Bring a First-Aid Kit
While nobody wants accidents to happen, they are still possible. So, it's best to come prepared! In the event that there is an injury while camping you'll want to have a first aid kit on hand. This is something you could even permanently keep in your car so you always have it with you.
You can purchase pre-made first aid kits online or you can build your own. Some important items that should be included are absorbent dressings, gauze roll, a roller bandage, other assorted bandages, antibiotic ointment packets, antiseptic wipes, oral thermometer, tweezers, and an emergency blanket. Check out the American Red Cross's extensive list for additional items you may want to include.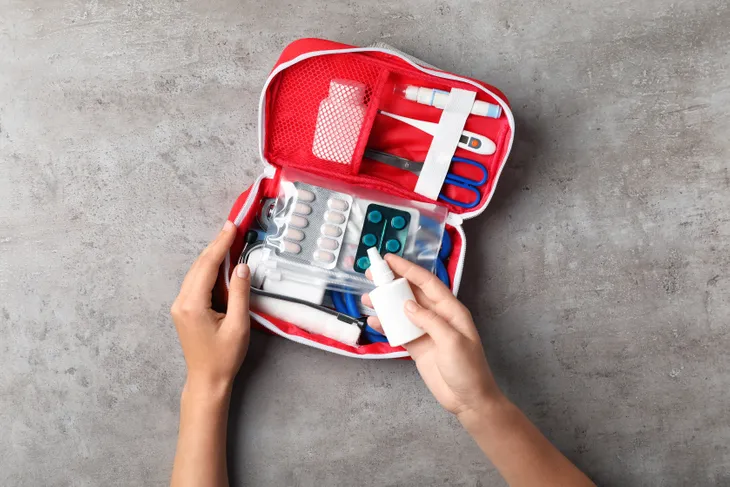 Plan Your Meals
Every camping trip needs delicious food! But it's important to plan and be prepared, especially as a beginner. This is why it's a good idea to plan your meals ahead of your trip, including how you're going to cook them. First, you'll want to look into the regulations at your campsite and find out if you're allowed to have a campfire.
You can cook your food over the fire or you can bring a camping stove and fuel. One important thing to remember is, never cook inside your tent, right next to your tent, or under an awning as this can pose a fire risk. It's also smart to pack lots of snacks so you have something to nibble on while you prepare your meals. Cooking while camping can take a bit longer than it usually does at home. You may also want to scout out local restaurants in case your meals don't go to plan. Finally, be sure to pack lots of drinking water for your trip.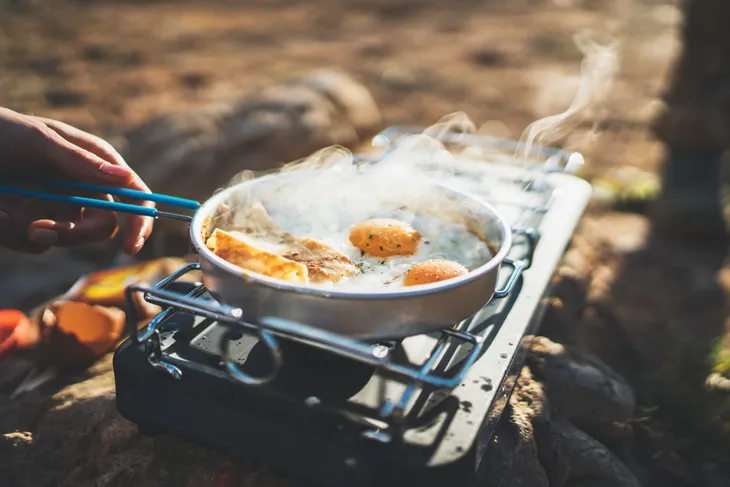 Be Prepared for Changing Weather
The weather is one thing that is completely out of your control but what you can do is be prepared. First, make sure to check the weather leading up to your camping trip. If thunderstorms or other severe inclement weather is in the forecast it's best to cancel your trip altogether. But if there's only a chance of light rain you can prepare for this.
For starters, bring several tarps with you. You can place one under your tent and hang one over top to help keep the rain out of your tent. You'll also want to cover your firewood to keep it dry. And remember, if your tent does get wet, make sure you dry it out when you get home before packing it away or it will get moldy. It's also a good idea to bring extra layers in case it gets cold. Other important things to bring are sun protection and insect repellent.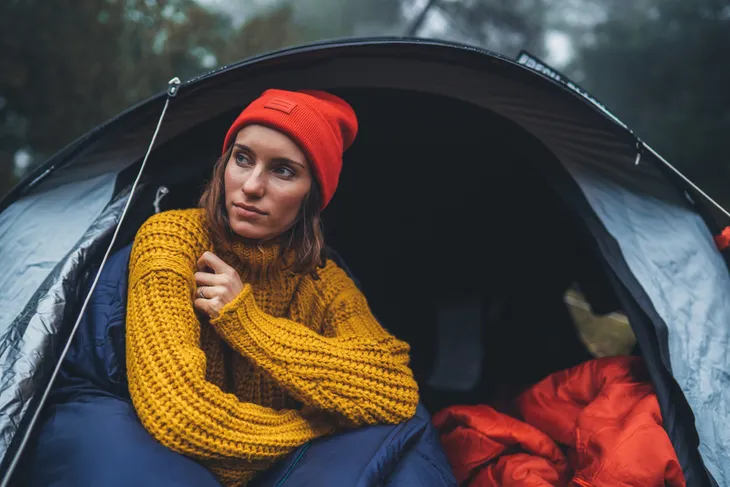 Plan Your Activities
Camping beginners may also want to plan their activities ahead of time. While you don't have to stick to a hard-set schedule, it's a good idea to at least have a list of fun things you can do while camping.
Take a look at the park you'll be visiting and find out what it has to offer. Many parks have a variety of hiking or cycling trails you can enjoy. If you're camping near the water you can plan for a beach day too. Your campground may even offer boat rentals.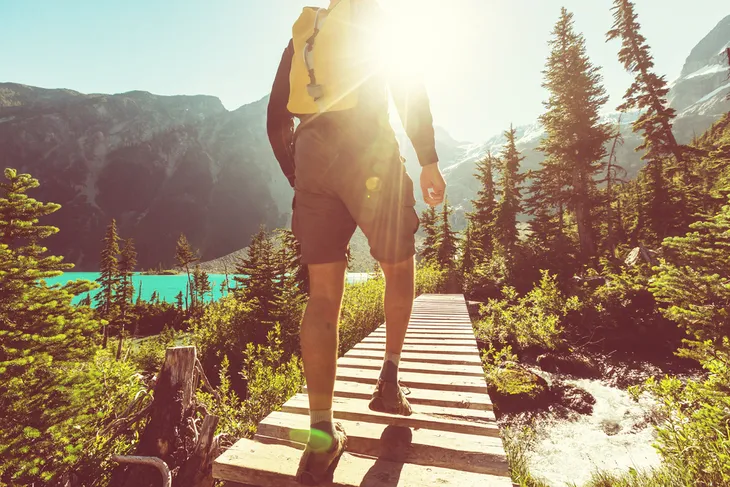 Tips for Pitching a Tent
Pitching a tent for the first time can be overwhelming as some tents have lots of parts. To help make the process easier, beginners should avoid setting up their tent in the dark so be sure to arrive at your campsite during daylight hours.
It may also be a good idea to have a practice run at home. Take the tent out of the package and put it together so you're not overwhelmed at the campsite. This is also a good opportunity to make sure you don't run into any problems or find out you're missing parts.
When setting up your tent at the site, try to find an area where the ground is level and clear of debris. Place the stakes deep in the ground at a 45-degree angle and be careful when walking around to ensure you don't trip on them.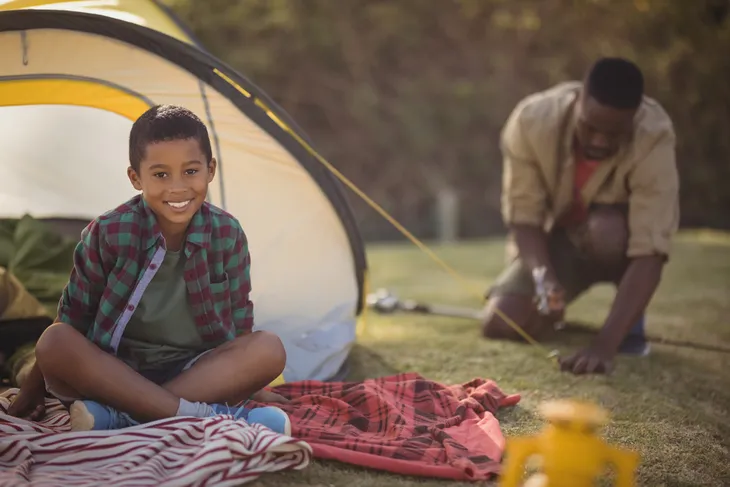 Don't Leave Valuables Unattended
While this tip may be common sense, it's still worth mentioning. Never leave valuables unattended while camping. While no one wants to have their items stolen, it is still possible, even while camping.
If you can, leave valuables at home and the ones you have to take with you like a wallet or cell phone, always be sure to bring them with you when you leave your campsite. Also, if you bring bikes on your camping trip be sure to lock them up when leaving them unattended.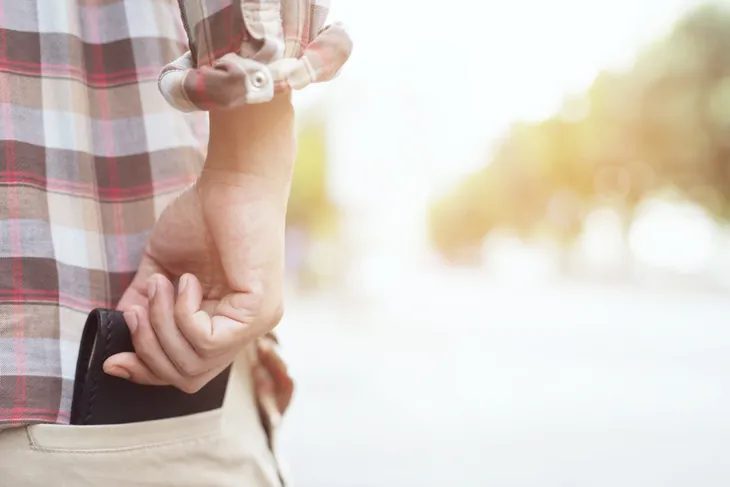 Don't Be Afraid to Ask For Help
Finally, you should never be afraid to ask for help before and during camping. While you're getting ready for your first trip, reach out to friends and family who have experience camping and ask them for their top tips. They might have some valuable advice to share.
When camping, you shouldn't be afraid to ask for help either. Questions are bound to come up and park staff and rangers are there to help. You can even ask your camping neighbors for help too.