Sleep is important for your overall health, including your skin health. One way you can get more sleep is by cutting time from your night and morning routines.
Applying serums, masks, acne treatments, dry shampoo, and deodorant at night is not only more effective but can also save you time in the morning.
Wipes, eyelash extensions, and drying your hair last can save time in your morning routine.
It's no secret that sleep is important for your overall health but it also plays an important role in keeping your skin plump and less likely to wrinkle. This is because while you sleep, your skin makes new collagen. One way you can get more sleep is by cutting time from your night and morning routines so that you can get to bed earlier, and sleep longer.
This doesn't mean you need to sacrifice your coveted beauty routine! There are hacks that can help. Let's take a look at 15 beauty hacks that can not only make your night and morning routine easier but help you get more rest.
Nighttime Hacks
We're going to start with a few simple, yet effective hacks you can start doing at night. If you start adopting some of these habits now, not only will they help cut time off from your morning routine but they may leave you with softer, silkier hair and skin the next day too. Let's get into it!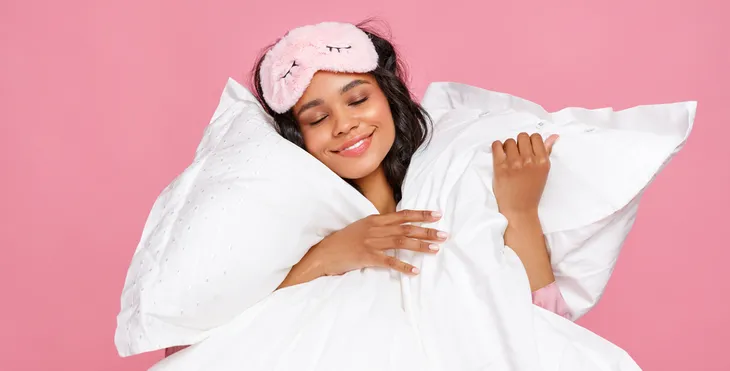 Serums
If you like to take care of your skin, odds are you have an extensive skincare routine. The types of skin care you apply nightly can make all the difference in how your skin appears the following day. Bustle says "serums are ideal for nighttime use because a lot of them contain powerful ingredients that don't mix well with sunlight."
Choosing the right serum for you all depends on what goals you're trying to achieve whether it's uneven skin tone, dryness, dark spots, wrinkles, as well as others. The source points out serums that contain vitamin C are great for brightening dark sparks and helping uneven skin tone and serums with retinol are great for aging concerns. Finally, most serums can help with hydration.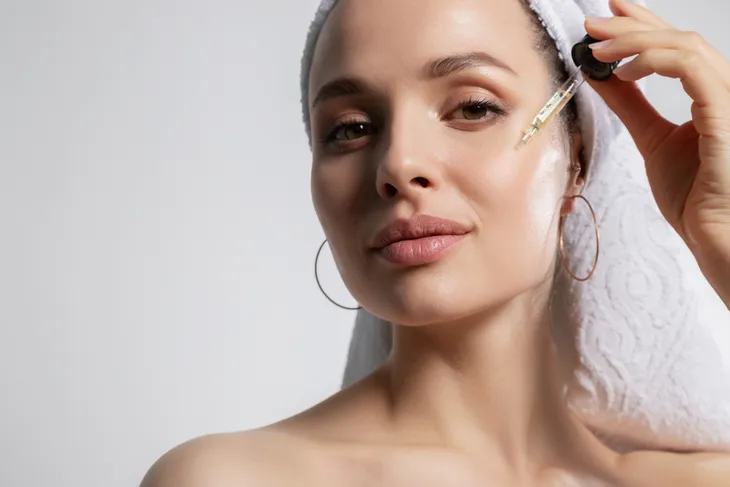 Acne Treatments
First, we want to point out that pimples are completely normal and most of us at least get the odd one here and there. But one way you can help zap those zits is by applying acne treatments at night time. Most spot treatments need to stay on for several hours, so walking around all day with pimple cream is less than ideal.
Some great options include tea tree oil or Mario Badescu Drying Lotion. Bustle also recommends "plain old benzoyl peroxide" as a cheap and effective treatment for pimples.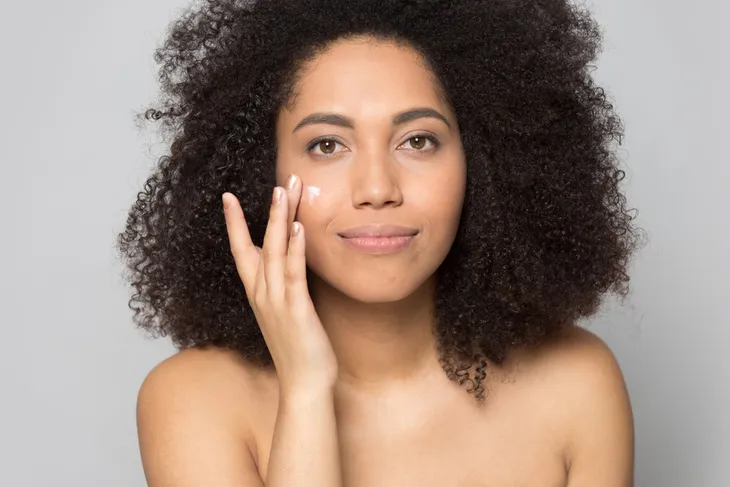 The Correct Order to Apply Your Skincare
If your skincare routine includes two or more products, you're probably wondering what order you should apply them to your skin. According to Cosmopolitan, the correct order to apply skincare products at night is, cleanser, toner, serums, eye cream, spot treatments, moisturizer, retinol, and then face oil.
This doesn't mean your skincare lineup needs to include all of these products (sometimes less is more!) but if you do prefer any of these types of products they may be best applied in this order. Another tip is to apply your nighttime skincare up to an hour before bedtime so that your wonderful products have time to absorb in your skin instead of rubbing off on your pillow.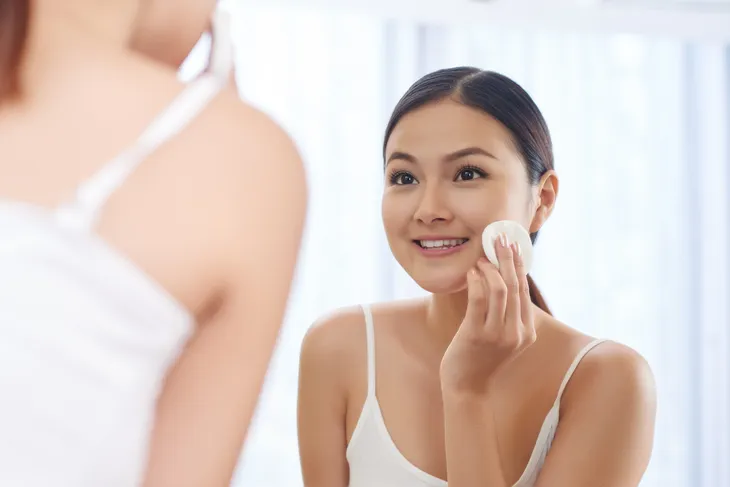 Hand and Feet Masks
Do you have dry hands and/or feet? The perfect time to hydrate is while you sleep! Luckily there are many hand and feet masks on the market. You simply apply the glove, wear it overnight, and then discard it in the morning.
Another budget-friendly method you can try is the old socks trick. You simply slather lotion on your feet before bed and then put on a pair of socks on your feet to lock in the moisture.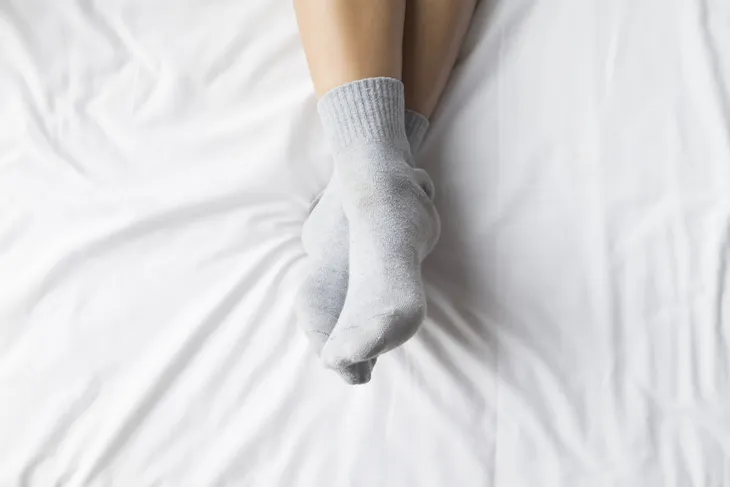 Overnight Face Masks
Not only can your hands and feet benefit from an overnight mask, but your face can too. These types of masks aren't your typical sheet mask. They're usually a cream or gel-based product that you apply to the skin. Overnight face masks have become very popular and are an effective way to hydrate your skin all night long.
Most masks recommend that you apply the product at night and then rinse in the morning. There are many overnight face masks on the market but some popular products you might want to consider are Origins Drink Up Intensive Overnight Hydrating Mask, Glow Recipe Watermelon + AHA Sleeping Mask, and Kiehl's Ultra Facial Overnight Hydrating Face Mask.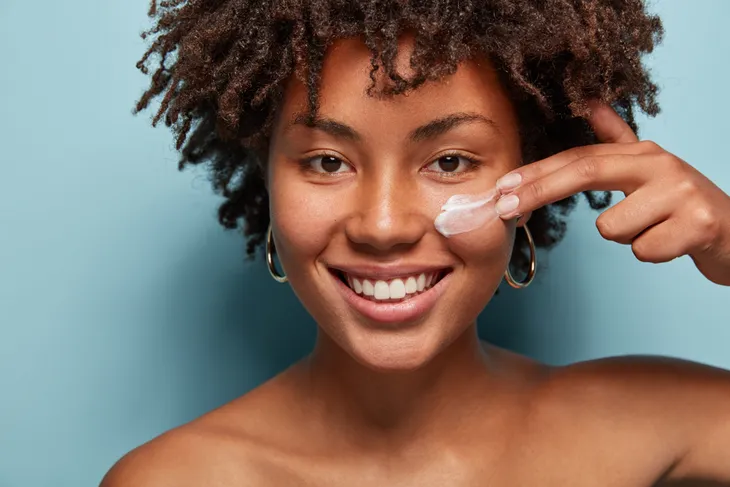 Consider Tontouring
You likely know what contouring is, but have you heard of tontouring (tanning contouring)? This simple, yet effective beauty hack allows you to create contoured definition in your face that can last up to 3-days! Contouring with makeup may look nice, but we all know it can add a lot of time to your makeup routine.
So here's how it works. Women's Health says "you simply use a makeup brush to apply self-tanner under your cheekbones before you sleep, allowing the tawny hue to develop overnight. " In the morning you'll be left with "diffused contour that's visible without the need for makeup," continues the source. This hack takes about 10-seconds to apply and can last 2 to 3-days. Talk about a time-saving hack!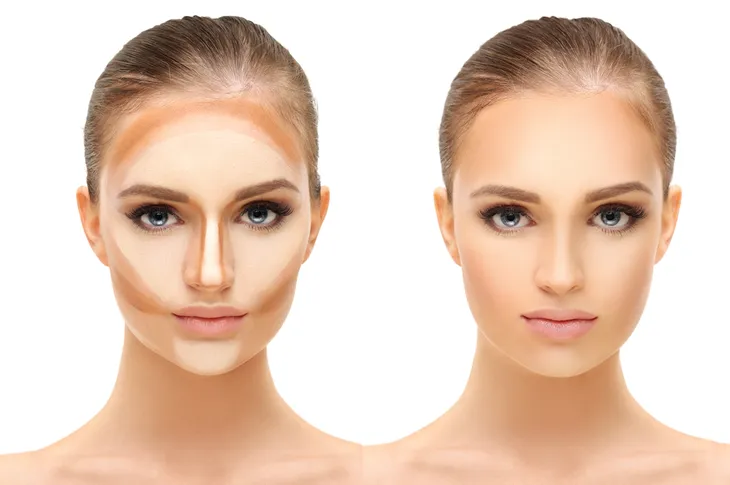 Sleep With a Silk Pillowcase
Another simple, yet effective beauty hack is to switch your cotton pillowcase for a 100-percent silk pillowcase. Preferably one that is made of long-strand mulberry silk, says Women's Health. A silk pillowcase has benefits for your hair and skin.
For starters, cotton pillowcases can "roughen up the cuticles of your hair," says the source. Whereas silk pillowcases reduce friction and damage and can also keep hair flyaways at bay.
Furthermore, silk pillowcases are also naturally hypoallergenic and pick up "less spot-causing bacteria than your usual cotton case." Silk is also better at retaining moisture which may be great for those who suffer from dry skin.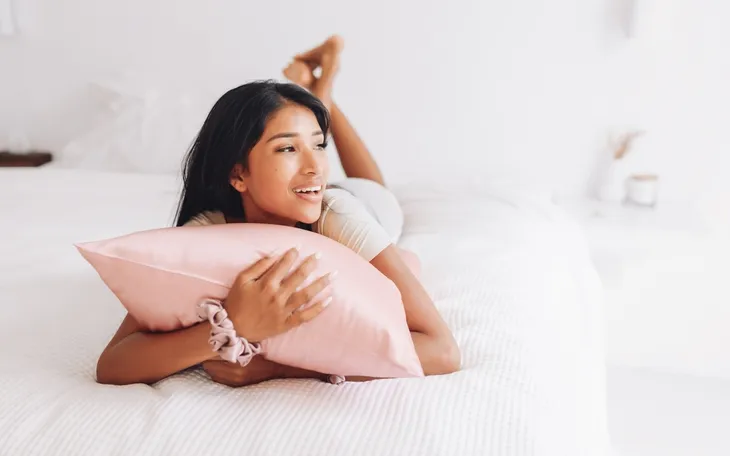 Dry Shampoo at Night
One of the best tools in your beauty routine may be dry shampoo. It's the perfect product to help prolong your blowout. It's also great for when you don't have time to wash your hair.
While many people use dry shampoo in the morning (and you still can!) Bustle suggests using it before you go to bed. The source says applying the product at night gives the product ample time to soak up greasiness. When you wake up, simply brush any leftover product through your hair and you should be left with fresh and nice-smelling locks.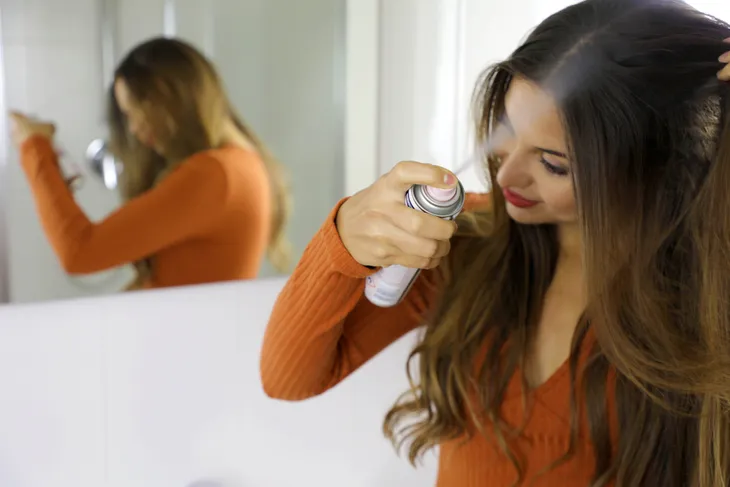 Overnight Hair Mask
If dry shampoo just won't cut it, and you know it's really time for a hair washing day, consider an overnight mask. Hair masks don't have to be expensive either. Good ole organic, raw coconut oil can do the trick!
Women's Health suggests soaking the ends of your hair in coconut oil. Simply scoop the coconut oil in your hands and rub your hands together to melt the oil until it's a liquid. Then run the oil through your hair. Before going to bed throw your hair up in a bun, or put a shower cap on to protect your pillow. In the morning simply wash the oil out and you'll be left with silky, shiny hair.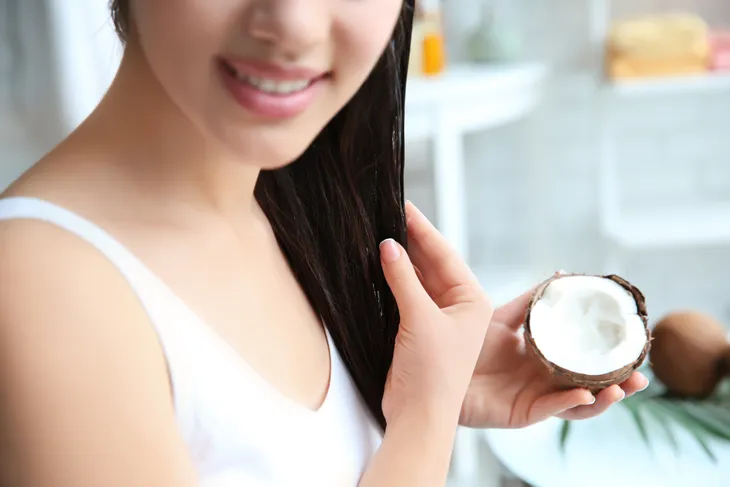 Apply Deodorant at Night
Deodorant is an amazing product that can help prevent excessive sweating and smelly body odor. But for the product to work most efficiently, the product needs time to plug the sweat glands to stop sweat from reaching the surface of your skin. This is why Women's Health says experts actually recommend applying deodorant at night before you sleep.
A nighttime application gives the product ample time to plug the sweat glands to help prevent excessive sweating the next day. The source also says "even your morning shower shouldn't interfere with them."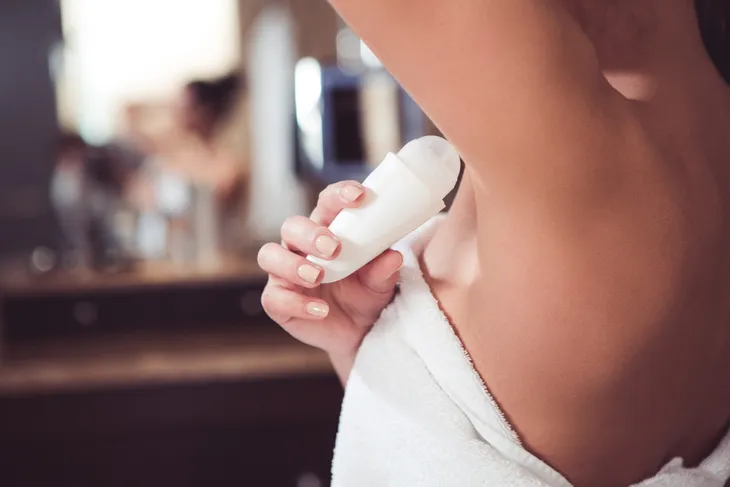 Morning Routine Hacks
The truth is, a lot of the hacks we just mentioned for your nighttime routine can save you a lot of time in the morning too. But there are some notable hacks that can help cut down your morning routine which we're going to dive into next!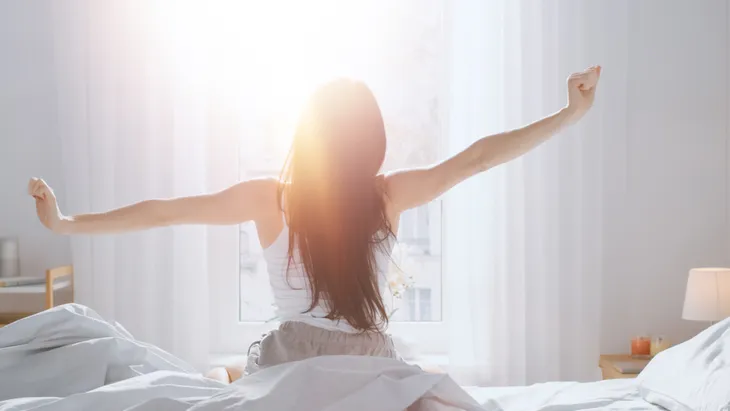 Skip the Shower: Wipes and Dry Shampoo
Not everyone has time to shower every single morning and that's okay! For the mornings where you really need to get out the door, skip the shower and consider wipes and dry shampoo as your next best option. If possible, shower at night and then in the morning all you have to do is freshen up.
Bustle points out there are tons of wipes out there from cleansing wipes to lotions wipes and even deodorant wipes. Using these to your advantage can help cut your morning routine down by 20-minutes. If you don't like the idea of wipes then you can simply wash your face, apply your skincare, and use a washcloth to freshen up any other sweaty areas. Finally, if you forgot to apply your dry shampoo at night, use it in the morning to freshen up your hair!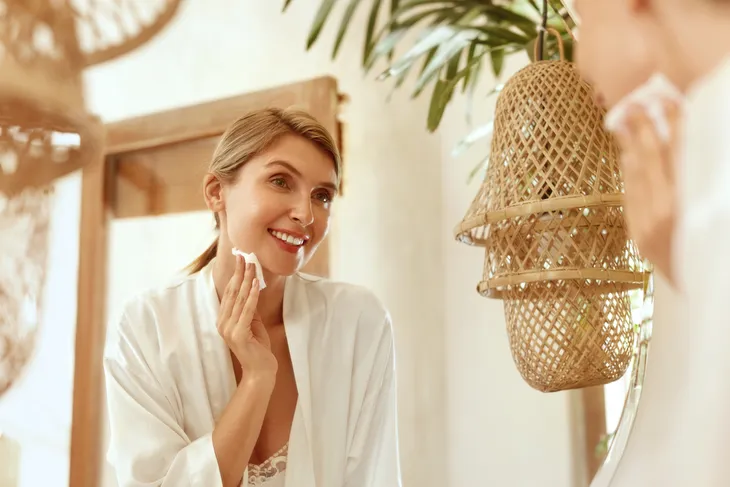 Morning Hair Hack: Drying Your Hair
Styling your hair in the morning can feel like a serious chore but the good news is there are several easy and effective hacks that can not only save you time but leave your hair looking shiny and healthy too.
Some towels can be rough on the hair and may make your hair more frizzy. With this in mind, you can try drying your hair with an old cotton t-shirt instead. Ring your hair out gently with the shirt and then leave on for up to 15-minutes.
Another time-saving trick is to blow-dry your hair last. You can seriously cut down on drying time if your hair is less wet. Drying your hair when it's 80-percent dry is best. Use this time to apply your skincare, makeup, or anything else you want to accomplish in the morning, and then finish styling your hair as the last step in your morning routine.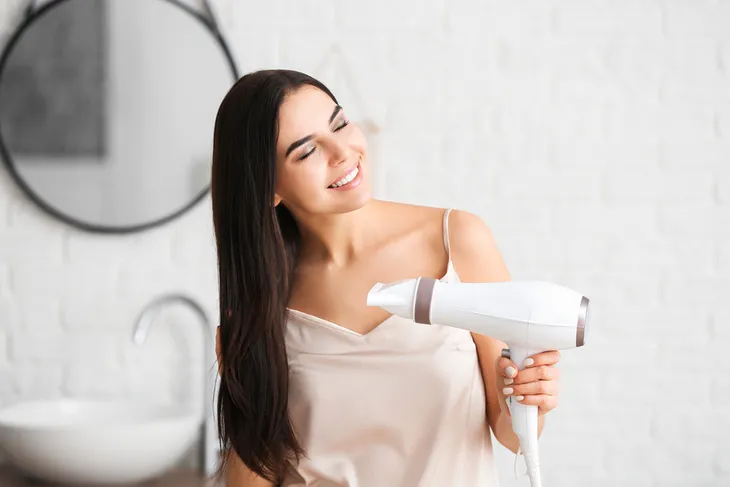 Morning Hair Hack: Styling Your Hair
Finally, if you're really pinched for time and want to achieve nice waves then split your hair into four sections, essentially creating four ponytails. Next, twist one section of hair and apply your flat-iron to the twist starting closest to your head and moving toward the bottom.
Repeat with each section and then run your fingers through your hair and you should be left with soft, subtle waves. Keep in mind, you may only need one or two sections if you have fine hair.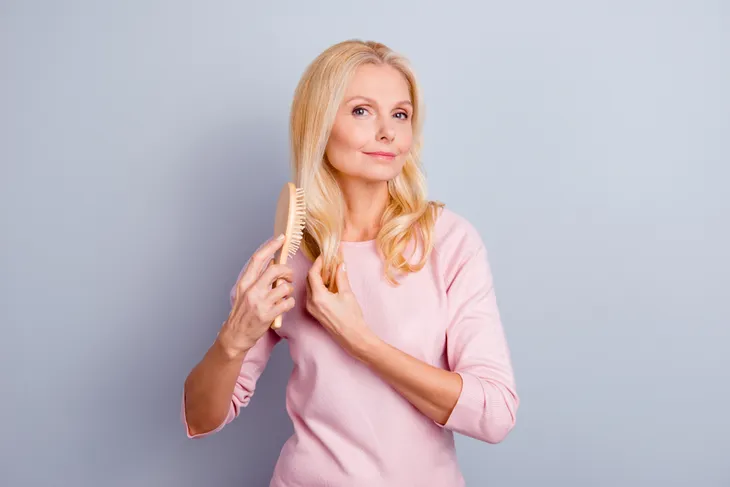 Deflate Puffy Eyes
Do you wake up in the morning with puffy eyes? You should know you're not alone. Puffy eyes can be the result of several factors such as not drinking enough water or not getting enough sleep. Luckily there are simple and effective ways you can deflate puffiness around your eyes.
The first hack is to use chilled spoons. If time permits, stick two spoons in the freezer for a few minutes. If you're pinched for time, Cosmopolitan says running the spoons under cold water will do the trick. Next, lie your head back and place the cup of the spoons over your closed eyes for 1-minute. The source says doing this "constricts blood vessels, thereby reducing swelling."
Another effective way to deflate puffy eyes is to store your eye cream in the fridge. Applying cold cream to your eyes can work the same way as chilled spoons.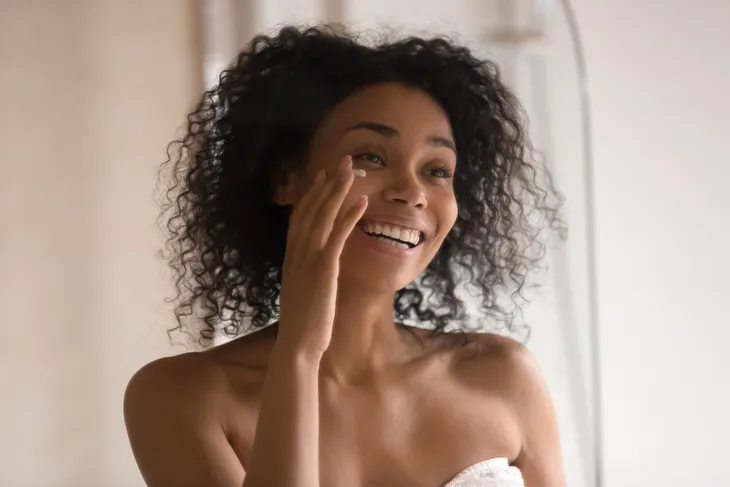 Consider Eyelash Extensions
Mastering a 5-minute beauty routine isn't impossible, it just takes practice. That said, one way you can drastically cut down your makeup routine is by investing in eyelash extensions.
Eyelash extensions can make your lashes appear fuller and darker 24/7. Some women even choose to not wear eye makeup at all. Nonetheless not having to apply eyeliner or mascara every morning will save you some serious time in your routine. Better yet, eyelash extensions can last up to 6-weeks and only require short touch-up appointments for upkeep!