Are you planning a visit to Ontario's capital, Toronto? It is a dynamic metropolis with incredibly tall skyscrapers that are dwarfed by the iconic, free-standing CN Tower. The city draws large crowds all year-round, and is sure to be a city packed with fun for the whole family. Whether you are visiting one of its many green spaces, trails, sports facilities, shopping centers or even the zoo — the family will have an absolute blast.
If you are having trouble narrowing down your families itinerary, here are 25 of the top things to do in the wonderful city of Toronto with kids in tow. If you are visiting for a short period of time and only have time for a few spots — consider getting a Toronto City Pass — for some of the top tourist hot spots (which are featured within this list).
25. Ripley's Aquarium of Canada
Take the whole family and explore 20,000 aquatic animals in the heart of downtown Toronto! The Ripley's Aquarium of Canada is open to the public 365 days a year. The aquarium viewing experience takes approximately 2 to 2 ½ hours, however this time can vary.
Exhibits include: Canadian Waters, Rainbow Reef, Dangerous Lagoon, Discovery Centre, Ray Bay, Curious Creatures and Planet Jellies – to name a few! Save time and money when you buy tickets online. You can purchase Timed Tickets, Express Anytime Tickets or Shark After Dark Tickets.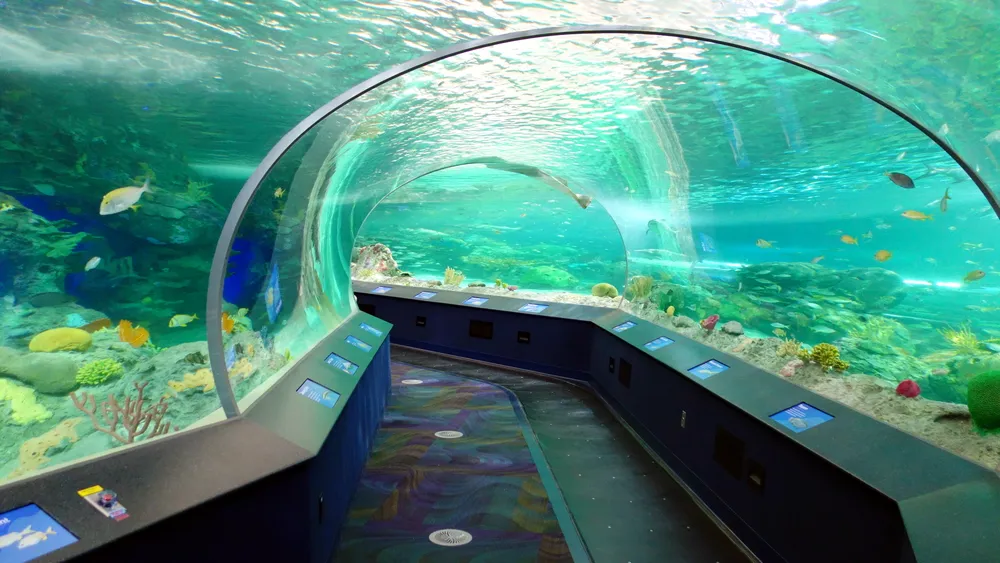 24. CN Tower
The CN Tower is one of Toronto's top attractions. Bring the kids along (or leave them at home) for a dining experience to remember at 360 The Restaurant at the CN Tower. One of Toronto's finest, it features unforgettable Canadian cuisine combined with an outstanding revolving view of the beautiful city!
Or, simply take the elevator up and just enjoy the views of Toronto's tallest attraction. Adventure lovers can even walk outside around the circumference of the roof. Or, if you dare, you can test your nerves and experience the EdgeWalk—a hands free walk over the edge! Plan your family's visit soon! Tickets can be purchased online and are valid for 90 days from the date of purchase. So even if your plans change, you can go again another day!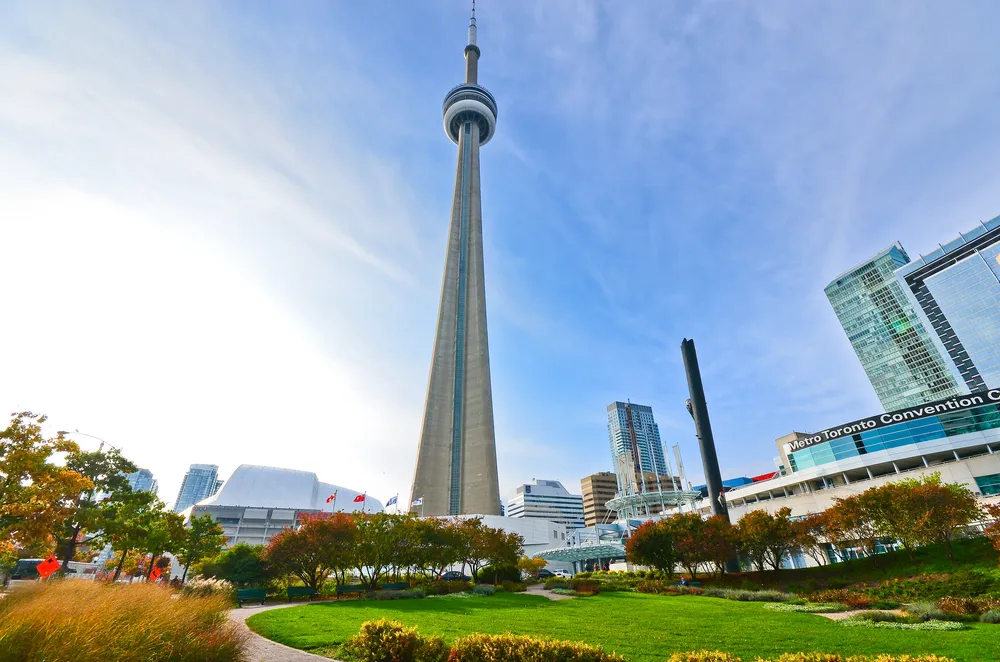 23. St. Lawrence Market
With 120 vendors, merchants, and artisans, the St. Lawrence Market is their life's work. For over 208 years, the Market continues to thrive, and is a major attraction of locals and visitors to the Toronto area. Considered one of the world's greatest markets, the mothers, fathers, daughters and sons whose hard work and passion for food and their craft make up the collective story to this unique market. The St. Lawrence Market Complex today consists of three main buildings: The South Market, The North Market and the St. Lawrence Hall.
The South Market contains over 120 specialty vendors known for the variety and freshness of their fruit, vegetables, meat, fish, grains, baked goods and dairy products, as well as some non-food items. The North Market however, is primarily known for its Saturday Farmer's Market. This tradition begun on site in 1803 and continues today. Southern Ontario producers bring their seasonal produce to sell here. On Sundays, over 80 antique dealers fill the North Market as well as the surrounding plaza. Open from dawn to 5 pm, admission to this is free! Lastly, the St. Lawrence Hall (built in 1850) houses retail businesses on the ground floor and city offices on the second. The third floor (restored in 1967) contains the Great Hall, which is available for rental for special events and weddings. There is plenty to see and do in this bustling market. The whole family will be entertained for hours wandering from shop stand to shop stand! There is also a St Lawrence Market tour available – a unique 90 minute guided tour walk through the market covering the markets fascinating 200 year history!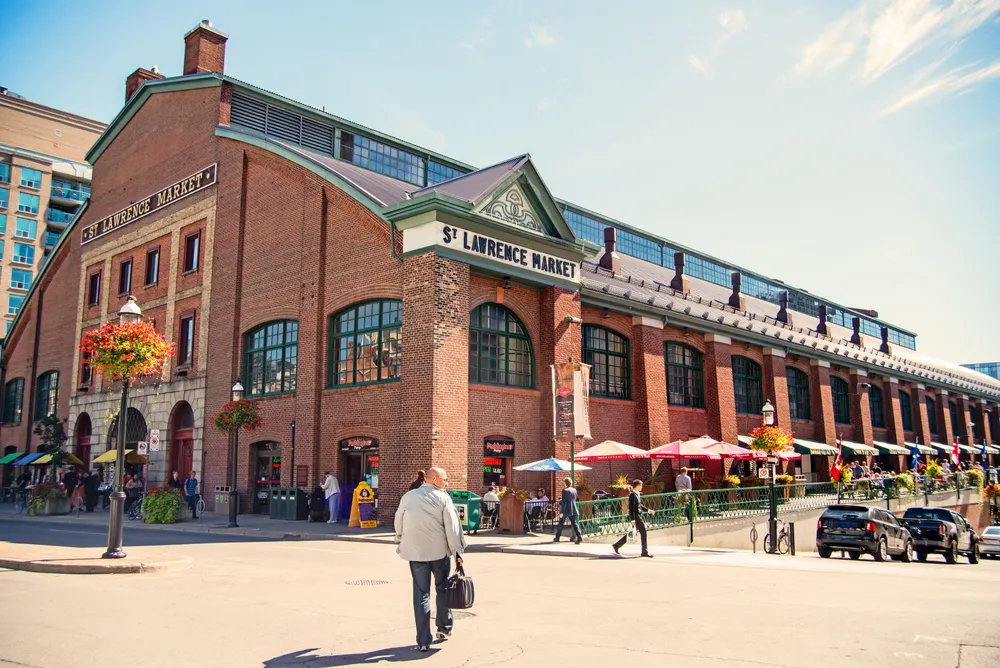 22. Toronto Island Park
Hop on a ferry leaving from the Jack Layton Ferry Terminal, located at the foot of Bay Street and Queen Quay, and set off to Toronto Island Park! The Park consists of four main islands containing trails, beaches, and children's amusement rides. There are many attractions that your little ones will enjoy! Centreville Amusement Park features over 30 rides and attractions, more than 14 food outlets. Franklin (the turtle) Children's Garden is a hands-on learning environment that combines recreational programs for children and interactive features.
Be sure to visit Far Enough Farm and let your little's get up close and personal with over 40 different species of farmyard animals and exotic birds! The kids can meet ponies, sheep, chickens, and other barnyard creatures at this hobby and petting farm with free admission. William Meany Maze is another attraction that the family will enjoy. This beautiful cedar hedge winding-design maze was built in 1967 to honor Canada's centennial year! There are also a number of beaches, wading pools and splash pads to keep cool at during warm summer months. Out of Toronto's 11 swimming beaches, four are located on Toronto Island Park. There is so much to do on Toronto Island Park with the entire family. Have a picnic, go fishing, rent some bicycles – there is no shortage of family-fun activities to partake in while visiting the island!
21. Ontario Science Centre
The Ontario Science Centre will delight, inform, and challenge your little ones (and mommies and daddies, too!) Offering engaging and hands-on experiences, you will learn about science of local, national, and global relevance. It implements an interactive approach that will get your little ones involved in the learning.
The Science Centre has been creating thought-provoking experiences for over 45 years. Visitors can explore more than 500 interactive experiences in their eight exhibit halls, take in live daily science demonstrations, and view films under the province's only IMAX Dome theatre. Visit their website for a list of current exhibits and to purchase your tickets – you will not be disappointed with this wonderful, and educational Toronto attraction!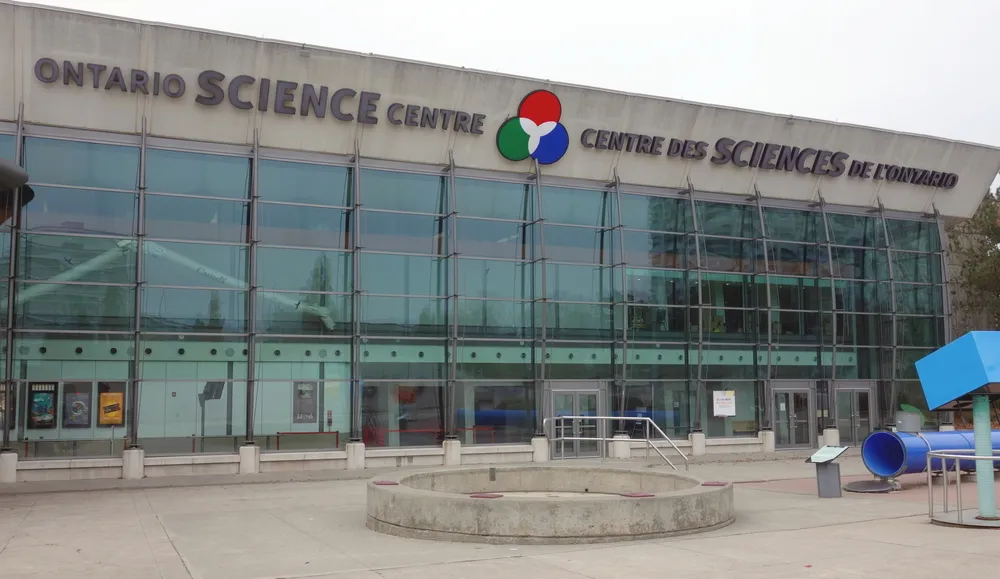 20. High Park
High Park is Toronto's largest public park. It features many hiking trails, sports facilities, a diverse selection of vegetation, and a beautiful lakefront setting. With easy public transit access and convenient parking, this park would make a great stop for a family picnic and day outside enjoying a warm, sunny day. It also features a zoo! High Park Zoo is located on Deer Pen Road (accessible via the Parkside Road entrance). The zoo is open all year long from 7 am until dusk. Children can see bison, deer, llamas, peacocks, highland cattle and so much more at no cost!
High Park also features possibly the largest playground in Ontario! The Jamie Bell Adventure Park is located by the Duck Pond, close to the High Park Boulevard entrance from Parkside Ave. This park was designed and even constructed in part by children! The park is full of fun things like castles, ropes, swings, ladders, slides and art work done by the children and volunteers! Bring some spare change, as an ice cream truck is conveniently located nearby on hot days!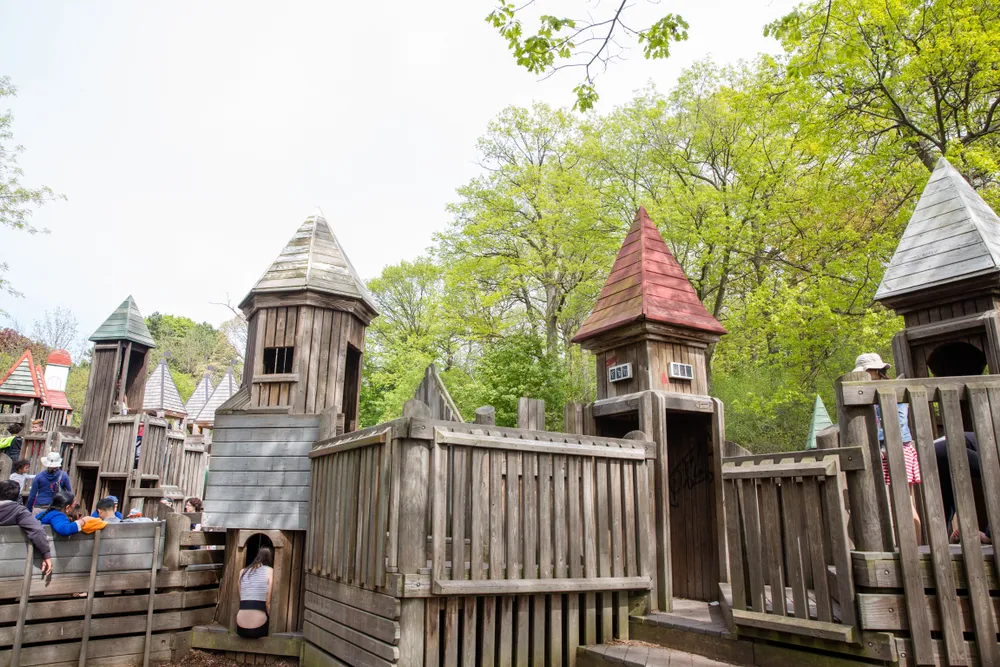 19. Hockey Hall of Fame
For all the hockey fanatics out there, look no further than the Hockey Hall of Fame! Toronto's premier hockey attraction is home of the Stanley Cup, as well as the best of hockey! Visitors can go one-on-one against life-sized, animated versions of today's greatest goalies and shooters, including Canada's own Carey Price and Sidney Crosby.
The Hall of Fame also features two theatres where you can view hockey movies like Stanley's Game Seven (hockey's first 3D film). Possibly best of all, you can get up close and personal with the Stanley Cup! Children will love exploring the museum and the largest collection of hockey memorabilia in the world. Guaranteed fun for hockey fans big and small!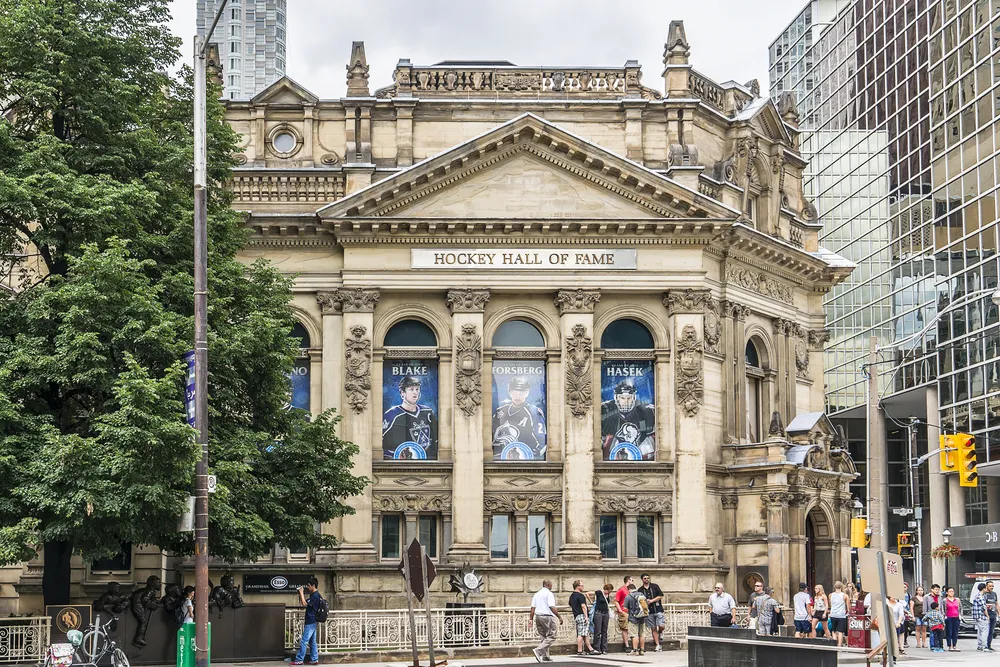 18. Hit Up The Beach!
During the hot, steamy days in the city, there is no better place to cool off than one of the city's 10 beaches. One of the best ways to take advantage of the beautiful summer weather is to catch some rays while laying out in the sand – steps away from enjoying a swim in the refreshing lake water!
Sunnyside Beach is the closest option to the hub of the activity. Following a portion of the Martin Goodman Trail, breath in the lake air and seeing the lapping waves, makes it a preferred commuting route for cyclists, rollerbladers, and joggers. The Sunnyside Pavilion is a popular rendezvous for water sports including: stand up paddle-boarding, canoeing, kayaking, and even competitive rowing. Soak up the sun on the sandy patches along the coastline or partake in some Frisbee or beach volleyball! While the beach isn't always safe for swimming in, patrons can always access the free pool instead.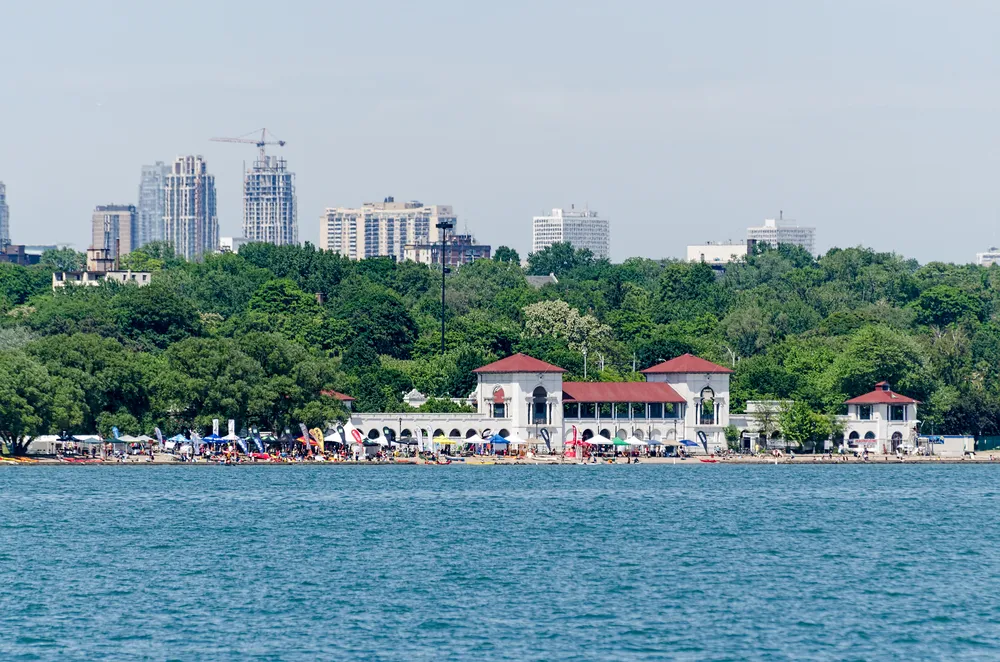 17. Scarborough Bluffs (Buffer's Park & Beach)
The Scarborough Bluffs, also fondly knowns as The Bluffs, is an escarpment in the Scarborough district of Toronto, Ontario. Located along the bluffs are nine parks – Bluffer's Park being the only one with a Beach. This park was designed to improve public access to the base of Scaborough Bluffs and can be accessed on Brimley Road. Nestled into the towering claw of the Scarborough Bluffs, Bluffer's Park Beach is one of the city's most beautifully picturesque locations. Not to mention the waters here are safe for swimming!
The towering escarpment runs for 15 km along Toronto's eastern portion of the waterfront, making it an ideal east-end getaway for a full day of fun in the sun! Starting at the southern point of Victoria Park Avenue, it runs west between Kingston Road and Queen Street East. It is filled with secret paths, fire pits, picnic tables drawing visitors on warm, sunny days. It is worth the hike to the top of the Bluffs to see the impeccable views and visit the Scarborough Heights Park or to Cudia Park and lookout atop Cathedral Bluffs. There is no shortage of places for the family to explore here!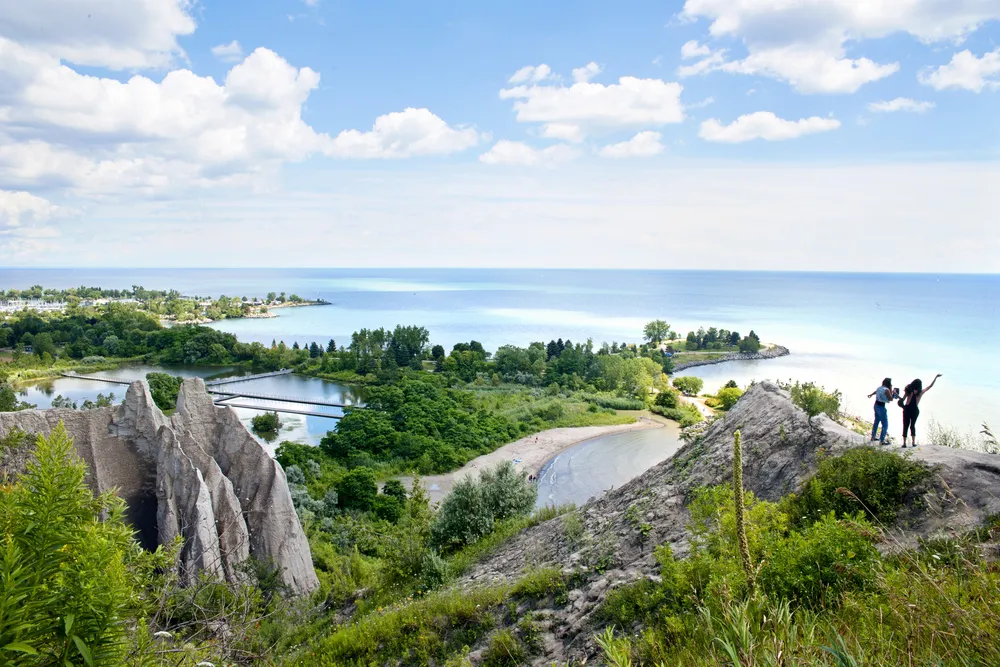 16. Rogers Centre/Air Canada Centre
Any sports fans in your family? Maybe you can check out a sporting event depending on when you are in town. Originally named the SkyDome, the Rogers Centre is a multi-purpose stadium located in Downtown Toronto. Situated just southwest of the CN Tower, this is home to the MLB team the Toronto Blue Jays. While it is primarily a sports venue, the Rogers Centre also hosts large events like: conventions, trade fairs, concerts, travelling carnivals and even monster truck shows.
The Air Canada Centre is home to the Toronto Raptors basketball team and the Toronto Maple Leafs hockey. Get your tickets and come join the Toronto sports team fans as they cheer on the home team! Maybe you are a soccer or lacrosse fan? The Toronto FC or Toronto Rock might be worth looking into too! Whatever your interests, there is sure to be some sort of exciting sporting event you can check out while you are in town visiting.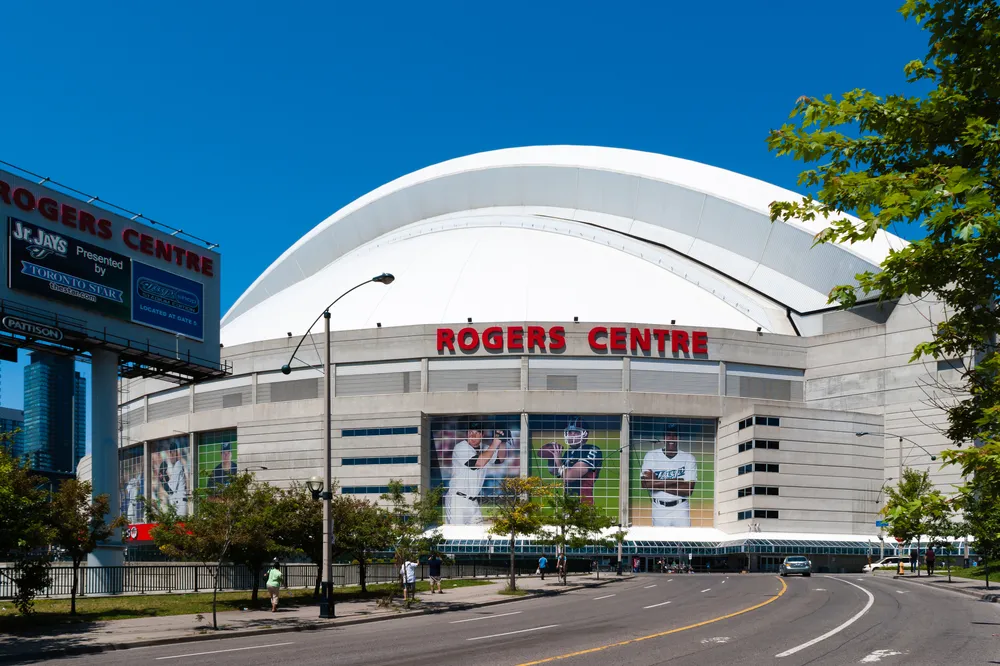 15. Toronto Zoo
You can spend hours exploring the beautiful Toronto Zoo! Set in the Rouge Valley, the zoo is easily accessible by car and public transit. Home to over 5,000 animals representing over 450 species, this impressive zoo has over 10 km (6 miles) of walking trails on its 287 hectares (710 acres) of land. It is one of the largest zoos in the world!
The Zoo is divided into seven zoogeographical regions: Indo-Malaya, Africa, the Americas, Australasia, Eurasia, Canadian Doman and the Tundra Trek. Animals can be seen in both indoor and outdoor displays in naturalistic environments. Kids will have a blast exploring the Discovery Zone that features the Kids Zoo – an interactive wildlife experience for children, complete with Splash Island, an exciting two-acre play area, and the Waterside Theatre, home of exciting family entertainment. Lastly, there are four fun rides for little ones to enjoy: Gorilla Climb Ropes Course, Zoomobile, Conservation Carousel, and the Tundra Air ride. No shortage of fun at the Toronto Zoo!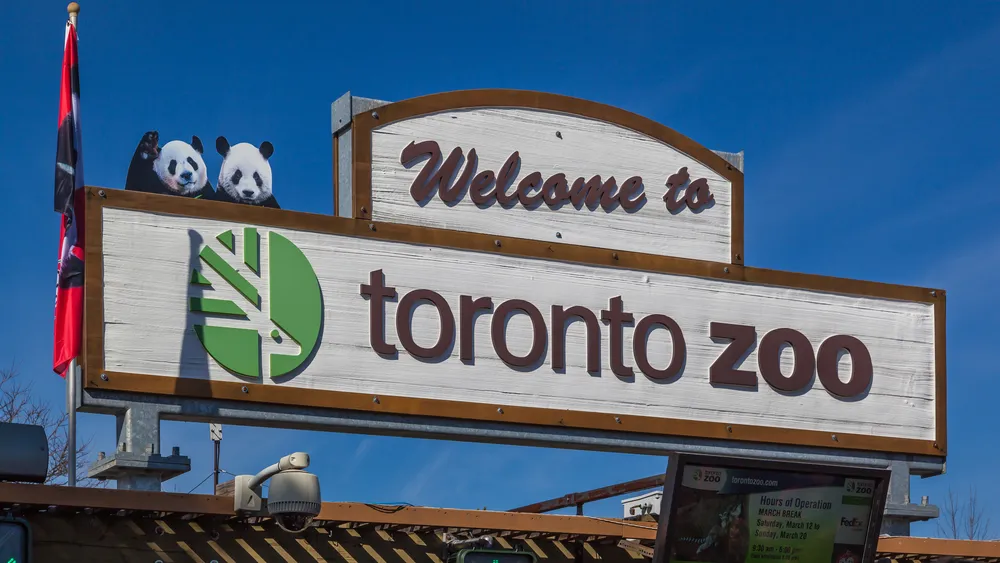 14. Nathan Phillips Square
During your next visit to the City of Toronto, you may enjoy visiting the urban plaza located at the intersection of Queen Street West and Bay Street, named Nathan Phillips Square – named after Nathan Phillips who was the mayor of Toronto from 1955 to 1962. The square opened to the public in 1965 and has been a happening spot for locals and visitors alike.
The square is often the site of concerts, displays of art, weekly farmers' markets and other public events and demonstrations. In the winter it is home to a winter festival of lights and its reflecting pool is converted into an ice rink for skating! Come wander through Canada's largest city square on your next visit!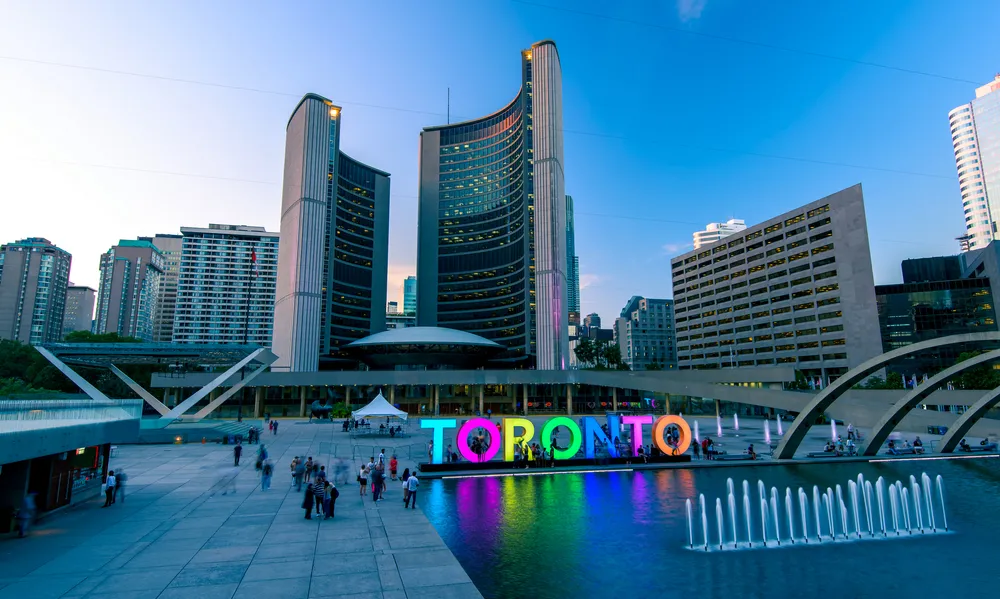 13. Toronto Harbour
The Toronto Harbour (or Toronto Bay) is the bay on the north shore of Lake Ontario in Toronto. It is a natural harbor that is protected from Lake Ontario waves by the Toronto Islands. The primary use of the harbor today is for recreational boating as well as scenic tours of Toronto's waterfront.
Toronto Habour Tours Inc. offers narrated sightseeing boat tours and private charts of Toronto's harbor and islands. Make sure you bring your cameras to take post-card worthy pictures of Toronto's skyline. When conditions allow for it, tours stop on the docks at Centre Island, where you can enjoy restaurants, the Centreville Amusement Park, a petting zoo, bike and boat rental, and so much more! You can later re-board one of their several boats at your convenience throughout the day. Purchase your tour tickets online for additional savings!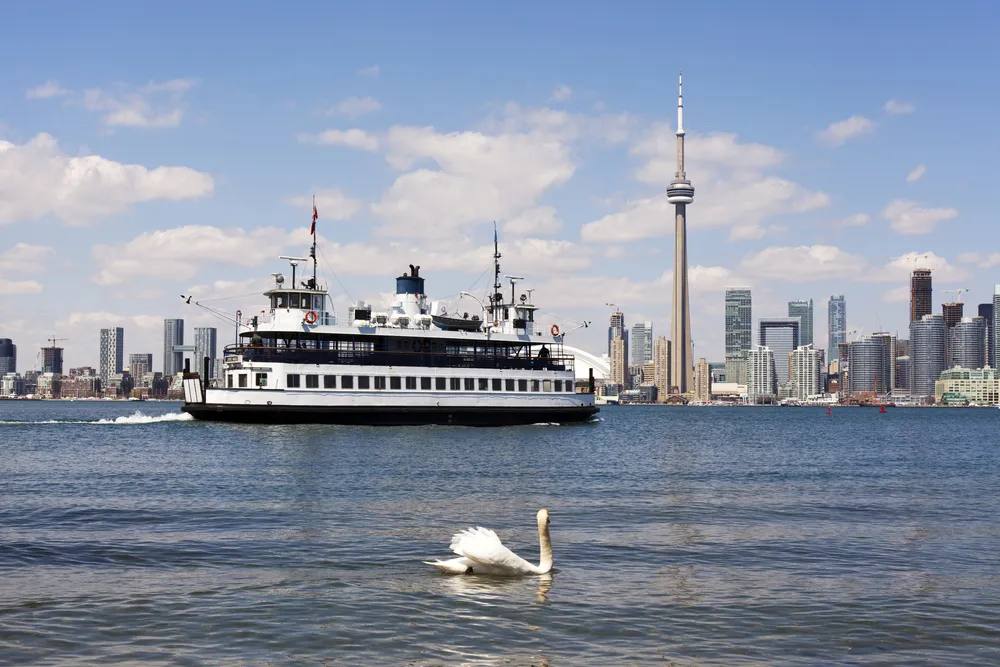 12. Medieval Times
Bring the whole family and enjoy this dinner and tournament experience! Partake in the excitement as if you were guests of the royal court ten centuries ago. The show features 6 heroic knights who compete in a two-hour jousting tournament, engaging in thrilling sword play using real weapons, as well as beautiful, spirited horses that display astounding athletic feats and equestrian skills. You will even be able to see a live flight of the royal falcon.
As a guest you will enjoy a "hands-on" feast while being entertained in the arena right before your eyes. The castle open 75 minutes prior to showtime. Guests can admire the elaborate Medieval décor in the Hall of Arms. There is coat of arms for many prestigious families as well as an impressive array of medieval weaponry including torture devices used during the Middle Ages. Trumpeters herald the guests into the Grand Ceremonial Arena, where they are seated into one of the six color-coded sections corresponding to the colors of one of the heroic knights. This is who you will be rooting for to win the events! Let the festivities begin and enjoy the show. It is a great activity the whole family will enjoy!
11. Royal Ontario Museum
For an experience the whole family will remember, take your family to the ROM! Dinosaurs, mummies, and glittering gems are just a few treasures on display at this museum. The family can explore how the earth and its creatures evolved, and how the changes we are faced with today will shape our tomorrow!
With five floors of extraordinary galleries and exhibitions to explore, kids will be engaged as they explore all that the museum has to offer. To find out what current and upcoming exhibits are being featured at the ROM, visit their websites, and plan your visit accordingly. The museum is open daily with the exception of Christmas Day.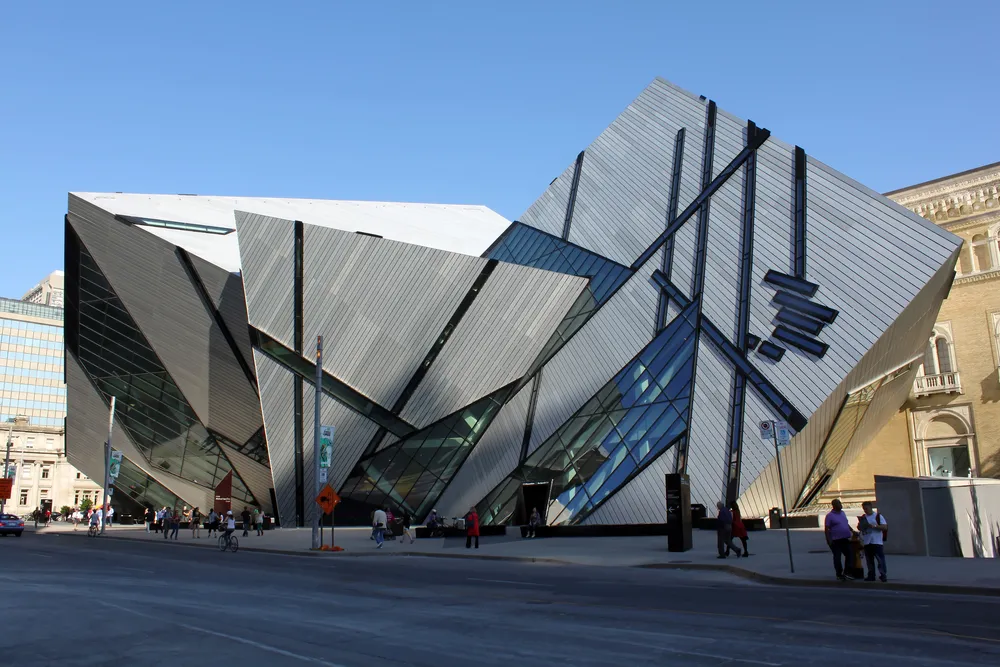 10. Black Creek Pioneer Village
How neat would it be to take a step back in time to 1867 — the time of Canada's Confederation! Children can interact with animals, building and tools of early Toronto, and experience customs, lifestyles and surroundings of the early residents to the area. During the summer months, the family can enjoy outdoor games, discovery stations, and take part in musical performances. Or get hands-on and pick up an old skill. Try your hand at a historic trade while working alongside the Tinsmith, Harness Maker, or Printer.
Or let your musical side out, and pick up an instrument and make some noise as you accompany their resident musicians and learn popular tunes from days past. If there are any history buffs in your fam, you might enjoy visiting the History Lab at the Flynn House, where you can delve into historical documents and find real people from the past from evidence they have left behind. You can help bring their stories to life! With Kids tours and a Now and Then tour — there is so much to discover and learn about.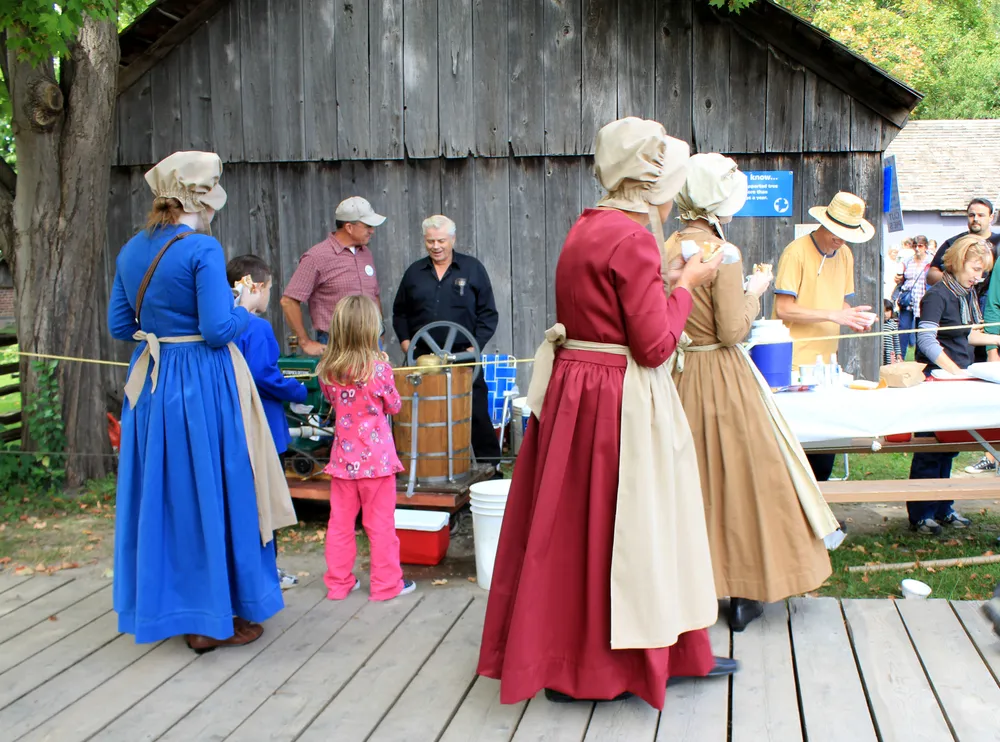 9. Allan Gardens Conservatory
The beautiful Allan Gardens Conservatory is an indoor botanical garden that features six greenhouses. It has two Tropical Houses featuring a variety of interesting plants including orchids, bromelaids, begonia and gesneriads. There is a a Cool Temperature House that features Camellias, Jasmin and other plants from Australia and the Mediterranean. The Palm House is a dome shelter that features a collection of varied palms, bananas and tropical vines, as well as colorful seasonal plants. The Tropical Landsacape House has lush exotics including cycads, gingers, hibiscus and green jade vine. Lastly, the Arid House is home to a large display of unusual cacti and succulents including agave, opuntia, haworthia and aloe.
The Conservatory dates back to 1858, and has undergone many changes over the years. The latest addition to the site is the Children's Conservatory which opened in 2004. The Children's Conservatory is closed to the public but offers horticulture programs for children. Bring out your inner botanist and come to this beautiful conservatory and wander the grounds taking in not only beautiful sights but beautiful smells.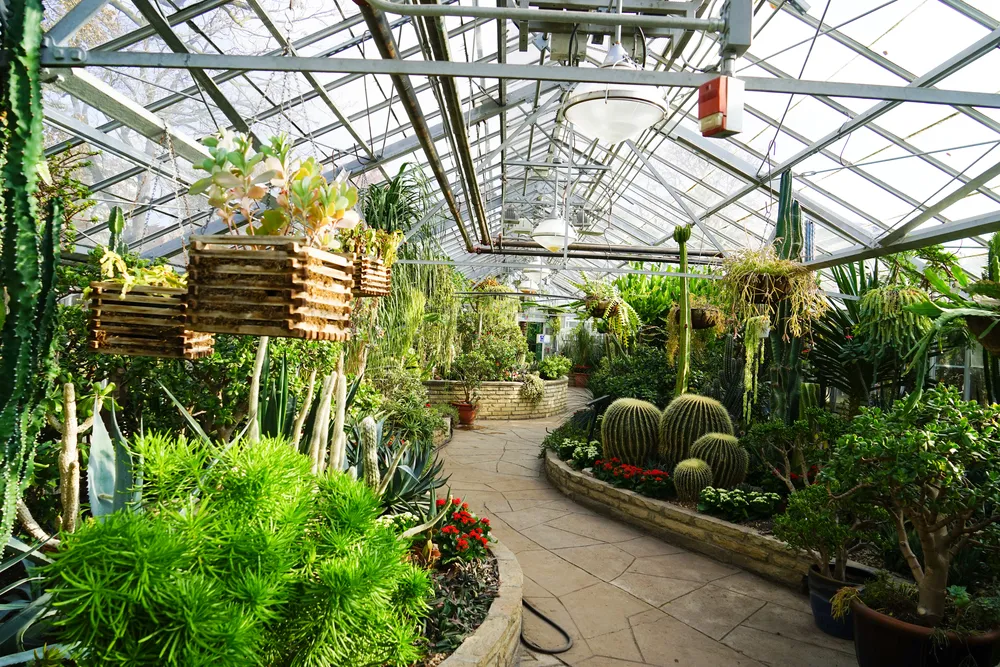 8. Riverdale Farm
Bring the family on a tour of this municipality owned historic working farm in the heart of Cabbagetown. It's 7.5 acres are covered with wooded areas, ponds, and butterfly, herb, flower, and vegetable gardens. Tour the buildings on site and visit with the farm animals, and chat with the farmers during their daily chores.
Children will get to experience farm life first-hand, learning how to raise livestock, including: pigs, cows, sheep, goats and chickens. Riverdale Farm also offers year-round handwork and craft programs in their Meeting House. Open 7 days a week, 365 days a year (including public holidays) — you can plan a visit with your family anytime!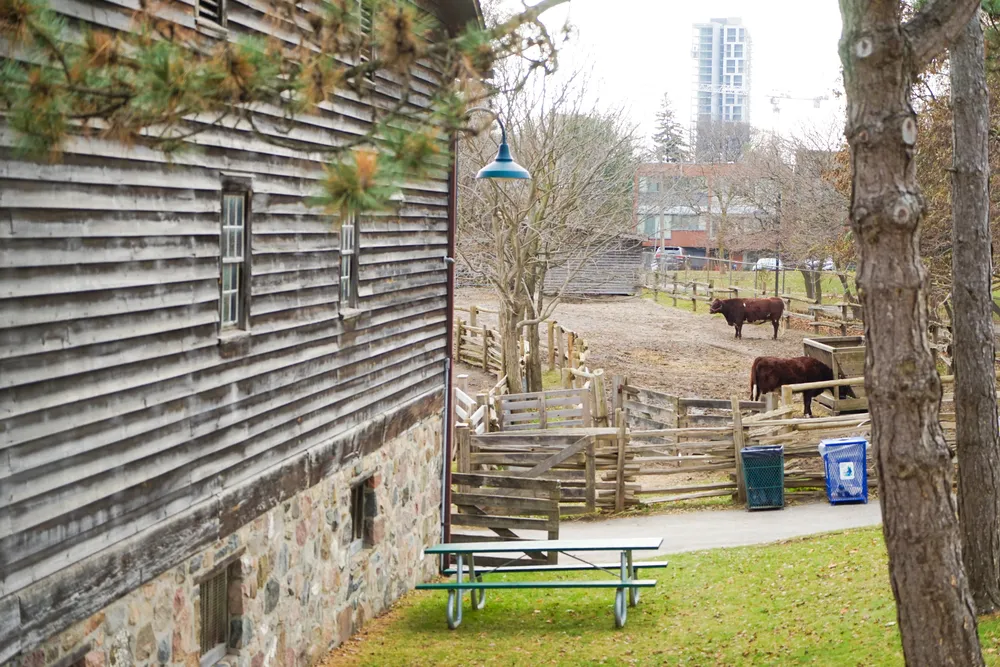 7. CNE
The Canadian National Exhibition (CNE), also known as the Ex, is an annual event that takes place at Exhibition Place in Toronto, during the 18 days leading up to and including Canada Labour Day (the first Monday in September).
With Amusement rides and games, a myriad of food outlets and shopping — the family will have a full day of fun at the Ex, guaranteed! There are both adult and kiddie rides, so there will be fun for the whole family. On the Labour Day weekend you can even catch an amazing Air Show with performances by the Canadian Forces Snowbirds, and many more. Visit the website for full details.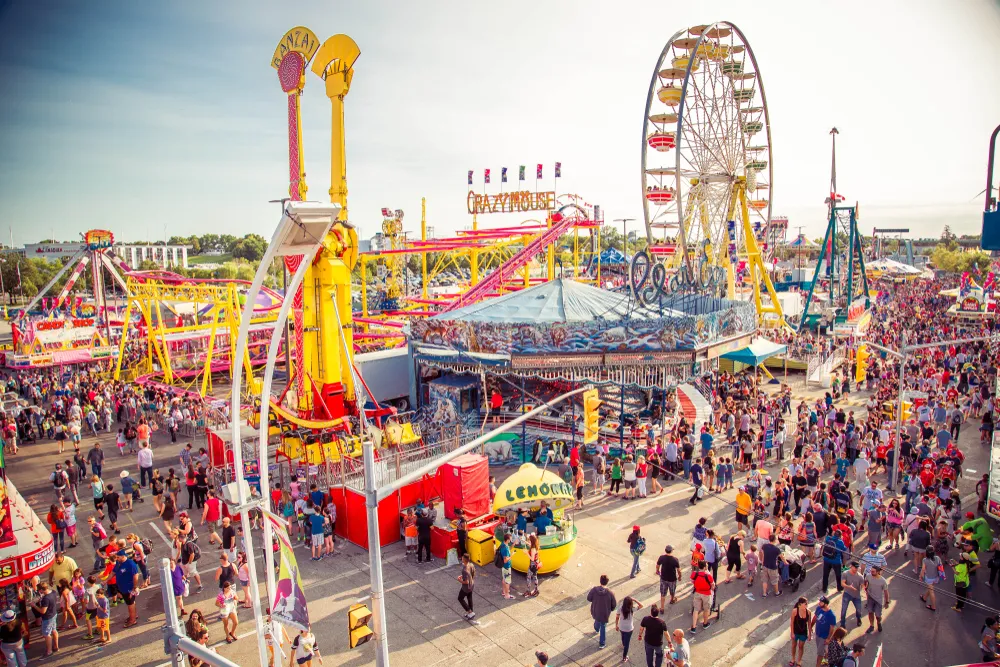 6. Tommy Thompson Park
There is no better place than Tommy Thompson Park for you and your family to enjoy nature and the great outdoors. This park is even widely considered one of the best places for bird-watching in the city — so bring some binoculars! There are over 300 recorded species of birds to see! Not to mention, this park is also a prime spot for wildlife viewing and fishing.
Spring, summer or fall are considered the most popular seasons to partake here in recreational activities including: hiking, running, roller-blading and leisure cycling on the parks trails. If you enjoy being outside in a winter wonderland, you can even visit in the winter and enjoy some cross-country skiing or snowshoeing. Bring your camera for some picturesque views of the city's skyline and the beautiful Lake Ontario!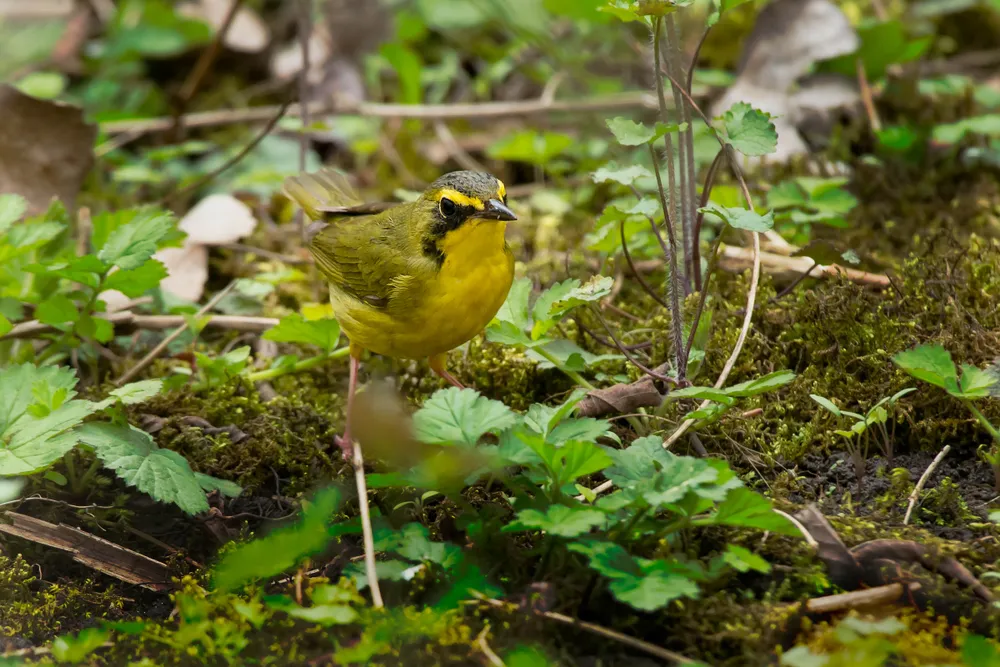 5. Toronto Public Library
Founded in 1884, the Toronto Public Library is the largest public library system in Canada! On a rainy morning or afternoon, this would be a wonderful place to stop in and kill some time! On Saturdays in May, October and November, Toronto's MAP attractions offers crafts, games and activities at library branches across the city. These programs last about 1 hour and are suitable for kiddos between the ages of 5 and 12 years old and their caregivers.
There are other programs and events put on by the library, so be sure to check out there website to see what is going on while you are visiting Toronto. So whether you are just kicking back to read a few books, or participating in any of the events or programs, your little ones are sure to be entertained!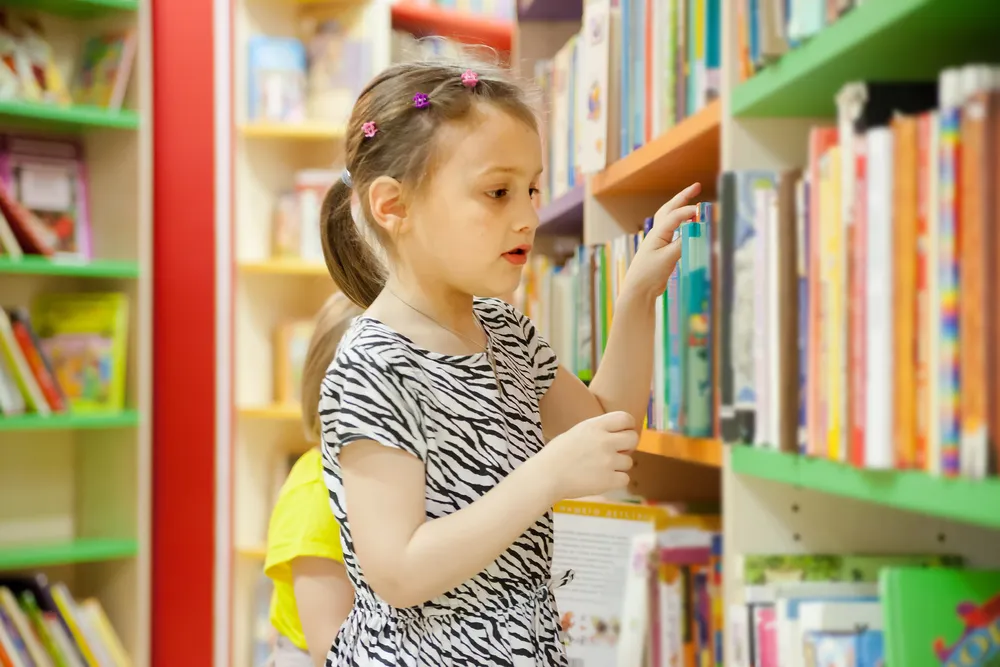 4. Art Gallery of Ontario (AGO)
At the AGO, there is plenty of hands-on family fun to be had! Kids can enjoy amazing art-making activities, family-friendly tours of the gallery, dance parties, courses and workshops to partake in, and so much more. Kids can engage in storytelling, costume play, and making their very own art all while making new friends and exploring all that the gallery has. Their Art Cart — a mobile activity center, has fun for everyone! Art-making, art puzzles, art games — so much fun!
Explore all the works of art in the gallery with a guided tour, or wander around at your own pace. Their courses and workshops are available all year around, so whether or not you have picked up a paint brush or not — the whole family will have fun, while in a supportive environment. There is something for all ages, so check out their website for more details, and plan your visit!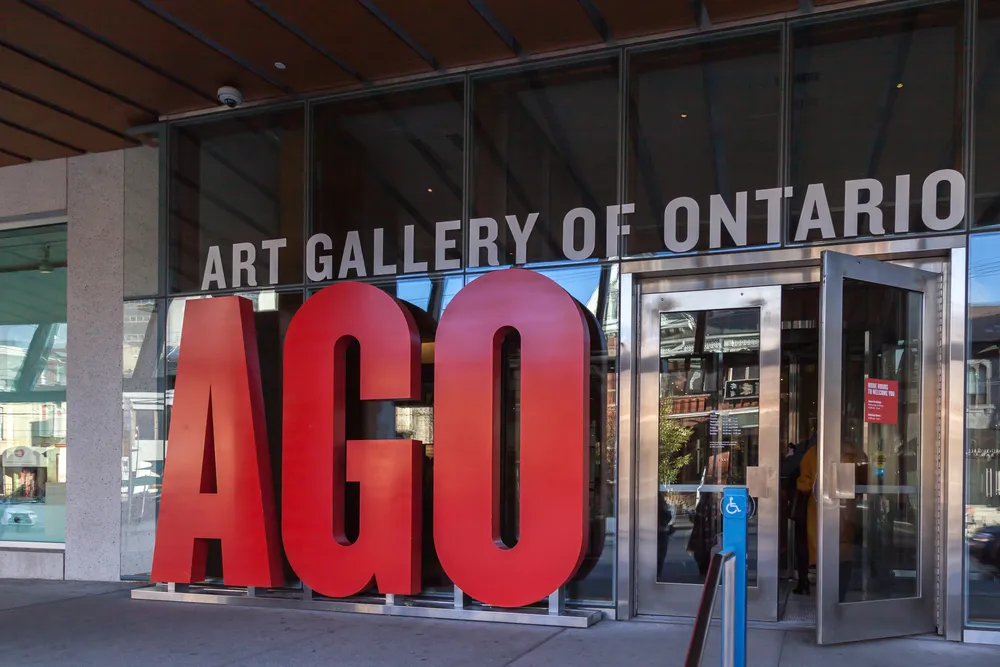 3. Ontario Place
Ontario Place is a former theme park in Toronto. The grounds are located on the shore of Lake Ontario, south of Exhibition place and southwest of Downtown Toronto. It is considered Toronto's favorite destination for exploration and leisure activities! Depending on what time of year you visit there is plenty of fun outdoor sports activities to partake in from yoga to volleyball to ice skating!
In the summer you can rent kayaks, canoes, or paddle boats for a little fun out on the waters. All year around you can catch a show at the onsite Cinesphere! Be sure to visit the Imagination Playground. Children of all ages will enjoy creating their own play space using uniquely shaped foam blocks. Or they can build their mind and muscles at the MegaChess game (life sized chess). There are also a number of shows and concerts to see — so check the Ontario Place Website for a full calendar of events!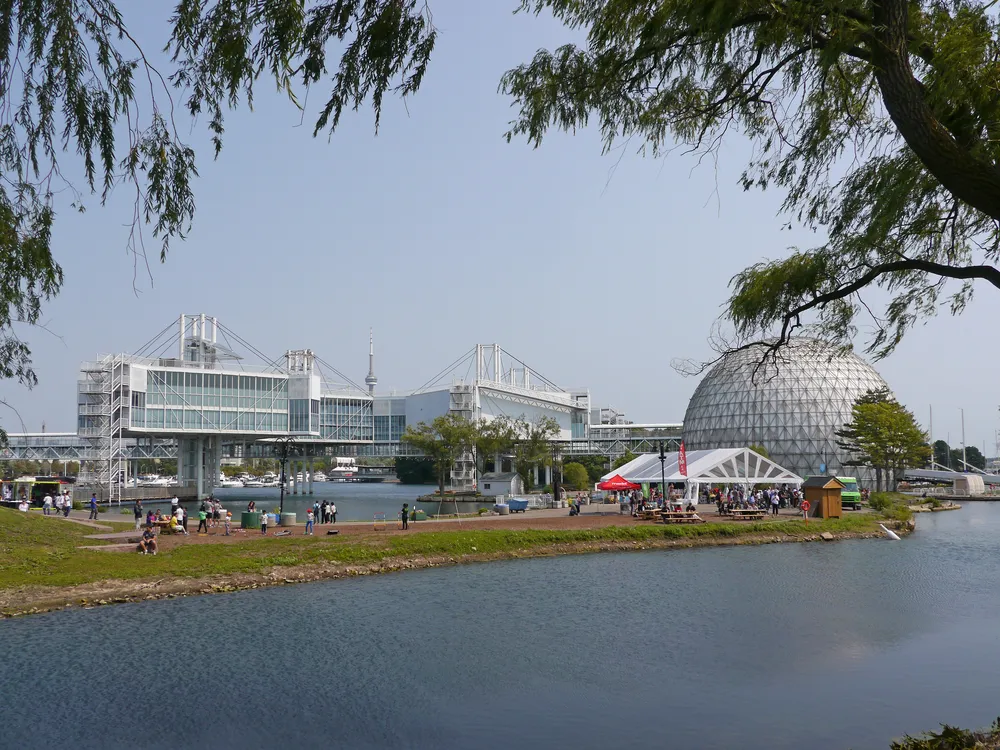 2. CF Toronto Eaton Centre
Get your shop on at the Toronto Eaton Centre! Although it was once named after the Eaton's department store chain that once anchored it before the chain became defunct in the late 1990's — this shopping center has still kept its name.
The Toronto Eaton Centre attracts the most visitors of any of Toronto's tourist attractions. It is North America's busiest mall, due to extensive transit access, its downtown location, and tourist traffic. With 6 anchor tenants: Hudson's Bay, Nordstrom, Saks Fifth Avenue, H&M, Canadian Tire and Best Buy — between those and the rest of the 230-some odd stores, you are sure to find what you are looking for.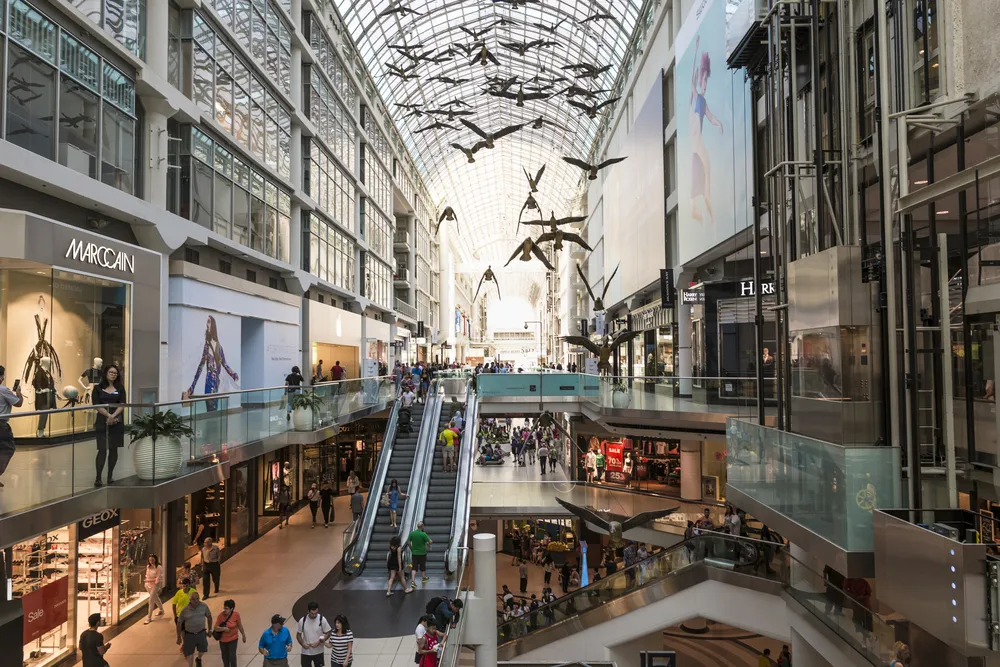 1. Distillery Historic District
The pedestrian-only Distillery District is set in quaint 19th century buildings that once housed a large whiskey distillery. It draws huge crowds to its beautiful cobblestone streets that are lined with hip indie restaurants, bars, and boutiques. If you are an art lover, you can come to the district to see galleries, outdoor sculptures, and various dance and music stage performances at any of the ares's several theatres.
In December, the annual Toronto Christmas Market takes over the streets, and such an amazing winter wonderland to see! Visit the Distillery District Website for a complete list of events going on while you are visiting Toronto! There is so much for the whole family to enjoy — it will certainly be a memorable visit to Toronto!