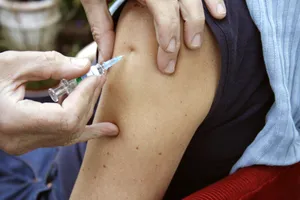 The Canadian company, Sanofi Pasteur, is recalling specific batches of its Typhim Vi vaccine. The company conducted a quality investigation and found that the ingredients in the vaccine varied. The most important ingredient, antigen, had different levels in batches of the product. Health Canada describes antigen as "The substance that stimulates the immune system to produce antibodies against the disease." The possibility of insufficient levels of antigen in a vaccine may make its less effective.
The Typhim Vi vaccine protects against S. typhi, or typhoid fever. It is a form of salmonella and is passed though food and drink from stool bacteria. The vaccine is given to children at the age of two to help prevent the dangerous health effects of this bacteria. The symptoms for an adult range from abdominal pain, bloody stools, confusion, hallucinations, and severe fatigue. An infected person could become extremely dehydrated and must replenish their electrolytes. This dehydration is extremely dangerous in young children.
A unique marker of typhoid fever is "rose spots". This rash forms on the torso and appears as small red spots. Not all individuals infected get this symptom. Individuals who have caught the bacteria may remain carriers of S. typhi for years.
On average there are 400 cases of typhoid fever in the United States each year. The vast majority of those come from individuals who travel to 3rd world countries. The treatment for infection is hydration intravenously or with electrolyte packets. Antibiotics are also prescribed to kill any remaining bacteria. Symptoms are expected to improve within one month of treatment.
Sanofi Pasteur is recommending that individuals who have recently taken the typhoid vaccine should continue their booster shot schedule. They should not double up on the vaccine.
The vials being recalled are 20-dose cases, marked: G1122-1, G1557-1, G0182-2, and H0176-1. This recall may cause a vaccine shortage, as there are only two other manufacturers of the typhoid fever vaccine in Canada.
Source: CBC