Just like us, dogs need exercise and fresh air to stay healthy and happy. Unless they are physically unable due to an injury or illness, dogs should spend a good portion of each day outside exercising every single day. Plus, it encourages us to get out and moving too! It's a win-win.
When we think of exercise for our dogs, of course the first thing that comes to mind is taking them on a walk. While that is definitely a great form of exercise, it's not the only activity. If you're bored of walking the same old route, try something different! There are plenty of fun outdoor activities we can do with our dogs, including these 15…
Biking
Lots of dogs love to run alongside their owners as they bike. It provides healthy exercise for both the owner and their dog! It's important to note that while this activity is definitely fun, it can be dangerous. Only take dogs that have a calm temperament and will not cause an accident either to themselves or others.
You should also avoid letting them run leash free. We suggest purchasing a bicycle attachment that holds the leash while preventing the dog from running too close behind. If it's a hot day, stop frequently to let them rest and have a sip of water. Be mindful of the weather and distance, and have fun!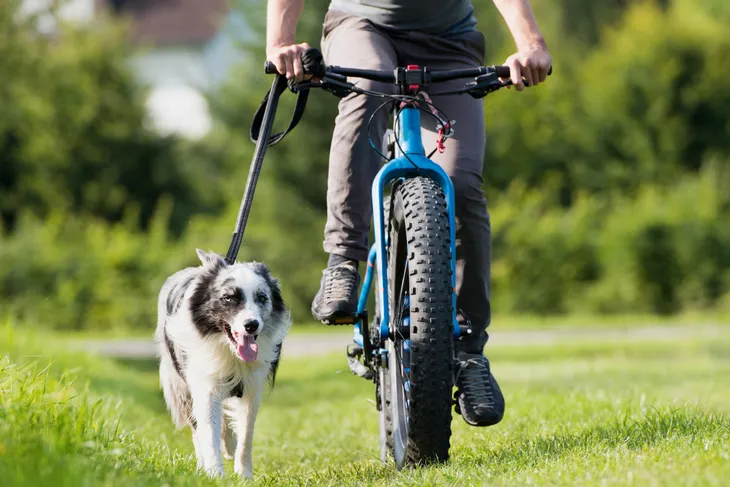 Floating Treats
For dog owners who have access to a pool, bobbing for kibble is a super fun activity for pets. Plus, the water will keep them nice and cool on a hot summer day! Go online and purchase some floating toys – there are even some options that hold treats to entice them. You could also just toss some kibble or apple slices into the water and have them jump in a retrieve it.
Don't have a pool? No problem! You can offer a similar activity with just a bucket of water. Fill a big bucket with water and have them bob for treats.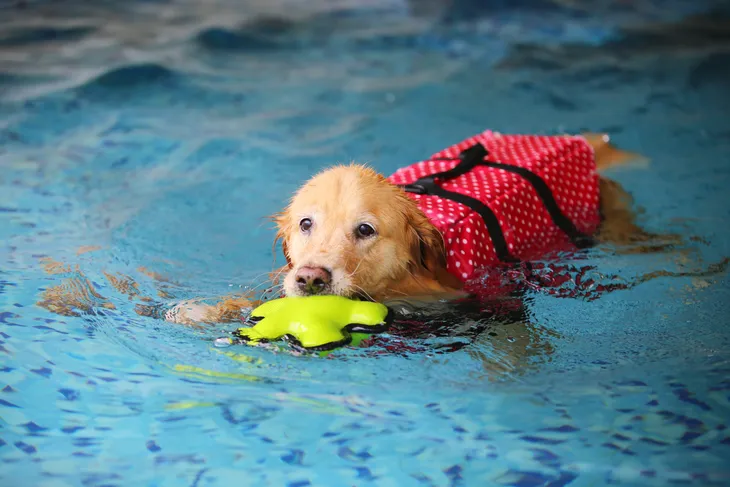 Dog-Friendly Beach
Who doesn't love going to the beach? A trip to the beach is the perfect activity for a hot summer day, especially for someone who's lucky enough to live near the water or within traveling distance. Not all beaches allow pets, so be sure to do some research to find a dog-friendly one.
Your dog will love playing in the water, and even if they aren't a fan of water, we're sure they'll enjoy running alongside the waves. It's important to note that while some dogs might enjoy swimming in the ocean, be mindful of them drinking the salt water. If a dog consumes a large amount of salt water, it can be fatal. It's best to avoid letting them spend too much time in the ocean.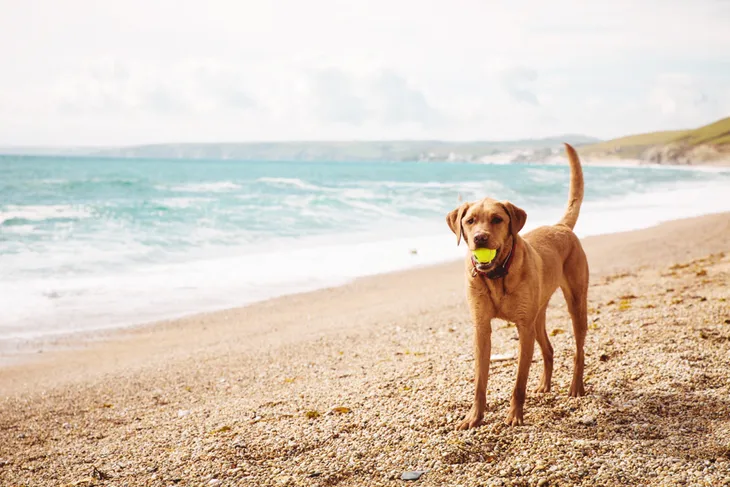 Dog Park
Not every pet owner agrees with going to dog parks, and that's totally understandable! Depending on the park and how busy it gets, it can be a little daunting not knowing what dogs will be there. You don't know these dogs temperaments or how/if they've been trained or socialized to safely play with other dogs. However, lots of people do enjoy dog parks so we still wanted to include this option.
A good way to navigate dog parks it to try going during less busy hours. Invite friends who have dogs so there are familiar faces to play with. It's a great way to socialize a dog and get in lots of off-leash exercise. Most dog parks have small and big dog play areas, so even if your pup is little, they'll be able to join in on the fun!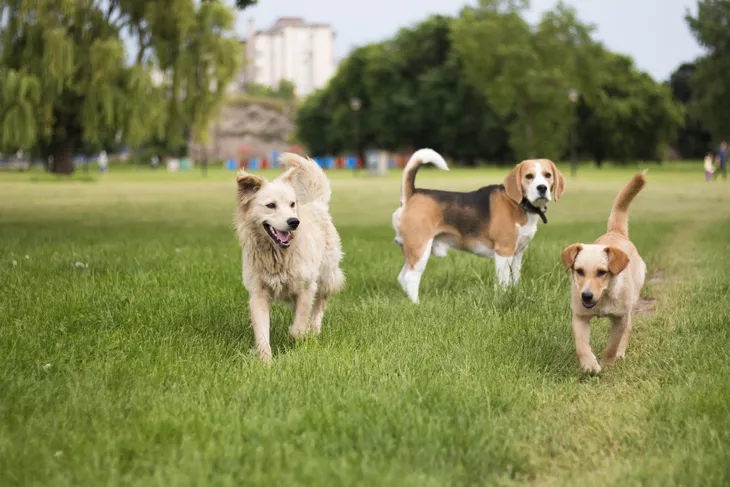 Agility Course
Can't take your dog to the park or on an adventure somewhere far away? No problem! Head into the backyard and build them their own at-home agility course. There are lots of obstacle course kits available for online purchase. You can also get creative and build one from items around the house. It will be so satisfying to watch them enjoy something built especially for them.
Start with some cardboard tunnels, then maybe add some hoops (start low to the ground then raise them up). You could have them zig zag through cones and of course, hide a couple treats along the way to keep them motivated.
This type of activity keeps dogs happy and healthy because it provides them lots of mental stimulation. The equipement and coursework will teach them new tricks and skills. And when they accomplish something new and get positive feedback, they'll feel good. Once they start to get used to the course, try changing it up to make it more difficult or even just rearranging the order.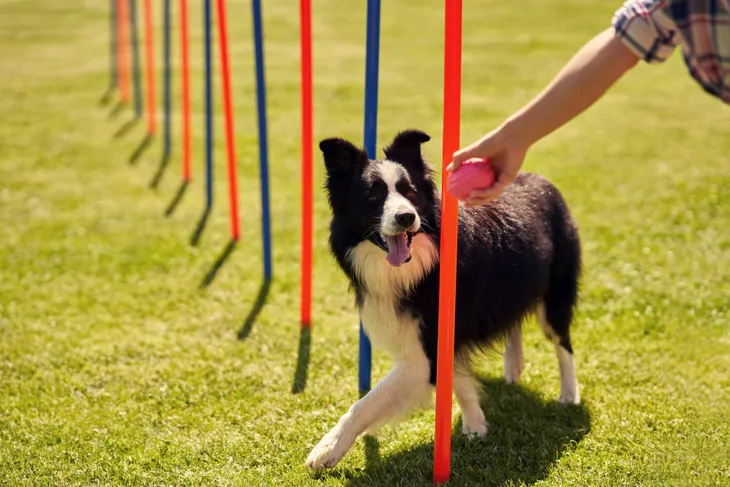 Fetch or Frisbee
What dog doesn't love a good game of fetch? It's a classic go-to game for pet owners and their dogs and for good reason. According to Andrea Servadio, a trainer and cofounder of Los Angeles-based Fitdog Sports Club, dogs love fetch because it mimics their natural instincts to hunt and retrieve prey. "Balls tend to bounce in predictable ways, so finding dog toys that have unusual bounces increases engagement and mental stimulation," she said during an interview with PetMD.
It doesn't have to be a ball. Any kind of toy works – a rope tug toy or even dog plush toy. There are also tons of products available online, many of which cater to playing fetch like dog ball launchers a, Nerf Dog atomic flyer dog toy and West Paw Zogoflex Zisc dog toy.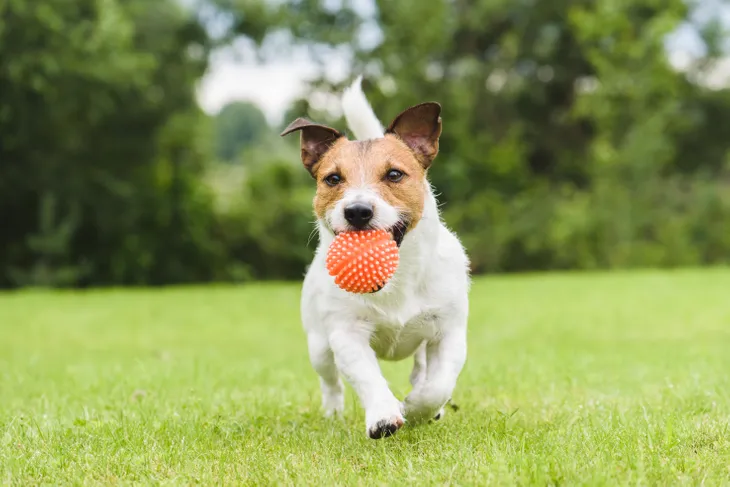 Walking Group
Okay, we know we said we were creating a list of activities that aren't walking, but hear us out! To make those daily walks more entertaining (not only for yourself, but also your dog), you could start a walking group with fellow pet owners.
This offers some socialization for the dogs and adults. You could look for leash-free trails to walk together or just do the usual routes around the neighborhood. Even if the dogs are on leashes, they'll still get all those great mental and physical benefits of being with other dogs and outdoors exercising.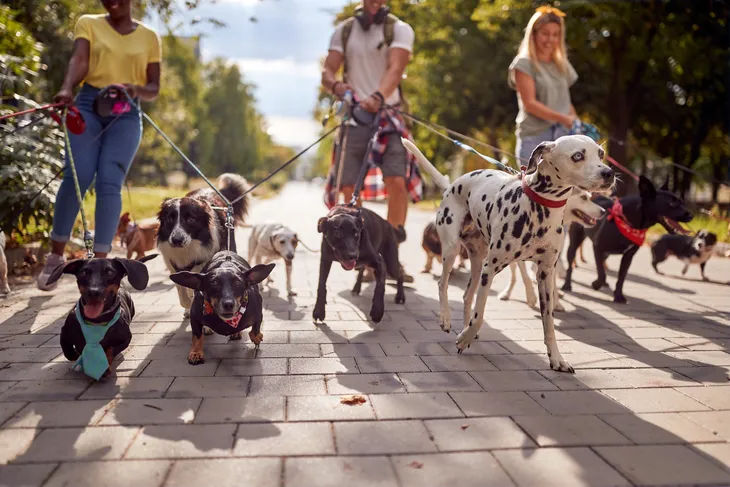 Sprinkler or Pool
Dogs are just like us, they like to cool off on a hot summer day! What better way to do that than with a sprinkler or pool. While some people let their dogs swim in their in-ground pools, we understand if that's not allowed. Another option would be to purchase a small plastic pool for them to jump in — particularly for those smaller pups.
Larger dogs might enjoy running through a sprinkler in the backyard. It's an easy solution to cool off on a hot day, doesn't cost too much, and can be done from the comfort of your own backyard!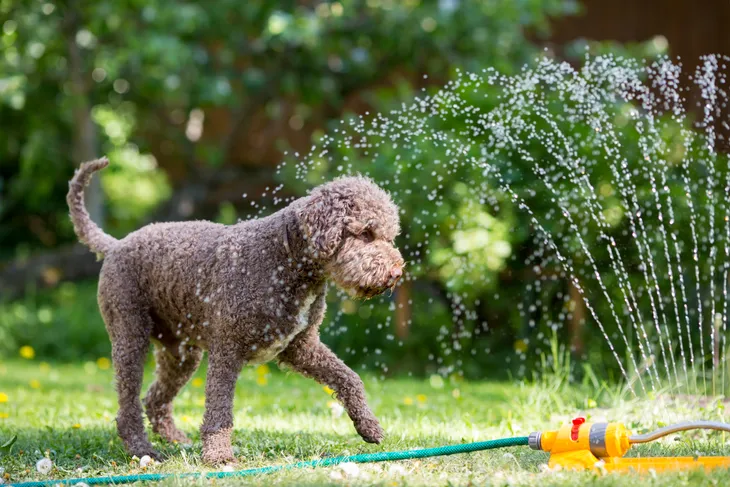 Explore a Farmer's Market
Heading to a local farmer's market is not only a great way to get outside and do something together, but it also supports the local community. Grab the leash, find a local community or farmer's market and get shopping. Your dog will enjoy getting outdoors, seeing lots of people, and might even get a couple pets from friendly strangers!
While these kinds of activities aren't the first thing that comes to mind when thinking of exercise, it definitely counts. Most of these kinds of markets are outdoors, so it's lots of on leash walking around. Plus, exposure to new places and people is a good form of mental stimulation. Just a heads up, not all farmer's markets are dog-friendly. Always go online or call ahead to make sure.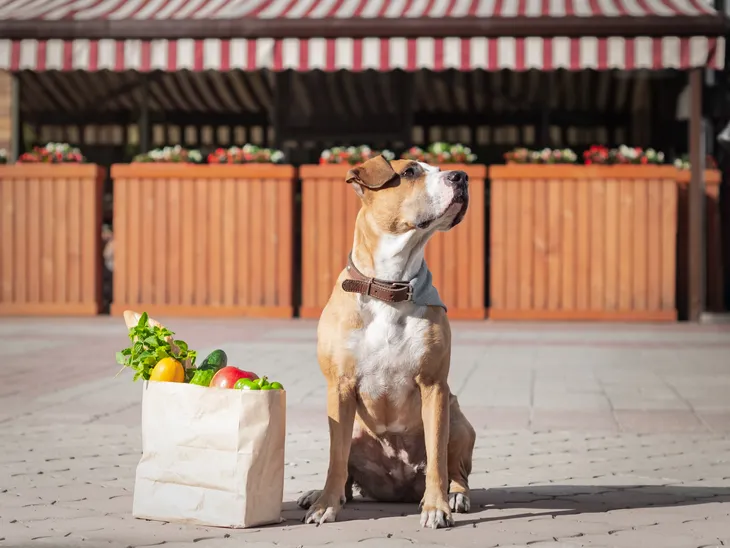 Hiking
Hiking is a great outdoor activity for pet owners to do with their dogs. You get to explore new territory and enjoy the great outdoors. The best times to go are of course in the warmer months, between spring and fall. If it's a hot summer day, don't forget to pack water and some healthy snacks.
Before going out on a hike, be sure to do research and make sure it's dog-friendly. Also, take into consideration your dog's size and energy levels. If they are a small breed that requires less exercise, it might be a good idea to choose a shorter path with flat terrain. Larger dogs might enjoy longer and more uphill paths. You should also make sure they are up to date with their flea and tick medication.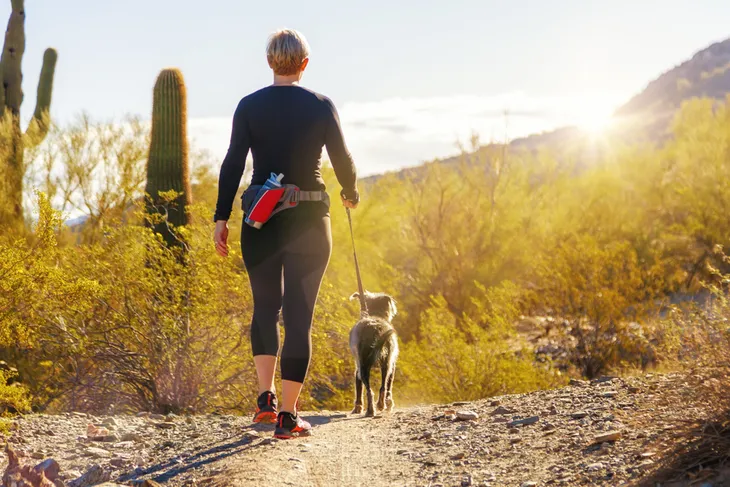 Camping
There's nothing better than sleeping beneath the stars on a summer night. Camping is a classic summer activity that's perfect for families and anyone who enjoys nature. Your dog will love exploring new territory and if there's a lake nearby — even better! And if you're camping alone, they offer some good companionship.
Most campgrounds are pet-friendly, but definitely check ahead of time. Depending on the campsite and whether it is remote, please make sure your dog is leashed to ensure their safety.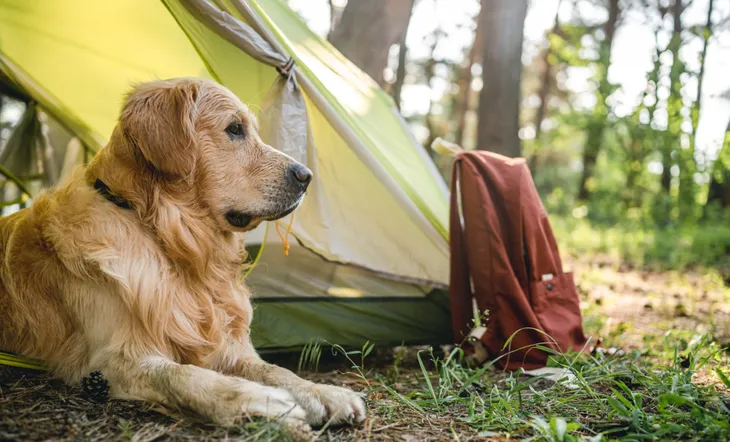 Dog-Friendly Patio
You might not even realize it, but there are plenty of establishments that are dog-friendly! A quick search online will show any restaurants or shops that allow owners to bring their dogs. Most patios will allow dogs, but not all. Of course, always check in advance. Only bring dogs that are comfortable in areas with lots of people and remember, if it's a hot day to bring them some water.
This activity isn't necessarily exercise (although bonus points for people who can walk to their destination), however mental stimulation and socialization is important for dogs. Take them for a nice big walk beforehand and then stop in at a dog-friendly patio for a rewarding drink!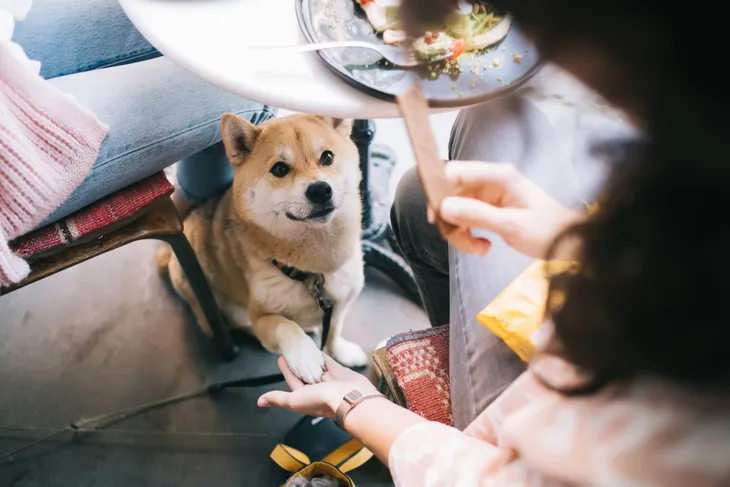 Running
This activity is obviously only reserved for more athletically inclined dogs. Some breeds can be wonderful jogging partners. Just make sure they are healthy enough and they have the right temperament to tag along. You can always consult a veterinarian first.
Instead of using a regular leash, try a hands-free running leash that ties securely around your waist. There are some options that offer a 360-range of motion and swivel all around. You can also find a bungee leash so there is more give or reflective leashes for night jogging. Pet owners should only take a dog jogging if they are well trained, especially when using leashes with less structure.
While these leashes allow a runner to keep their proper form so they don't get harmed, it also puts a lot of trust in their dog. Use your best judgement! If a dog is well trained, it can be a great form of exercise for both the dog and owner. And a good bonding opportunity.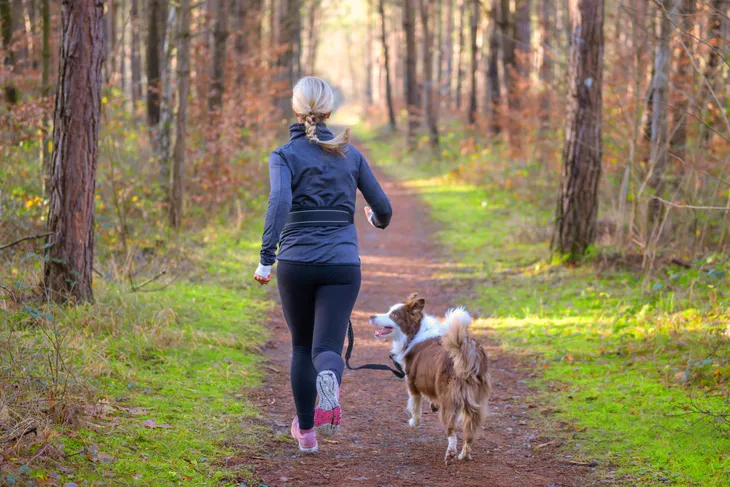 Scent Work or Geocaching
Ever heard of geocaching? It's a super fun outdoor activity that involves using a GPS receiver and other navigational techniques to locate hide and seek containers, also known as "caches." There are lots of smartphone apps with geocaching activities to try. Kids will love doing this activity with their pup!
Your dog will love getting to put their best asset to use — their sense of smell! Dogs have up to 300 million olfactory receptors in their noses making their sense of smell impeccable. For reference, humans have about 6 million. On top of that, the part of their brain responsible for analyzing smells is about 40 times greater than ours, according to Phoenix Vet Center.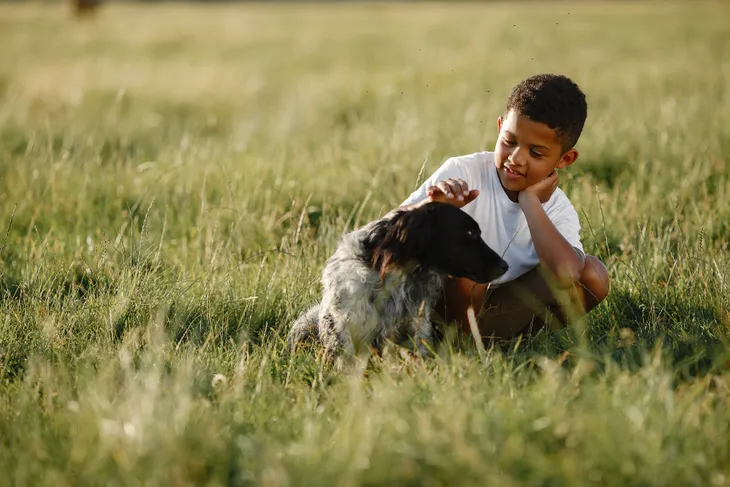 Pack Up a Picnic
This one isn't exactly a form of exercise, but it'll get you and your dog outside which is a good start! Pick a nice quiet, shady spot and sit and enjoy a meal together. They'll likely just be happy to get out of the house (hopefully spot some squirrels) to explore a new area, and you'll get to enjoy a meal out in nature. You might want to offer them a nice long walk first so they are more likely to relax.
A home-made picnic is also a great option for people who can't find a dog-friendly patio or parents who don't want to have to worry about taking their kids into a restaurant. A picnic in the park offers more freedom for a family to allow their kids to run around, play some games, and spend some quality time outside with their pup.