Mixing vintage and contemporary furniture gives a room personality, dimension and makes it feel truly lived in. The 1870s antique chest from Viyet is topped with thoughtful books and accessories.
This article is all about kids birthday parties, otherwise known as potentially the most stressful time of your life other than moving or divorce. I understand how drastic that may sound, but ask a lot of mothers out there (I'm a mom so I'm only speaking from my experience having talked to so many other moms) and they'd rather do a full week of housework than put themselves through the organizing, setting up and executing of a children's birthday party.
Exactly why most of us just need a little bit of help to set the stage for a good experience for the kids and less stress for you. Here, I've put together 15 Unique Modern Party Theme Ideas Your Kids Will Love. Enjoy!
15. Fiesta, Not Siestas Party
Tortilla, tacos and salsa – oh my! Fuse some Mexican flair into your little's birthday party by buying a cute cactus banner or lama tablecloth and dance the day away.
Make sure to order a mini piñata made especially for kids, candles that look like succulent plants like cacti and a cool tapestry to hang above the food table, and you're good to go.
14. Parisian Class Party
Think black, white and checkered, and throw in a punch of colour like pink, red or brown and you have your color scheme for bringing France right into your own backyard.
What makes a party really feel like you're in Paris? Hanging prints up of the iconic Eiffel Tower, for one, and securing an area for photos to be taken so you can bring home a memory of a day in Paris. Some neat booth props add a certain je ne sais quo and ensure you leave your guests longing for more with these, ou la la, Parisian treat bags.
13. Natural Phenomenon Party
It was only after becoming a mother that I noticed just how intensely fascinated a toddler can become with natural phenomena like tornados or volcanos. Why not base an entire birthday party around the volcano (and go even further like making it Pompei themed and have people wear togas)? I know, I know, try explaining that event to your child without depressing them.
What will put a smile back on their face, however, is an amazing erupting volcano centrepiece. Whether you go to a children's toy store and get a real experiment you can get the kids to work on or buy a decorative piece, it'll have them in awe. Go one step further and make an edible AND erupting volcano – go here for an amazing recipe I recommend.
12. Daytime Monsters Party
Kids have wild imaginations and we know that monsters often get a bad rep. Unless your children are incredibly afraid, hold a daytime monsters party to let them know they don't just stay in the dark nor are super scary. In fact, this is the prime stage to educate your kids about all the fun monsters can be.
Pump up the silliness with some colorful monster tableware and some googly eyes to try on in a photo boot, or costumes that let the kids pretend they're the monsters themselves (since we all know they're probably related at times of grumpiness).
11. Night and Day Party
Split the room up with a line on the floor into night and day and get to decorating. Teach your kids about planet Earth, our place in the universe and some other geeky scientific stuff by renting or buying a quality star projection machine and decorating one side of the room in moon and stars garlands when the projector is not on and when the "sun goes down".
Once it's daytime, let the children take part in all those things you do once awake. Lay a bright sun tablecloth on a snack table, fill it with bright healthy snacks like fruit, healthy fats like avocado, and get the kids get as active as possible to burn that sugar off.
10. Summer Hallowe'en Party
Who says your kids need to abide by societal pressure and wait a full year to dress up as a skeleton or witch? The freedom of summer and sun-shining days (unless you're an Aussie, they naturally have amazing weather every Hallowe'en) also allows you to take the spooky party outside, which is so rare.
Grab some staples that are clearly an overlapping feature between a birthday and Hallowe'en like black balloons or this cool Hallowe-en style birthday banner, and whip out the decorations you keep in the storage closet that only come out in October. Put up a few cobwebs, pre-select some scary films to play during the party (making sure they're all age appropriate and asking your guests' parents if they're okay with them viewing it) and watch your little ghouls scatter around in happiness.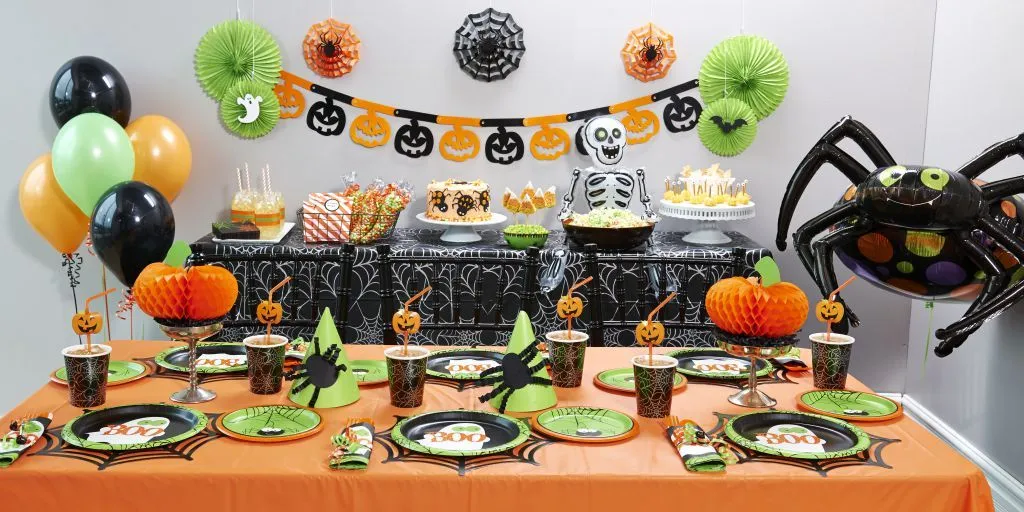 9. Rock & Roll Party
Bring out your vinyl, mamas and daddies, and let the opportunity to host a Rock & Roll birthday party be one you teach your littles about the good old rock'n'roll days through. A lot of music stores allow you to rent music equipment on a daily rate and you could go online to order some musical outfits for the little ones to head bang in. Is it just me, or does the thought of a toddler in a huge 80s metal wig just make your day?
Leading up to the big event (or should I say concert?) have your children take part in putting together the decorations. Get some cardboard, cut it into rectangles, poke a hole at the top where string will be tied and, voila, you have yourself some home-made VIP passes. When everyone has arrived (maybe even rolled in and stepped onto a red carpet), make sure the kids get their picture take behind a neat musical backdrop or mural.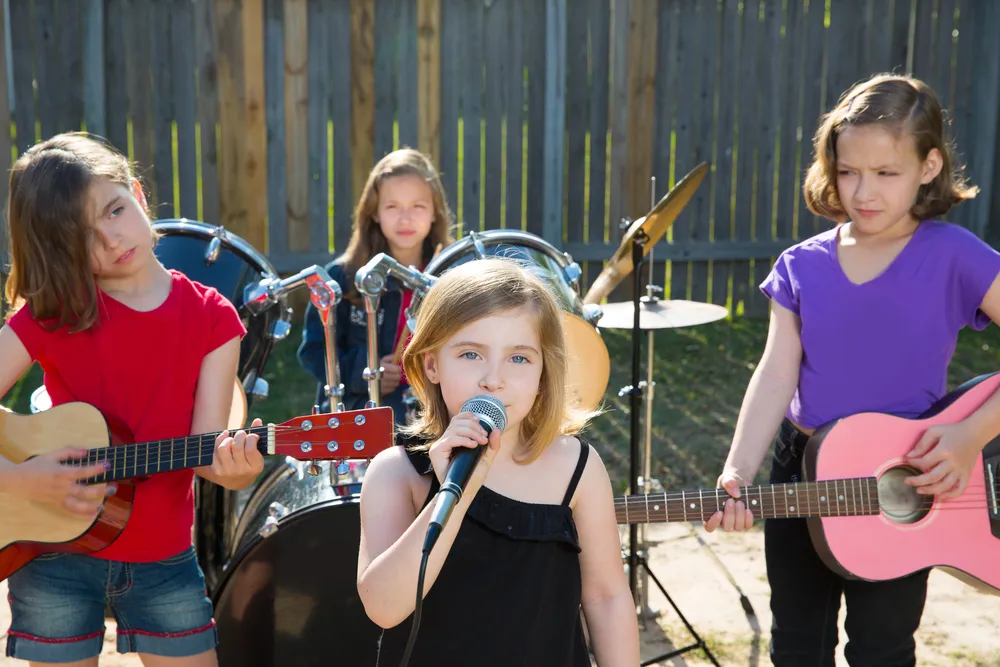 8. Art Attack Party
Hosting a party where the entire point is for the kids to be creative, you may want to put all of your lightly colored furniture aside – since chances are, you'll need to send your couch to the dry cleaners at the end of the day. Browse what's available on Etsy or look at some children's art centres in your area to see if you can rent supplies from them. A local one where I live, for example, rents white, mini cardboard buildings perfect for kids to paint on.
You could also buy canvas to paint on and once everyone has completed a masterpiece, send them home with cute mini art easel favours. Don't forget to let them fill up on left-over treats by filling their splash art inspired plastic cups. Who knows, maybe a few years from now someone will be inspired enough from this party to become a modern Picasso or Picassa him/herself.
7. Glow In The Dark Party
While it might get a bit too wild if you have toddlers running around, a Glow In The Dark party is bound to be a hit with kids 6 years and up. Glowstick-type candles on the cake, a painting area where you can make splatter art happen with glow-in-the-dark "luminous" paint (art smocks suggested), and some fluorescent decorations when you do have to turn the lights on, and you've got yourself a party that's lit.
As an added afternoon surprise, load the kids up in the car and head out for a round of cosmic bowling at your local bowling alley. If you have enough parents attending, split up into parents versus kids teams and show each other who's boss.
6. Drive-In Movies Party
Take it back a few decades and introduce the new generation in your home to the classic way to watch movies, before big indoor theatres were popular and before everyone owned a huge, colored TV. Host a drive-in movie party right in your basement or backyard, get some movie passes ready and rent one of those old school popcorn stands to make the experience even more authentic.
If you want to make the drive-in party mini-sized, get your craft on by building some pretend cars out of cardboard and personalizing them for each child attending. They could also double-up as party favours to take home – and what kid wouldn't absolutely love that?
5. Disney Princess Party
To host a party every little girl and boy will definitely always remember, make it a themed dress-up one. I guarantee that the ultimate of dress-up parties, the Disney Princess party, will have you snapping the most adorable pictures. Just imagine a room filled with Cinderellas, Snow-Whites, Ariels and Elsas and try not to sigh in adoration.
Naturally, deck out your space in lots of bright colours and themed banners – but to make it even more special, roll out a pink carpet runner for your princess guests to arrive on. Another unique twist to this type of party can be hiring local professional character actors, that will entertain the littles over some tea and cupcakes.
4. Neons 80s Party
This idea is a personal favourite of mine, since it includes one of the best things that came out of the 80s – fluorescent colored windbreakers! How super (yes, I said super) would it be to line up the kids in a bunch of windbreakers and Rayban-style sunglasses and have them slyly peep through those glasses at the camera? Check your local consignment clothing store for gems from that era.
If you can find a Walk Man for every child attending, and host a small Jane Fonda exercise class, with 80s style headbands, you'll incite those 80s feels very easily. And what would an 80s party be without some 80s music? Even though you'll probably hit play on your iPhone or Android, just hearing tunes from Cindy Lauper, Michael Jackson, Duran Duran or INXS will have those kids feeling like they're travelling through time, Marty-style.
3. Archeologist and Dinosaur Party
I can't see myself going through my son's life without actually hosting a party centred around ancient giant reptiles and fossil hunting. This is a good party to throw a volcano cake into, too. Little archeologist hats and magnifying glasses for all the attendants will make the experience even more real. At the beginning of the party, you could hand everyone a piece of paper with list of items to scavenge hunt for while in attendance.
If you have older children as guests, this could be a perfect time to make some dinosaur-centred origami – and this book filled with how-to ideas and construction material will definitely help (you, the adult, as well as the kids).
2. Vegetable and Fruits Party
You're probably reading this, thinking, excuse me? A Vegetable and Fruits party? My kids aren't even happy seeing a vegetable at dinner – how am I supposed to make an entire party based on this entertaining for them? The key in this lies in education. Educate those knowledge-hungry minds – and they'll not only feel satiated with wisdom they can carry to school the next day/share with their friends, but they'll be much less hesitant to bite into Mother Nature's version of sweets when offered some.
You can let your kids know which types of vitamins are found in which fruit or vegetable through games, and explain how some vegetable-type foods like tomatoes or peppers are technically fruit because of their seeds! Bonus: ditch the typical processed-sugar cake, slice a bunch of fruit up in round disk shapes and present the birthday boy or girl with an all-natural fruit tower cake.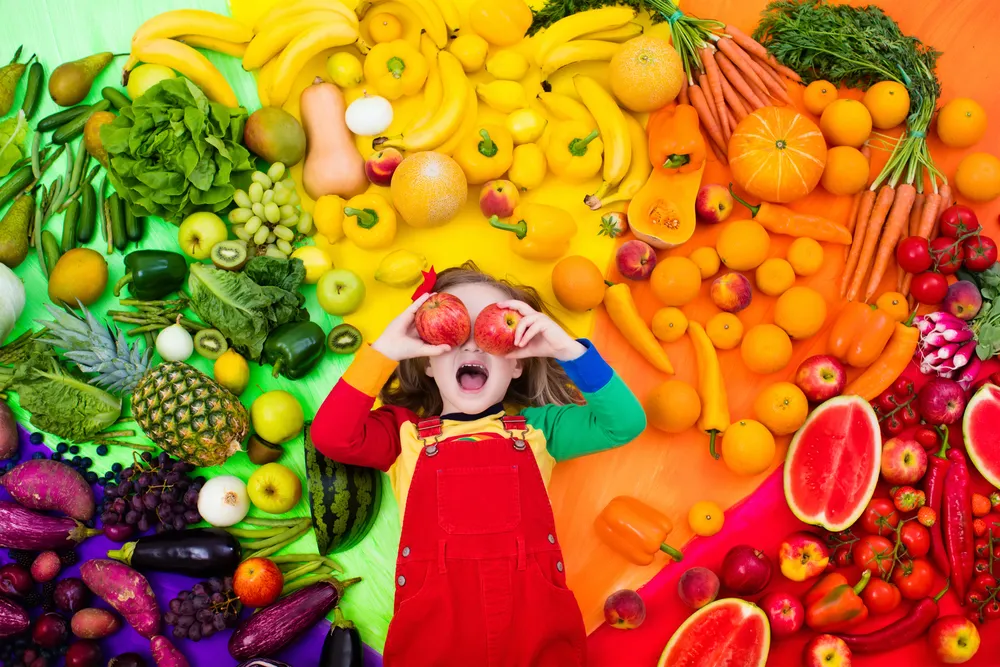 1. Woods Party
One of my fondest memories growing up are based around the times my parents took me to a conservation area or woods for us to barbeque, hike and explore in. Host your little ones upcoming birthday by renting a pavilion and driving to a conservation area this summer to relax and enjoy the sun while barbecuing some goodies. There isn't much needed in terms of decorations when you're enjoying the bounty of nature.
If there are older kids in attendance, tell them to get on their exercise gear, and plan a hike to a sweet picnic spot somewhere. It will have them talking about the experience for weeks to come – just make sure you treat them well once they've put in the hard work (especially if walking uphill). Pack enough food to have a traditional picnic at your destination or have every attendee carry a bag with some sandwiches, vegetables, and fruit so you don't get stuck with lugging all that yourself (let's just say that happens a lot when a parent).