There are many changes that our body goes through as we get older. For some people, one of the biggest changes is their smile. It's not uncommon for seniors to lose their teeth and while it can come as quite a shock, fortunately, they can be replaced.
Dental implants are an easy and effective solution for any senior who has suffered tooth loss or decay. They are a permanent and natural fix to missing teeth. Dental implants can help restore your perfect smile!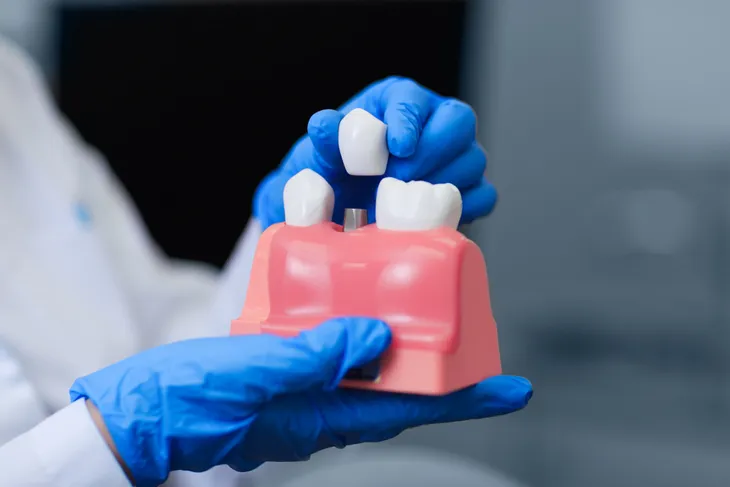 One of the biggest benefits of dental implants is that they can also restore your confidence. You will be able to smile with confidence, eat normally, and because they are so natural looking and feeling, no one will even notice they're there, including you! As long as you practice good hygiene and keep your mouth, gums, and implants healthy, they will last a lifetime.
What are Dental Implants?
Dental implants are replacement teeth created to look and feel like the rest of your natural teeth. Once a dentist has carefully examined your head, jaw, and teeth, an artificial root made from titanium metal will be drilled into a socket in the jawbone beneath the gum tissue. These titanium rods are completely secure because as the tissue heals, the implant bonds and becomes attached to the gum, writes the Canadian Dental Association (CDA).
Once the healing is complete, your dentist or specialist will attach an abutment to the implant. This abutment connects the replacement tooth to the implant. In some cases this stage will be done at the same time as the first. It's that simple. Finally, after these two steps are complete, an artificial tooth is attached to the abutment so that it is permanent and naturally in place with all of your other teeth.
Once everything is secured into place, the dental implants don't ever have to be removed. Your new teeth will last a lifetime. Unlike other similar solutions to missing teeth, dental implants are low maintenance. While you still have to take proper care of your oral health with regular brushing, flossing, and visits to the dentist, they never need to be resized or adjusted. Your new teeth fit perfectly and securely to your jaw. Once the procedure is complete, these new teeth will act and function just like your other teeth giving you the most natural experience possible.

Dental Implants Offer Better Benefits Than Dentures
Most seniors choose dental implants over dentures because there are so many great benefits to implants. While dentures are sometimes a little more cost friendly, that is just about the only benefit they provide. The benefits that come with dental implants, like a natural look and feel, comfort, and confidence, all greatly outweigh any cost friendly benefits of dentures.
There's no denying that dental implants offer the best solution to the most natural looking and feeling replacement teeth. Once a person is missing teeth, they will never be able to get the real thing back again, but dental implants come pretty darn close! Because the implant is fused into the jawbone and the attachment is created to look nearly identical to your other teeth, it blends in seamlessly and functions just like any other tooth would. No one would ever know that you had dental implants.
In addition to the look and feel, a dental implant helps rebuild confidence because you don't have to worry about it ever coming loose when talking or eating. Dentures are problematic for seniors because they move. This makes eating and speaking a little more tricky. Dentures also cause people to shy away from eating their favorite foods. They're scared of damaging them or causing them to become loose. Implants on the other hand are extremely durable. You don't ever have to worry about the moving or breaking.
As a result of all the benefits we just listed above, dental implants are more comfortable. They are customized to fit your mouth. There is no pain involved in having dental implants once the procedure is done. Since they are permanent, you don't ever have to worry about removing them to soak or apply any creams. As long as you follow a regular routine cleaning, brushing, and flossing, then they should last a lifetime.
Last but not least, arguably one of the best benefits of dental implants is that they can prevent bone loss. The American Academy of Implant Dentistry explains that when a person loses a tooth, the bone begins reabsorbing into the body. Over time, this can cause a person to age faster as their jaw becomes weaker and more likely to fracture. Dental implants can help stabilize the jaw and prevent any future bone loss.

They're Super Affordable
Many people are under the assumption that dental implants are extremely expensive because they require special work, but this is not the case! Dental implants used to be an expensive procedure costing anywhere from $1,500 to $6,700 — even just for a single tooth! But with new innovative materials, things have changed. Dental implants are now available for hundreds of dollars cheaper. This means you don't have to shy away from dental implants, even if you require more than one replacement teeth.
Before getting dental implants, you need to consult with a dentist or oral surgeon, but many offer free consultations. Dentist Mark McOmie reported to Dental Economics that the cost of an implant once totaled $600. Today the same implant can be purchased for $150. This is due to the fact that the materials used in the procedure are much more cost friendly. The titanium screws and ceramic crowns are much more affordable than the materials that were used in the past. Lucky for us, the cost that dentist are saving on these materials are then passed down to us.
Seniors in particular are eligible for even more saving. In order to find the best price, do your own research by comparing different oral surgeons ann dental implant options to learn where the best savings are and just how much you can save. While it does require a bit of leg work, it'll pay off in the end. There are all kinds of affordable options out there. For example, dental schools offer dental implants at a reduced price so that dentists can learn how to do the procedure while being supervised by an experienced dentist. If you do something like with dental insurance or a discount plan, then the savings could be even higher knocking off hundreds of dollars!
Even though dental implants are not yet covered by Medicare, other plans like Medigap and Medicare Advantage do offer dental insurance, explains Senior Living. Investing in a dental savings plan is one of the best things a senior can do because a small annual fee could provide huge savings when it comes to dental procedures like dental implants. We're talking savings between 10 to 60-percent!
Again, we can only give an overview of what's available out there. The best thing for you to do is narrow down the search by looking at dentists in your city. Dentists operate independently, so they all charge different rates. Do some research on the dentist or specialists in your area to learn who the most skilled professional is and where to find the most competitive price. This is the best and easiest way to find low cost dental implants.

How Dental Implants Can Restore Your Smile
If you are someone who lacks confidence due to missing teeth, then dental implants are for you. Don't live the rest of your life hiding your smile. Missing teeth can be replaced with permanent, natural looking replacement teeth that will last forever.
Many seniors shy away from considering dental implants due to the assumption that they are too expensive. That's not true! They are more affordable than you think. Not only that, but due to the fact that they are natural, permanent, and safe, they can actually help seniors avoid oral health worries in the future. As long as you follow your dentists instructions of how to take care of your implants, then they should last a lifetime.
In order to determine whether or not dental implants are the right choice for you, we recommend doing your own research. There is so much information available online, just take the time to look around and find out what options are available for seniors, compare the price between various dentists in your area, and whether or not dental implants can improve your smile. You'll most likely find that the advantages to dental implants make them worthwhile. You can't put a price on confidence and peace of mind! Dental implants will allow you to live without worry, and help give you the freedom to show your smile without hesitation.