Tom Cruise has some serious acting chops. And really great hair. You've likely noticed one, the other… or both. Sure, his Achilles heel has stemmed from some personal misgivings and a life in the public eye, but when it comes to what he does for the camera, few have done it better. We have collected his 15 most iconic performances — check it out!
15. William Cage — Edge of Tomorrow
Edge of Tomorrow makes excellent use of Tom Cruise's action-star abilities and comedic talent. If you haven't watched it, the movie's worth your time for his performance alone. Fortunately, the movie itself is also just a clever sci-fi action thriller. It's very Groundhog Day meets War of the Worlds.
The rest of the cast is great, too — there's Emily Blunt and Bill Baxton, to name just a couple of Cruise's co-stars. While it didn't end up being a big box office hit that made tons of money, it's a fun time with a top-notch Cruise performance.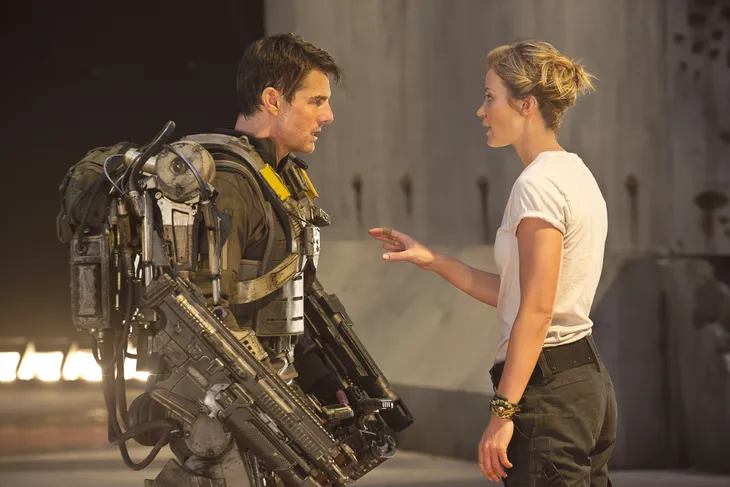 David James/©Warner Bros. Pictures/courtesy Everett Collection
14. Mitch McDeere — The Firm
The '90s were a golden age of legal thrillers, and Tom Cruise made a couple of notable entries into the genre. The Firm may not be his most iconic legal thriller — we'll get to that performance soon enough — but it's still one of his greatest performances.
That's because it gives him a chance to really show off his acting chops and work alongside an impressive ensemble of actors. Cruise stars as a young lawyer who discovers his law firm has a dark side. The Firm co-stars Jeanne Tripplehorn, Gene Hackman, Holly Hunter, and Ed Harris.
13. Rain Man — Charlie Babbitt
Dustin Hoffman's performance in Rain Man gets most of the attention, but Tom Cruise gives one of his most iconic performances in the film. Playing against type, Cruise's Charlie Babbitt is a more morally ambiguous character than he was known for playing at the time.
The film earned a lot of critical accolades and box office money. It even cleaned up during awards season. Rain Man won four Academy Awards, including Best Picture and Best Actor for Hoffman. Even though Cruise didn't walk away with an Oscar, it's still one of his most notable performances.
12. Daniel Kaffee — A Few Good Men
We hope you can handle the truth — A Few Good Men is one of Tom Cruise's most iconic performances, and it edges out The Firm as his most iconic turn in a legal thriller. Written by Aaron Sorkin, the film gives Cruise a strong script to work with and really dig into.
Co-starring Jack Nicholson and Demi Moore, and with a supporting cast that includes Kevin Bacon and Kiefer Sutherland, Cruise also benefits from strong scene partners. There's a reason the movie gets played on cable so frequently — it's well-made, well-acted, and entertaining.
11. Ron Kovic — Born on the Fourth of July
Oliver Stone's Born on the Fourth of July is certainly one of Tom Cruise's most captivating performances. It did earn him an Oscar nomination, after all. In the film, Cruise plays a Vietnam soldier and veteran who returns home as a critic of the war.
It's a great vehicle to show off the range of his acting abilities — the audience sees him transform from a clean-cut teen who believes serving is his patriotic duty to someone who experiences the horrors of war and comes away with a new perspective. The film co-stars Willem Dafoe and Kyra Sedgwick.
10. John Anderton — Minority Report
Tom Cruise and Steven Spielberg — enough said. The pair came together to give audiences 2002's Minority Report. Expectations may have been high, but the film lives up to the hype. It taps into Cruise's excellent action star capabilities while also giving him material that's thought-provoking.
Minority Report is a high-concept sci-fi thriller that doesn't reach the iconic heights of some other Tom Cruise performances, but it's still a top-tier entry in his filmography. Co-starring Colin Farrell, Samantha Morton, Max von Sydow, and Lois Smith, it's also got other great performances.
9. Cole Trickle – Days of Thunder
Maybe Days of Thunder beat out something like Rain Man based on the character name alone: Cole Trickle. If ever there were a fictional stock car driver who you'd swear were a real dude, it's Cole Trickle. In addition to being an awesomely cheesy romp from the 1980s into the 1990s, Days of Thunder served as the first time Tom Cruise and Nicole Kidman worked together.
Does the story hold up? Sure. Why not? It's about racin' in a specific time period. Of course it holds up. And the on-screen chemistry between Tom and Nicole is all that. It really is. What is it about Tom Cruise in a cockpit going really fast that is so attractive to film audiences?
8. Nathan Algren – The Last Samurai
The character of Nathan Algren was one of Tom's best turns for the silver screen. A former U.S. Civil War Army Captain, and individual responsible for running Native Americans off land by any means necessary, Nathan Algren has become a functional alcoholic with more snide and snark than is appreciated by his peers. He's hired to help "westernize" the Japanese military in the late 19th century, but finds himself entrenched with the last of a Samurai culture.
Tom is able to play on his strengths, which is physicality and practical stunts — as well as his emotional vulnerability — to craft a very powerful performance. The film is absolutely stunning, and as a little bonus trivia: it was shot in New Zealand, as opposed to Japan. The story is solid, and it'll likely jerk a few tears from most viewers.
7. Lestat de Lioncourt – Interview With The Vampire: The Vampire Chronicles
How corny was Interview With The Vampire? Well, not at all if you're one of those vampire lovin' types. It was incredibly romantic and sexy… and bloody. In fairness to the production, the cast was outstanding and the film was well received at the box office. It was pretty much the beginning of sexy vampires, thanks in part to novelist Anne Rice.
The film starred Tom Cruise as Lestat de Lioncourt opposite an up and coming Brad Pitt as Louis de Pointe du Lac. Within this drama horror mix, Pitt is offering an interview in modern San Francisco, having claimed that he became a vampire in Spanish controlled Louisiana in the late 18th century. The story shifts to the memory bank, and enter Tom Cruise as a vampire. In 1994, this is how most women preferred to die… or live forever…
6. Joel Goodson – Risky Business
"Sometimes, you gotta say… 'What the f***!? … make your move." And that's exactly what Tom Cruise did as Joel Goodson in Risky Business. How could this film not launch Tom Cruise to super stardom? The film itself is rooted in everything a high school kid wishes would happen when his parents are out of town. Well, everything a high school kid might imagine could happen.
As Joel Goodson, Tom Cruise gets drunk, dances around the house in his underwear, scores lovin' from a lady of the night, finds himself mixed up in some crime, drives around in his dad's Porsche, scores more lovin' from the lady of the night, turns his house into a brothel, then eventually gets accepted into Princeton. For those who have never seen it, Risky Business is quintessential Tom Cruise: fearless.
5. Ethan Hunt – Mission Impossible Series
The fascinating thing about the Mission: Impossible film series is the continuation and maturation of the agent we've all come to know and love named Ethan Hunt. For Tom Cruise, it's an opportunity to create more than a character, but give birth and lasting legacy to an icon.
It was obvious they'd do a sequel after the first film was released in 1996, almost 20 years ago, but to think that they'd still be pumping them out with the same lead actor in 2015? That's the stuff legends are made of. At that, Tom is still doing his own stunts, and Tom continues to take his stunts to the next level. Fans and critics are in agreement for Rogue Nation. It's awesome. The best yet. And it'll be another reminder for movie fans that Tom Cruise is king of the IT factor.
4. Stefen Djordjevic – All The Right Moves
In 1983, Tom Cruise, completely rough around the edges, and reliant on talent and execution over a Hollywooding of his looks, played small-town high school kid, Stefen Djordjevic, in All The Right Moves. In love with football, and skilled at the defensive back position, he wanted nothing more than the opportunity to earn a scholarship so he could get out of his town.
In addition to being a talented jock, Stefen is a witty academic — a bit of a renaissance man — who has a sweet girlfriend who is about the only reason he enjoys living in the town. There is something so palpable about this film. Tom Cruise is able to tap into a reality that films in this era were sorely lacking. He is every kid in every small town who dreams of something better, screws it up for himself then finds a way to right the ship.
3. Jerry Maguire – Jerry Maguire
Tom Cruise firmly planted his flag as King on the Hollywood mountain with his turn as Jerry MaGuire. Everything you could ask an actor to do in a film, Tom does it as Jerry. Tom Cruise and writer-director, Cameron Crowe, were able to offer Jerry Maguire more layers than an onion, as opposed to the cut and dry two dimensional characters that often lead films of this nature.
The ensemble cast was perfect, and the story was universal, regardless of being set in the realm of big business and professional sports — that reminder that every story is ultimately a love story. Screen chemistry was on overdrive in this film, including the fauxmance between Tom and Kelly Preston, the romance between he and Renee Zellweger and the bromance of he and Cuba Gooding Jr.
2. Maverick – Top Gun/Top Gun: Maverick
Tom Cruise redefined cool with his performance in Top Gun, playing Lt. Pete "Maverick" Mitchell, a U.S. Navy pilot responsible for flying an F-14A Tomcat. Maverick had a skill set unlike many others, and an attitude to go with it. His arrogance is born of insecurity, and a misunderstood legacy — a second-generation fighter pilot who never really knew his father.
You know a film had an impressive influence on its culture by the popular response. For the United States Navy, that meant a 500-percent increase in enlistees following the release and popularity of the film. There's no arguing the corny aspects of the film, from some of the dialog to the bluest love scene you'll ever see, but the action? Practical perfection. And about Top Gun: Maverick? It's just as good — if not better — than the original.
1. Frank T.J. Mackey – Magnolia
There is no argument. This is absolute. The role of Frank T.J. Mackey was written by Paul Thomas Anderson for Tom Cruise, and it is Tom's greatest performance. He has offered some dandies, but when it comes time to remember his career as a legacy, this will be the role people will point to and say, "He was a star, but he was also one of the finest actors the world has ever known."
The fact that he didn't win every award for Supporting Actor in Magnolia was utter nonsense. Magnolia is an incredibly crafted film — a cinematic masterpiece — layered with perpetual motion and a story that continues to develop toward one of the strangest climaxes in movie history. And Tom Cruise within this film? He's every version of humanity imaginable — the good and the bad — the conqueror and the conquered.