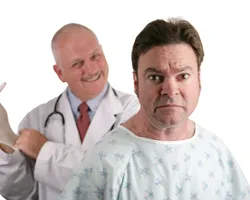 The National Cancer Institute predicts that more than 240,000 U.S. men will be diagnosed with prostate cancer this year—even more tragic, 28,000 will die of the disease in 2012.
The tragedy with the majority of prostate cancer deaths is that most early stage patients don't even know they have the disease because they don't show any sign of symptoms. Unfortunately, up until now, a diagnosis can only be made once a digital rectal exam or a PSA test is completed.
However, British scientists have had a breakthrough regarding early detection of prostate cancer with the design of a new, highly sensitive scanner prototype that can detect diseases such as prostate cancer early on. The scanner would also be of aid in countries where high-tech medical detection equipment is non-existent or in short supply.
According to researchers from Imperial College London, the new sensor is able to detect prostate cancer 10 times more effectively than traditional disease detectors that measure biomarkers, like PSA, an indicator of prostate cancer. Scientists tested the sensor's accuracy for detecting prostate cancer by looking for PSA in patient blood samples. A negative test result via the scanner produces a visible blue hue; while a positive result emits a distinct blue shade—both are visible to the naked eye.
Results showed that the ultra-sensitive sensor was able to detect prostate cancer, as well as HIV, much earlier than current medical technology (i.e., Enzyme-Linked Immunosorbent Assay).
The next step in the sensor's completion is to locate sponsors from not-for-profit global health organizations to oversee the development, funding, and distribution of the device.
Source: Yahoo News