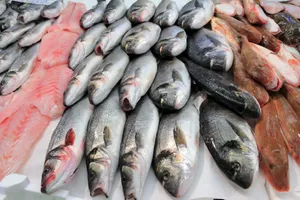 A new U.S. study makes connections between children's risk of attention-deficit/hyperactivity disorder (ADHD) later in life and the amount of fish their mothers consumed during pregnancy.
The study published in the Archives of Pediatrics & Adolescent Medicine reported that mothers who ate at least two servings of fish per week had an approximately 60 per cent lower risk of their kids showing some of the symptoms associated with ADHD.
But at the same time, the study found that children whose mothers had higher-than-normal levels of mercury, a substance often found in the bigger fish such as tuna and swordfish, had a higher risk of experiencing symptoms like hyperactivity, impulsiveness and inattentiveness.
For the study, researchers followed 788 children born near New Bedford, Massachusetts, between 1993 and 1998. Hair samples were taken from their mothers following delivery to test for mercury levels, while the expecting mothers kept food diaries so that researchers could monitor how much fish they ate.
When the children were around 8 years old, their teachers were asked to evaluate their behaviors so that the researchers could see how many exhibited ADHD-like symptoms.
The researchers discovered that mothers with 1 microgram of mercury per gram of hair – about 800% compared to the average levels found in the hair of similar women in another study – had a 60% higher risk of their child developing ADHD symptoms. But on the other hand, children appeared to be 60 per cent less likely to exhibit impulsive or hyperactive behaviors if their mothers ate two or more servings of fish per week during pregnancy.
The takeaway? The benefits of eating fish may offset the negative effects of exposure to low levels of mercury.
This finding contradicts the U.S. government's recommendation that pregnant women should limit their exposure to mercury by having a maximum of two six-ounce servings of fish per week, calling this guideline into question. But the study's lead author, Sharon Sagiv, cautioned that this was just one study, and suggested that the results should be confirmed by further research.
Source: vancouversun.com