Bracco Diagnostics Inc has issued a Class 1 recall of nine lots of their Isovue Pre-Filled Power Injector Syringes. The drug is an iopamidol injection, which is used in combination with Stellant CT Injection Systems. The syringes have visible particle contaminants. There have been no illnesses associated with this recall yet; however, the particle contaminants do have the potential to cause adverse health consequences.
The recalled products were distributed to wholesalers and medical supply distributors throughout the United States. Those hospitals, emergency departments, clinics, physician offices, and other facilities that have the recalled product are urged to immediately quarantine the syringes and contact Stericycle. Stericycle is Bracco Diagnostics Inc's contractor for handling the recall. If your facility has the recalled product, you can contact them at 1-866-201-9133.
The United States Food and Drug Administration describes the product as, "Isovue PFS is a single use item, administered for diagnostic imaging under medical supervision. The product is packaged in single dose Prefilled Syringe (PFS) presentations of Isovue® – 300 FLS2 and Isovue® – 370 FLS2."
If you have used this drug product and have experienced any problems or illness in relation, please immediately contact your healthcare provider. Furthermore, if you have been made ill from the product, please report it to the FDA's MedWatch Adverse Event Reporting program online here, by phone at 1-800-FDA-0178, or by mail.
The recalled products include: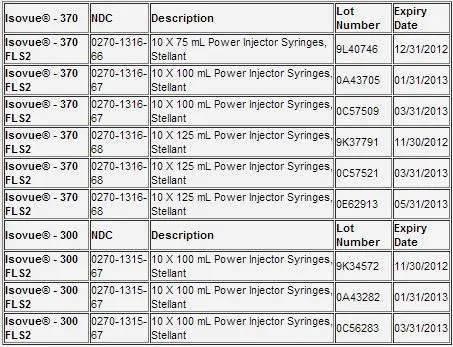 Source: FDA