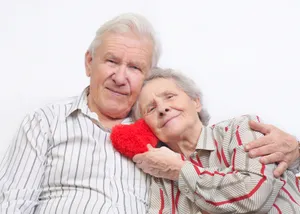 Valentine's Day is a little more than a week away, which means sweethearts of all ages are looking forward to the roses, the romantic dinners, and the boxes of chocolates, sure, but a little love making is definitely on most menus!
However, where does that leave one in 3 Americans who've been the victim of a heart attack, stroke, or other form of cardiovascular disease?
Approximately 795,000 Americans are affected by a repeated stroke every year so sex is often a touchy and stress-inducing subject when it comes to life in the wake of heart disease.
"Returning to intimacy can take time," says Mirian Medina, RN and stroke coordinator at Raritan Medical Bay Medical Center. "There might be new challenges [and] emotional obstacles [such as]… insecurity, a feeling of unattractiveness or depression or physical issues like numbness, weakness or lack of feeling in certain parts of the body."
Luckily the cupids at the American Heart Association give two thumbs up when it comes to having sex, but keep in mind that's only if your cardiovascular disease is stable and your doctor has given you the "hey-ho!"
That's why a candid conversation about sex with your primary care practitioner is a must for cardiovascular patients when it comes to re-igniting that flame of desire with your partner and evaluating your health before resuming regular sexual activity, for instance:
If you're a caregiver to a partner with cardiovascular health issues, resuming role as lover may be difficult and speaking with a therapist or seeking the advice of a support group may help the transition.
If you're experience sexual dysfunction, talk with your doctor about safe sex for those with cardiovascular disease to alleviate anxiety, depression or self esteem issues.
Just because you're resuming sex doesn't mean you should skip your medications. These will only help to curb cardiovascular symptoms—and your heart should be your main concern.
Women experiencing post-menopause along with cardiovascular disease, can use topical or inserted estrogen to ease painful intercourse. Speak to your doctor first!
Over the counter medications can be taken by heart patients to treat erectile dysfunction if your doctor says they are safe. However, keep in mind they might not be safe if you're undergoing nitrate therapy for chest pains or coronary artery disease.
Source: NJ Today