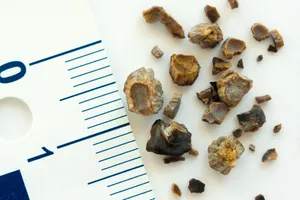 Doctors to the stars, Drs. Michael Roizen and Mehmet Oz, have two simple words of relief for the millions of kidney sufferers out there: eat healthier!
Kidney stones, which form as hard, painful crystals made up of calcium, oxalic acid, and sulfate have been on the rise and not just in adults. A 70-percent increase in the past 20 years, an affliction that's often spurred by a urinary tract infection or by an increase in uric acid (which also causes gout) in the middle-aged sect is now cropping up in children.
Kidney stones are quite painful to pass if they get lodged in the bladder or even the urethra. While smaller stones can be excreted during urination; larger stones that can grow to the circumference of a golf ball have to be surgically removed. The goal is to pass them before they grow or avoid them all together.
According to doctors Roizen and Oz that means you must adhere to a healthy diet consisting of the following:
Consumption of a minimum of 3 quarts of water a day
Soda, sports drinks, fruit juices and iced tea can actually make kidney stones worse
Less sodium in your diet—that means lay off the processed foods in favor of fresh cooked foods, seasoned with low- or no-sodium, natural herbs and spices
Low-fat dairy that's high in calcium
If you have a kidney stone, eliminate the following kidney stone-promoting foods from your diet immediately:
red meat
peanuts
chocolate
wheat germ
beets
spinach
You may not be able to sell your kidney stone for $15,000, like Gene Simmons of Kiss did on eBay. But if you're diagnosed with these painful pebbles, you'll join the ranks of millions of others who suffer from kidney stones. Incidents have
Source: MySanantonio.com