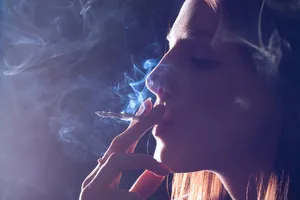 There's been a big, mellow cloud of doubt cast on a recent study that linked cannabis usage to causing lower teenage IQ. A Norwegian study is suggesting the research to the Meier study was incomplete.
In the Meier study being called into question was conducted by Dunedin Multi-disciplinary Health and Development Study out of New Zealand's University of Otago. Researchers monitored a group of 1,037 New Zealand children born between April 1972 and March 1973, over a 40 year period.
During the study, participants tested randomly for both IQ and drugs. In 2012, Madeline Meier, a clinical psychologist, claimed to have discovered a link between teenage cannabis use and decreased IQ after comparing the IQ trends of people who never smoked cannabis to the IQs of cannabis smokers. She claimed those who smoked pot suffered declined IQs "linearly" due to the cannabis use.
However, Ole Rogeberg, an economist at the Frisch Centre for Economics Research in Oslo, points out that the Meier study only considers cannabis as the sole differentiator between the groups tested, and he suggests this causal inference between marijuana use and diminishing IQ scores is incomplete.
"My study shows that the methods used and analyses presented in the original research [the Meier study] are insufficient to rule out other explanations [for lower IQ]," says Rogeberg, who points to lower socioeconomic status as another differentiator for decreased IQ in teens.
Rogeberg's study pinpoints holes in the Meier study—particularly the assumption that early cannabis use is more common for teens with:
Poor self-control
Previous behavioral conduct problems
High risk lifestyles linked to low family socioeconomic status
He states that young people from lower socioeconomic status families tend to live in less intellectually demanding environments that can lead to lack of education, issues with the law, and drug use, and that this environment is what increases the risk of decreased IQ with age.
"We don't know how much of the change in IQ can be explained by differences in education, jail time, occupational status," says Rogeberg, "…and if this affects the estimates in the paper."
Source: Reuters