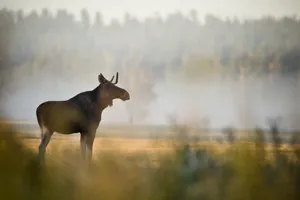 The very first case of mad moose disease has been discovered in Southern Alberta. Wildlife officials claim this is the very first moose found with the same neurological disorder that's linked to mad cow disease, affecting cattle.
Lab tests verified that the moose had chronic-wasting disease (CWD) after it was hit by a vehicle and killed in Medicine Hat, Alberta, this past November.
Since September, 23 cases of CWD have been diagnosed in the mule and white tail deer populations in the province's east central and south eastern areas. The province has been fighting to prevent CWD from spreading to their wild deer for the past 7 years.
The human equivalent of CWD is known as Creutzfeldt–Jakob disease.
Source: Vancouver Sun