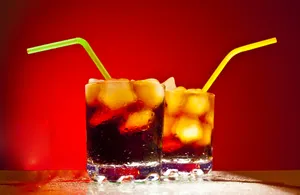 Scientists at Northern Kentucky University have found that mixing alcohol with diet soda leads to faster and higher rates of intoxication.
A small study of 8 female and 8 male students was conducted by researchers who gave one group vodka drinks mixed with regular soda and a second group vodka mixed with diet soda. Findings showed that the diet soda group got more intoxicated—at a rate of about 20-percent faster in fact—then those who mixed their vodka with regular soda.
The students who admitted to social drinking were also asked to come for a series of lab tests—one test that mixed vodka with diet soda and a second that mixed the vodka with sugar-sweetened soda—each serving was drank in 10-minutes and equaled an average of four mixed drinks, which matches the legal driving limit. Researchers then measured alcohol levels using breath tests and found that students who drank vodka and regular soda registered just under the legal limit, while those who drank the vodka and diet sodas measured over the limit.
A final test was done to gauge driving reaction times using a series of computer-simulated reaction tests. Those drinking the diet soda were slower to react, further support previous research linking diet drinks and increased alcohol levels in the body.
"What you choose to mix your alcohol with could possibly be the difference between breaking and not breaking the law," cautions Cecile Marczinski, study author and assistant professor in the Department of Psychological Science at Kentucky's Northern Kentucky University.
Source: CNN