Walking is among the most cost-effective and accessible means of exercise one can do. Evidence suggests that walking can help seniors maintain physical independence, as well as cognitive independence, by preventing many health problems that can arise as we age. The Centers for Disease Control and Prevention (CDC) recommends walking as a means of increasing activity levels. Many consider walking among the best forms of physical activity because it does not require special equipment or training, and it is convenient and affordable.
There are so many incredible benefits that come from walking. Plus it's an easy exercise that can be done anywhere without any equipment. So it's super affordable and accessible! Here's a look at all the benefits of walking, as well as a 30-minute low impact walking exercise video for seniors. We suggest aiming for 150-minutes per week or 30-minutes a day for five days.
Benefits of Walking for Seniors
There are many different benefits that come from walking, both physical and mental. Here's a look at most of them…
Heart Health Improvements: Walking gets the heart pumping and the heart rate up, leading to a reduced risk for high blood pressure and high cholesterol, and even coronary heart disease.
Pain Reduction: Movement in the body can be good for pain reduction, but studies have shown that pain from arthritis and other chronic conditions is lessened or diminished from a 20-minute walk just three times a week.
Muscle Strengthening: Lower body and upper body muscles engage to keep the feet moving at a steady pace, but also abdominal and back muscles work. The core engages to keep that proper posture and balance through the body. This also helps to decrease low back pain as the core muscles increase.
Balance and Coordination: Improved muscles strength will help with balance and coordination, overall decreasing fall risk. And walking independently is one of the best indicators to show you can live independently.
Blood Sugar Improvements: Walking for 15-minutes after eating a meal has shown to reduce blood sugar spikes, regulate glucose levels, and strengthen muscles.
Low Cost: The only real cost needed is investing in proper footwear. Walking can be done anywhere and costs nothing because there's no equipment involved! You can even do it from the comfort of your own home.
Overall Health Boost: Mental health, emotional health, and physical health are all equally important and walking improves them all. We release endorphins when we workout and become physically active. These endorphins help us reduce stress and anxiety, feel more positive about life, and help with depression.
Bone Strengthening: Weight bearing exercise, such as walking, can help prevent osteoporosis and osteoarthritis. A study showed that regular walking can prevent hip fractures in half of the participants over the age of 45.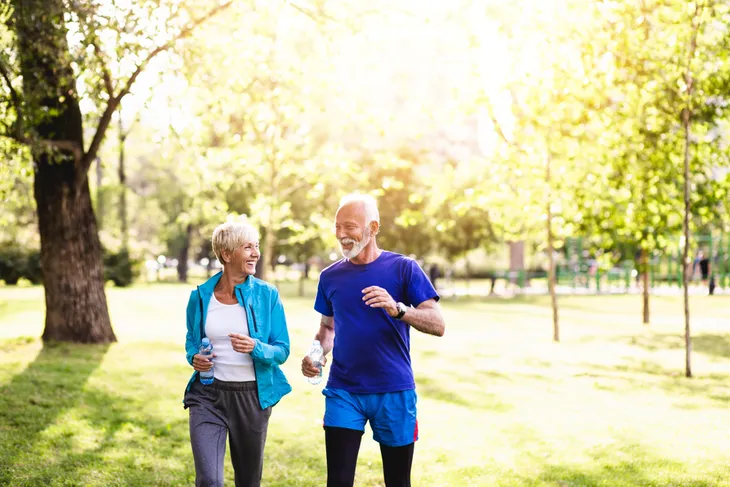 Supportive Footwear for Seniors
Start by getting sturdy and supportive footwear. If walking outside, know the route ahead of time, taking note of whether or not it's smooth and free of obstacles. If just starting, go for a short walk of 5- to 10-minutes. Add length and intensity as you feel comfortable, stable, and strong.
If you're someone who uses a cane or walker, please continue to do so. However, don't let that be a deterrent from walking! Keep these supports close and continue to focus on posture, form, breath, and steps. And have fun!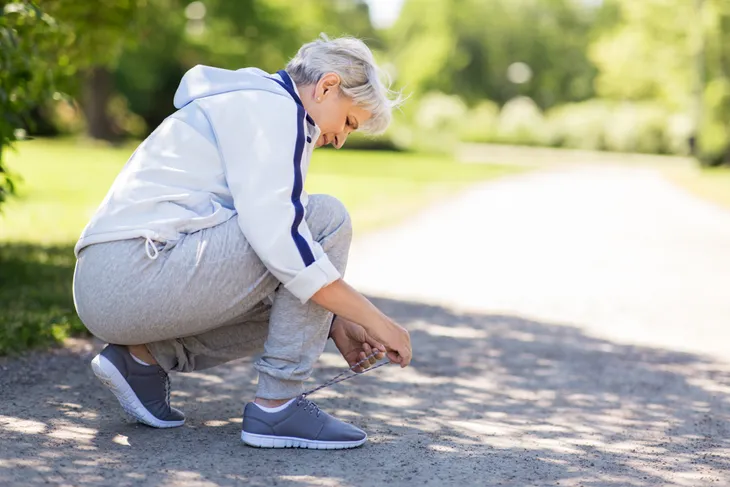 Low Impact Walking at Home Workout for Seniors (with Core Exercises)
Let's take a walk!
In this exercise video we will be "walking" together for 30-minutes while incorporating some other fun cardio moves. In total, it will be about two miles. After our walk, we will sit for a strong core workout and a good stretch. Remember all of this can be modified to stay seated. You will need a chair, some water, and a weight for the core portion.
For more videos by Meredith, check out Senior Fitness with Meredith.