The secret to keeping our joints healthy and strong as we age is to stay active and exercise regularly. In order to exercise safely and reap the positive benefits of losing body fat and strengthening muscles and joints is to wear the proper footwear. Wearing the proper shoes can help prevent injury, maintain balance, and ensure we're doing the exercises properly!
There are so many options of footwear to choose from — it can be overwhelming! There are so many different brands and styles, it's hard to know which ones will be the right fit for you and help you achieve the goals you have in mind. I would highly recommend booking an appointment with your local podiatrist or physiotherapist for help. Both of these professionals are qualified to assess your feet, your gait (walking style), and prescribe advice on the style of footwear that is going to suit you best.
Shoes can be quite expensive, so you want to make sure you get the right pair for you. With that in mind, here are five considerations when deciding on the best footwear for exercise.
Want senior content delivered straight to your inbox? Sign up for our exclusive email list and receive articles and news on diet & nutrition, fitness, and mental health dedicated specifically to our senior audience!
Type of Exercise
Certain types of exercise need more caution and care than others when it comes to proper footwear. These exercises would be running, dancing, walking or cycling. You'll want to make sure you have lots of support from your footwear in order to avoid any injury or pain.
Another thing to take into consideration are any underlying injuries or conditions that you might have. Your footwear will be the first line of defense against flare ups in pain and discomfort. For example, if you have a condition such as bunions, you'll need plenty of forefoot space to avoid aggravation and limit any symptoms.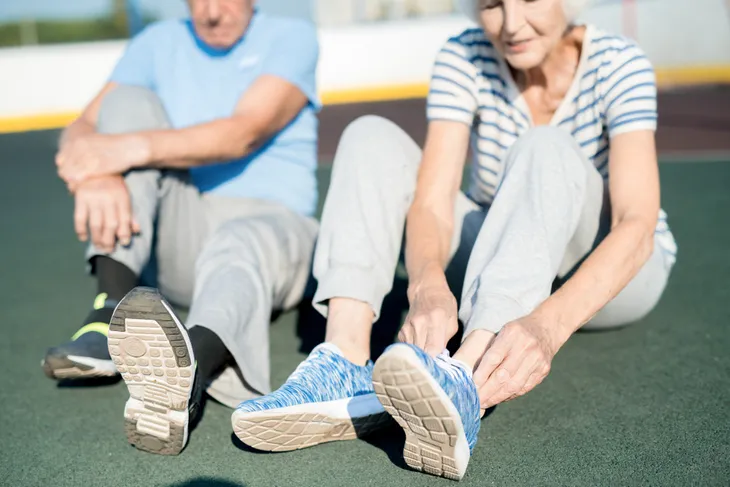 Level of Support
As we previously mentioned, certain exercises need more support. Are you considering taking up a high intensity exercise like running? If so, you might require a shoe that is more supportive to your foot and ankle. On the other hand, if you're planning on exercising daily with leisurely walks, you likely won't require as much support.
A minimalist style of shoe typically has a very soft and flimsy outer shell with minimal foam padding on the sole. Whereas a more supportive shoe is going to have a firm outer shell and a thick sole to help absorb any impact that may come from your foot striking the ground. If you're planning on dabbling in a few different types of exercise that may require different levels of support, it's best to invest in a couple of pairs. If you're concerned about affordability and only want to purchase one pair of shoes, I would suggest going for the shoe with more support.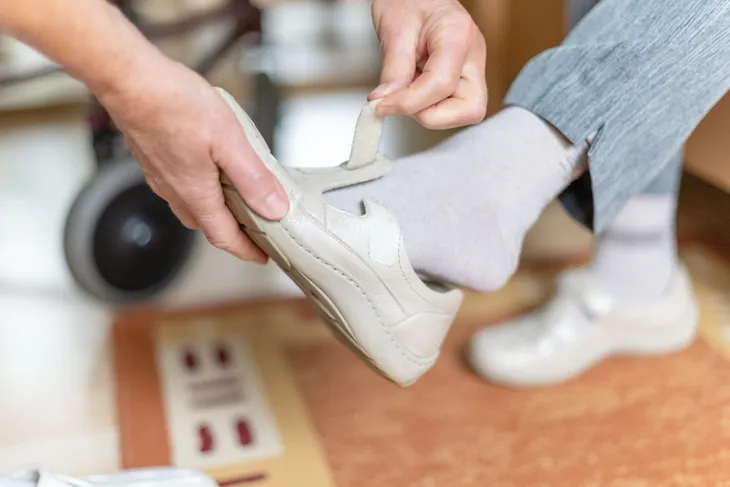 Pattern of Wear on Your Shoes
If you have an older pair of shoes, flip them over and have a look at the soles. This will give you a good idea of what to look for when shopping for a new pair. You will either see more wear and tear on the front portion of your older shoes, or wear on the bottom outside or inside of your shoe.
Make sure to bring your old running shoes into the store or when you visit your podiatrist so they can help you buy a pair that suits your gait style. For example, if you have more wear and tear on the outside of your older shoes, you'll want a thicker sole in this area to provide you good support in your new pair.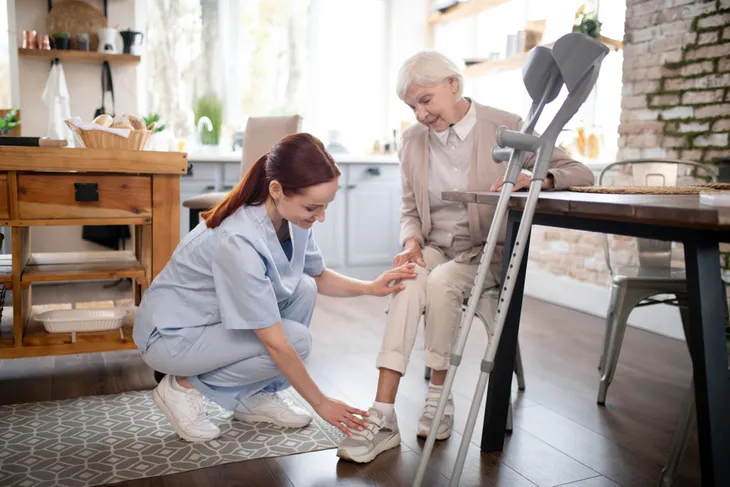 Foot Shape and Arch Support
Every person has a different foot shape which plays a role in their balance (whether it's good or bad) and how their foot strikes the ground during exercise. Some people have high arches while others have flat arches. Another common problem is feet that fall inwards or outwards when standing. These things are important to know because they determine foot type and what kind of shoe would provide the best support.
Head to your local podiatrist, physiotherapy or running shoe store where they can perform a gait analysis to tell you which type of foot you have and which style of shoe you should be looking for.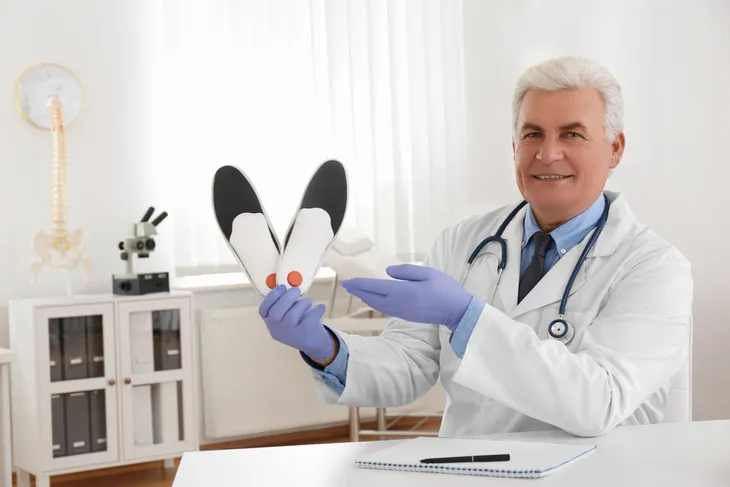 Comfort and Style
At the end of the day it's important to purchase shoes that are comfortable. This might mean trying on several pairs and walking or jogging around the store. Don't be shy!
When trying on shoes, try to envision yourself exercising in them to help determine if they're going to be comfortable on a long walk or run. The more comfortable and stylish the shoe is, the more you'll look forward to lacing them up for your exercise sessions!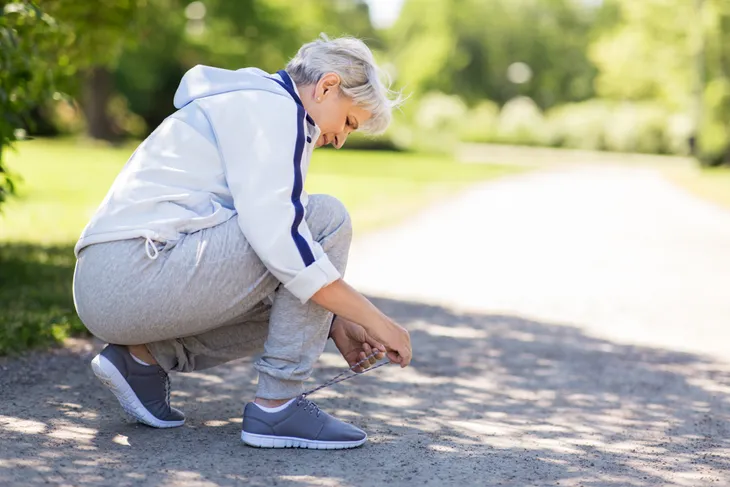 Best Overall Shoe
Buy it here: https://amzn.to/35BdLgn
Looking to purchase a new pair of shoes, but not sure where to start? The ASICS Women's Gel-Kahana 8 Trail Runner (they come in a male version as well) fits all the categories we just talked about: comfort, support, shape, and style.
The ASICS Gel-Kahana 8 Trail Runner features plenty of support, a flexible yet supportive midsole, plenty of traction on the outer sole to prevent slips and falls when walking outside and is rated to be very comfortable through its cushioned dual-density shock absorbing midsole. It would be a great shoe for both elderly men and women to wear when exercising.