A double chin is a layer of fat that develops underneath the chin.
Double chins are common and can be caused by several factors, including age.
Certain exercises and dietary adjustments may help reduce the appearance.
If you have a double chin that you'd like to get rid of, then you're far from alone. In the age of selfies and video calls, we spend quite a bit of time staring at our faces. Over the last couple of years, you may have noticed a few things you'd like to change, such as a double chin.
As long as an underlying health issue isn't the cause, a double chin isn't a health concern. But if it bothers you, then you can try several things to help reduce the appearance. Here are seven exercises that may help, plus other measures like dietary changes.
What Causes a Double Chin?
A double chin, also called submental fat, occurs when a layer of fat develops under the chin. It's a common condition that many people experience. In fact, Women's Health talked with a doctor who says about 70-percent of adults have one.
While a double chin can be caused by weight gain, that isn't the only cause. Other factors that contribute to the formation of double chins include age, genetics, and even posture. For instance, Livestrong says a person who isn't overweight can develop a double chin if they have sagging skin.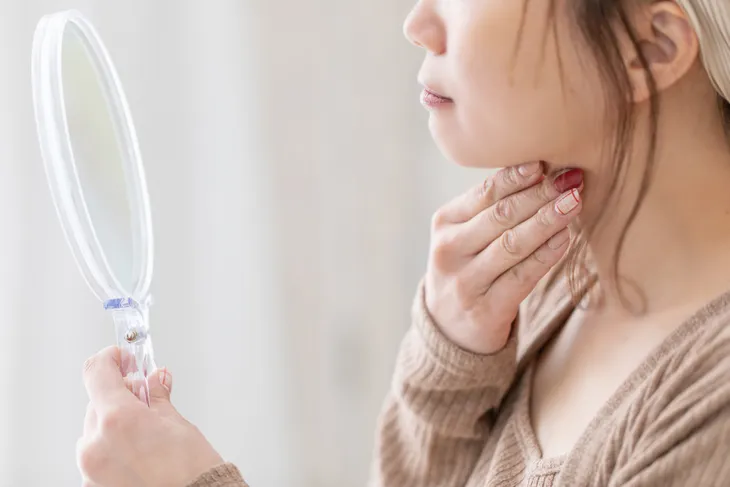 Around the World Warmup
Whenever you exercise, it's a good idea to start with a warmup. You don't want to wind up with an injury, after all. With this in mind, Medical News Today suggests starting with this warmup:
Gently rotate your head in a clockwise motion, starting with your head forward and down
Continue rotating your head clockwise for a few rotations, then reverse your direction
Then extend your jaw to the left, forward, right, and forward again for a couple of seconds each
Once you've warmed up your muscles, you can move on to your next choice of exercise.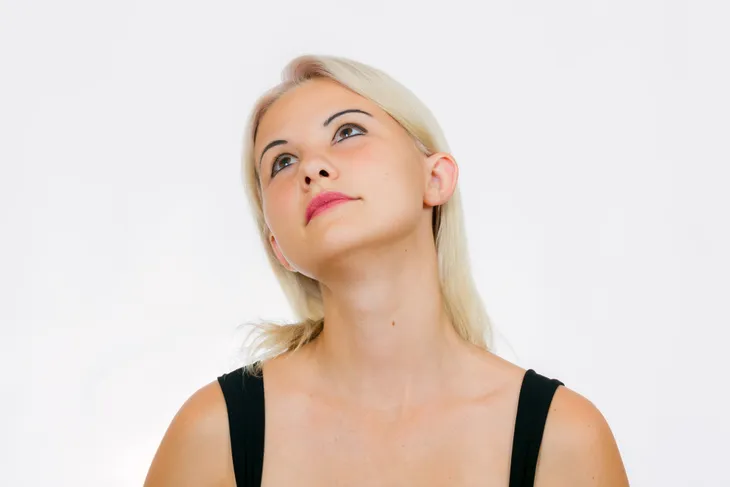 The Thinker
First up, we've got an exercise that Women's Health calls "The Thinker." You know, like the bronze sculpture by Auguste Rodin. Here's how to do it:
Wrap your hand into a fist and rest your chin on it
Maintain pressure from your fist and open your mouth
Then close your mouth and repeat the process 10 times
It's important to sustain pressure as you rest your chin on your fist — "like you're feeling the weight of the day," as the source puts it.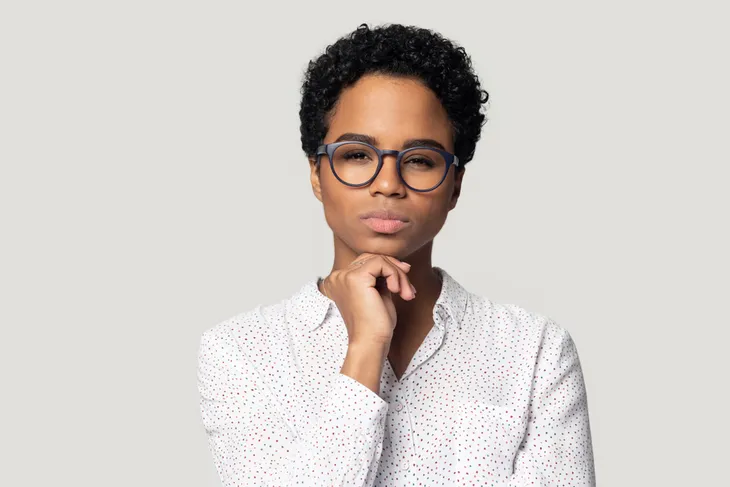 Straight Jaw Jut
The "Straight Jaw Jut" is another option that can help tone the muscles around a double chin. Healthline says to follow these steps:
Lean your head back and look up at the ceiling
Extend your jaw forward and hold for 10-seconds
Then relax and return your head to the original position
Repeat the above process 10 to 15 times after that
According to the source, you should feel a stretch under your chin when you jut your jaw forward.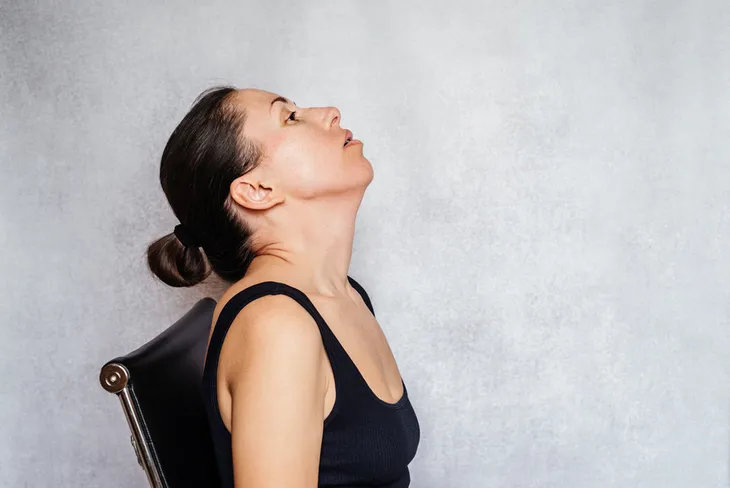 The O
You can also target the area around a double chin with "The O." This one's a Livestrong exercise. Here's how it goes:
First, sit with a straight back and shoulders down
Tip your head back and look up at the ceiling
Close your mouth with your lips gently together
Keep your lips closed while you puff up your mouth like an "O"
Hold this position for 20-seconds, and then relax your mouth
Lower your chin, and then repeat the process nine more times
The source recommends doing two sets of "The O."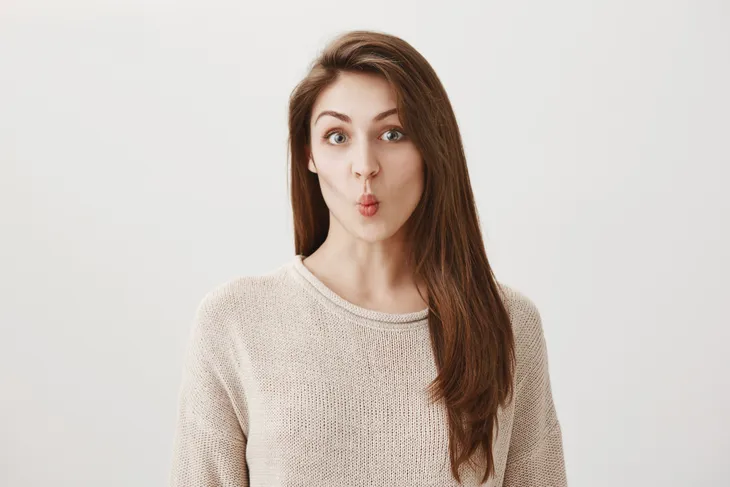 The Ball Squeeze
Next up, we've got "The Ball Squeeze" courtesy of Medical News Today. You'll need a small ball for this one. The source recommends using a ball between 5 and 10-inches. Here's how to do it:
Sit with a straight back and relaxed shoulders
Put the ball beneath your chin and push your chin against the ball
Then repeat the process 10 to 30 times
If you're looking for a way to remember to do your exercises regularly, then it can help to keep the ball somewhere in eyesight. For instance, you might keep it on your desk or nightstand.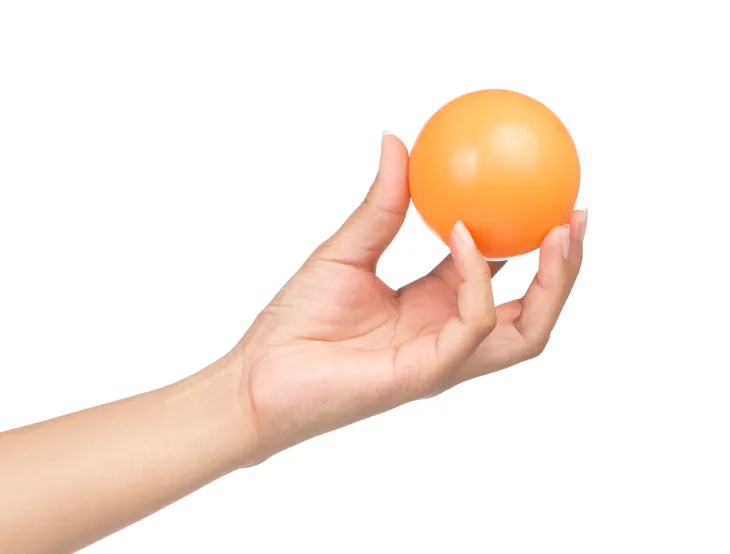 Head Lifts
Head lifts also zero in on the muscles around the neck and face. Livestrong says to follow these steps:
Lie down on your bed with your face up and your neck on the bed's edge
Keep your shoulders flat while curling your head toward your chest as much as possible
Hold this position for 10-seconds before returning your head to its original position
Then repeat the above process for a total of two reps per set
The source suggests doing three sets. However, they do recommend sitting up in between sets to avoid getting dizzy.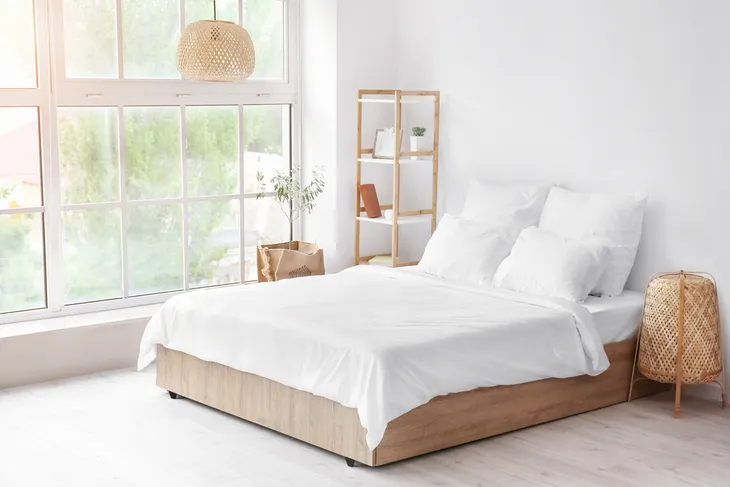 Chew Gum
Chewing gum might not seem like much of an exercise, but it can help reduce a double chin in a couple of ways. For one thing, Medical News Today calls it a "minor workout" for the face and jaw muscles. While chewing gum might not make a huge difference if it's the only exercise you do, it can help in conjunction with other exercises.
Additionally, a study shows that chewing gum after meals may help you feel full and satisfied. Subjects who chewed gum were less likely to grab snacks when they were offered. So, regularly chewing gum could play a role in getting rid of a double chin through dietary adjustments.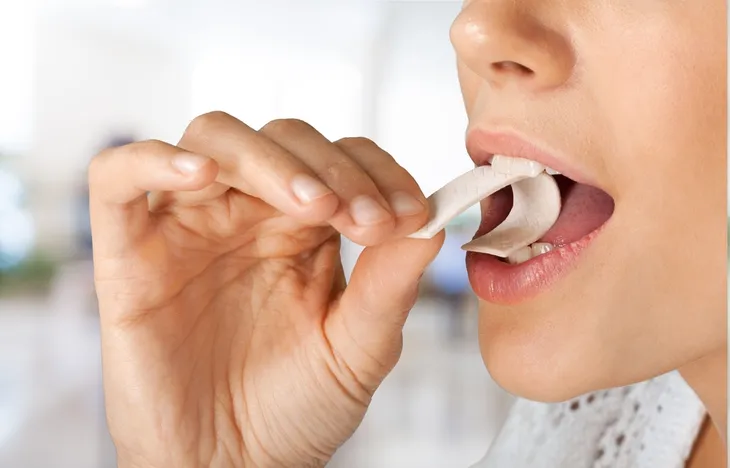 Reducing a Double Chin Through Diet
In addition to exercising, following a healthy and balanced diet can help reduce a double chin. Livestrong recommends reducing your intake of sodium and starchy carbs. For example, you may want to cut back on salty snacks like chips and crackers. Doing so can help ease water retention, according to the source.
That matters because the source says releasing any extra water your body's retaining can help reduce the appearance of a double chin. It's also essential to drink enough water every day. The source suggests aiming for 32 to 64-ounces of water per day. Plus, they say consuming more citrus juice can help since it's a natural diuretic.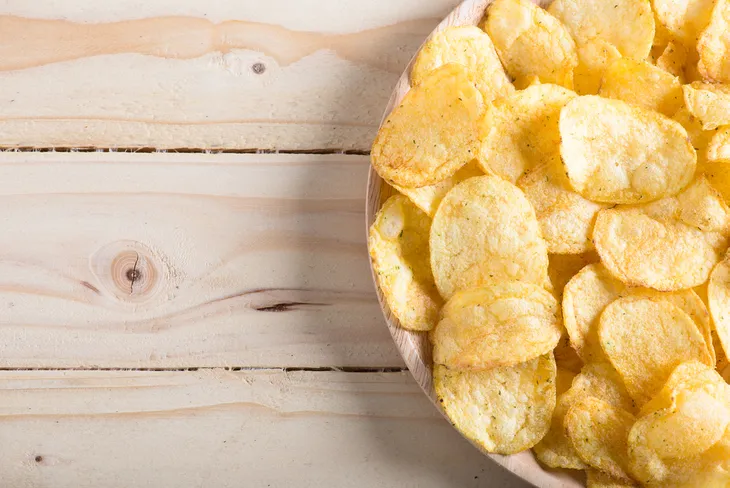 How to Apply Moisturizers and Serums
While moisturizers and serums aren't quick fixes that'll get rid of a double chin, how you apply these products can make some difference. Byrdie says, "Try applying your face serum and moisturizer to your neck using an upward sweeping motion."
This application method "helps encourage tightening and lifting of this delicate skin that's extra prone to drooping," according to TODAY. And if you aren't already moisturizing your neck and chin, the source says you may want to because the area can get crepey with age.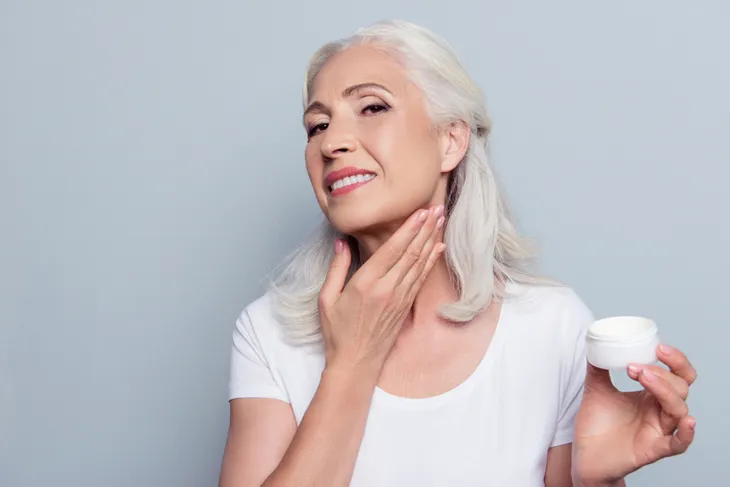 Procedures for a Double Chin
Surgical procedures and medical techniques can also help treat a double chin. For example, Byrdie says, "liposuction can eradicate a double chin, but it is invasive." It's a procedure that removes excess fat and allows the surgeon to sculpt the contour of the chin and neck.
Medical News Today says mesotherapy is another option. It's a non-surgical procedure that involves a series of injections over the course of months. According to Healthline, the injections are a combination of vitamins, enzymes, hormones, and plant extracts. Side effects of these procedures can include swelling, bruising, and pain.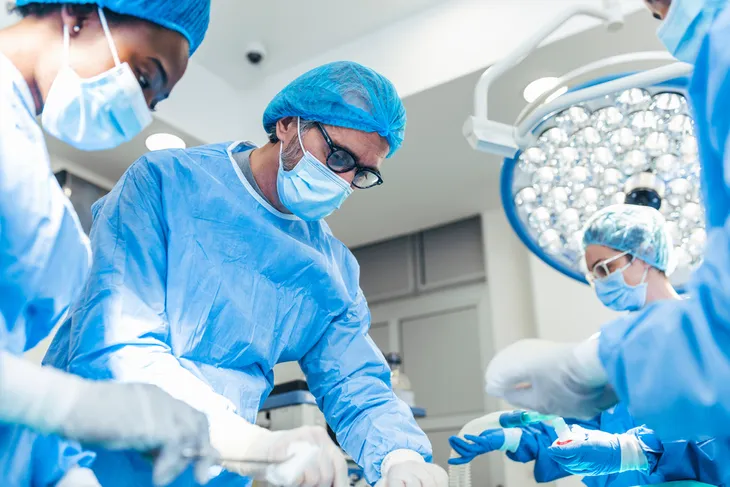 Things to Keep In Mind
A double chin isn't necessarily something to worry about healthwise. For instance, Women's Health says, "There are many, naturally occurring reasons for a double chin – genetics and small bone structure being just a couple." Extra weight can contribute to a double chin, though, so you should talk to your doctor if that could be the cause.
While a double chin isn't something to be embarrassed about or necessarily a health concern, there are some things you can do to help reduce the appearance if it bothers you. Options include exercises, dietary changes, and procedures. It's a good idea to talk with your doctor before making big lifestyle changes or health decisions.