Ankylosing spondylitis (AS) is a form of arthritis that affects the spine, but can affect other joints as well. It causes inflammation in the spine which leads to severe and chronic pains and discomfort. An important part of treating ankylosing spondylitis is to work with a physical therapist who can develop exercises that can strengthen and improve flexibility. Many of these exercises will focus on range of motion, preserving good posture, improving flexibility in the joints, and working to relieve any pain or discomfort. To get a good idea of what these exercises might entail, we've compiled a list of the best exercises for this condition.
Before trying any new stretches or exercises, Healthline advises checking with your doctor to make sure they are the right fit for you.
Child's Pose
Child's pose is a very simple exercise that works wonders to stretch the spine and muscles in the back. It can also help relieve any back pain and lengthen out a "rounded" back. Start by kneeling on the floor, slowly bring your arms out in front of you and bring your chest towards the floor. Try to hold this position for 10- to 20-seconds, and straighten out your arms, if possible. You should repeat this exercise once a day for 3 to 5 reps.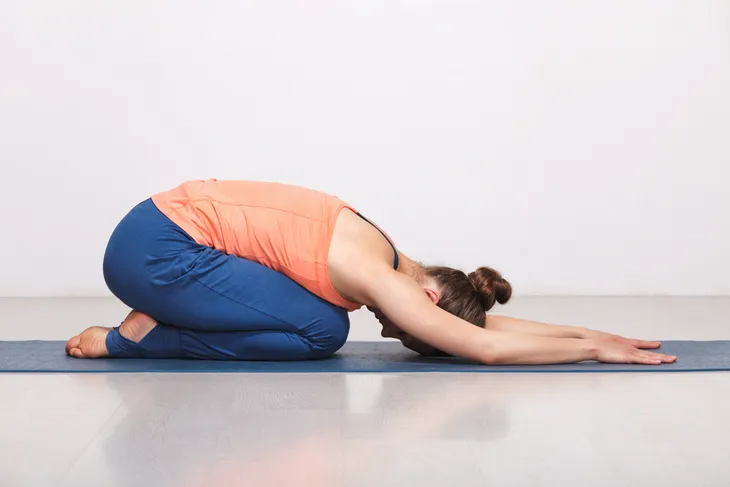 Wall Sit
One of the main things exercises do for ankylosing spondylitis is to improve posture. We'll get into posture a little more later, but this specific exercise is designed to improve posture. You begin with your back against a wall. Put your feet shoulder-width apart and slowly slide down the wall until you're in a sitting position. "It may take time, but work towards being able to get to the point where your thighs are parallel with the floor — like you're sitting in a chair," writes WebMD. Hold this position for 5 to 10 seconds.
As you get stronger, you'll be able to hold the position for longer and longer. Do 3 to 5 repetitions at a time and practice it anywhere from 3 to 5 times a week.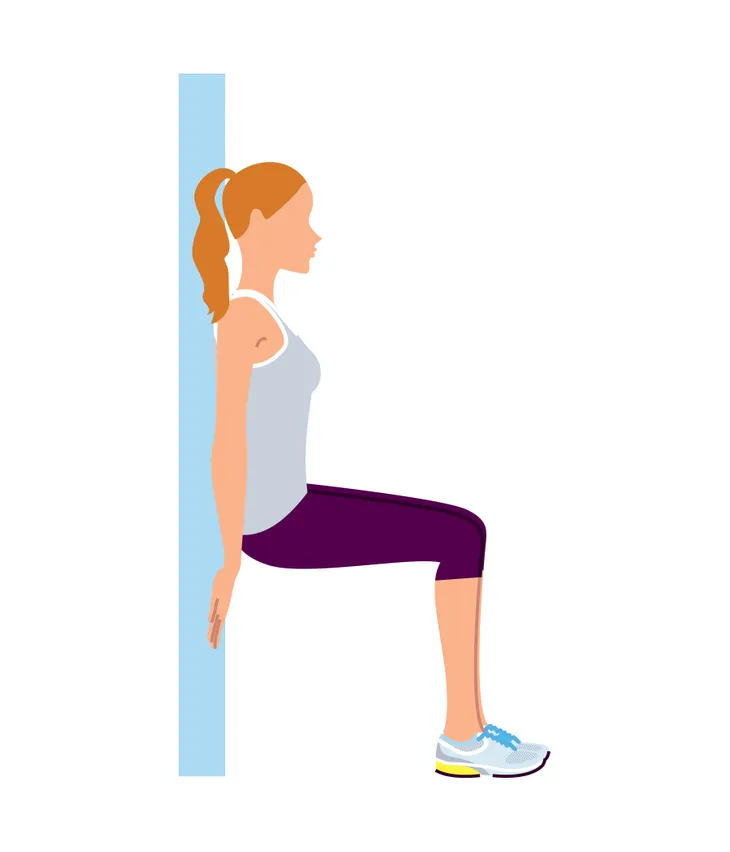 Standing Leg Raises
Standing leg raises are exactly what they sound like. You will want to use something to help keep your balance, WebMD recommends using a chair or a railing. Make sure you're standing up straight with a slight bend in the knees. "Slowly lift one leg out to the side so it's a few inches off the ground. Then lower it back to the starting position," writes the source. You want to kick the leg out at a 45 degree angle, so not too high otherwise you'll be tempted to curve your back.
The most important part of this exercise is to maintain good posture the entire time. In order to do so, you want to only lift your leg to a certain height. You also need to make sure that you're not bending at the waist. Repeat this exercise 10 to 15 times and do it 3 to 5 times a week.
Roll Your Shoulders
We carry a lot of tension in our shoulders, particularly those who are struggling with ankylosing spondylitis. To help relieve this tension, you can roll your shoulders backwards to loosen up. WebMD says to sit or stand up straight before performing the exercise and be sure to keep the spine as straight as possible throughout the entire move.
Begin by gentling shrugging the shoulders up and down, pulling them toward the ears. Once you've done that a few times, then begin to gently move your shoulders back and down. You should feel this move in the upper back. "Think about pulling your shoulder blades together and down in a rolling motion. Then pull your shoulders back up toward your ears," writes the source. Perform this exercise 5 to 10 times a day on a daily basis.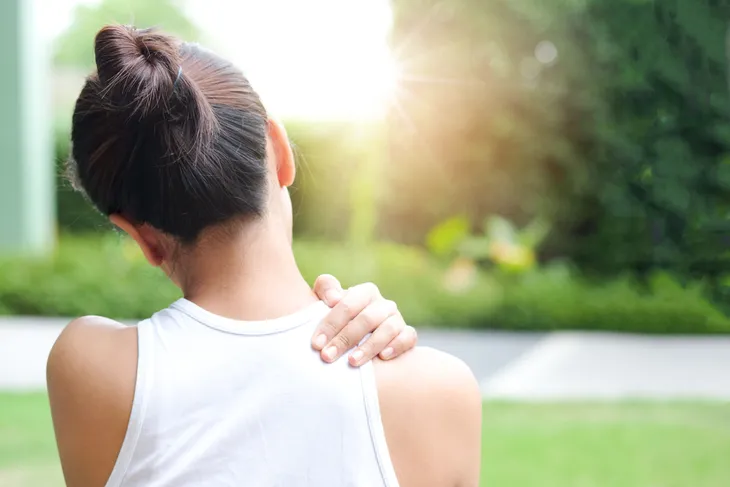 Stretch Your Hips
This stretch is amazing for people who spend lots and lots of time sitting down. Kneeling down and stretching the hips forward will lengthen the muscles in the front of the hips. These muscles are important to ankylosing spondylitis because they are connected to the back. To perform the exercise, get down on the floor. Take a big step forward and sink into a lunge. "Move your back knee down and rest it on the ground. Keep your back upright," writes WebMD. "Be mindful not to bed forward at the hips. You should feel this stretch in your back leg (the one that is resting on the ground). You'll feel it on the front of the thigh and hip."
To create an even deeper stretch, hold it for 20 to 30 seconds. Repeat this stretch with the other leg. If you find that you're a little wobbly, that's okay. Use a chair to help keep your balance. The source advises doing this stretch on a daily basis.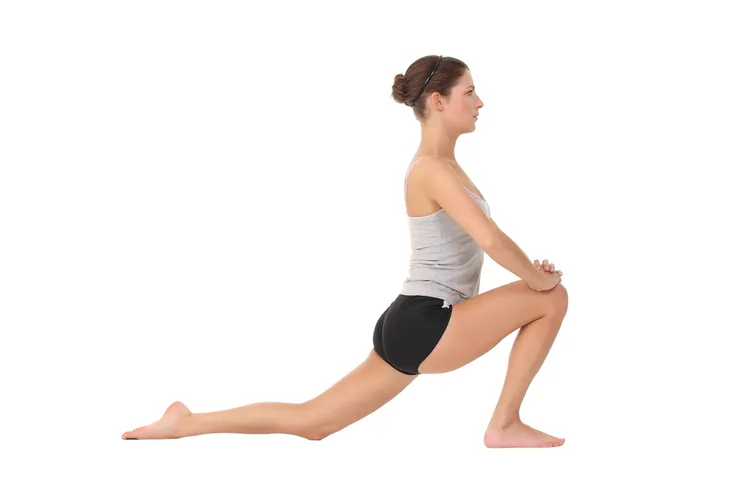 Plank
The plank is an exercise that benefits us all, whether you suffer from ankylosing spondylitis or not. It not only works to engage the core, but also strengthens the back and glutes. Before trying this exercise at home, make sure that you are strong enough. There are many different variations that you can do that are tailored to your abilities and limitations. To start, WebMD advises tackling a standing position with your feet flat on the floor and your forearms on the kitchen counter. If you can accomplish that easily, then move onto the plank.
Begin by kneeling on a mat with your forearms against the ground. "Push your legs out behind you and balance on your toes. Squeeze your stomach and butt muscles to hold your body in a straight line," writes WebMD. Make sure you're neck is engaged to support the head. Don't crane your head around or let it hang loosely to the ground either. "Keep your neck in line with your spine. Hold for 5 seconds. Repeat 3 to 5 times." You can add more repetitions as you get stronger. Just like all the other exercises on this list, practice it 3 to 5 times a week.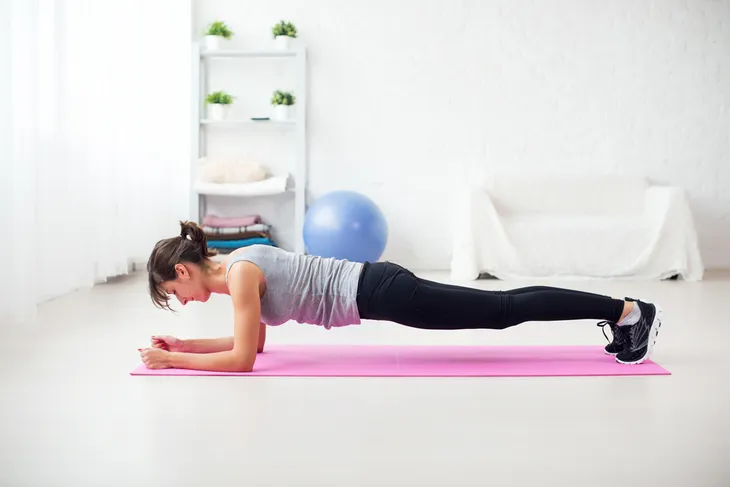 Open Stretch Your Chest
Stretching open the chest is one of the most satisfying stretches because it's one that we often forget about. This exercise is super easy. All you need is a corner to stand in. Find a corner, face inward into it. Place a palm on each wall and gently press your chest in toward the corner.
You should feel the stretch right away as the arms create resistance. The stretch should be felt across the chest, and "along your back, you'll feel your shoulder blades move toward each other," says WebMD. Hold this exercise for 20 to 30 seconds and try to do it on a daily basis.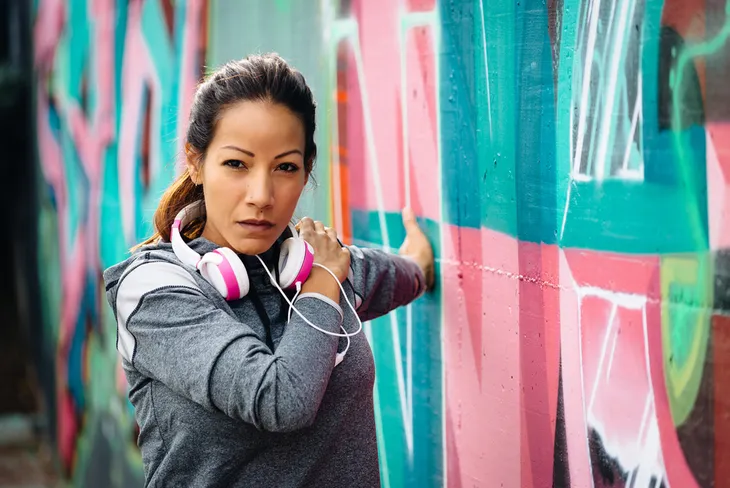 Go For a Walk
Walking might not sound like the most strenuous form of exercise or like it's important at all considering we all walk all the time, but going for a brisk walk every day can do wonders for our body. Even a mild form of exercise like walking can help boost the heart rate, release endorphins, ease pain and reduce inflammation, says WebMD.
Unlike swimming which we'll get to later, walking forces our body to strengthen the joints and muscles by putting weight on them. "It helps 'feed' the cartilage in your joints and spine," writes the source. "Get your heart pumping most days of the week. Start with 5 to 10 minutes a day." As you get stronger, you should try to work up to a 30-minute walk or more. If you're not there yet, don't worry. Even just 5 to 10 minutes here and there is better than nothing, and after a while, you're bound to start seeing improvements!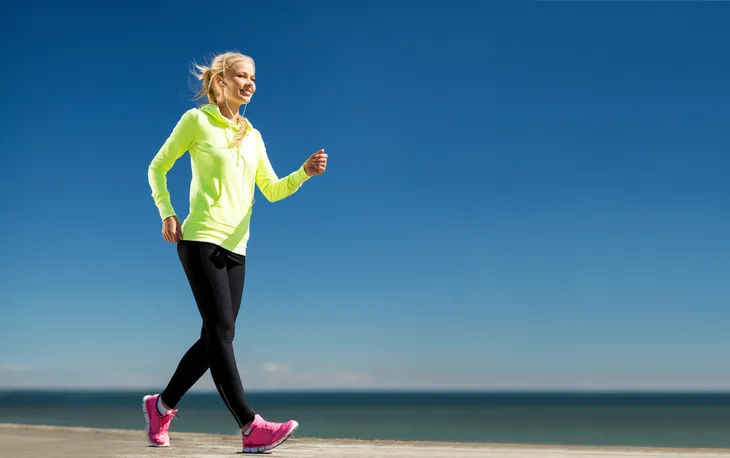 Chin Tucks
Chin tucks aren't the most flattering move in the world (hello, double chin!), but they are effective in releasing any tension in the neck. WebMD notes that patients with ankylosing spondylitis often get headaches due to the tension in their neck from leaning forward. Doing chin tucks can help strengthen the neck, keep good posture and relieve any tightness in the neck and upper back.
To perform this exercise, start by lying on your back. "Without lifting your head off the floor, tuck your chin in slightly toward your chest. Hold for 5 to 10 seconds. Repeat 3 to 5 times," explains the source.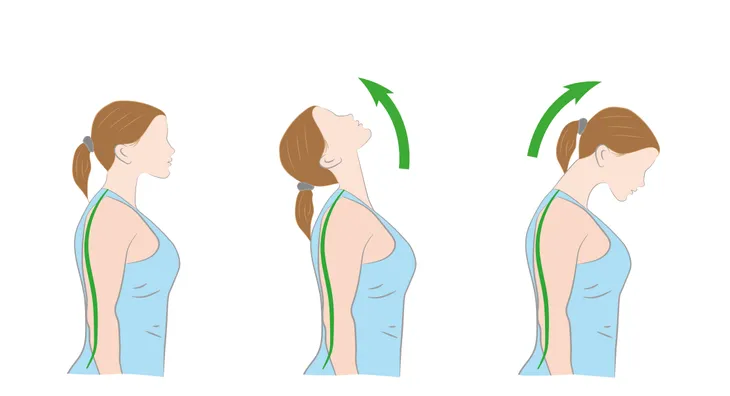 Practice Good Posture
There are so many different ways that we can practice good posture and most of us need all the help we can get because even those without AS struggle to maintain good posture. Healthline says posture can be practiced when walking, sitting, sleeping, while lying down and standing up. Each of these positions require good posture. To practice posture while standing, the source recommends doing it in front of a full-length mirror. When standing in front of the mirror, find a wall and stand with your heels up against the wall. Keep the shoulders and buttocks back and as close to the wall without straining. Hold the position for 5 seconds.
To practice good posture while laying down, first of all, only do it on a firm surface. Healthline advises to "lie face down for 15 to 20 minutes. (If you can't do this comfortably you may use a pillow under your chest and place your forehead on a folded towel). You may keep your head downward, turn it to one side, or alternate sides." If you can't do this for 20 minutes, that's okay. Begin with whatever you can do comfortably, and work your way up.
Walking posture is all about paying attention to how you're walking. Keep the spine as straight as possible, the shoulders squared, and head held high. If you're someone that sits all day long at a desk, you might want to invest in an ergonomic chair. Just like walking, be conscious about how you're sitting. Sit up as straight as possible, keep the shoulders squared and head held high. Be sure to check in with yourself throughout the day and if you find yourself slipping, or rather, slumping, correct yourself.
Lastly, let's talk about sleeping posture. That's right! There is such thing as sleeping posture. Healthline says to sleep with the spine as straight as possible. Your mattress should be firm, but not too firm. If you sleep on your stomach, don't use a pillow. If you sleep on your back, use a thin pillow or one that is designed specifically for the neck. Also, avoid curling your legs at all while sleeping.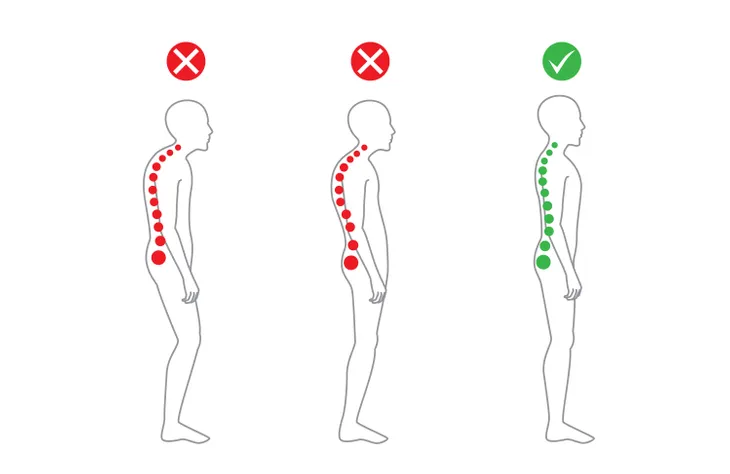 Deep Breathing
Deep breathing is a great exercise to not only help reduce stress, but also for ankylosing spondylitis. It works to increase lung capacity and keep the rib cage flexible, says Healthline. You can perform this exercise by sitting or lying down. Begin by breathing normally, then start to take really slow, deep breaths. "You should feel air enter through your nose and move toward your lower belly," writes the source. "Allow your abdomen to expand fully."
Take deep breaths slowly through the nose or mouth while placing one hand on the abdomen. This hand should feel the stomach rise and fall as the chest inhales and exhales. To maintain air supply, rotate between normal breath and deep breaths with only a few at a time.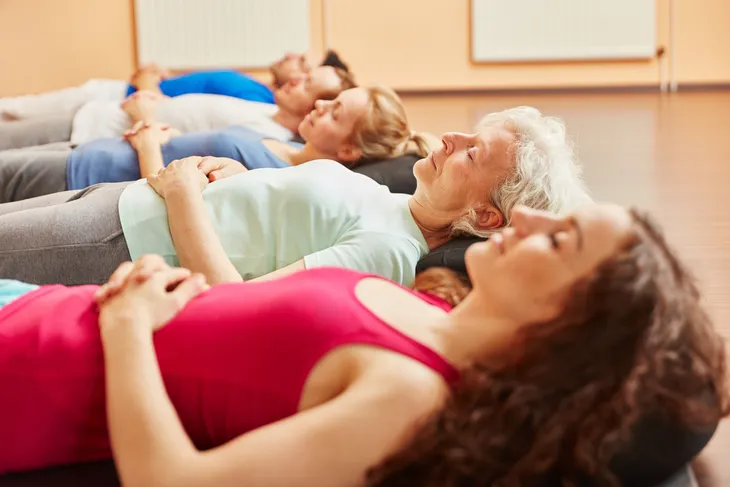 Swimming
Swimming is the perfect for of exercise for many health conditions because it removes the strain of weight and makes the body buoyant. Swimming is often recommended for conditions that revolve around weak joints or inflammation. When it comes to ankylosing spondylitis, Healthline says swimming can help with chest expansion, a common problem for people with AS. The best exercise to practice in the water is breaststroke because it helps build and maintain chest expansion.
"Swimming in general is a great way to increase flexibility in your spine without jarring it," writes the source. "It also helps to increase flexibility in your neck, shoulders, and hips." Many people who have limitations with their flexibility and joints find aerobic exercises a lot easier to do in the water.