Exercise can be mundane and boring. For some, venturing to the local gym to workout isn't enough encouragement. A four-legged fitness buddy may be exactly what you need to get off the couch and out the door. Here are seven ways to get exercise with your dog that will make you both happy…
1. Walking
Aside from companionship, most dog owners welcome a dog into their family to have a walking companion. Brisk walking is a great way for both dog and owner to get some exercise. Not only does is lead to a strong heart, lower blood pressure, denser bones, and more energy, it's a great way to bond with your pooch.
Enlisting the help of a dog trainer can teach you and your dog how to walk nicely on a leash without pulling. There is no rule as to how far you should walk, but make sure if you have a puppy, that you build up the duration of the walk gradually.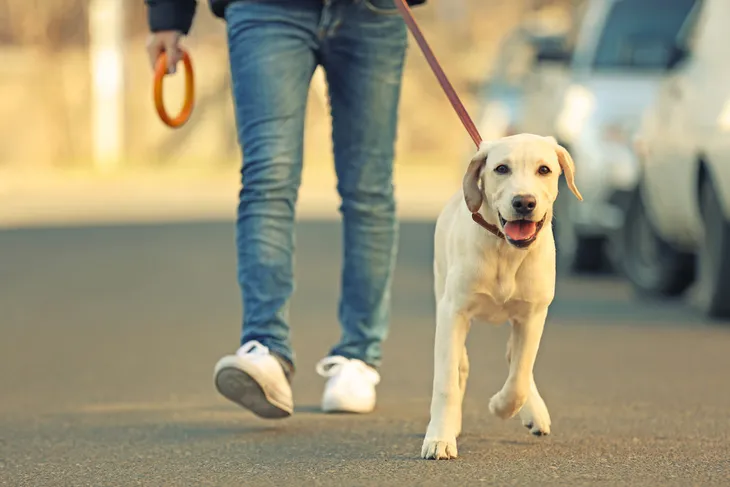 2. Dancing
Whether in the comforts of your own home or at the dog park, having fun with your dog reduces anxiety, lowers blood pressure, and brings a smile to your face. If long walks or hikes don't entice you and your pooch, you can practice your doggie dance moves.
Have your dog run between your legs, around you, jump around and other tricks. You'll both get an aerobic workout and enjoy some quality time with your dog.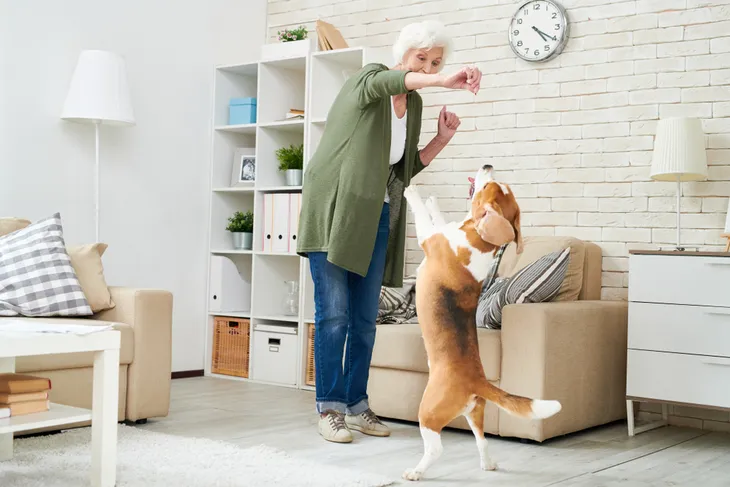 3. Hiking
What nature lover doesn't love to hike a trail through meadows and forests? Most dogs love to go out and explore with their owner. You'll both benefit from an elevated heart rate, especially if there are hills to climb along the way.
When hiking in the woods, remember to cover up and apply insect repellent to protect yourself from ticks and insects. Tick and flea prevention and a Lyme vaccine are recommended to keep your pooch safe. Once your home, inspect your dog and yourself for any unwanted ticks that may have come home with you.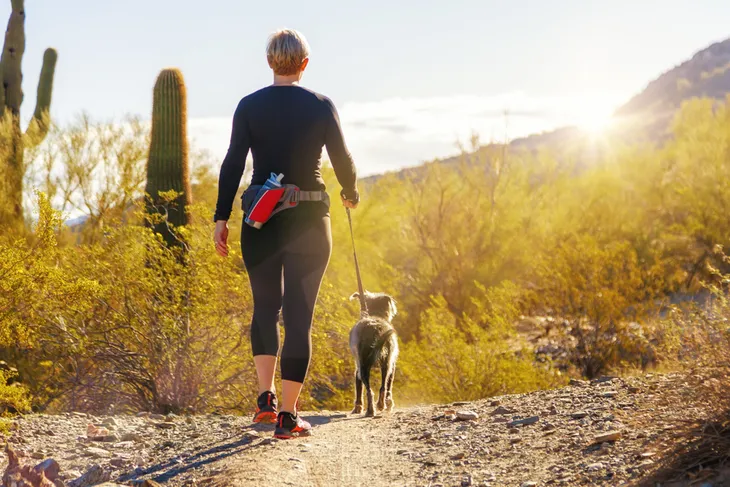 4. Swimming
Swimming is a great low-impact activity for people and dogs, especially if your dog is a senior who suffers from arthritis. It's easy on the joints and the water can be quite soothing. Not all dogs enjoy swimming, so if you're just starting a swimming routine with your pooch, go slowly.
As with any sport involving water, safety is of the utmost importance. Some dogs get very excited when in the water and they could accidently push you down or scratch you. If your dog loves to play fetch, the game can easily be played in pool or lake.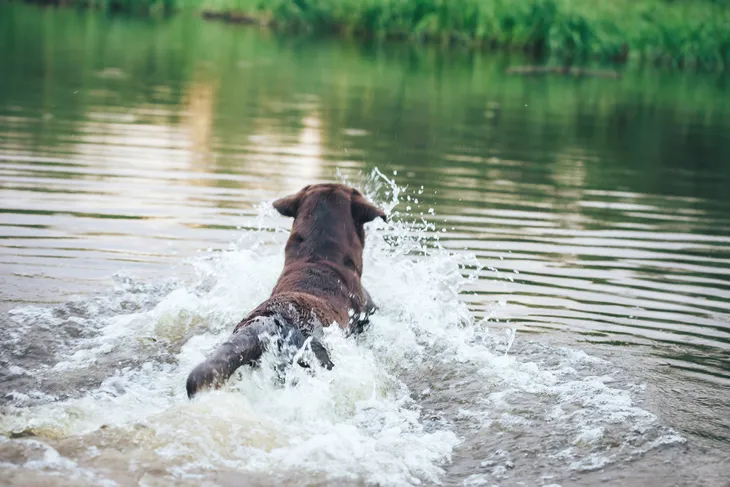 5. Jogging
While many joggers enjoy the solitude of running along, a dog offers companionship and protection, especially if running in the dark. While not all dog breeds are built to jog, you want to choose a breed that can physically endure the distance and pace you maintain. Wait until your puppy is full grown and then gradually build up to a 30-minute jog with a 5-minute warm up and cool down.
If you notice you're dog lagging behind, don't force him to keep up. It's your responsibility to monitor his comfort level while out for a jog and remember, dogs don't sweat, so avoid going out during the hottest part of the day. If you're running in the dark, make sure you and your dog wear reflective gear, so motorists can see you in the dark.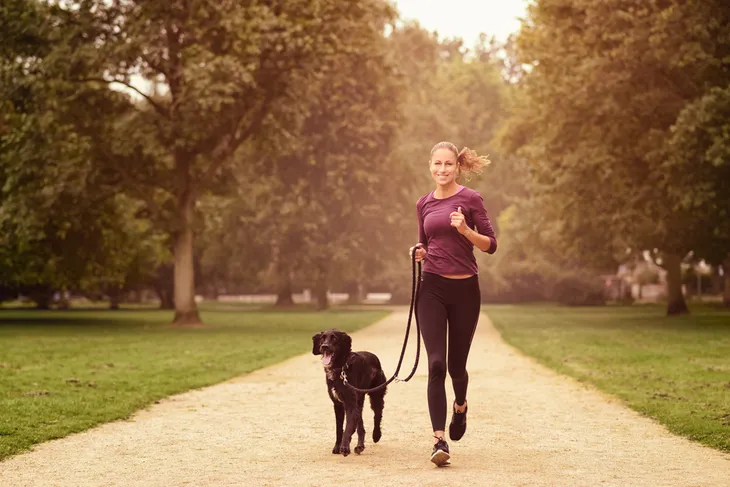 6. Agility Training
Agility training is a popular goal-oriented sport for dog enthusiasts. Your dog races through an obstacle course with tunnels, hurdles, poles and ladders, while you run alongside guiding and encouraging him. It's a fast paced workout for you and your dog and it provides a great opportunity to hone your dog's listening skills.
If you're looking to participate in agility training with your dog, find a local dog trainer in your areas that offers beginner classes. Just like any sport, the skills need to be taught and practiced to avoid injury. If you're not sure whether your dog will like the obstacle course, you can try it out a home by setting up a few lawn chairs with broom handles laid across the chairs to create jumps.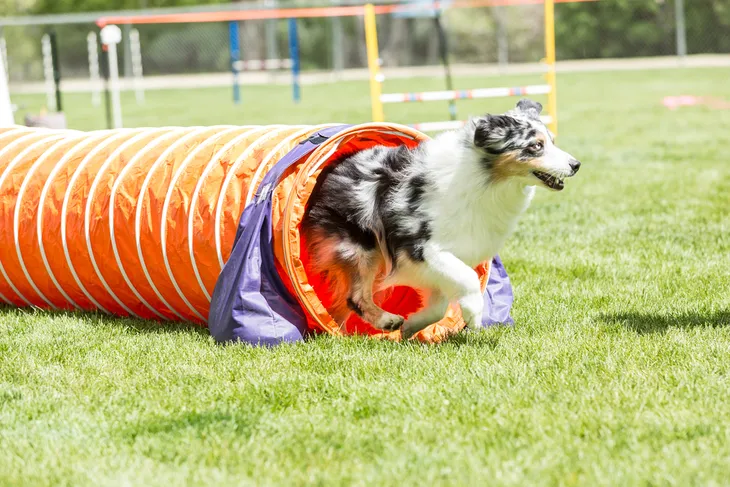 7. Rollerblading
With proper training, rollerblading can be a great activity for you and your dog. Obviously you need to be confident in your own rollerblading skills before you attempt to bring your leashed pup along. Just as you would train your dog to walk beside you on the leash, the same techniques can be used for rollerblading.
The goal is to have your dog walk or run nicely beside you without pulling or yanking on the leash if he seems something like a squirrel. By using treats as a positive reinforcement and having someone with you with their feet on the ground, you can easily teach your dog to learn how to run nicely beside you as you rollerblade.