One of the hottest new trends in the fitness world is the use of resistance bands, or long and highly flexible rubber bands that can be used to perform a wide range of resistance-based exercises. Like the many physical exercise routines you can complete using only your body weight and gravity, it's the simplicity of the resistance band workout that makes it so very effective.
But that leaves a big question: why should you bother with such a workout? What can a resistance band workout accomplish that another type of workout can't? There are a few important reasons to implement a resistance band workout today. Let's take a look at some of them here.
It's Cheap
You can spend hundreds or even thousands of dollars each and every year paying for a gym membership that will simply allow you to use someone else's workout equipment. Or, you could pay that much (or possibly more) to build your own workout machines at home.
But there's a third alternative: you could try simple and highly cost-effective options like bodyweight exercises and workouts based on a resistance band routine. Most resistance bands are available for under $50, with some coming equipped with video that can show you the proper way to perform a variety of resistance band exercises.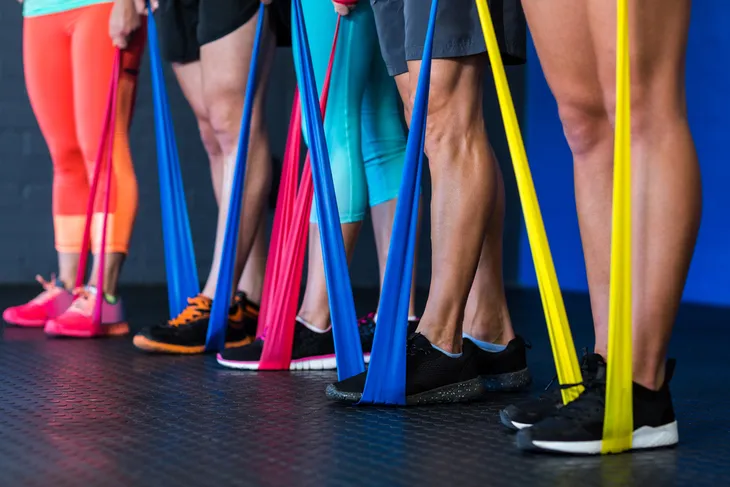 It's Highly Customizable
You can go to a gym for years and still not be completely sure how to customize much of the workout equipment found there. And that's only more problematic if you attend a high-cost gym that swaps out its equipment every few years in order to keep things up-to-date, safe, and interesting.
With a cost-effective resistance band routine, you can make changes to your workout simply and easily. On top of that, there are a range of resistances available for these bands — like light, medium, and heavy — meaning you can pick up one that matches your level of comfort.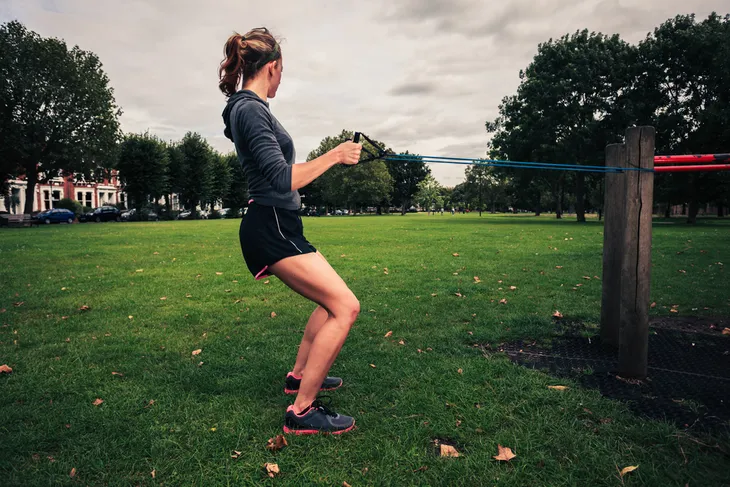 It's Familiar But Different
Sometimes when we're looking to mix things up and make our workouts more interesting, we're not actually looking to reinvent the wheel. Instead, we want something that's familiar but different — something that we can implement without taking hours, days, or weeks to figure out.
You can do that with a resistance band workout. Many of the exercises are familiar to those you've come to know, like push-ups, sit-ups, and bicep curls. But the resistance band adds a whole new dimension to these established and well-known workouts, keeping things interesting while helping you to reach new fitness levels.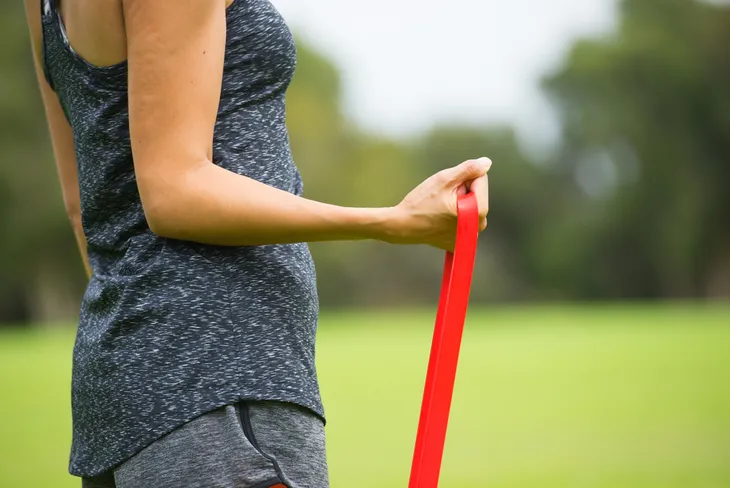 It Works the Whole Body
Many exercise routines work the upper body, the lower body, or the core, but it can be hard to find those that provide a full-body exercise regimen. And yet, that's what's required if you want to build lean muscle across your frame, giving you the tools you need to compete in a variety of athletic activities, or simply feel the best about your overall fitness level.
A whole body workout is very accessible using a resistance band routine. How so? Because these routines allow you to tap into essentially every significant muscle group in the body, allowing you to access and improve muscles that other routines — such as those based on cardio or weight machines — can't touch in the same manner.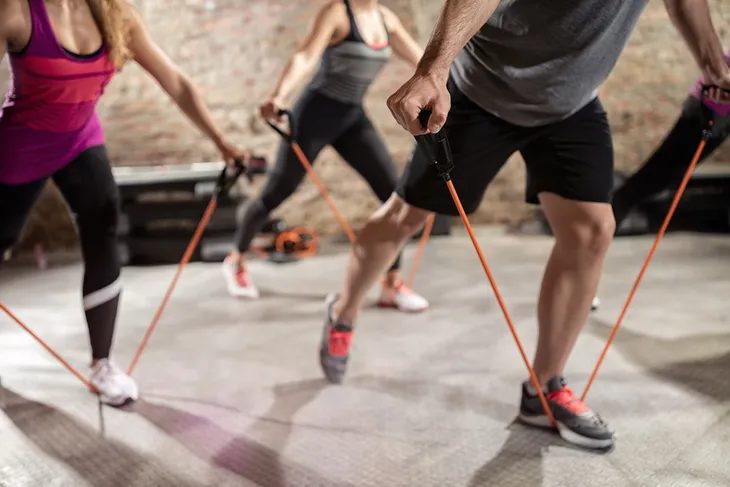 Free Up Space at Home
One of the major drawbacks of building a gym in your home is that the process can require a lot of space — in some cases, it might result in you losing an entire room or a large part of your basement. But what if you live in an apartment or condo and have limited space? What if you share a home with family members or friends? It can present a lot of problems for those who don't want to go to a gym, but do want to have access to the same kind of workout. That's why there are so many home workout machines that are designed to stow away easily, allowing you to do them with limited space.
A resistance band takes up next to no room, and most of the exercises you'll be performing will require very little space. Since many resistance band exercises are similar to bodyweight exercises, like push-ups or sit-ups, they require only as much space as your body does.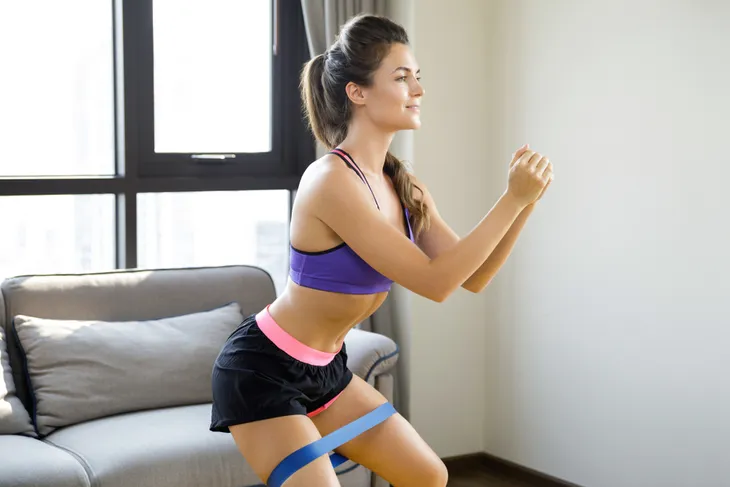 It's Highly Portable
A resistance band takes up very little room in the home, which means it's really easy to transport and use while you're away on vacation or a business trip. Most are roughly the size of a jumping rope, so they fit inside a suitcase or overnight bag very easily.
Even better, because resistance band workouts require so little room, you can carry out a normal exercise routine wherever you go. Whether you're staying in a hotel, chalet, or simply crashing with a friend or family member, you can take your resistance band workout on the road with you and not miss a beat fitness-wise.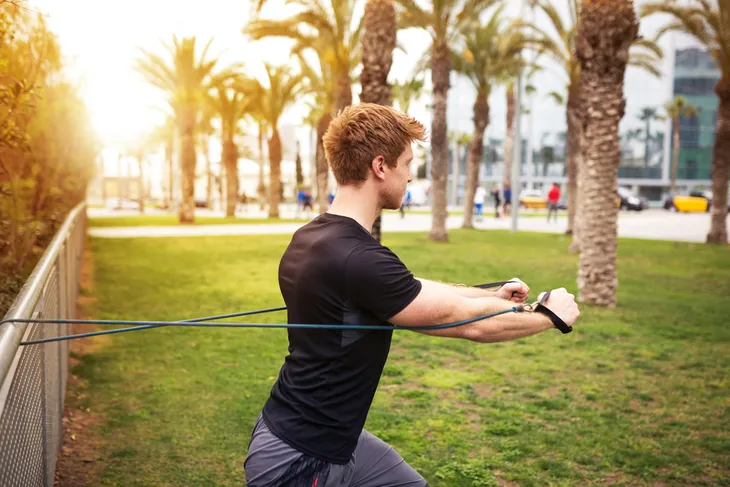 Shake Things Up
One of the great challenges of staying fit and maintaining your fitness goals is keeping your workouts interesting. Part of the problem is that it's so easy to settle into a routine that you know and like; unfortunately, even if you love the routine you've put together for yourself, it can get old fast. And if you fail to make the necessary adjustments to spice things up, you run the risk of giving up on your physical activity altogether.
That's what makes a resistance band-based workout routine so useful — it's extremely easy to switch things up and try a new exercise or entire routine. Small but significant changes to how you move and the muscle groups you activate can be enough to add variety to your regimen and keep boredom at bay.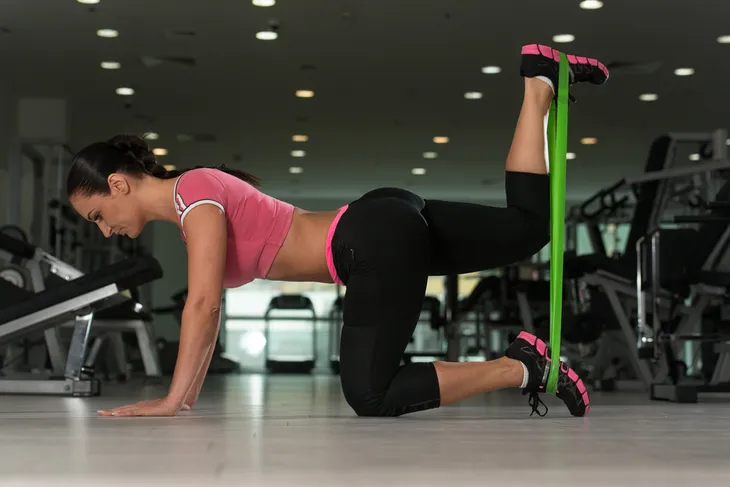 Do it Yourself — Safely
There are a surprising number of exercise routines that shouldn't be completed on your own; this is especially the case for free weight-based activities that involve lifting a lot of weight, such as barbell squats or barbell bench presses. Failing to maintain ideal form can lead to disastrous results in these cases, which is why it's essential to have a workout buddy present at all times.
That's certainly not the case for exercise routines based on the use of a resistance band. Using a resistance band to activate a variety of muscle groups poses very little risk of injury, meaning there's virtually no need for a workout buddy to monitor the situation and step in if need be. And not having to get someone to participate along with you might be enough to help you push forward with your workout.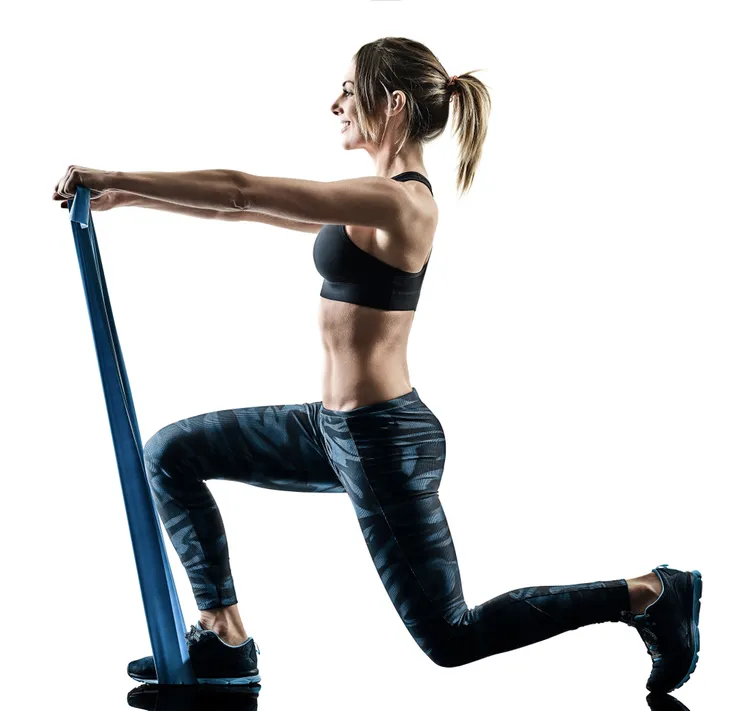 Improve Flexibility
The importance of maximizing your flexibility doesn't get quite the attention it should, but it should be on any fitness-minded individuals radar at all times. That's because a flexible body is able to withstand pressure — even the accidental kind, such as a fall — and keep injuries at arm's length. In short, a flexible individual is far less likely to sustain a mild, moderate or serious injury that could leave one sidelined for days, weeks, even months at a time.
A resistance band can do a lot to improve flexibility and prevent injury. By allowing you to perform a wide variety of resistance-based exercises, you can target a spectrum of muscle groups in a relatively small amount of time. Additionally, because you're not dealing with a lot of weight by using a resistance band for your workout, there's far less chance you'll sustain an injury as a result of using it.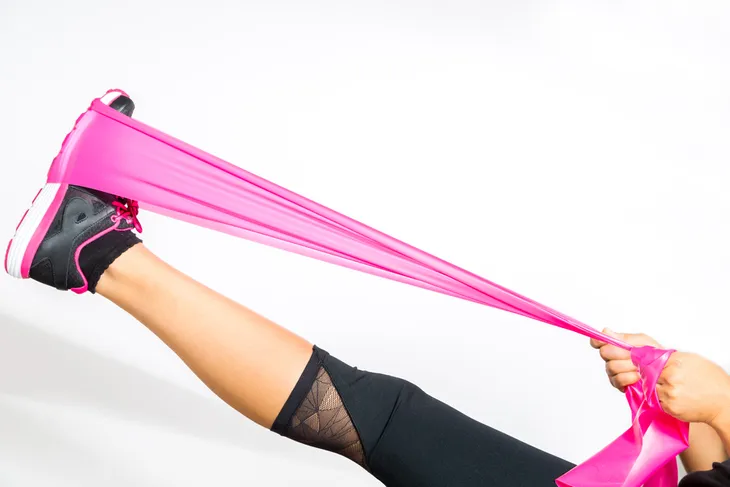 Improve Stamina
For many fitness-minded individuals, the key to a workout regimen is building stamina, whether that means being able to exert a lot of energy for a lengthy period of time or withstand pressure on a variety of key muscle groups. And, in reality, improving one's stamina is an important part of becoming stronger both physically and mentally and helping keep serious injuries at bay.
A resistance band workout can offer a lot of assistance to anyone attempting to take their personal fitness and overall stamina to the next level. This is primarily due to the incredible variety of exercises that can be completed using a resistance band and the simplicity of the routine in general. Additionally, because a resistance band can be used to intensify a bodyweight exercise, such as push-ups or bicep curls, you can push yourself further — an important part of building stamina.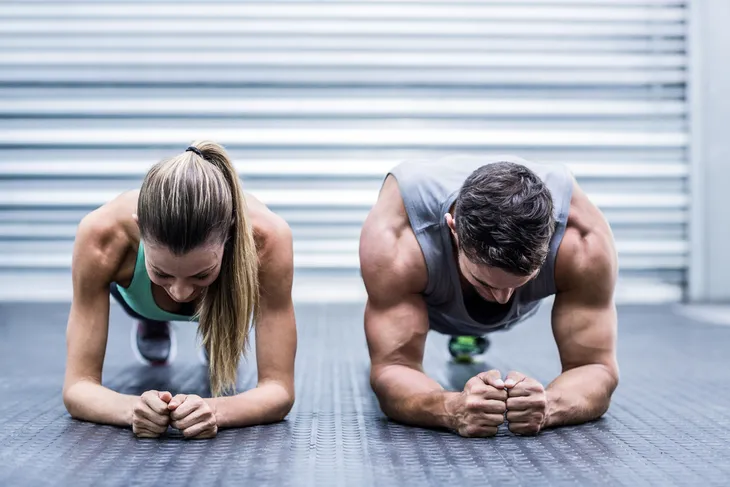 Recover Faster
A resistance band can be an effective tool in helping you take existing bodyweight exercises like push-ups or squats to the next level, but you can also use them for recovering from an injury. That's because it's easy to adapt the amount of pressure you're placing on the targeted muscle groups, allowing you to tailor your intensity to your personal comfort level.
Of course, you should discuss any post-injury exercise plan with your family doctor or a physiotherapist before launching into it.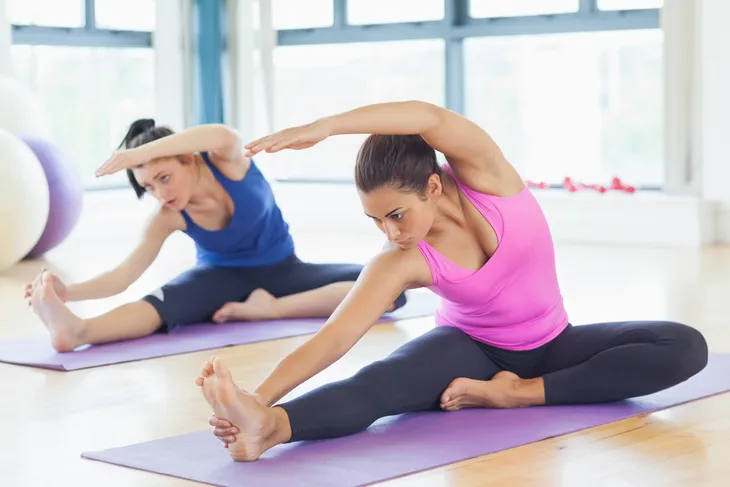 Save Time
One of the great advantages of using a resistance band-based workout is that you can use it to take already challenging exercises, like push-ups, squats and lunges, to the next level, intensifying them and making them more challenging. Not only does that allow you to push harder towards your personal fitness goals, but it can mean saving a lot of time.
After all, if every repetition of a push-up or squat is tougher than it would be otherwise, you could conceivably use this system to cut time out of your workout, allowing you to reach your fitness goals without requiring that you spend hours at the gym. And given how little time many people have these days — thanks in part to jobs that demand us to work overtime or young families that require lots of attention — being able to save time is most definitely helpful.