A new year typically gets people thinking about making life changes, specifically those that will help improve their health and fitness level. Last year, we saw the emergence of many new fitness trackers, offering varying levels of tracking data and metrics. Some were simple, tracking steps and sleep. Others integrated food logging, goal setting, and tracking specific exercises. While the fitness gadget industry is already quite vast, this year we'll see a greater variety of products and apps that go beyond the standard fitness tracking.
As you put 2014 behind you, take 2015 by storm with the following ten fitness gadgets, which can help keep you on track, provide needed motivation—and in many cases, assistance—to maintain an active and healthy lifestyle…
1. Mio Alpha 2
Gone are the smart watches that provide your fitness metrics on an app through your phone or other device, and in comes Mio Alpha 2. This smart watch does all of the great things previous products have done, but with the convenient added ability to see your metrics right on the watch's screen, something a good portion of trackers fall short on (and suffer worse reviews because of). It wouldn't be surprising if, by the end of the year, more companies release something similar to catch up.
The original Mio Alpha was already considered by many as one of the most accurate devices to get an optical heart rate measurement, so there's no surprise this feature is found in version 2. On top of this, it tracks your pace, speed, distance, and calories without the use of your smart phone as you exercise. Other features include compatibility with iPhone and Android apps, holds up to 25 hours of data, automatic wireless syncing with the Mio GO app, and configurable heart rate zones that let you know when to exercise harder or back off.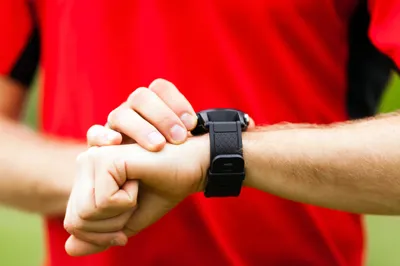 2. Sensoria Smart Clothing
Before you scoff at the idea of a smart sock, dedicated runners and fitness buffs alike will want to take a closer look at the unique and healthy fitness gear from Sensoria. The Sensoria smart gear has claimed its place in a niche area of the fitness tracker market, offering smart clothing—socks, shirts, and sports bras. Designed to help improve performance, this gear promises to be comfortable, provide moisture evaporation, and kill odor, and the clothing is machine washable.
The shirt and sports bra track your performance and heart rate using electrodes in the fabric that transmit data to the small heart rate monitor (HRM) you attach on the front. If you're a runner, the socks and Sensoria Anklet are a good addition to your running gear, providing you real-time feedback as you run. It also tracks steps, distance, calories, speed, and foot landing technique. This last feature can help prevent common running injuries, and ensure you're getting the best workout possible. Considering some Sensoria gear already has a wait list, it wouldn't be surprising if this market expands in the coming years.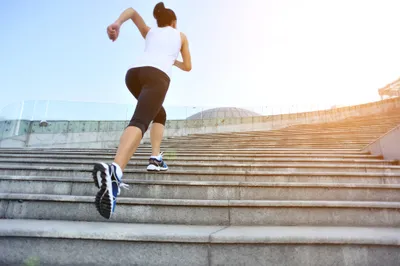 3. Finis Neptune Underwater MP3 Player
For avid swimmers, the Finis Neptune Underwater MP3 Player is the fitness gadget you'll want to add to your fitness collection in 2015. Whether you follow intense swimming routines, take aerobic swimming classes, or enjoy a more leisurely approach to exercising in the water, the waterproof Finis player will let you enjoy your own playlist when you've previously been unable to. Many people find music keeps them motivated, so it could be just what you need to push your workout further.
How does this underwater MP3 player work? For starters, you won't be wearing ear buds or bulky headsets that could distract or impede upon your workout. Instead, it uses a special type of technology called Bone Conduction audio to play the music—according to Finis, the Neptune MP3 player transmits the music through the cheekbone to the inner ear. The player attaches to your goggles on each side of your head, with a screen placed on the back of your head that shows the song and artist, audio book, and other MP3 compatible audio files.
4. RunPhones
The fitness gadgets available from RunPhones are basically headbands with speakers, and they're known to be hassle-free. Since various types of exercises make it difficult to keep headphones on or ear buds in without getting tangled in wires or falling out of place, RunPhones offers a solution to keep your music playing by integrating the speakers into headbands. This is arguably safer than headphones or ear buds because your ears won't be covered or plugged—you'll still hear muted sounds around you, which is particularly important if you're exercising in an area with traffic.
Odds are you're like most people out there and tend to sweat when you exercise. RunPhones are multi-purpose products that can help address your sweat by keeping this moisture from dripping down your face. The headbands are also machine washable, making them easy to clean. The RunPhones Intensity is the newest product coming out some time in 2015, with more features like motivational tips. But until then, the current RunPhones headbands are a worthy purchase, especially if you're not interested in the new features on the upcoming Intensity headband.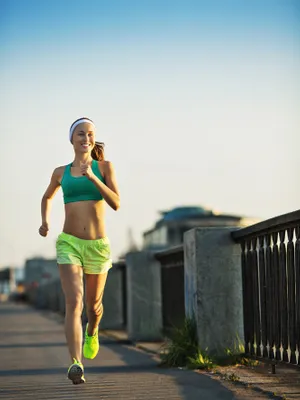 5. InBody Band
With the amount of fitness trackers out there, it can be challenging to figure out which one is best for you or what the differences are besides the price. This year, the InBody Band hits the markets and will provide more than just fitness tracking—somewhat new and unique, it will be able to identify your body's composition, specifically fat vs. muscle. This added feature sets it apart from many models we saw last year, and it may be something we see more of soon.
What you weigh isn't necessarily reflective of your health. InBody Band recognizes the significance of this, and includes the use of electric pulses to identify how much fat and muscle is in the user's body. Like many other fitness trackers, it also measures sleep, activity, and heart rate. You can set health and fitness goals, and it can be set up to notify you of calls and texts. InBody Band will hit shelves in March of this year, and is expected to stake a place among other fitness trackers in the industry.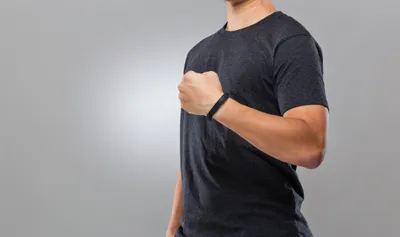 6. Fitbit Aria
While a bathroom scale isn't something you use while you're working out, scales that provide more information than just your weight are a great addition for anyone regularly exercising and eating healthy. The Fitbit Aria is a particularly good scale worth considering in 2015 because it provides further metrics than smart watches and other fitness trackers, by tracking your weight, BMI, and body fat percentage—three relevant pieces of information for anyone trying to reach a weight loss goal or maintain their ideal body metrics.
The Fitbit Aria sends data wirelessly to your computer, as well as several apps. If you sync the device to your phone you'll receive achievement notifications as you reach goals, giving you that extra boost of confidence to keep you motivated. Other Fitbit products have proven to be quite popular through not only the achievement badges, but also an interactive online community. The online social aspect that allows you to share with friends, along with the praise and support when goals are met are likely a few of the reasons Fitbit's products remain a steady competitor in the fitness gadget industry.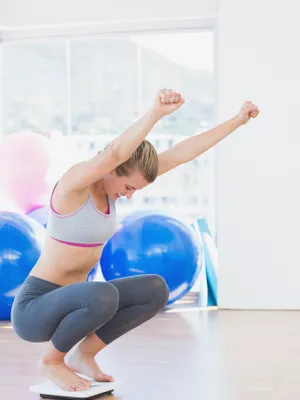 7. SmartMat
Technology just keeps getting cooler and cooler, and while some techie things may seem frivolous, many gadgets can help better your health, assist in teaching proper form, and help improve or maintain you ideal fitness level. So yoga enthusiasts will want to give the new, SmartMat yoga mat a try when it comes out this summer because it's been designed to improve and refine your yoga moves and postures, and as a result, help you increase the workout's effectiveness and avoid injuries from poor form. For those who do yoga in the comfort of their own home, this could really help you.
Using sensor technology throughout the mat, it gives you real-time guidance and feedback through smart phones and tablets as you go—the SmartMat is kind of like having your own private instructor without the continual cost of classes. You're also able to track and store your progress using the free app, allowing you to see the difference in your skill and to reach certain achievements. These types of fitness gadgets specific to one type of exercise are rising in popularity, and we'll likely see more as the year goes on.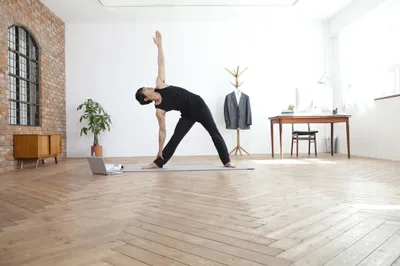 8. Trigger Point Muscle Grid STK Roller
As the fitness gadget industry continues to grow, the types of products does too. If you've ever used a foam roller to work out kinks and give your muscles a good work down after some intense exercising, you know that foam rollers can do wonders. And now Trigger Point Performance is offering a handheld massage tool that can be used on both large muscle groups and target specific trigger points to provide much-needed relief from tight muscles and knots.
Foam rollers are a must-have for anyone who regularly exercises because they can prevent injuries, increase circulation, and help maintain muscle movement and flexibility. The Trigger Point Muscle Grid STK Roller is convenient to use on yourself, and can even help you find relief in hard to reach places, like your back. Although it's not a gadget in the sense that it's techie, this foam roller fitness gadget can make a world of difference to how your muscles feel and heal—you won't need metrics to tell you how it's helped your muscles.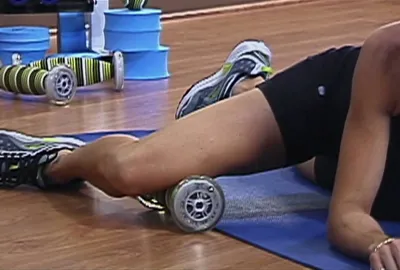 9. UP by Jawbone
Scoring good reviews overall isn't common for fitness trackers. With everything they try to do, from tracking activity and your goals, to food intake and sleeping patterns, it's no wonder very few trackers score high in every category. But UP by Jawbone continues to be labeled as one of the best out there. Depending on your reasoning for using a fitness tracker, you'll find all of the major and most preferred health and fitness metrics tracked through the use of UP.
Features include tracking calories burned and steps taken, goal setting, food and drink logging, and even mood tracking. UP can also provide motivation through something called Smart Coach, which will give you a tip—like drinking more water that day—or something positive to keep you motivated and in the right mindset. With the ability to track just about everything, set weight, activity, and sleep goals, easy integration with other apps, and extra motivation when needed, UP by Jawbone is definitely an effective healthy fitness gadget in 2015.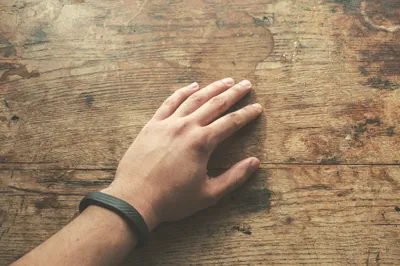 10. Basis Peak
No fitness gadget list would be complete without a fitness tracker that automatically tracks your sleep. Surprised? If you're wondering what your sleep—everything from how much you sleep, when you sleep, and the quality of it—has to do with fitness, the simple answer is that sleeping greatly relates to and affects your health. It can reduce the effectiveness of workouts and healthy eating habits, so it's something worth paying attention to.
Peak, the sleep and fitness tracker by Basis, is one of the few trackers that not only tracks how long you sleep, but also your REM, light and deep sleep cycles, and any tossing and turning you do throughout the night. Through extensive research, Peak was designed to automatically detect when you're sleeping, something many other trackers can't do. You'll also receive a weekly sleep newsletter that gives you an overview of your sleep patterns. From this, the Peak program provides tips to adjust and better your sleep, helping you reach optimal health all-around.