It's that time of year again, the leaves are falling, the turkey is stuffed, pies are baking, and now the whole extended family is coming over for dinner. Yikes! The holidays are stressful enough, but when you're hosting Thanksgiving dinner at your home it can be even more stressful.There's a lot to juggle when hosting a Thanksgiving dinner. You've got to get the house in order, make sure there's enough food for everyone, and then somehow masterfully cook all these different recipes and foods in perfect sequence so that they are all hot and ready at the same time!
Of course, being stressed doesn't always make for being the best host or spending the right quality time with your family and friends. If you're one of those people who gets easily flustered when hosting a large dinner, then try some of these Thanksgiving hacks for a stress-free holiday!
1. Maximize Fridge Space
Similar to the stovetop, oven, and even counter space, the fridge is prime real estate when hosting a large dinner like Thanksgiving. There's only so much room for all these foods and dishes, plus you've got to store all of your other day-to-day necessities in there! To help free up some fridge space, try using a cooler for the day. Move items that you're not using like condiments, juice, beers, etc, into a cooler. This will free up some much needed fridge space, get them out of the way, but also give you peace of mind that they're staying nice and cool.
You could also use it as a space to keep dishes warm because it is insulated. If this is the case, be sure to line the cooler with aluminum foil, add folded towels for the extra moisture, and then fill it with hot dishes as needed. Of course, don't melt the cooler by putting anything too hot in there! You can also use a thermos or insulated carafe to keep foods like gravy warm before dinner is ready to be served. This will free up space on the stove, and allow you to make it whenever it's convenient for you instead of trying to time it perfectly with everything else.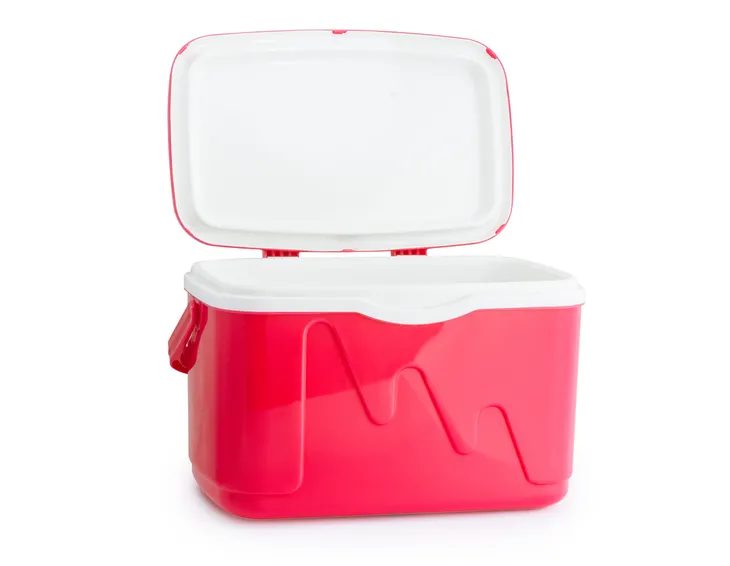 2. How to Fluff Mashed Potatoes
Mashed potatoes are a staple food for Thanksgiving. Everybody loves some mashed potatoes! We all make ours a little different. There are SO many different ways to prep this food, but the key is to make them nice and fluffy. We've all been there when things don't turn out exactly as we hoped, especially on Thanksgiving when you're trying to cook so many different foods at once.
If your mashed potatoes don't fluff up like they're supposed to, don't fret. The Food Network advises adding a pinch of baking soda. "It reacts with the heat of the potatoes to form tiny air pockets that will add the extra-special fluffiness," writes the source. If you want to make them extra special with a little more flavor, add some other ingredients like bacon or caramelized onions.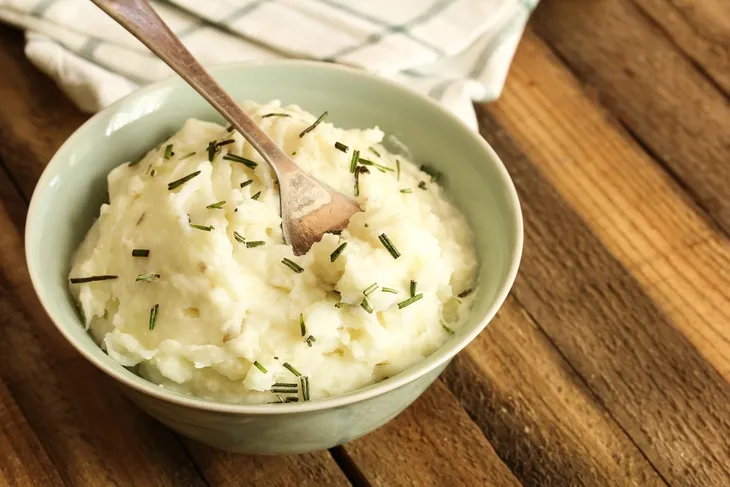 3. Tape Recipes to Cabinet Doors
This is one of my favorite hacks that I can't believe I didn't think of before! When we're cooking we need to have our hands free because, hello! We're busy. Not only that, but if I'm constantly tending to an Ipad or computer, I have to keep washing my hands as I go back and forth between the screen and the food.
If you're like me and still use recipes on paper, tape the recipe to the cabinet doors so that they don't take up precious counter space. This will also keep those recipes good condition so that you can hold onto them for next year. So many of my favorite recipes are splattered with food after getting caught in the crossfire of a cooking frenzy. When you need to know what's next, all you have to do is look up!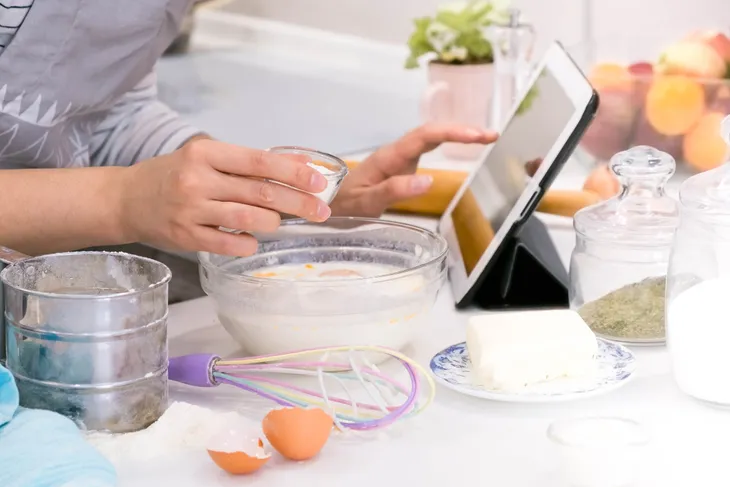 4. Slow Cooker for Mashed Potatoes
Again, the key to cooking for Thanksgiving is being smart with counter and stove top space. While some stuff needs to be on the stove top, something like mashed potatoes can easily be moved into a slow cooker to free up some space.
To make sure it doesn't stick, butter the insert within the slow cooker. Then add a little heavy cream and relocate the mashed potatoes into a slow cooker. Keep the slow cooker off to the side and out of the way until they are ready to be brought to the table. Make sure the slow cooker is set to low so that they don't overcook, and be sure to stir them every hour or so.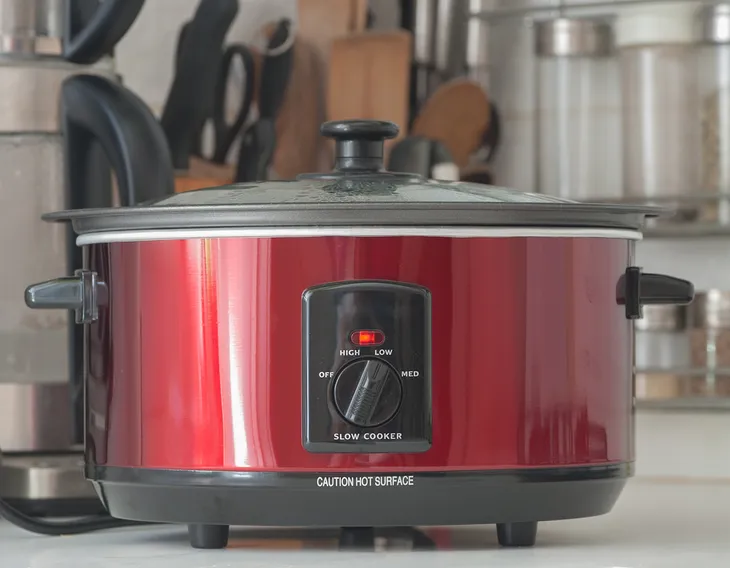 5. Pie Crust Hacks
To those who bake their own pies on Thanksgiving, I commend you! Many people opt for the store-bought pies (including myself) because baking a pumpkin pie takes patience, time, and skill. More often than not, by the time the pumpkin pie filling is perfectly cooked, the pie crust is burnt. It's so hard to get it just right.
The Food Network has a few tips to help with this. To avoid burning the pie crust, create a loosely tented aluminium shield that folds over the delicate edges of the pie crust. This allows the middle of the pie to cook as long as it needs without damaging the crust.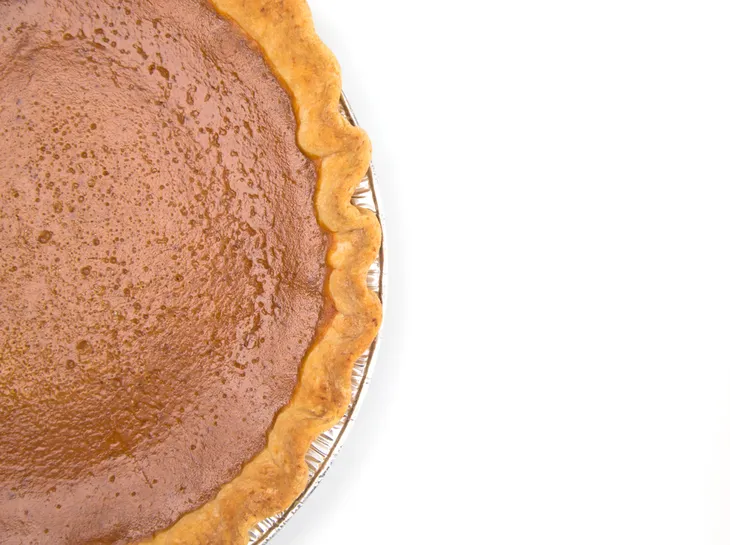 6. Put Potatoes Through the Dishwasher
Here's a hack you probably never thought of before! If you find that you've got tons and tons of potatoes to wash and peel, instead of hand washing each and every single one, put them in the dishwasher! The Food Network recommends putting the potatoes on the top rack of the dishwasher and running them through a rinse cycle. Don't put any detergent in! When the cycle is done, you'll have some squeaky clean potatoes and you didn't have to lift a finger.
This will also make the potatoes easier to peel because they'll be nice and hot when they come out so the skin should just easily peel right off. Boiled potatoes peel super easy. Buzzfeed says to just shock them in cold water and the skin will slide right off with your hands.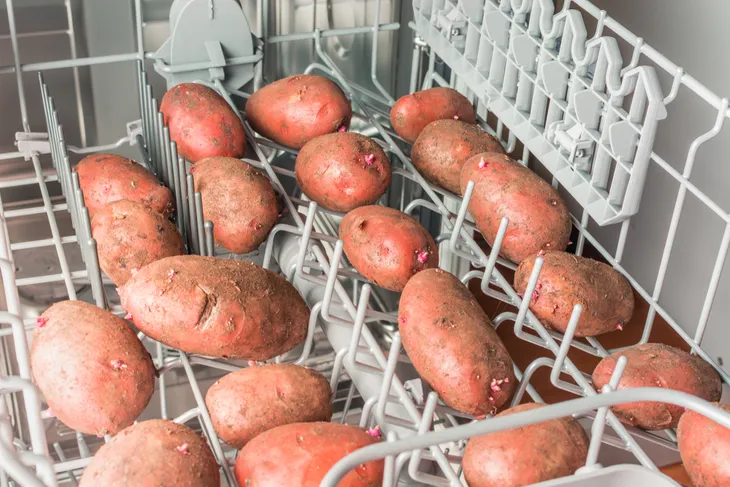 7. Pennies for Pie Weights
Ever wonder how people who bake their own pie manage to get it perfectly flattened without ruining the crust? I guess there is a thing called pie weights out there, but not many people actually own them. Instead, a lot of people just use innate objects around their house. To avoid damaging the shell of the pie, you can use things like pennes or uncooked rice! To do so, cover the top of the pie with aluminum foil (careful not to ruin the crust), and cover the foil with pennies to flatten the center. You can also use dried beans, gravel, or even screws! Just make sure the pie is protected with a layer of foil.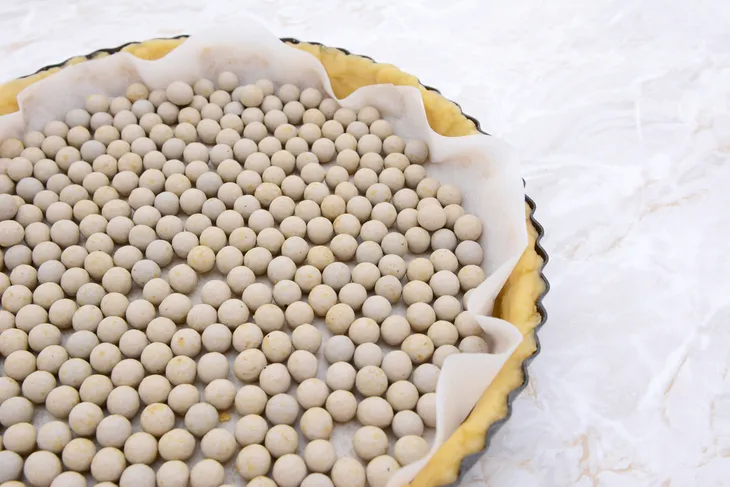 8. Prep Ahead of Time
Most people already do this because it's simply impossible to chop, prep, and cook everything the day of! One of the best ways to ease the stress of hosting a Thanksgiving dinner is to prepare ahead of time. No doubt, the turkey is probably the thing that causes the most amount of stress. To avoid feeling frazzled the day of, try slow roasting the turkey the night before. This will open up prime real estate in the kitchen: the oven. According to the Food Network, you can start cooking the turkey as far as 48-hours in advance (depending on the size, of course). Just set the temperature to 170-degrees Fahrenheit and let it cook. The preparation will only take about 15-minutes and is sure to provide a tender, juicy bird in the end!
In addition to the turkey, there are a number of other foods that can be either cooked or prepared ahead of time. For example, the mashed potatoes, homemade dinner rolls (if you don't go the store-bought route), or chop up all the vegetables and put them in containers so that you don't have to do any prep the day of.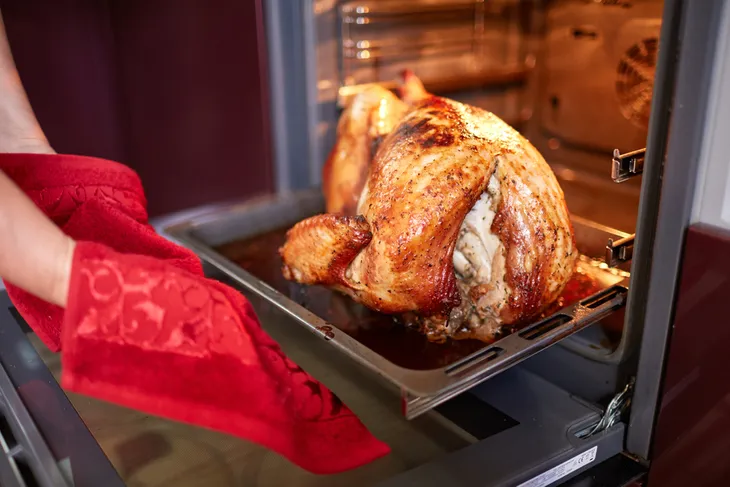 9. How to Prevent a Dry Turkey
One of the most common mistakes when cooking a turkey is that it ends up too dry. According to the Food Network, the best way to prevent a dry turkey is to apply an ice pack to the breasts for 15-minutes prior to cooking. This will lower the temperature and allow the breasts to cook slower than the rest of the bird.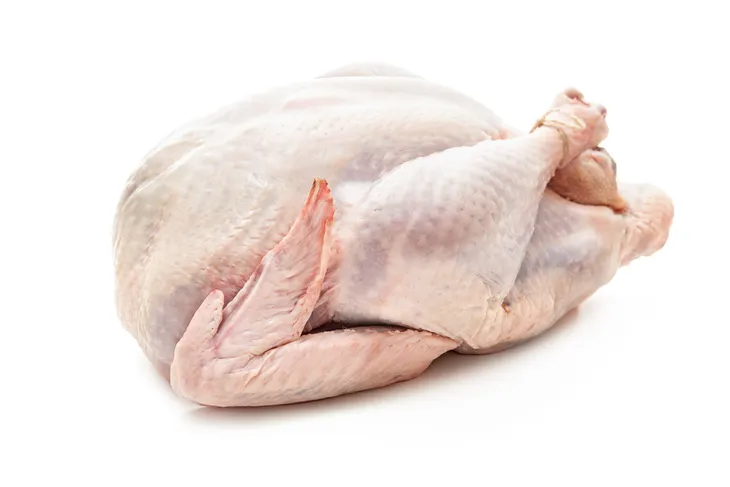 10. DIY Roasting Rack
A roasting rack is important when cooking a turkey because the bird has to be elevated so that the heat can circulate evenly throughout the pan. If you're hosting Thanksgiving this year and don't own a roasting rack, don't fret! There are a couple different ways to innovatively create your own DIY roasting rack, such as using a bed of vegetables or some aluminum foil, says the Food Network.
To create a bed of vegetables, chop up some onions, celery, and carrots. Make sure they are chopped into large chunks. These will not only elevate the bird and serve as a roasting rack, but it'll also add some flavor when it comes time to use the drippings for a gravy. Another solution is to take a large sheet of aluminum foil, roll it up so that it looks like a long, spiral tube, and then form it into a DIY rack that elevates the turkey in the pan.
11. Lumpy Gravy
There's nothing worse than tipping the gravy boat over to drizzle some gravy and it ends up dumping out a lumpy mess! Trust us, it's not an appetizing site. If you notice that your gravy is looking a little lumpy, try blending it in a food processor or blender, then return it to the saucepan to reheat before serving. This is sure to save the day!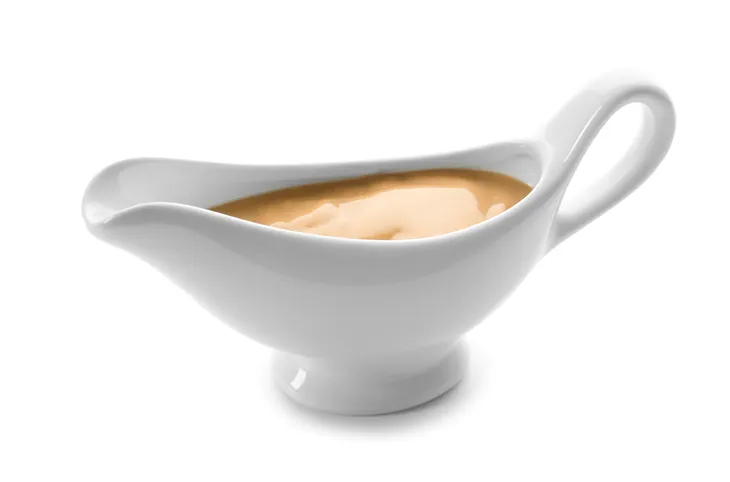 12. How to Cook for Large Gatherings
In addition to juggling all the different recipes and cooking times, another major struggle of hosting a Thanksgiving dinner is measuring how much food to make, especially for larger gatherings. Foods like stuffing can be particularly hard because it's everybody's favorite. To ensure everyone gets at least one serving of stuffing, make stuffing muffins! This allows you to make the extra right amount for the number of people. It's a great way to control serving portions so that nobody is left scraping the bowl for scraps. You could also just do an extra batch of stuffing in muffin tins, in addition to the original recipe. The kids will love it too!
Another tip from the Food Network is to get two normal sized turkeys instead of opting for one giant turkey. This will eliminate any room for error. "Larger turkeys tend to cook less evenly and take a lot longer this way, you can cook two smaller birds to perfection side by side, or even cook one of them a day ahead, freeing you of the hassle of dealing with a brontosaurus-sized bird," writes the source.